Can I Insure a Car I Don't Own?
Insuring a car that isn't in your name is a complicated process, but you have a few different options to get coverage.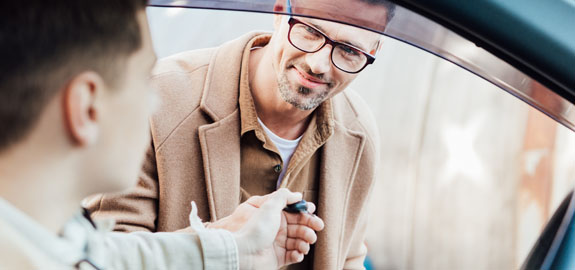 There are a few methods to insure a car that's not in your name. These include:
Getting the vehicle co-titled
Transferring the vehicle registration
Being added to the owner's policy
Getting non-owner car insurance.
You can get insurance for a car that's not registered to you in certain situations, but laws in your area could prohibit it completely. It's important to explore your options so you don't get into trouble for driving without insurance.
This article touches on:
How to Get Insurance for a Car That is Not Yours
These are the best ways to get auto insurance coverage for a car that you don't own
Get added onto the car registration
In most situations, this is the simplest solution to the problem. It's possible to share the title on a vehicle with somebody you don't live with. If your name is on the registration, you'll be able to get it insured.
Adding yourself onto a car's registration can be varying degrees of a headache, depending on your state's laws. Some states require you to apply for an entirely new title, whereas others only require a quick trip to the DMV.
If you want the title to be in your name, and not just a co-owner, you should investigate your state's policy for transferring the vehicle's registration. Some states allow the owner to "gift" the car, which means you can avoid paying sales tax. Again, check with your state's DMV to find out what it takes to transfer a car title.
If the car is leased it could make things more difficult. Leasers don't want the title to be shared if the vehicle is still getting paid off. But if the car is already paid off, this is a viable option. The process of being added to the car's registration can be as simple as stopping into your local DMV, and it solves all problems with insuring a car you don't own.
Get added onto the owner's auto insurance policy
Another option is to get added onto the owner's auto insurance policy. That's only an option if the owner's insurance company allows another person on the policy. If you have the same address as the owner, getting added onto their policy should be straightforward.
If you don't live with the owner, you may have a harder time getting onto their policy. You'll have to demonstrate insurable interest, which means you must show the insurer that you have a vested interest in the vehicle. The insurance will have the owner's name on it, but you'll be able to pay premiums and stay covered in the event of an accident.
Moving to college with a car gifted to you by your parents is a common scenario that requires drivers to insure a car they don't own. In this situation, there are several options. Insurance companies may allow you to stay on your parent's auto insurance policy, even if you don't share an address.
Purchase Non-Owner Car Insurance
A non-owner auto insurance policy is a good option for someone who regularly drives a car they don't own. Non-owner car insurance is like liability coverage, meaning it will protect you if you cause an accident. It's designed for people who don't own the car they're driving.
But there's a catch. If you get into an accident, non-owner car insurance will pay for damages to other people, vehicles, and property, but not your car or you. Because of this, it's not an ideal form of coverage. You should see if you're eligible to be added to the car's registration or the owner's insurance policy before opting for non-owner car insurance.
Non-owner car insurance is another option that will cover you in case of an accident, but it won't follow the car, just you. It's created for people who
Regularly rent cars
Borrow their roommate's car
Use car sharing services
Need an SR-22 or FR-44
Want to avoid an insurance lapse
Some insurance companies won't approve you for non-owner coverage if you borrow a single car for an extended period, as non-owner coverage isn't designed for that purpose.
Why It's Difficult to Insure a Car You Don't Own
The process to become a primary policyholder for a vehicle that isn't yours can be tricky. Some states have laws prohibiting drivers from doing this, and several car insurance companies don't allow it.
"Insurable interest" is why it's so hard to find a company to insure you for a car you don't own. Essentially, auto insurance companies want to see that you have a strong reason to protect the car you're driving. If you own it, it's clear that you would experience financial loss in the event of an accident, and that's your motivation for obtaining insurance. That means the car owner has insurable interest. If you don't own the car, things can get tricky. If the vehicle isn't registered under your name, there's a lack of insurable interest.
Auto insurance companies don't want to insure drivers for cars they don't own because the driver may be less likely to care if the car is damaged and they need to make a claim. From the point of view of the insurer, that leads to unsafe driving practices, resulting in accidents and costly claims for the company.
Also, insuring a car that's not yours can be a sign of insurance fraud. If everyone had the power to add cars they don't own, they could pool together to get a better rate or insure a car then cause an accident. Obviously, insurers want to avoid those situations at all costs. That makes it difficult to find insurance for a car you don't own even if it's for a valid reason.
Laws that prevent you from insuring a car not in your name
Certain states won't allow you to insure a car you don't own, no matter the reason. In Washington State, your car needs to be insured before you can register it, which is hard to do without ownership. If you want to transfer the car to your name, the owner may have to cancel their insurance policy and take a lapse in insurance coverage. That can be costly for the owner. Also, you usually can't be added to the insurance policy unless you live with the owner.
It can get even more complicated if you live in a state likeNew York, where the name on the vehicle's registration and the insurance must match. So, if the car you're trying to insure is registered in someone else's name, there should also be an insurance policy in the owner's name for the car. If the names don't match on the registration and the insurance in a state where it's mandatory, the car's registration could be suspended. That would keep you from insuring the car because you don't own it. Check with your local DMV to see if it's legal to have a different name on your car's insurance and registration in your state.
QuoteWizard.com LLC has made every effort to ensure that the information on this site is correct, but we cannot guarantee that it is free of inaccuracies, errors, or omissions. All content and services provided on or through this site are provided "as is" and "as available" for use. QuoteWizard.com LLC makes no representations or warranties of any kind, express or implied, as to the operation of this site or to the information, content, materials, or products included on this site. You expressly agree that your use of this site is at your sole risk.