How Car Insurance Coverage Lapses Can Affect Rates
If your car insurance lapses, you may face fines, higher rates, or policy refusal when you buy coverage again.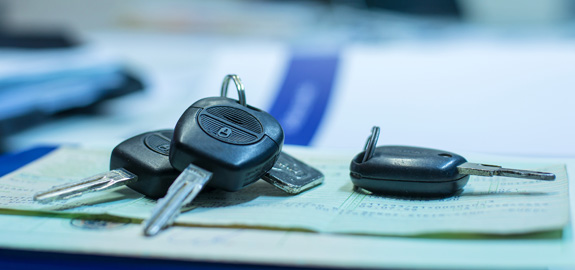 Car insurance lapses can be costly. Many insurance companies will charge you higher rates when you go to buy coverage again after a lapse. Some may refuse to cover you at all. And you could even face state fines.
Keep reading to learn why insurers penalize you for a lapse in coverage. You'll also learn about:
What is a Car Insurance Lapse?
A car insurance lapse is when you go from having auto coverage to not having it, even for just a few days.
Many situations can cause a lapse in insurance coverage, including:
You pay your premium too late
You forget to pay it at all
You don't renew your policy for some reason or other
You cancel your policy because you're going overseas for the military or to study abroad
Your insurer cancels your policy because you've been in too many accidents or gotten too many tickets
You sell your car and don't drive for some time
It can even happen while switching insurance companies. If you're not careful, you'll leave a gap between when your old policy ends and your new one begins.
How long can you go without car insurance before it lapses?
Some companies consider even a day or two without coverage to be a car insurance lapse. They can raise your rates because of it.
Others let you go without coverage longer than that before they consider it a lapse and charge you higher premiums as a result.
Don't assume an insurer will be lenient about your auto insurance lapse. If possible, make sure you have continuous coverage. It's best to assume you don't get a grace period.
Is there a car insurance lapse grace period?
Yes, some insurance companies will give you a few days to make things right after you forget to pay your car insurance premium or forget to renew your policy.
In general, you should have between 10 to 20 days to pay your premium or renew your policy before an insurer drops you and you have a gap in insurance coverage.
Some people call this the car insurance lapse grace period. If you don't have a policy by the time this grace period ends, insurers may penalize you for a lapse in coverage.
Can you pause or suspend car insurance to avoid a coverage lapse?
The best car insurance companies will let you pause or suspend your policy and avoid a lapse in coverage for certain reasons.
Mainly they'll let you suspend car insurance coverage if you're in the military and deployed overseas. Some will let you suspend or pause coverage if you're moving or studying abroad, too.
What Happens if My Car Insurance Lapses?
Increased rates or premiums aren't the only penalties you need to worry about with a lapse in insurance coverage. Many states fine you if your car insurance lapses. Most will suspend your vehicle registration as well. They might even take away your license plates if things get bad enough.
How do different companies treat car insurance lapses?
Here's an example of how three top insurers – Geico,Progressive, and State Farm – penalize lapses in insurance coverage.
Insurance Company
Currently Insured
Lapsed Within Last Month
Lapsed Over a Month Ago
Geico
$47 (per month)
$50
$50
Progressive
$33
$38
$48
State Farm
$88
$88
$88
We looked at rates from three top auto insurance companies for this sample quote. These rates are for a 40-year-old male with a clean driving record, 50/100/50 coverage, and $500 deductibles for comprehensive and collision coverage in Wisconsin. Your rates will vary based on several factors, including car model, where you live, your driving record, and more.
Based on the monthly premiums quoted here, a lapse in car insurance coverage could raise your rates by as much as 45 percent.
Or it could raise your rates by as little as 6 percent. And it may not even raise your rates at all – as is the case with State Farm here.
If an insurance company does charge you higher premiums because of a car insurance lapse, though, expect them to stay high for at least six months. And you might pay these higher premiums for a couple of years.
How do different states treat car insurance lapses?
Most states both fine and penalize you if your car insurance lapses. How do they know when one of these coverage gaps happens? Insurers tell them.
As for why they fine you for a lapse in coverage: it's the law. All states but New Hampshire require drivers to carry auto liability insurance. When your policy lapses, you don't have the legally required insurance.
Here are some of the most common ways a state might penalize you for an auto insurance lapse:
Suspend your driver's license or vehicle registration
Confiscate your license plates
Fine you--such as for the lapse itself or to reinstate your registration or license
Require an SR-22
Every state has its own rules and regulations regarding car insurance lapses. Here's how some states specifically treat a lapse in coverage. If your state isn't listed, contact your department of motor vehicles for more information.
Alabama
$200 fine for the first offense, $300 for the second, $400 for the third and subsequent ones. Also, Alabama may suspend your license for 90 days if you don't pay the fine within 45 days.
Connecticut
$200 "civil penalty" for each car insurance lapse. Connecticut also suspends your vehicle registration until you pay the fine and provide proof of insurance.
Georgia
$25 fine for the lapse of insurance coverage, $60 fine for registration reinstatement. And Georgia will fine you $160 if your insurance lapses twice in five years.
Illinois
$100 reinstatement fee. Plus, Illinois suspends your license plates until you show "current evidence of insurance."
Maryland
$150 fine for the first 30 days of an auto insurance coverage lapse, $7 for every day after that. Also, Maryland charges you a $25 fee to restore your vehicle's registration.
Ohio
$100 reinstatement fee for the first offense, $300 for the second, $600 for the third and subsequent ones.
South Carolina
Up to $400 reinstatement fee. And South Carolina suspends your vehicle registration and license plates until you pay the fine.
Vermont
Fine of at least $400 for your first gap in car insurance coverage, $1,000 for second and subsequent offenses within three years. Vermont also suspends your license until you pay the fee and provide proof of insurance.
How Can You Reinstate Car Insurance Coverage After It Lapses?
To reinstate lapsed car insurance coverage, contact your insurance company.
If your coverage lapsed only a few days ago, the insurer may reinstate it without much fuss. But you'll have to address whatever issue caused the lapse first.
If your lapse lasts longer than a few weeks, though, you might need to switch car insurance companies. Again, act quickly. The longer you have a gap in insurance coverage, the more it'll cost you in the long run.
QuoteWizard.com LLC has made every effort to ensure that the information on this site is correct, but we cannot guarantee that it is free of inaccuracies, errors, or omissions. All content and services provided on or through this site are provided "as is" and "as available" for use. QuoteWizard.com LLC makes no representations or warranties of any kind, express or implied, as to the operation of this site or to the information, content, materials, or products included on this site. You expressly agree that your use of this site is at your sole risk.