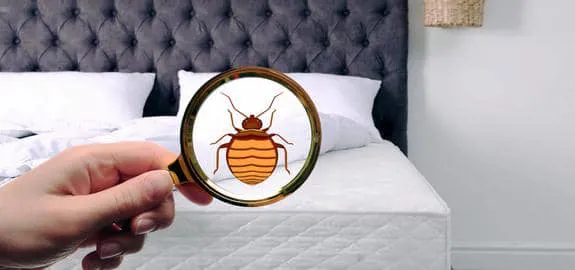 Standard renters insurance doesn't cover damage due to bed bugs or other infesting insects. This means in the event of a bed bug infestation, any costs would probably come out of your own pocket if you were relying on renters insurance to cover it. In some states, your landlord may be responsible for bed bug damage, but this is a rare occurrence. There are some options for bed bug insurance you can purchase to provide some coverage.
This article will cover:
Why doesn't renters insurance cover bed bugs?
Renters insurance covers sudden and accidental damage caused by covered perils, such as a fire or a burst pipe. Renters insurance providers don't cover damage caused by bed bugs nor their extermination because an infestation takes time to form, usually one and a half to two months. This is considered plenty of time for proper home maintenance to eliminate the problem.
There are two types of renters insurance policies: all risk (also known as "open peril") and named peril. Open-peril policies cover all perils that can occur unless they're excluded in writing in the policy. Named-peril renters insurance policies only cover specific perils that are listed in it.
Open-peril renters insurance policies normally exclude infestations, and named-peril policies don't usually name infestations as a covered peril. What this means is that in both cases, your infestation problems would have to be paid out of your own pocket.
When bed bugs are excluded in a renters insurance policy, the policy will normally use the terms "nesting" and/or "infestation". This does not limit exclusion of coverage to just bed bugs, but also fleas, cockroaches, rats and other types of vermin.
This means that in the event of a bed bug infestation:
Damage to your personal property due to bed bugs will not be covered.
Liability isn't covered if a guest sues you for injury caused by bed bugs.
Additional living expenses are not covered if you have to relocate during extermination.
The cost of extermination is not covered.
How can I get bed bug insurance coverage?
Some renters insurance providers offer endorsements or riders that offer limited coverage in the event of bed bug infestation. These riders usually cover treatment and remediation of bed-bug-infested rental units, but not medical or legal liability due to injuries caused by bed bugs. Personal property usually isn't covered either.
Is my landlord responsible for bed bug damage?
There are some states where landlords may be held responsible for bed bug damages and remediation. The criteria they're held responsible for is usually fairly strict, and are limited to:
The infestation occurring before you moved in.
If multiple rental units are infested.
If the landlord's negligence is established.
Proving that the landlord was negligent can be difficult, but it can happen if the phase of the current bed bugs' life cycle can be established. As a tenant, you should be able to find out the specifics regarding bug bed infestation in your renters agreement.
Regardless of who is responsible for bed bug damage, if a guest of yours sues you for injury due to bed bugs, immediately contact your renters insurance provider. Even if it's not covered, you are required to inform your insurer of any damages involving the insured property you are renting.
Spotting and exterminating bed bugs
Bed bugs are tiny, brown oval-shaped insects, and the adults have wings. The bites look like small red welts, and their presence is usually indicated by shedded skins and waste stains. Should you have a bed bug infestation, contact your landlord immediately. Even if your landlord isn't liable, they'll still need to know about the problem in order to contain it from spreading, and they may be able to recommend a reputable exterminator if you need to personally hire one.
You will then want to contact an exterminator. Bed bug infestation is pervasive, and it's easy to have to go through the extermination process again if it's not done right the first time.
The average cost of bed bug extermination is between $1,000 and $2,500, but hiring a professional bed bug exterminator is really the only way to go. They will be able to explain to you the process that they use, and even give advice on what belongings you'll need to throw out.
Clean and clear the areas the exterminator will be spraying. They will also be performing preventative measures to go after potential breeding zones in your furniture as well, so make sure your furniture is cleaned and prepped for spraying.
Keep in mind that bed bug extermination in apartment units normally requires two treatments within a two-week period. You'll want to arrange for alternative living space during the extermination process. Again, make sure that your landlord is aware of any bed bug remediation before doing any of the above work.
Bed bug prevention steps you can take
Before the exterminator comes, there are steps you can take to mitigate bed bug damage. To mitigate the infestation from spreading further, wash and dry clothing on hot. High temperatures wipe out bed bugs, so a dryer on high should do the trick.
After the items are washed and dried, store them in sealable plastic bags to prevent reoccurring infestation. Follow this process with any other items that are washable on high. With items that can be vacuumed, such as carpets, drapes, rugs and furniture, give them a thorough vacuuming.
Once the mitigation process is completed, the vacuum bags and the trash bags holding items you need to throw out should be sealed before disposing of them.
QuoteWizard.com LLC has made every effort to ensure that the information on this site is correct, but we cannot guarantee that it is free of inaccuracies, errors, or omissions. All content and services provided on or through this site are provided "as is" and "as available" for use. QuoteWizard.com LLC makes no representations or warranties of any kind, express or implied, as to the operation of this site or to the information, content, materials, or products included on this site. You expressly agree that your use of this site is at your sole risk.