You might consider GAINSCO car insurance if you are a high-risk driver who can only afford your state-required auto insurance minimums, as it is a non-standard insurer that specializes in bare-minimum auto insurance policies for drivers with an accident history. GAINSCO auto insurance offers competitive rates for high-risk profiles, although it is not a clear winner in terms of price. GAINSCO also has fewer than average complaints compared to other similar non-standard insurers and slightly above average customer service ratings, meaning you'll likely have a relatively strong customer service experience.
In short, GAINSCO might be the right insurer for you if you have a few accidents or violations on your record and can only afford — or only want — a bare-minimum policy. We always recommend getting more than state-required liability limits when possible. 
GAINSCO is an auto insurer based in Dallas, with an office in Miami. It writes auto insurance policies in 10 states: Arizona, Florida, Georgia, New Mexico, Oklahoma, South Carolina, Tennessee, Texas, Utah and Virginia. The company is a subsidiary of MGA Insurance Company Inc. and sponsors the Bob Stallings Racing team. 
In this review we will touch on how…
GAINSCO provides bare-minimum auto insurance coverage for high-risk drivers
GAINSCO specializes in selling no-frills, bare-minimum car insurance in the non-standard insurance market and generally offers the best rates for high-risk drivers. Insurers in the non-standard market provide policies to drivers who often have a hard time finding an insurer in the standard market with larger providers. 
These might be drivers with:
multiple accidents
multiple violations
other indicators that mark them as high-risk drivers
GAINSCO insures drivers who cannot find coverage in the standard market. Non-standard insurers generally offer policies that are more expensive than policies found in the standard insurance market. 
You can only purchase your state required minimum liability insurance through GAINSCO. For example, if you live in Arizona, you can only purchase $15,000 in bodily injury liability per person, $30,000 in bodily injury per accident, and $10,000 in property damage coverage. You cannot get higher limits through GAINSCO. If you wanted $100,000 in bodily injury liability per person, $300,000 in bodily injury per accident, and $100,000 in property damage coverage, you would have to find an alternate insurer.
GAINSCO offers generally competitive rates for those with multiple accidents 
In some cases, GAINSCO is the most competitively priced insurer for bare-minimum coverage, although it is not always a clear winner. In general, when comparing GAINSCO to standard insurers and GEICO Casualty, GEICO's high-risk insurance subsidiary, GAINSCO's rates are average. If you have multiple accidents, you should shop around to find your best quote. GAINSCO pricing does not distinguish between drivers with one or two at-fault accidents.
Rates may vary based on your driving history, location, vehicle and more, so make sure to shop around for quotes to get the cheapest auto insurance.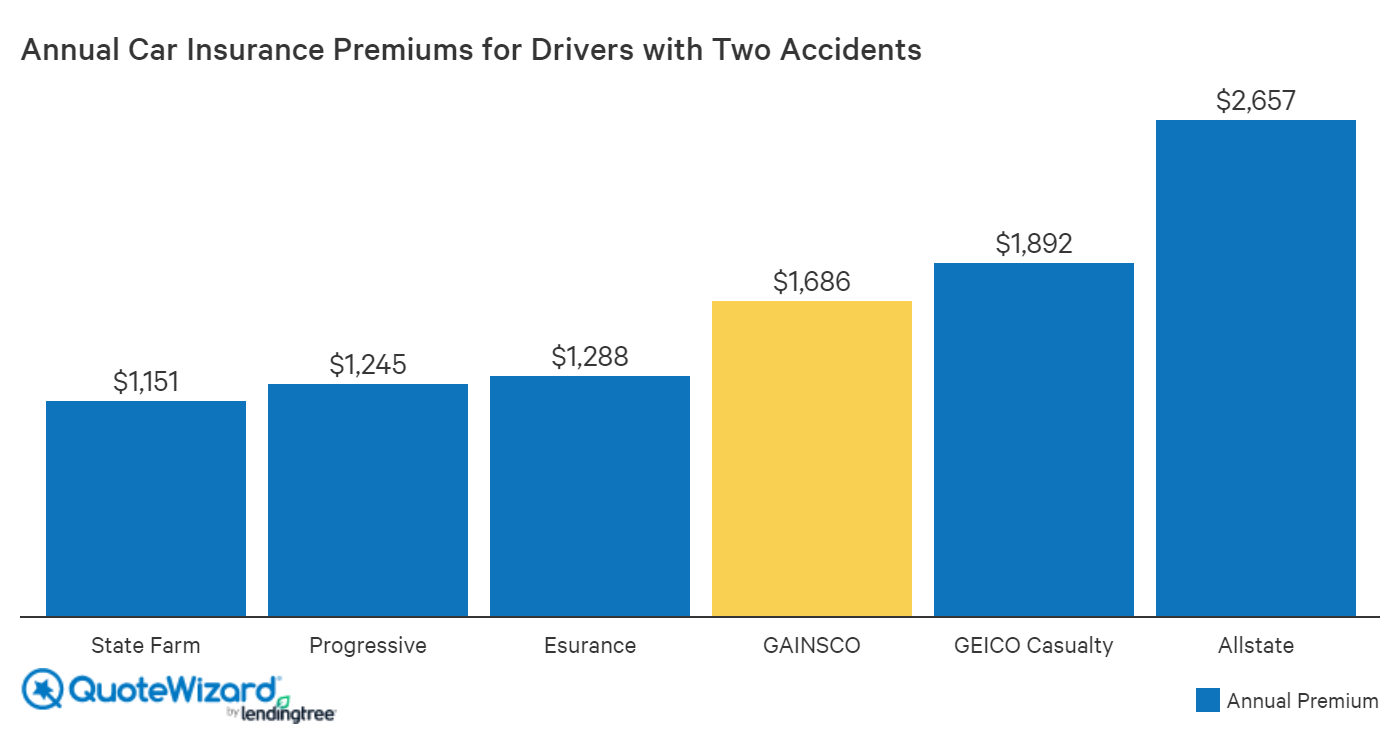 With a more widespread analysis of GAINSCO and GEICO Casualty rates in our sample state, Arizona, we found that GEICO was almost always cheaper than GAINSCO, except when our sample driver elected for no additional coverage and had two at-fault accidents. For this driver, GAINSCO offered cheaper rates than GEICO 82% of the time. It is important to get quotes from as many insurers as possible to find your best auto insurance rate.
Looking for affordable auto insurance?
Compare rates from top insurers to find cheap rates.
Buying additional coverages through GAINSCO is usually not worth the expense
GAINSCO auto insurance offers market-standard policies, but at high additional costs on top of the minimum liability premium. You can purchase these standard additional coverages through GAINSCO, including:
| Add-on coverages available with GAINSCO | Limits and/or deductibles | Sample cost of coverage  |
| --- | --- | --- |
| Comprehensive coverage  | Deductibles between $250 and $1,000 | $129 extra month for comprehensive and collision coverage with a $500 deductible |
| Collision coverage | Deductibles between $250 and $1,000 | $129 extra month for comprehensive and collision coverage with a $500 deductible |
| Towing coverage | Coverage limits of $20, $50, or $75 per tow | $4 extra a month |
| Rental car reimbursement coverage | Coverage limits of $20, $30, or $40 per day  | Check with GAINSCO |
| Deductible waiver for safety features (you don't have to pay your comprehensive/collision deductible for damages to your safety features) | Must be combined with comprehensive or collision coverage  | $16 extra for a month |
All add-on coverages are relatively expensive with GAINSCO, which makes sense because they specialize in affordable, bare-bones policies. If you're looking for extra coverages, you should shop around with other providers to see if you can get a more competitive rate. 
Below, you can see how GAINSCO raises insurance premiums drastically when you add comprehensive and collision coverages. We found that the average price for a full-coverage policy, or a car insurance policy with liability insurance, comprehensive coverage and collision coverage with GAINSCO was 164% more expensive than a minimum-coverage policy. This is a very steep increase compared to GEICO Casualty, which has a 85% increase on average between a minimum-coverage and full-coverage policy.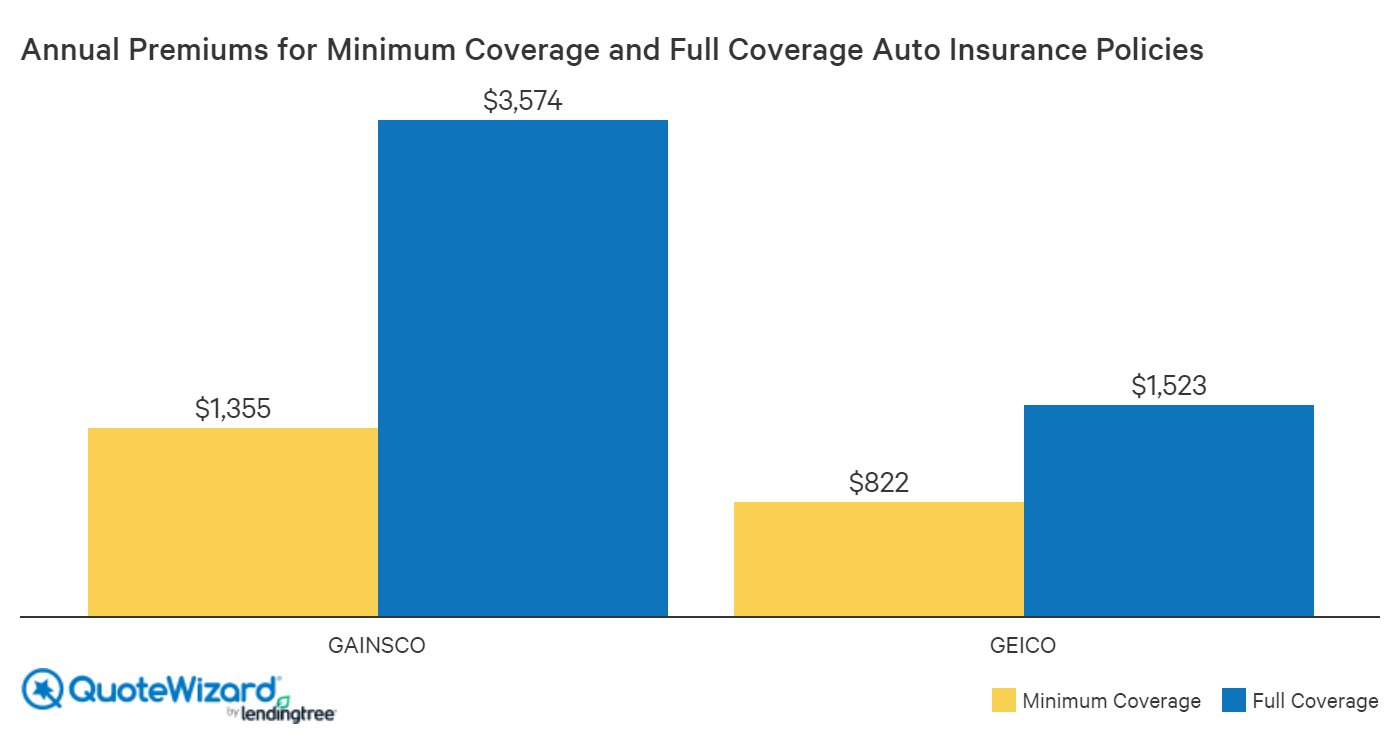 Discounts on GAINSCO car insurance
GAINSCO has fewer car insurance discounts than a standard insurance provider. For example, it does not offer any bundling discounts with other insurance policies. 
GAINSCO auto insurance discounts include:
An electronic transfer payment discount, or having an automatic payment plan (discount of ~10%)
A homeowners discount (of ~5%)
Paying in full
Prior insurance coverage for six months
Prior GAINSCO coverage
Purchasing a policy three or more days before it goes into effect
Renewal discounts
Multi-car discounts
GAINSCO has above-average customer service ratings for a non-standard insurer
When compared to a few other non-standard car insurers, GAINSCO has a better-than-average complaint index. Only GEICO Casualty has a better complaint index than GAINSCO in this sample. GAINSCO car insurance has an NAIC company complaint index of 1.60. 
Company Complaint Index for Non-Standard Insurers for High-Risk Drivers (2018)
| Company | Company Complaint Index in 2018 |
| --- | --- |
| GEICO Casualty | 1.2 |
| GAINSCO | 1.57 |
| Kemper | 1.86 |
| Average for non-standard insurer | 1.9 |
| Bristol West | 2.17 |
| The General | 2.67 |
GAINSCO has promising customer service even though, in general, this complaint index means that GAINSCO has 1.57 times as many complaints as one should expect from an insurer of its size. Compared to standard insurers, we would expect GAINSCO (and any non-standard insurer) to have relatively high complaints. 
Company Complaint Index for Standard Insurers (2018)

| Company | Company Complaint Index in 2018 |
| --- | --- |
| Progressive | 0.47 |
| Allstate | 0.57 |
| GEICO | 0.92 |
| Market average for major insurers | 1 |
| GAINSCO | 1.57 |
If you get comparable rates from multiple providers, it is important to consider their customer service reviews. When you need your car insurance the most, like at the time of an accident, you would want speedy claims and transparent practices. GAINSCO does not have good customer service for the auto insurance market as a whole, but it has good customer service for its specific market of high-risk drivers.
GAINSCO's improving customer service reviews and features 
A good sign for GAINSCO is that the auto insurer  has improved its customer service reviews and features over time. The Better Business Bureau has increased GAINSCO's BBB rating from B+ to A+. Most complaints through the BBB are with the auto insurance product itself or with billing and collections. Multiple complaints were from drivers who saw an increase in rates after switching to direct invoice from automatic payment because they lost their 10% discount in doing so. GAINSCO appears to substantively respond to these complaints. 
One major shortcoming of GAINSCO was that customer service was not available 24/7. The insurer has worked to fix this by updating their website capabilities. You can now also get quotes online from GAINSCO's website, and file claims online 24/7. So, while these are standard features for most insurers, they were not previously with GAINSCO. These are positive indicators of GAINSCO's improving ability to serve its customers. 
Filing a claim with GAINSCO
You can file a claim online through My GAINSCO Policy 24/7
You can call GAINSCO's contact number: 1-866-GAINSCO (1-866-424-6726) which has customer service hours of 8 a.m. to 8 p.m. Central Time. You can get assistance in English or Spanish.
You can send mail to GAINSCO at:
GAINSCO, Inc.
P.O. Box 199023
Dallas, Texas 75219-9023
GAINSCO has a standard cancellation policy. You should be able to cancel your GAINSCO car insurance at any time and receive a reimbursement for any premiums you paid for future months. Make sure to contact GAINSCO and get a reference number and record of your cancellation. 
Methodology
All sample quotes are based on a 30-year-old single male driver with a 2012 Honda Accord LX in Phoenix. This driver has a clean driving record with no prior insurance and drives for pleasure up to 16,000 miles annually. We tested rates for this driver with no accidents, one at-fault accident with $3,000 in damages, two at-fault accidents with $3,000 in damages each, a speeding ticket and an SR-22 filing requirement. 
To compare GAINSCO and GEICO Casualty coverages, we used the same driver profile across 10 ZIP codes in Arizona. Average rates are based on non-binding estimates provided by Quadrant Information Services. Your rates may vary. 
QuoteWizard.com LLC has made every effort to ensure that the information on this site is correct, but we cannot guarantee that it is free of inaccuracies, errors, or omissions. All content and services provided on or through this site are provided "as is" and "as available" for use. QuoteWizard.com LLC makes no representations or warranties of any kind, express or implied, as to the operation of this site or to the information, content, materials, or products included on this site. You expressly agree that your use of this site is at your sole risk.