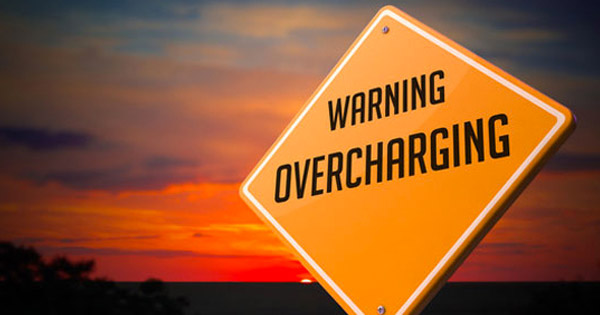 As is the case with other types of insurance, there isn't a great deal of transparency with regard to homeowners insurance rates. Your rates are the result of an equation consisting of numerous variables. It's hard to determine how much of an impact an individual variable has on your rates. This in turn makes it difficult to know whether you're getting a good deal on your homeowners insurance or not. So we assembled a quick guide to help you determine whether you are being overcharged for your homeowners insurance, and what you can do to lower your premiums.
You haven't compared rates from multiple insurance companies
Don't simply go with the first insurance company that gives you a quote. Homeowners insurance is a big purchase and there are many options out there. Different companies use different models to determine your rates, which can vary dramatically from person to person.
That's why it's so important to request home insurance quotes from multiple insurance carriers and compare rates if you want the best deal possible.
For example, say there is a family that lives in Idaho and a family that lives in Florida with homes of similar and market value. Although the homes are worth a similar amount, because of the amount of risk associated with each location they will be paying very different premiums. The family in Idaho has a low risk of natural disaster occurring, while the family in Florida has a relatively high risk of a hurricane damaging their home. Many other factors such as the rate of property crime in your neighborhood, age at the time you purchase your home, how many residents your home has, and many more all play into determining insurance premiums.
It is also a good idea to do your research to determine on the specific types of coverage you are actually looking for. You might get a great quote from one provider for a standard homeowners policy, but that doesn't mean that you will be getting the right type or amount of coverage. You want to ensure that you are getting the lowest premiums, as well as the right coverage, which might take some digging around to find.
Say you don't want to switch providers but you think you are paying too much for your home insurance. You can always ask for a discount. Your insurance provider might not be able to offer you one, but it doesn't hurt to ask. Some providers will also reduce your premiums if you have been with the company for a while, or give out discounts.
According to the Insurance Information Institute, some examples of when you may qualify for a discount are if you're retired, or if you've updated your plumbing system or roof. They also might discount your premiums if you have taken time to improve your home to make it safer and more disaster resistant.
You don't bundle your policies
If you are someone who has their auto insurance, homeowners insurance, and life insurance (if you have it) under different providers, this might be a sign you are being overcharged. By bundling all your policies under one provider, you can get a major discount. The discount will depend on what you are bundling and your specific provider, and it would be wise to talk to an insurance broker for further details.
Find out how much you could save by bundling. Just request a quote to lower your homeowners insurance rates.
You've filed numerous insurance claims
It stands to reason that the more claims you file, the higher your insurance premiums will be. How an insurance provider will adjust your rates depends on the type of incident you are filing the claim for, the previous claims you have filed, the location you are living in, and more. If you have filed many claims in the past, your insurance provider might view you as a risky customer, and can increase your rates, or even cancel your policy.
Keep the claim filing to a minimum, and only file for major issues with your home, not just because of minor cosmetic damage. Every claim you have filed from the past seven years gets entered into a database called the Comprehensive Loss Underwriting Exchange (CLUE), which can track any auto or property claims you have made. This means that even if you switch providers after you make a large claim, your new provider can charge you a higher amount based on your claim history.
Your deductible is low
If you think your rates are too high and you live in an area with a low risk of natural disasters, you might want to consider increasing your deductible, which can lower your premiums by as much as 25 percent.
Your home hasn't been inspected lately
By getting your home inspected every few years (or even annually if you have an older home) and fixing issues the inspector finds with your home, you can significantly reduce the chance of making a homeowners insurance claim, and may even be able to negotiate a decrease in your premiums.
A common mistake that people who purchase a brand new home make is to not get the home inspected by a licensed professional. It might seem reasonable to assume that a newly built home or new addition to your home won't have any problems, but it can be a costly mistake to assume that the builder or contractor's work is flawless.
It doesn't hurt to be extra cautious about your home, as it could save you money in the long run. If something does go wrong with the home you neglected to get inspected, and you have to file a claim, your premiums will go up. Generally speaking, you don't want to file a homeowners insurance claim unless you absolutely must.
Your home isn't protected from likely dangers
The appropriate types and amounts of coverage your policy contains will vary based on where your home is located. One surefire way to pay too much for homeowners insurance is to purchase a policy that protects you from every danger imaginable, even though you live in a low risk location. You should talk with a broker and assess what type of risk you home is prone to, and from there you can adjust your coverage. You don't want a penny more than you need to, especially if you don't need much coverage.
On the other hand, if you live in a location that is at higher risk of natural disaster, you might want to weatherproof and safeguard your home to prevent damage. For example, you may want to earthquake proof your home by making sure your walls are anchored to the foundation, and that the foundation is strong enough. You can hurricane proof your home to some extent by getting storm shutters and sturdy doors.
Whatever the natural disaster, there are safety measures you can take with your home, that can help to reduce your risk of a claim and possibly reduce your premiums.
Your home lacks safety features
One thing that can reduce your insurance premiums that many people often don't think of is getting a burglar alarm system, as well as purchasing carbon monoxide detectors for their home. These simple measures to take can reduce your premiums, because an insurance provider will see that you and your home are less of a risk than others in the neighborhood.
You have attractive nuisances on your property
An attractive nuisance is something on your property that attracts people, especially children, but can also be dangerous. If someone were to walk on your property, swim in your pool and get injured, you could be held liable. Insurance companies take attractive nuisances like swimming pools, trampolines, and jungle gyms seriously, because of the high rate of injuries caused by them.
Your credit could be better
This might seem like something you would want to make sure you have when purchasing a home and an insurance policy for the first time, but insurance providers will want to continue working with people who have good credit and don't default on their loans.
This is why it is important to maintain your good credit, because insurers will be more likely to charge you lower premiums, other things being equal.
QuoteWizard.com LLC has made every effort to ensure that the information on this site is correct, but we cannot guarantee that it is free of inaccuracies, errors, or omissions. All content and services provided on or through this site are provided "as is" and "as available" for use. QuoteWizard.com LLC makes no representations or warranties of any kind, express or implied, as to the operation of this site or to the information, content, materials, or products included on this site. You expressly agree that your use of this site is at your sole risk.