Best Homeowners Insurance Companies in Idaho
For most people, their home is the biggest investment of their lives. That's why protecting your home with the best homeowners insurance coverage for you is important. Finding coverage at an affordable price can be difficult, which is where QuoteWizard's analysts come in.
We ranked the best homeowners insurance companies in Idaho, taking price, customer satisfaction ratings, coverage and availability into account. These four companies stood out as the best in the state:
Idaho Farm Bureau: best overall
We recommend Idaho Farm Bureau as the best home insurance company in the state, offering the most affordable rates we saw, standard coverage and member benefits. Idaho Farm Bureau has been protecting homes in Idaho since 1947 and today insures 10% of homes in the state.
Idaho Farm Bureau has the most affordable rates of any company, according to our study. Its annual premium is $492, which is 41% below the state average. Idaho Farm Bureau's coverage is standard for the industry, giving it the best overall value in our opinion.
To purchase Idaho Farm Bureau home insurance, you must be a member of the Idaho Farm Bureau Federation (IFBF). Membership fees depend on your county, but IFBF says they are $50 or less annually. IFBF membership gives you access to travel, entertainment and other discounts, making it worth the annual dues for most people.
Allstate: cheap rates
Our research found that Allstate offers some of the cheapest rates in Idaho, averaging $623 a year. You won't have to sacrifice customer service or coverage to take advantage of Allstate's cheap rates: it received an average rating of 3/5 in J.D. Power's 2019 home insurance study and writes standard home insurance policies.
The cost of home insurance varies by location because some areas have higher risk profiles than others. Allstate's rates remain low throughout Idaho, however, regardless of where you live. Here are Allstate's average rates across some of Idaho's cities: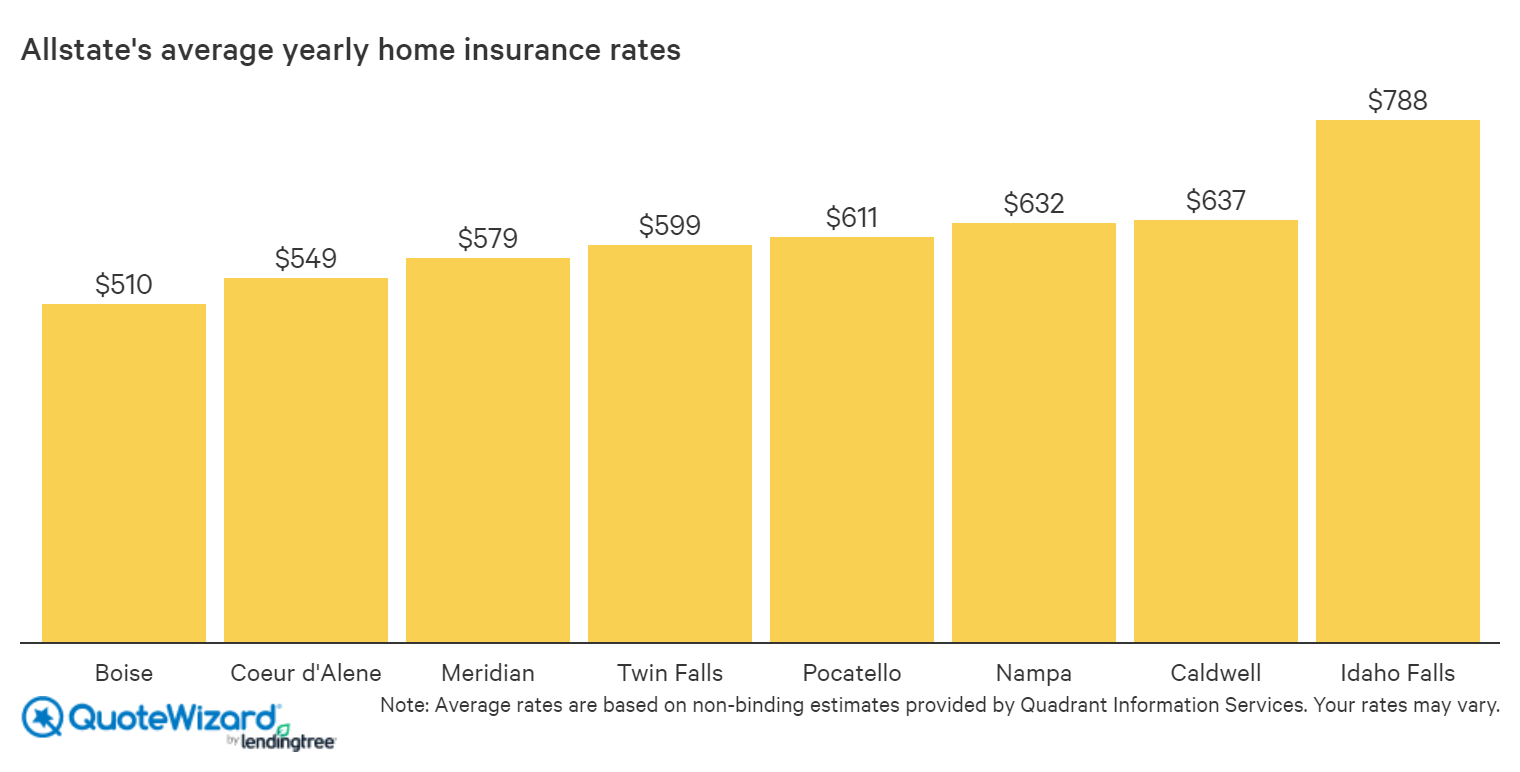 Switching companies is a great way to save money on home insurance. For more ideas, check out our guide to lowering your premiums.
American Family: best bundle
American Family is our pick for the best home and auto bundle, with great customer satisfaction ratings for both types of insurance and generous bundling savings. American Family's website says customers who bundle can save up to 29% on auto insurance and 20% on homeowners insurance.
American Family received a 3/5 in overall satisfaction for homeowners insurance and 4/5 in overall satisfaction for auto insurance in J.D. Power's 2019 studies. Those ratings indicate strong performance for both types of insurance, which is important if you plan on bundling.
Our study found that American Family's average rates are already low before bundling: an average of $656 a year, which is $182 below the Idaho state average. Combined with its bundling discount, American Family is a great company to consider if you want your home and auto insurance under one roof.
Farmers: a solid all-around insurer
Farmers offers fair rates and decent customer service, making it another good option for homeowners in Idaho. Farmers is the third-largest home insurance company in the state, meaning it will be a local option for many Idahoans.
Farmers' average rate is $845 a year, or $70 a month, putting it close to the state average of $838. Its NAIC Complaint Index, which measures complaints relative to a company's size, is in line with many of its competitors. Similarly, it received a 3/5 rating for overall satisfaction in J.D. Power's 2019 home insurance study, which is an average rating.
Find affordable homeowners insurance in Idaho
See how much you can save!
Homeowners insurance companies in Idaho
Most homeowners in Idaho purchase insurance from large home insurance companies like State Farm, Liberty Mutual, Farmers or Allstate. There are also a handful of regional insurance companies, like Idaho Farm Bureau and Mutual of Enumclaw, that have a presence in the state.
Idaho home insurance companies
Company
Market share
Overall satisfaction rating
NAIC Complaint Index (lower is better)
State Farm
15%
4/5
0.18
Liberty Mutual
14%
2/5
0.31
Farmers
11%
3/5
0.37
Idaho Farm Bureau
10%
—
0.26
Allstate
8%
3/5
0.29
USAA
7%
5/5
0.15
American Family
4%
3/5
0.32
Travelers
4%
2/5
0.30
United Heritage Insurance
4%
—
—
Mutual of Enumclaw
3%
—
0.24
Auto-Owners
3%
4/5
0.20
*According to 2019 J.D. Power home insurance study.
For more information on some of Idaho's top home insurance companies, check out our best homeowners insurance companies study.
Average Idaho homeowners insurance rates
The average cost of homeowners insurance in Idaho is $838 a year. That's well below the national average of $1,215, making Idaho an affordable state for homeowners.
Idaho average annual homeowners insurance rates
 
Today
2017
2016
Idaho annual average
$838
$730
$703
Idaho price per month
$70
$61
$59
U.S. annual average
$1,215
$1,211
$1,192
U.S. cost per month
$101
$101
$99
Note: Average rates for today are based on non-binding estimates provided by Quadrant Information Services. Your rates may vary. Data from 2016 and 2017 is sourced from the National Association of Insurance Commissioners.
The graph below shows average Idaho home insurance rates by company. Our study found rates as low as $492 a year from Idaho Farm Bureau and as high as $1,407 from State Farm.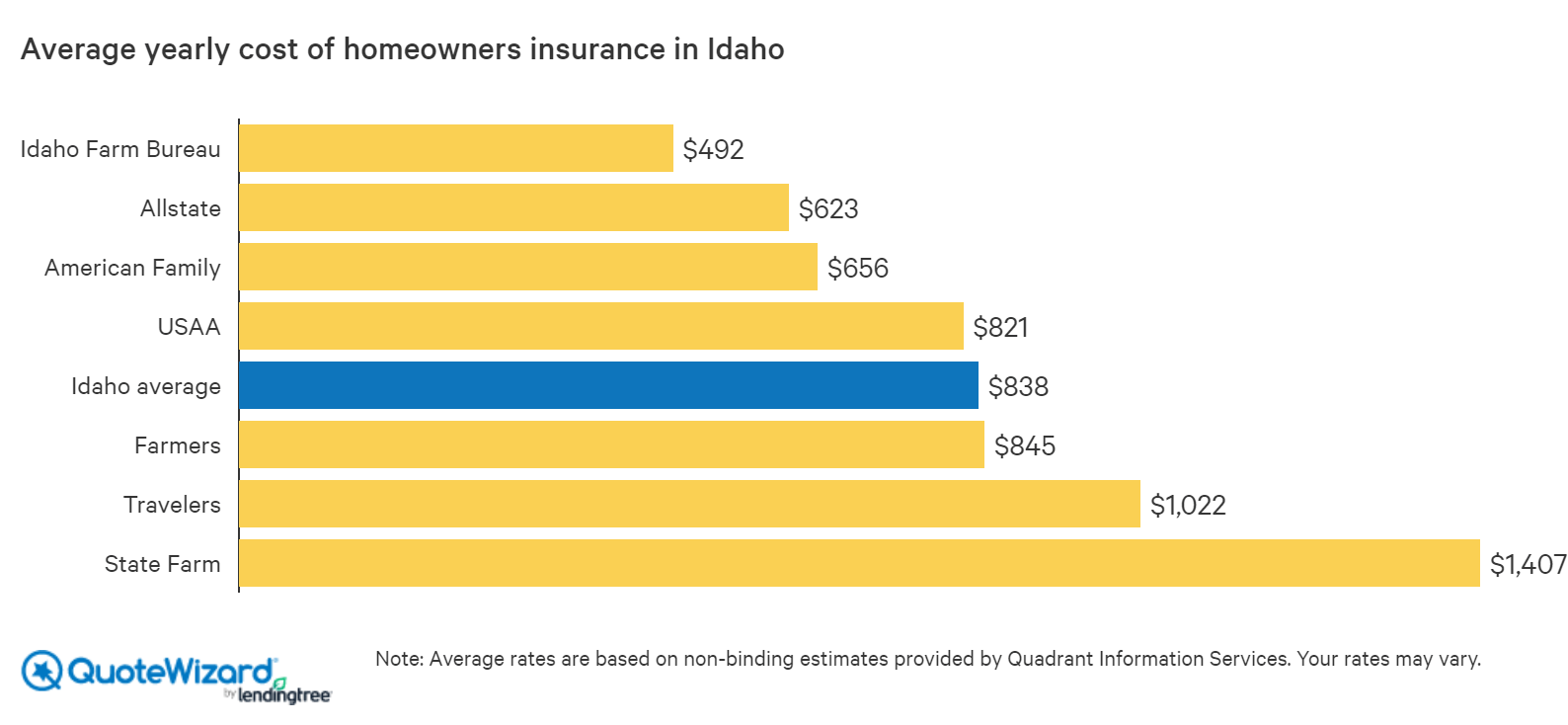 These average rates can help you ballpark whether you're overpaying for home insurance or not. We recommend comparing quotes from multiple companies to make sure you get the best rates for you.
Home insurance rates by county in Idaho
Homeowners insurance rates do not vary as widely in Idaho as in many states. The lowest county average we saw was in Ada, at $751. That's good news for residents of Idaho's largest city, Boise, which is located in Ada County. Here are average rates for some of Idaho's most populous counties.
Cost of homeowners insurance in Idaho by county
County
Average premium
Difference from state average ($838)
Ada
$751
-10%
Bannock
$870
4%
Bingham
$879
5%
Bonner
$925
10%
Bonneville
$881
5%
Canyon
$803
-4%
Elmore
$832
-1%
Jefferson
$872
4%
Kootenai
$847
1%
Latah
$826
-1%
Madison
$875
4%
Nez Perce
$824
-2%
Twin Falls
$820
-2%
Note: Average rates are based on non-binding estimates provided by Quadrant Information Services. Your rates may vary.
Home insurance rates by city in Idaho
Idaho's two largest cities, Boise and Meridian, have some of the lowest rates in the state, with averages of $747 and $757 a year, respectively. Idaho Falls, on the other hand, has average rates 5% above the state average.
Cost of homeowners insurance in Idaho by city
City
Average premium
Difference from state average ($838)
Boise
$747
-11%
Meridian
$757
-10%
Nampa
$788
-6%
Idaho Falls
$883
5%
Caldwell
$804
-4%
Pocatello
$865
3%
Coeur d'Alene
$840
0%
Twin Falls
$801
-4%
Post Falls
$821
-2%
Note: Average rates are based on non-binding estimates provided by Quadrant Information Services. Your rates may vary.
Home insurance perils in Idaho
Insurance companies call an event that can damage your home a peril, and there are a handful of perils that may threaten homes in Idaho. Idaho does not experience wildfires as severe as California or a severe tornado season like Oklahoma, but there are a few events to watch out for nevertheless.
Wildfires
Idaho has about 175,000 homes at high or extreme wildfire risk, according to Verisk Analytics, the fifth most of any state. Typically, homeowners insurance covers damage from fires, but it's important to double-check with your insurance company. In particularly high-risk areas, fire damage can be excluded.
Earthquakes, landslides and mudslides
Homeowners insurance does not cover "earth movement," which is a category that includes earthquakes, landslides, mudslides and sinkholes. Idaho is a seismically active state, so homeowners might consider purchasing a separate earthquake insurance policy.
Earthquake insurance won't cover mudslides and landslides, however, which could be a concern for people who live in mountainous regions. For mudslide and landslide coverage, Idahoans will have to find coverage elsewhere.
Methodology
Our analysts compiled 1,093 quotes from the following seven home insurance companies: Allstate, American Family, Idaho Farm Bureau, Farmers Insurance, State Farm, Travelers and USAA. For our sample quotes, we used the median home value in Idaho as the dwelling coverage: $242,223, and then standard percentages. The quote specifications were as follows:
Dwelling coverage: $242,223
Personal property coverage: 50% of dwelling ($121,112)
Other structures coverage: 10% of dwelling ($24,222)
Loss of use coverage: 20% of dwelling ($48,445)
Liability coverage: $100,000
Deductible: $1,000
Build year: 1985
Our quotes came from every ZIP code in Idaho. All demographic, geographic and market data came from S&P Global.
QuoteWizard.com LLC has made every effort to ensure that the information on this site is correct, but we cannot guarantee that it is free of inaccuracies, errors, or omissions. All content and services provided on or through this site are provided "as is" and "as available" for use. QuoteWizard.com LLC makes no representations or warranties of any kind, express or implied, as to the operation of this site or to the information, content, materials, or products included on this site. You expressly agree that your use of this site is at your sole risk.