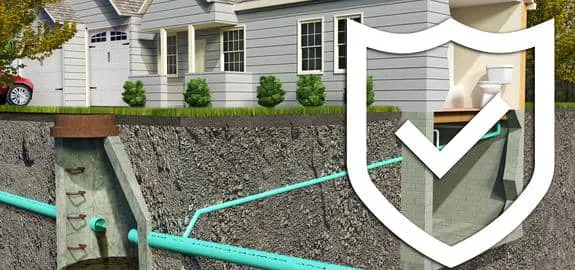 Damage caused by septic systems is usually covered by most home insurance policies. Before filing a claim involving sewage, however, be sure of where the damage originates from.
If the problem originates from your septic tank and is a non-excluded peril, the cost is often covered for repair or replacement as necessary. If the damage originates from a city sewer line, such as tree root growth in the line leading into your home causing a backup, it may not be covered by your homeowners insurance.
A large part of avoiding problems from occurring with your septic tank is prevention. Seeing as some of the causes of a septic backup may be excluded from your home insurance policy, avoiding these problems in the first place is in your best interest. This article will cover:
Septic tank issues covered by homeowners insurance
A standard homeowners insurance policy, also known as an HO-3, usually covers your septic tank against commonly-recognized damage sources (also known as "perils"). There may be some exceptions from policy to policy, but these perils often include:
Water damage
Windstorms and hail
Lightning
Fire and smoke
Falling ice or snow
Freezing
Explosions
Aircraft or vehicular damage
Theft and vandalism
Falling objects
As a rule, if any of these sources cause sudden and/or accidental damage to your septic tank, homeowners insurance will cover the damage minus your chosen deductible. Homeowners insurance should also cover the cost of removal of any waste material, repair of damaged carpentry and cleaning necessary after a septic tank backup.
Home insurance claims involving septic tanks often have a payout limit. The exact limits on septic tank coverage can vary from insurer to insurer, so make sure you know what your policy limits are.
Be aware that there are some instances where your home insurer will cover your septic tank under the "other structures" coverage section of your home insurance policy. The payout limit on other structure claims is usually 10% of your policy coverage amount, but ask your home insurance company what their limit is.
Homeowners insurance exclusions with septic tanks
A common issue with septic tank insurance claims arises if the problem involves the city sewage line leading to your home. This sewer line is a separate system and is not covered under home insurance. Should tree roots in this sewer line cause a backup, you would have to pay the repair cost out of pocket.
Home insurance also doesn't cover wear and tear that occurs over time. Standard home insurance is meant to provide relief for sudden and accidental damage. Damage that happens over time and could be preventable is generally excluded.
Damage due to substances not meant to go into septic tanks, such as non-waste solids, oil or chemicals, are excluded as well. Other substances to avoid putting in your septic tank include:
Grease and fat
Cigarette or cigar butts
Cloth rags and paper towels
Paint and stains
Structural issues can lead to claim exclusions as well. If inadequate drainage in the tank or a poorly-constructed cesspool lead to a backup, your claim will probably be denied.
Standard home insurance doesn't cover natural disasters like flooding, earthquake or landslide. As such, damage caused by these events to your septic tank will not likely be covered.
Septic tank replacement
Knowing the age of your septic tank is important when figuring out how much home insurance coverage you need. A good septic system can last anywhere from 15 to 40 years on average, but the cost to replace on can be close to $50,000. Knowing how far along in age you septic system is, as a whole and in components, may help you prepare for potential problems.
Drain/leach field
The drain field, otherwise known as a leach field, is the part of the septic system that removes contaminants from water in the tank before delivering it back to the soil. Indicators that something is wrong with the leach field include a swampy area developing around the tank area or a sewage odor. Depending on the size of the field, replacement can cost anywhere from $2,000 to $10,000.
Be aware that you should never park a vehicle on your drain field, or on your septic tank in general. This could pack the soil and lead to pipe breakage. Damage due to parking on the drain field is not covered by your homeowners insurance.
The baffle
The baffle is the portion of the septic tank that regulates the flow of wastewater to the bottom of the septic tank. In some cases, the replacement of the baffle is enough to fix a problem that would otherwise require a full tank replacement. Baffles usually cost $300 to $500.
Tank pump
The pump of a septic tank brings effluent up to the drain field if the tank is at a lower position than the drain field. A residential sewage pump should last five to seven years. Replacement can cost between $800 to $1,400.
Tank lid
The tank lid provides access to the septic tank. Check the lid on an annual basis, as a corroded tank lid is a serious danger to anyone walking over it. Tank lid replacements usually cost $30 to $70, although it can be more if the lid is concrete instead of metal.
References:
QuoteWizard.com LLC has made every effort to ensure that the information on this site is correct, but we cannot guarantee that it is free of inaccuracies, errors, or omissions. All content and services provided on or through this site are provided "as is" and "as available" for use. QuoteWizard.com LLC makes no representations or warranties of any kind, express or implied, as to the operation of this site or to the information, content, materials, or products included on this site. You expressly agree that your use of this site is at your sole risk.