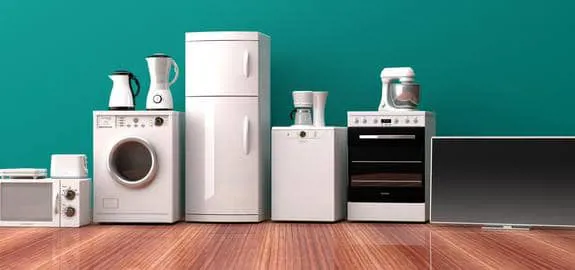 Home appliance insurance, also known as "home warranty" or "equipment breakdown coverage" can protect your dishwasher, refrigerator and other appliances in your home from wear and tear, which homeowners insurance typically doesn't cover.
Home appliance insurance shares similarities to a manufacturer's warranty, but has more advantages. While a manufacturer's warranty covers a single item for defects from the time of the item's purchase for a limited time, you can buy equipment breakdown coverage at almost any time to cover a range of items for as long as you pay the premium.
This article will cover:
What is home appliance insurance?
Home appliance insurance covers appliances in your home from damage caused over time by wear and tear. Homeowners insurance typically only covers your appliances in the event of sudden or accidental damage, so home appliance insurance can be a good way to fill that coverage gap.
The appliances covered by a home warranty may vary depending on the provider and the plan you purchase, but a typical home appliance insurance policy includes:
Ovens, ranges and cooktops
Built-in microwaves
Dishwashers
Washers and dryers
Refrigerators
Equipment breakdown coverage is an excellent solution when your appliances have outlived their manufacturers warranty. In the event of wear-and-tear damage to a covered appliance, your policy can cover the repair of the appliance or its replacement if it cannot be fixed.
Home appliance insurance vs. manufacturer's warranty
While both home appliance insurance and a manufacturer's warranty share a similar core purpose, the key difference lies in the extent and duration of coverage. The table below compares home warranties and a manufacturer's warranty:
| Plan type | Term of coverage | Start of coverage | Number of appliances covered | Transferable to other owners? |
| --- | --- | --- | --- | --- |
| Home appliance insurance | For length of premium payment | 30 days after purchase of policy | Many appliances, regardless of brand | Yes |
| Manufacturer's warranty | Usually one year from purchase date of appliance | Date of appliance purchase | Single item | Usually not |
Home warranties covers a range of appliances, as opposed to the single-item coverage of a manufacturer's warranty. Some home appliance insurance providers even offer plans that cover HVAC systems and water heaters.
Also, a manufacturer's warranty typically has an expiration date. This duration is usually 12 months. With a home appliance insurance policy, it stays active for as long as you pay the premium. It is standard for a home appliance insurance policy to become active 30 days after you purchase it.
You can also buy a home warranty long after you've purchased the appliance. As long as the appliance is in good working order and has no pre-existing conditions at the time of coverage, your insurance should cover it. Manufacturer's warranties usually can only be purchased when you buy the appliance.
Lastly, home appliance insurance is transferable. Home sellers may provide home appliance insurance as part of the house sale to provide additional value. A manufacturer's warranty is sometimes transferable.
Exclusions and limits
When considering a home appliance insurance policy, you should be aware of the exclusions and limits that most policies have:
Pre-existing problems
Most home warranty providers do not cover pre-existing problems. If they do, the coverage and its limits will be specifically noted in your policy. Improper installation of an appliance and appliances showing code violations often void coverage as well.
Items currently covered by a manufacturer's warranty
If the manufacturer's warranty on a particular appliance is still in effect, it may be excluded from your home appliance insurance coverage.
Indoor systems
HVAC is usually not covered under an appliance-only policy. Neither are water heaters and electrical or plumbing systems. Your equipment breakdown coverage company may offer extended coverage options for these and other systems for a price.
Outdoor amenities
Systems outside your home such as pools, spas, hot tubs and sprinkler systems are not typically covered under a home appliance insurance policy.
Upgrade cost
Home appliance insurance doesn't usually cover upgrading a replacement appliance to a more expensive model.
What does home appliance insurance cost?
The cost of a home appliance insurance policy can be anywhere between $430 and $720 yearly. Your final price for a policy may depend on where you live and extra coverage you may choose. If you buy a policy for more than one year, you could see a break on your yearly premium.
How does home appliance insurance work?
If a covered appliance is damaged, contact your equipment breakdown coverage provider to start the claims process. A contractor will arrange to look at the problem. Some companies have a network of contractors to choose from, while others allow you to pick your contractor.
The contractor will assess the problem. If the problem requires a repair, the contractor should take care of it. If the item cannot be fixed, the contractor can arrange for a replacement appliance of equal value within your policy limits to be installed. In either case, you will pay the contractor a service fee for their work. Service fees may vary by company, but tend to be under $100.
Is home appliance insurance worth it?
A home appliance policy can be an excellent value if:
You're a new homeowner who's purchased an older home.
You want to save money on appliances of unknown age.
You want to increase the value of a home you're selling.
If you're buying an older home and the seller doesn't provide a home appliance insurance policy, or if you don't know the age of the appliances in the home, you may be doing yourself a favor by getting home appliance insurance. The following table gives an overview of common home appliances, as well as their average life expectancies and repair costs:
| Appliance | Life expectancy | Repair cost |
| --- | --- | --- |
| Refrigerator | 10 -18 years | $200 - $400 |
| Dishwasher | 7 - 12 years | $100 - $200 |
| Dryer | 10 - 13 years | $100 - $400 |
| Oven | 11 - 15 years | $50 - $100 |
As you can see, the average cost to repair a refrigerator can be upwards of $400, or even more if it needs to be replaced. A yearly premium plus the service fee could be far less than that. If you're selling a home, adding home appliance insurance can be an attractive selling point. At the end of the day, home appliance insurance can give you significant peace of mind
Best home appliance insurance companies
If you're looking for a home appliance insurance company, some popular providers include:
American Home Shield
AFC Home Club
Total Protect Home Warranty
Choice Home Warranty
Select Home Warranty
References:
QuoteWizard.com LLC has made every effort to ensure that the information on this site is correct, but we cannot guarantee that it is free of inaccuracies, errors, or omissions. All content and services provided on or through this site are provided "as is" and "as available" for use. QuoteWizard.com LLC makes no representations or warranties of any kind, express or implied, as to the operation of this site or to the information, content, materials, or products included on this site. You expressly agree that your use of this site is at your sole risk.