Why Is My Car Insurance So Expensive?
Here's why your car insurance is so high and what you can do to lower your rates.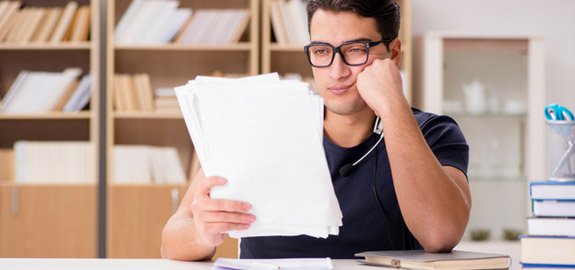 Did something recently make you ponder, Why is my car insurance so high? If so, you've come to the right place.
In this article, you'll find information on the most common reasons why auto insurance is so expensive, including:
You'll also learn what you can do to lower your car insurance costs.
Why is my car insurance so high?
Several factors determine what you pay for car insurance at any given time.
You can control some of these rate factors — like your car's make and model or your driving history. You can't control others, though — like your age or even nationwide increases in claim frequency or medical costs.
Regardless, if you just looked at your bill and it's got you wondering, Why did my car insurance go up? — here are some of the most likely reasons.
Your age, where you live and your credit score can make your car insurance go up
Your age
One reason your car insurance is so high may be your age. Especially if you're under 25 or over 65.
Younger drivers pay more for car insurance than older drivers. Teen drivers, in particular, pay more for auto coverage.
Why? Drivers between the ages of 16 and 19 are three times more likely to get into accidents. Teen drivers are more likely to be involved in fatal accidents, too. Because of this, car insurance companies charge higher rates to teenagers.
In fact, most companies charge young drivers higher car insurance rates until they turn 25. After that, their rates level off until they turn 65. That's right — senior drivers who are 65 and older pay more for auto insurance because of:
Diminishing cognitive capabilities
An increase in prescription medication use
A decrease in motor function
Your credit score
Bad credit can make your car insurance go up, too.
The reason: studies have shown that people with poor credit scores file more claims and get higher payouts. As a result, people with bad credit often pay more for car insurance than people with good credit.
Where you live
If you're questioning why your auto insurance is so high, you've also got to look at where you live.
The state and city you call home plays a major role in what you pay for car insurance coverage. This is because insurers consider all of these geographical factors when pricing a plan:
Number of claims in your area. If drivers in your neighborhood file more claims than average, insurance companies may believe you will, too.
Crime rate. Are a lot of cars in your area stolen? Does a lot of vandalism occur? Is property damage common? Insurance companies charge higher rates to people in high-crime neighborhoods.
Density. Busy neighborhoods with lots of residents usually have more cars. More cars on the road leads to more accidents — and more expensive car insurance.
Unemployment levels. Drivers who don't have jobs are more likely to skimp on car insurance. Companies charge more for coverage in areas of high unemployment because they pay more for claims involving uninsured drivers.
The kind of car you drive and your driving history can make car insurance expensive, too
The type of car you drive
Your vehicle also may be to blame for your expensive car insurance.
So, if you drive an expensive car, it's likely your car insurance will be expensive, too.
This is true whether you have a classic car, a sports car or a luxury car. These vehicles usually cost more to repair, so companies charge higher car insurance rates for them.
Car insurance companies also look at a vehicle's safety record, as well as how likely it is to be stolen when pricing a policy. If your vehicle does poorly on safety tests or has known malfunctions, expect to pay more for auto insurance coverage. Expect the same if your car make or model is frequently stolen.
Your driving history
Another possible reason your car insurance is so high: you're a bad driver or you have a bad driving record.
Good drivers pay less for auto insurance because they're less likely to file a claim. But if you get a lot of tickets or get into a lot of accidents, your insurer may label you a high-risk driver. And high-risk car insurance costs substantially more than basic coverage.
Not sure if you're a high-risk driver? Contact your insurance company and ask. You can ask your state's DMV for a copy of your driving record, too. Heads up: citations for things like speeding or reckless driving usually stay on your record for three to five years.
Why your claims history, as well as your coverage and deductible amounts, can raise your car insurance rates
Your claims history
Your car insurance may have gone up because you've filed too many claims.
Claims cost insurance companies a lot of money, so it makes sense they pass along some of that cost to their customers. Especially their customers who file a lot of claims.
If you're worried your insurer will jack up your auto insurance rates for filing too many claims, pay for minor car accidents out of pocket whenever possible.
Your coverage
One more potential reason your car insurance is so expensive: you have more than the state minimum level of coverage.
Every state except New Hampshire requires its drivers to buy at least a minimum amount of these three types of coverage:
Individual Bodily Injury Liability (BIL). This is the most your insurance company pays out if you cause an accident and injure other people. State minimums range from $15,000 to $50,000.
Total Bodily Injury Liability. The amount your insurance company will pay in total for everyone injured in a car accident. It applies to people not on your policy. State minimums range from $30,000 to $100,000.
Property Damage Liability (PIL). This is the most your insurance company will pay for property damage caused by a car crash. It includes all physical damage such as vehicle repairs and damage to road fixtures. State minimums range from $5,000 to $25,000.
If you get more than your state's minimum level of coverage, you'll pay more for car insurance than you would if you stuck to the basics.
Your deductible
Does your policy have a low deductible? If it does, that could be why your car insurance is so high. After all, having a low deductible usually means having a high premium, or monthly payment.
Still, it's tempting to go with a low deductible when you buy car insurance. But a low deductible can be expensive in the long run. If you think your insurance premium is too high, consider raising your deductible. It will lower your monthly bill.
Just be aware that you'll pay higher out-of-pocket costs if you get into an accident with a high deductible.
Your car insurance could be so high because you didn't shop around or check for discounts
You didn't shop around
If you bought the first policy you came across, you're probably paying more for car insurance than you should.
Shopping around and comparing quotes from multiple companies is the key to getting the best car insurance rates. Why? Because every insurer determines rates in a different way.
You didn't check for discounts
Ignoring car insurance discounts can cause your bill to be a lot higher than it would be otherwise.
That's too bad, because insurers offer tons of different discounts these days. A few examples:
Student drivers with good grades qualify for discounts at most insurance companies.
If you go accident-free for a set amount of time, you could nab a good driver discount.
Do you belong to any clubs or organizations? Many insurers give discounts for that, too.
Another common car insurance discount is tied to low mileage. In other words, if you use your vehicle sparingly, you might save some money.
Everyone's car insurance rates are rising
You're not the only person asking themselves, Why is car insurance so high?
Reports suggest that car insurance companies across the board are raising rates because they're seeing diminishing financial returns due to factors like:
Bad weather. Insurers have paid out more claims than expected due to inclement weather in recent years.
More accidents. Americans are driving more, thanks in part to a strong economy and low gas prices. More drivers and more miles lead to more accidents, more claims and more payouts.
More expensive vehicle repairs. Not only are insurance companies dealing with more accidents and more claims, but they're dealing with more expensive claims, too. The reason: today's vehicles cost a lot more to repair thanks to all the technology and gadgetry packed inside them.
Rising medical costs. Car insurance companies really feel the strain when paying out claims involving medical bills.
How to lower your car insurance costs
Think your car insurance is too expensive? Do the following and it could lower your rates:
See if you qualify for any discounts from your current insurance company. See if you qualify for any discounts from other insurers, too.
Increase your deductible if you can afford the higher out-of-pocket costs that may come along with it.
Decrease your coverage, especially if you can't afford full coverage and if you have more than you need.
Shop around and get quotes from a number of auto insurance companies.
QuoteWizard.com LLC has made every effort to ensure that the information on this site is correct, but we cannot guarantee that it is free of inaccuracies, errors, or omissions. All content and services provided on or through this site are provided "as is" and "as available" for use. QuoteWizard.com LLC makes no representations or warranties of any kind, express or implied, as to the operation of this site or to the information, content, materials, or products included on this site. You expressly agree that your use of this site is at your sole risk.