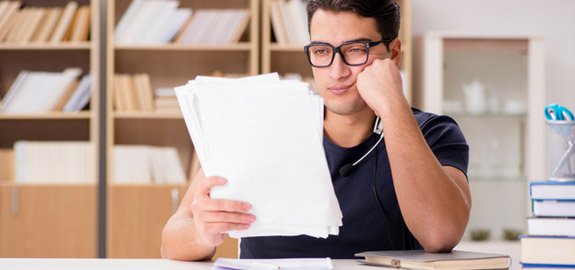 Have you ever been surprised by the high cost of your car insurance? You're not alone, as car insurance rates are steadily rising across the country. If you're looking for answers to why your car insurance is so expensive, we're here to help you.
The price of car insurance depends on many different factors -- some are under your control, while others are not. For example, your car make and model will impact your insurance rates. But national trends like increases in claim frequency and rising medical bills can raise your rates, and there's not much you can do to change that.
We looked at industry reports, survey data, and insurance business trends to identify the main factors behind skyrocketing insurance rates. If you're curious why your insurance costs so much, keep reading to see what applies to you.
1. Do you have a bad driving history?
One of the main deciding factors behind your insurance rate is your record behind the wheel. Good drivers pay less for insurance because they're less likely to be involved in a claim. But if you receive vehicle citations or get into accidents, you may be designated as a high risk driver. High risk drivers pay substantially higher premiums because they are more likely to cost insurers money through claims.
If you're unsure if you're a high risk driver, contact insurance company and find out. You can also ask your state's DMV for a copy of your driving record. Most citations like speeding or reckless driving will remain on your record for three to five years.
For more details on car insurance for drivers with tickets or accidents, read our article "Car Insurance for Drivers With Tickets or Accidents"
2. Have you filed many claims?
Similar to your driving history, if you file too many claims your insurer will raise your rate. The cost per claim for insurers is rising, and they are passing the bill to their customers. Beyond raising your rates, you run the risk of your insurance company dropping you altogether in the event of too many claims.
If you're concerned about raising insurance rates due to excessive claims, consider paying car expenses out of pocket when possible. For example, it may be tempting to file a claim for a minor fender bender. But the inevitable increase in rates from filing excess claims may cost you more in the long run.
For more information on how to handle claims, read our articles "Paying for Minor Car Accidents Out of Pocket" and "Car Insurance Claims Tips"
3. How old are you?
Fact: younger drivers pay more for car insurance. This is especially true for teen drivers. People between the ages of 16 and 19 are three times more likely to be involved in an accident than drivers ages 20 or older. Teen drivers are also involved in fatal accidents at significantly higher rates. Because of this, car insurance companies charge higher rates for teenagers.
Most car insurance companies will charge drivers more until they're around 25 years old. After that, insurance rates level out until a driver is eligible for the early bird special. That's right: senior citizens ages 65 and up pay increased rates due to a few reasons:
Diminishing cognitive capabilities
Increase prescription medication use
Decrease in motor function
Unfortunately, there's not much you can do about your age. Make sure you shop around to get the best deal. For more information on how to get the best deal despite your age, visit our page "Car Insurance For Teen and Senior Drivers"
4. Check for discounts
It's easy to forget about car insurance discounts. After all, there are tons of different discounts available, and it's usually up to the customer to inquire about them. You may qualify for discounts for several reasons, such as these:
Good students: Drivers with good grades qualify for discounts at most insurance companies.
Safety: Going accident-free for a set amount of time entitles drivers to safety discounts.
Clubs and memberships: Belonging to specific clubs and organizations opens the door to discounts.
Low mileage: Drivers who use their vehicles sparingly may pay less than people who drive frequently.
Telematics device: Outfitting a car with a telematics device helps people demonstrate their safe driving to insurers.
It's up to you to find out which discounts you're eligible for. For a comprehensive guide, read "32 New Ways to Earn Car Insurance Discounts"
5. Do you have a high level of coverage?
Each state has set minimums for each type of coverage. If you purchase more than the state minimum level of coverage, you can expect to pay higher rates. Every state except New Hampshire requires some form of these three types of coverage:
Individual Bodily Injury Liability (BIL): This is the most your insurance company will pay persons on your policy who are injured in a car accident. State minimums range from $10,000 to $50,000.
Total Bodily Injury Liability: The amount that your insurance company will pay in total for everyone injured in a car accident. It applies to yourself and people not on your policy. State minimums range from $20,000 to $100,000.
Property Damage Liability (PIL): This is the most your insurance company will pay for property damage caused by a car crash. It includes all physical damage such as vehicle repairs and damage to road fixtures. State minimums range from $5,000 to $25,000.
Many drivers buy only the state minimum levels of coverage. But if you purchase more, or add extra perks to your plan like roadside assistance or comprehensive and collision coverage, your rates will rise.
To find out more information about your state's minimum coverage requirements, read "Bare Minimum Coverage Levels by State"
6. What kind of car do you drive?
Expensive cars cost more to repair, which means they cost more to insure. Repairing a classic car or a brand new sports car is more expensive than repairing a reliable albeit boring vehicle.
Car insurance companies also consider a vehicle's safety record as well as the likelihood of theft. If your car ranks poorly on safety tests or has known malfunctions, expect to pay more. And if your car is among the models that are frequently stolen, your insurer may charge higher rates.
For more on how your car make and model impacts your premium, read ""
7. Do you have bad credit?
Some studies show that poor credit scores coincide with higher claim frequency and payouts. As a result, people with bad credit pay more for car insurance. It's a contentious practice that has earned criticism, but it's a reality. If you have shoddy credit history, be prepared for higher rates.
For more information on how your credit score can hurt your rates, see "Credit Scores and Car Insurance Rates"
8. Do you have a low deductible?
A deductible is the amount you must pay before your insurance kicks in. For example, let's say you have a $500 deductible. If you get into an accident and cause $1,000 worth of damage, you have to pay $500 out of pocket. Your insurer covers the rest.
It's tempting to purchase a low deductible so you can rely on your insurance company to cover your costs. But a low deductible is expensive. If your insurance premium is too high, consider purchasing a higher deductible. It will lower your monthly bill – but be aware that your out-of-pocket costs will be higher in the event of an accident.
A high deductible is a bit of a gamble. If you're unsure about your deductible, read our article, "What Should My Deductible Be"
9. Do you live in a bad neighborhood?
The state and city that you call home is vital to deciding your car insurance rate. Insurers consider several geographical factors when pricing your plan:
Number of claims in your area: If drivers in your neighborhood are filing more claims than average, insurance companies may believe that you are likely to do so as well.
Crime rate: Are cars in your area at-risk of being stolen? Does vandalism occur frequently? Is property damage common? Insurance companies charge higher rates in neighborhoods with a propensity for crime.
Density: Busy neighborhoods with lots of residents usually have more cars. More cars on the road leads to higher accident frequency.
Unemployment levels: Drivers without employment are more likely to skimp on car insurance. Insurers charge more in these areas because they pay significantly more for claims involving uninsured drivers.
It's a practice that has courted some controversy, as it disproportionately affects poor and minority neighborhoods. But the current reality is that people in poorer neighborhoods can generally expect high insurance premiums.
For more information on how your geographical location can impact your car insurance rate, please read our article "Where You Live Affects Car Insurance Rates"
10. Rates are rising everywhere
The good news is that you're not alone when it comes to rising premiums. Reports indicate that car insurance companies are seeing diminishing financial returns due to a variety of factors:
Bad weather: Many states have experienced more snowstorms, hurricanes, and turbulent climates in recent years. Insurers have paid out more claims than expected due to inclement weather.
Texting behind the wheel: Distracted driving is becoming increasingly common. In fact, distracted driving deaths rose 9 percent in 2015.
More accidents: American's are driving more and more thanks in part to a strong economy and low gas prices. More drivers, more miles, and more cars leads to more accidents.
Rising medical costs: Health care spending recently rose by the biggest amount in 32 years. Car insurance companies feel the strain when paying out claims involving medical bills.
11. Do you shop around?
Each insurance company's method for determining rates is different from other companies. That's why it's crucial to shop around for auto insurance and compare quotes. If you don't do your due diligence, you may end up paying inflated rates. Your insurance company may overvalue a factor that you rank poorly in, while another company is more forgiving.
Read "How to Compare Car Insurance Rates" for more information.
QuoteWizard.com LLC has made every effort to ensure that the information on this site is correct, but we cannot guarantee that it is free of inaccuracies, errors, or omissions. All content and services provided on or through this site are provided "as is" and "as available" for use. QuoteWizard.com LLC makes no representations or warranties of any kind, express or implied, as to the operation of this site or to the information, content, materials, or products included on this site. You expressly agree that your use of this site is at your sole risk.