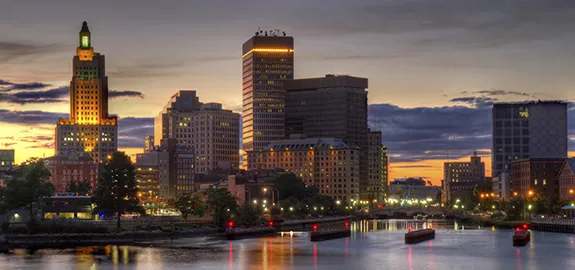 If you're a high-risk driver living in Rhode Island, you may need to apply to the Rhode Island Automobile Insurance Plan. This program was created to ensure that all RI drivers have access to the state's minimum auto insurance limits.
Drivers who were denied by several insurance companies can apply for the program and won't be denied if they're eligible. High-risk auto insurance plans charge more, so it's the final option for high-risk drivers to get insurance. This article covers everything you need to know about the RI Automobile Insurance Plan, including:
How to get coverage with the Rhode Island Automobile Insurance Plan
Drivers in RI must carry the state's minimum auto insurance requirements. But what if you've been denied coverage from several RI insurance companies? You're likely eligible for the Rhode Island Automobile Insurance Plan (RI AIP). Here's how to get coverage through this state-sponsored program:
You've been denied coverage within the last 60 days. You need to confirm on your application that you have applied to several insurers in the last 60 days without luck.
Your application is submitted into the assigned risk pool. Once your application is in the pool, you're assigned a licensed Rhode Island insurer. These insurers are the same as those on the voluntary market, but in order to sell insurance in the state, they must take a portion of high-risk drivers.
Your assigned insurer issues you a policy. The coverage you receive through the program is the same other drivers in the state receive. The difference is that your coverage will be more expensive. Coverage will last for three years after you are assigned to an insurer.
For more information, contact the Rhode Island Insurance Division at: (401) 462-9520.
Eligibility
The criteria for the RI high risk plan are simple: you must vouch that you've been rejected from several insurers within the last 60 days. Your car must also be registered in Rhode Island and you need a valid driver's license. If your license is suspended or revoked, you aren't eligible.
Your application may be denied if you have an outstanding insurance bill from the past 12 months. Also, if you omit or falsely report information on your application. If you want physical damage coverage through the program, but haven't submitted your car for inspection, you could also be denied. If they delay your application because of one of the previous issues, you can easily fix it. You just need to pay your bill, correct the application, or bring in your car for inspection.
Rhode Island Automobile Insurance Plan coverage limits
In RI, you must hold the minimum coverage for bodily injury and property damage liability to drive. Those minimums are:
Bodily injury: $25,000 per person and $50,000 per accident
Property damage: $25,000 per accident for property damage liability
RI AIP must provide you with those minimum coverage types. However, there are additional coverage options your provider will offer you. You can deny this coverage in writing, but you should consider adding it for additional protection. These are coverage types your provider will offer, including maximum RI AIP limits:
| Coverage Type | RI AIP max. Limits unless requested otherwise |
| --- | --- |
| Bodily Injury | $250,000 per person, $500,000 per accident |
| Property Damage | $100,000 per accident |
| Medical Payments | $2,500 per person/accident |
| Physical Damage (collision and comprehensive) | Up to $75,000 |
| Uninsured Motorists Bodily Injury | Cannot be higher than chosen BI limits |
| Uninsured Motorists Property Damage | $25,000 per accident |
Rhode Island Automobile Insurance Plan payment plans
Assigned Risk Pool insurance is more expensive than policies on the voluntary market. Because of this, you'll want to find an insurer on the voluntary market who will accept you as soon as possible. Until then, Rhode Island offers several payment plans for auto insurance, including:
Paying the entire premium upfront.
Paying 30 percent of the annual premium with your application. Then, the other 70 percent within 30 days of receiving your policy.
Paying a deposit of at least 15 percent of your premium at once. Then paying the rest in nine equal monthly installments. A small monthly service fee is attached to this payment plan.
References:
QuoteWizard.com LLC has made every effort to ensure that the information on this site is correct, but we cannot guarantee that it is free of inaccuracies, errors, or omissions. All content and services provided on or through this site are provided "as is" and "as available" for use. QuoteWizard.com LLC makes no representations or warranties of any kind, express or implied, as to the operation of this site or to the information, content, materials, or products included on this site. You expressly agree that your use of this site is at your sole risk.