Negotiating the Value of Your Car with an Insurance Company After an Accident
Don't like the settlement you get after a car accident? Here's how to negotiate a better payout with your insurance company.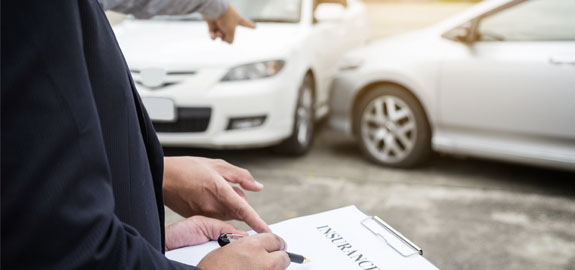 Negotiating an insurance settlement for your car can be especially important after an accident. One reason for this is the first offer your insurance company or claims adjuster sends you usually is the lowest amount they think you'll accept.
Another reason is your car's value drops if it's damaged in an accident, even if repairs return it to "like new" condition. This might prompt you to file a diminished value claim. If you and your insurer disagree about how much your vehicle's value has diminished, negotiate to get the amount you want.
You also may decide to negotiate with your insurer after it declares your vehicle a total loss and offers you less than what you think it's worth.
So, don't think you have to accept the settlement offer your car insurance company sends you after an accident. If you think it's too low, haggle with them or with the insurance adjuster, and use our advice on:
How to estimate your car's value before you negotiate a settlement
You need to know the value of your car if you want to get your best possible settlement after an accident. That number is crucial when filing a claim and when negotiating with your auto insurance company.
Here's how to determine your car's value after an accident and before you start negotiating with your insurer:
Use a car value calculator to find the pre-accident market value of your vehicle. Or check out sites like Edmunds, Kelley Blue Book or NADA.
Next, get a damage estimate from a few garages or mechanics.
Ask them for a diminished value appraisal, too. A dealer also can help you with this.
Finally, compare the damage or diminished value estimate to the pre-accident value of your car to come up with a realistic compensation range.
How to get a higher settlement after an accident
To get the claim settlement you want after an accident, you'll probably have to negotiate with a claims adjuster, someone else at your insurance company or both.
This is because the first settlement offer they send you is likely to be low, so don't be afraid to haggle with them a bit.
Here's how to get a better car insurance claim settlement after a crash:
Do your homework. You can't file a claim for something your policy doesn't cover. As such, read through your policy, starting with its declaration page. Make sure one or both of those documents refer to your situation.
Be ready with the facts. Gather important information like your car's value, a professional damage estimate or appraisal and specific details of the accident before you contact your insurer. This is how to go into a settlement negotiation in the strongest position possible.
Emphasize the emotional points of your story. Tell the insurance adjuster about how the accident and the damage it caused to your car have impacted your commute and the rest of your daily life.
Be persistent. If your insurance company doesn't respond to or settle your claim in a timely manner, don't be shy about putting pressure on them. You deserve to have it resolved quickly and fairly.
Only consider a lawsuit as a last resort. Suing an insurance company tends to be an expensive and time-consuming process. Avoid it if possible.
How to negotiate the value of a totaled car
If your insurance company declares your car a total loss, it'll pay you the vehicle's estimated value. Should you think that settlement offer is too low, negotiate with the adjuster or insurer.
To fight a totaled car payout, follow these steps:
Use one or more of the sites mentioned earlier to get a ballpark estimate of your car's value.
Check your area for listings of similar vehicles. That will help you come up with a local market estimate of your car's value.
If you made any improvements to your car in the months or even years before the accident, collect the receipts associated with them. They may impact your car's value.
Negotiating a totaled car settlement is relatively straightforward once you have the necessary information and an idea of what your payout should be.
How to negotiate a diminished value claim
Negotiating a diminished value or loss of value claim is different from a typical claims negotiation. That's because when you file a diminished value claim, you want an insurance company to cover the perceived loss in value of a car that's been in an accident.
Even if repairs have made your car "good as new," the fact that it was damaged in a crash might cause its value to drop.
A successful diminished value claim may cover that decrease in value, so here's how to help make that happen:
Proceed with caution if you caused the accident. An insurance company is unlikely to pay out on a diminished value claim if you're at fault for the crash.
Find the diminished value of your car. You can do this by estimating the pre-accident value of your car and comparing it with the trade-in value you get from a local dealership, garage or mechanic after the wreck.
File a diminished value claim with your insurer and ask for compensation. Before you take this step, you should have evidence as to who was at fault for the accident, how much your car was worth before the crash and what it's worth now, and the diminution of value you want to recover.
Contact your state insurance commissioner or hire an attorney if all else fails. Should your insurer deny your diminished value claim, reach out to your state's insurance commissioner. If that doesn't help and you're committed to a diminished value settlement, consider hiring a lawyer.
How state laws impact car insurance settlements
Where you live and where an accident occurs can impact your claim and settlement. For example:
In California, payouts depend on how at-fault you were for the accident.
Other states, like Texas, are "fault" states. That means whoever caused the accident is responsible for all damages to others involved in the crash.
In Georgia, you need to be less than 50% responsible for a crash to receive a payout.
Some states have no-fault laws, meaning that damages are paid out regardless of who caused the accident.
The laws surrounding diminished value claims are a bit different than those tied to typical auto insurance claims. Many states won't let you file a diminished value claim unless the accident was another driver's fault. For instance, you can't submit a diminished value claim in Florida if you caused the accident that damaged your vehicle, or if the damage was caused by anything other than a collision.
Bottom line
To negotiate your car's value with an insurance company after an accident, you need to come to the table prepared. That means figuring out what your vehicle was worth before it was damaged in an accident and what it's worth after. It also means gathering facts and information that will help you make your case — especially if you're disputing a totaled car or diminished value claim. Finally, it means being persistent and turning to outside sources if your insurer doesn't resolve the situation in a quick and fair manner.
QuoteWizard.com LLC has made every effort to ensure that the information on this site is correct, but we cannot guarantee that it is free of inaccuracies, errors, or omissions. All content and services provided on or through this site are provided "as is" and "as available" for use. QuoteWizard.com LLC makes no representations or warranties of any kind, express or implied, as to the operation of this site or to the information, content, materials, or products included on this site. You expressly agree that your use of this site is at your sole risk.