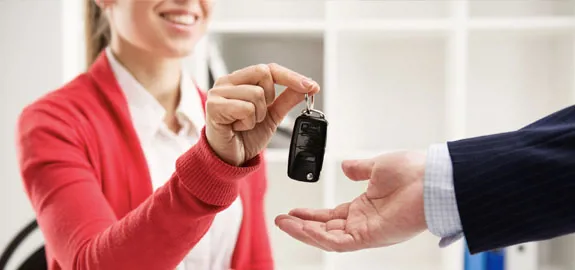 You can buy a vehicle without insurance, but you may not be able to drive it off the lot. This is true if you're a teen driver, a first-time driver of another sort, or if you simply haven't had a car or car insurance for a while.
You'll learn everything you need to know about how to buy a car with no insurance here. You'll also learn:
Do You Need Insurance Before You Buy a Car?
You don't need insurance to buy a car. But having insurance makes the process of buying and driving home a new car a lot quicker and easier. Why? By law, dealers have to see proof of insurance before they let you drive a car off the lot.
And in most cases, that means proving you meet your state's bare minimum car insurance requirements. Don't think you're off the hook here when buying a car privately. To legally drive a car home after a private sale, you need to insure it first.
Even if you risk it and drive the car home uninsured, know this: you'll likely need to get insurance for your new vehicle before you can register it or get license plates for it.
How Soon After Buying a Car Do You Need Insurance?
You need to buy insurance for a new car as soon as possible. If you can get coverage before you buy the vehicle, great. If you can't, get it while you're at the dealership.
Not possible? Then you'll need to leave the car where it is and come back for it after you have proof of insurance. Car dealerships will check that you have insurance before they let you take the car.
You may have heard about a "new car insurance grace period." It doesn't apply to buying a car without insurance, unfortunately. This grace period is for people who already have insurance on another car.
An existing policy will cover a new car for up to 14 days after it's driven home. After that, you either need to update the policy to include the new car or buy a separate policy for it.
If you don't have a policy because you previously let your car insurance coverage lapse, you'll pay more for it now.
Can I Get Car Insurance at the Dealership?
Yes, you can get insurance at the dealership, before buying a car. Most dealers will let you use a computer to shop for car insurance online before you buy a vehicle. Or you can use an app on your phone to shop for insurance while sitting in the dealership office.
Both of these methods can be lifesavers when buying a car on the weekend.
Otherwise, you might be able to use a weekend car-buying hotline. Many insurance companies set these up so people can get coverage for cars they buy on a Saturday or Sunday.
Worst-case scenario: you go home without the car, buy coverage there, and then return the next day to pick it up.
Whichever tactic you use, don't forget that legal minimum liability car insurance usually isn't enough to protect you if you cause an accident.
How Do You Get Proof of Insurance Before Buying a Car?
Most people prove they have insurance by whipping out the paper card their insurer gave them that includes policy information, effective dates, and more. That's not possible when you go to buy a car without insurance, so what can you do?
One way to get proof of insurance is to buy coverage at the dealership and then use the digital card found within the insurer's mobile app. Major insurers usually offer electronic proof of insurance.
Another option: buy coverage and then ask the insurer to fax your insurance binder to the dealer's office.
Do I Need Insurance to Test Drive a Car?
You can test drive a car without insurance as long as you have a valid driver's license.
At this point, the dealer still owns and insures the vehicle. Their insurance will cover you if something happens while you're test driving what may end up as your new set of wheels.
Do You Need Insurance to Buy a Used Car?
Yes, you need insurance if you want to buy a used car and immediately drive it off the lot.
The main difference between buying a used car without insurance and buying a new car without it: you might feel more comfortable getting the minimum amount of liability insurance coverage your state requires when you buy a used vehicle.
Before you do that, make sure you understand what liability car insurance is and how much you need to protect yourself if you're in an accident.
How Can I Get an Insurance Quote Without a Car?
You can't get an accurate insurance quote without already owning a car or at least knowing which car you want to buy. You can still get an idea of what you'll pay for a policy, though, if you:
Research the insurance rates typically attached to the makes and models that most appeal to you
Narrow down your other choices--like trim levels and safety features--as much as possible before you go to purchase your new vehicle
Both of these aspects can have a big impact on what you pay for policy, so don't get a quote until you understand how your car affects your insurance rates.
QuoteWizard.com LLC has made every effort to ensure that the information on this site is correct, but we cannot guarantee that it is free of inaccuracies, errors, or omissions. All content and services provided on or through this site are provided "as is" and "as available" for use. QuoteWizard.com LLC makes no representations or warranties of any kind, express or implied, as to the operation of this site or to the information, content, materials, or products included on this site. You expressly agree that your use of this site is at your sole risk.