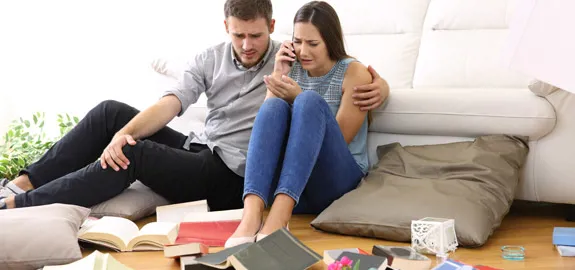 Renters insurance typically covers the theft of personal property inside and outside your rental apartment or home. Your belongings don't even need to be in or around the rental — items in a storage facility, for instance, may be covered by renters insurance from theft. Your belongings are usually also covered if they're stolen while you're on vacation or otherwise away from home.
Most of your personal property is protected against theft up to your rental insurance policy limits. However, some valuables, like art and antiques, may need extra coverage in order to be paid out at full value.
This article will cover:
How does renters insurance cover theft?
Renters insurance typically covers the theft of personal property, including furniture, books, clothing and other items. It also includes liability coverage and additional living expenses.
Your belongings should be covered against theft up to your policy's limit for personal property. For example, if you buy a policy with $25,000 in personal property coverage, you will be reimbursed for up to $25,000 of your belongings if they're stolen, minus your deductible. You should look over the specific coverage limits for theft in your policy.
If you borrowed something from a friend and it gets stolen from your apartment, your renters insurance may pay out to replace the item as well.
Does my renters insurance cover theft outside my home?
Renters insurance doesn't just cover your belongings when they're in your apartment or home. It typically provides coverage outside your dwelling as well. For example:
If your bicycle is stolen while it's parked outside your rental apartment or home, your renters insurance may replace it.
If your computer is stolen out of your car, whether it's parked outside your apartment or elsewhere, it should be covered by your renters insurance.
If someone steals your smartphone while you're riding the bus, renters insurance will typically cover its replacement.
There is no real coverage radius for covered personal property under renters insurance. Whether you're on a business trip in another state or on an international vacation, any covered personal property, like a computer or even luggage, is protected by your renters insurance.
Your renters insurance provider may only cover losses outside your rental apartment or home to a certain limit, depending on the insurance company. Make sure that you understand what this coverage limit is.
Exclusions
While renters insurance covers a wide range of theft loss, it isn't complete coverage. You should be aware of common exclusions in renters insurance policies:
Car theft
While renters insurance may cover items stolen out of your car, the car itself is not covered by the policy. You need auto insurance to cover your car against theft.
Identity theft
Identity theft coverage is not included in standard renters insurance. However, many renters insurance providers sell endorsements that allow you to add identity theft coverage to your renters insurance. This endorsement typically includes paying for the expense of clearing any damage to your identity, as well as the costs involved in using notaries and alerting credit bureaus.
High-value personal property
If you have expensive items, your renters insurance provider may only cover them to a certain dollar limit. Jewelry and electronics, for example, each usually have a limit of $1,500. If you need higher coverage limits, look into an insurance rider or specialized insurance.
Undocumented personal property
If you do not have proof that you owned a stolen item, you may be out of luck. An easy way to avoid this is to put together an inventory list of your things for your renters insurance company. This will make it easy for them to reference your losses in the event of theft.
Roommate belongings
A renters insurance policy covers the policyholder, not the apartment. If you live with a roommate, they would have to have their own renters insurance to be covered in the event of a burglary, for example.
While you can get a policy that covers you and a roommate, your renters insurance company will split the payout after a claim. You're usually much better off having your own renters insurance. Furthermore, sharing a renters insurance policy with a roommate isn't permitted in all states.
Filing a renters insurance claim for theft
If you have to file a renters insurance claim for theft, it's not as cut and dry as just contacting your insurance provider and starting the claim process. There are a couple of other steps beforehand that you should be aware of:
Contact your landlord
Alerting your landlord after a theft has occurred is often a condition in your lease, and required in many states. Furthermore, your landlord may be liable for repairs that need to be made after a break-in.
File a police report
After a burglary occurs, your renters insurance policy will probably require you to file a report with your local police department before contacting your provider. The police report provides evidence of the theft that your insurance company will reference. A police report is usually only required for renters insurance claims involving theft.
Contact your renters insurance company
Call your renters insurance provider and start the claim process. You will want to have an inventory list of the stolen items for the company to calculate your claim from. Your provider will also probably request the police report number as well.
Your renters insurance company will then provide you with the necessary claim forms to initiate the claim. Find out what the time frame is to return the claim forms, and make sure to adhere to that timeline.
QuoteWizard.com LLC has made every effort to ensure that the information on this site is correct, but we cannot guarantee that it is free of inaccuracies, errors, or omissions. All content and services provided on or through this site are provided "as is" and "as available" for use. QuoteWizard.com LLC makes no representations or warranties of any kind, express or implied, as to the operation of this site or to the information, content, materials, or products included on this site. You expressly agree that your use of this site is at your sole risk.