Security First Insurance is a private, independent insurance provider that writes homeowners, condo, renters, fire and landlord policies in Florida. Its policies are standard and transparent, and an online instant quote feature further simplifies the process. However, Security First receives more complaints than some of its competitors, even with its middle-of-the-pack pricing. Here's what you should know before getting a policy:
Security First Insurance reviews and ratings
We researched Security First using Florida's complaint filing database and found that Security First has more complaints than some of its main competitors.
Companies
Complaint Ratio
Security First
1:1376
Citizens
1:1581
Universal Property Casualty
1:1253
Progressive
1:1790
note: based on Q1 2018
You can think of the complaint ratio as complaints per policy. For example, Progressive has one complaint for every 1,790 of its policies. Security First is therefore in the middle of its competitors — it has a better complaint ratio than Universal, but worse than Citizens and Progressive.
These complaints are despite Security First's numerous customer resources, including an online claims center, mobile app and detailed policy descriptions online. One feature that sets Security First apart from its competitors is a true online instant quote, which allows you to get a non-binding anonymous quote.
Security First Insurance receives an A+ from the Better Business Bureau, meaning Security First is accredited and responsive to complaints. So even if you are dissatisfied with your policy, the company will at least address your concerns.
Security First Home Insurance is also a relatively big player in the Florida homeowners insurance market, writing 3.5% of all policies. That may not seem like a large number, but it makes Security First the 8th biggest home insurer in Florida. For perspective, State Farm, which is the largest home insurer in the U.S., only captures 6.63% of the market in Florida.
The pros and cons of Security First are summarized below.
| Pros | Cons |
| --- | --- |
| Transparent and simple quoting process | Average-at-best service |
| Reasonable premiums | Maximum of $1 million in coverage on homes |
| Online and mobile experience |   |
Cost of Security First home insurance
Security First Insurance tends to run in the middle of the pack in terms of price, with a statewide average premium of $2,156 to insure a $150,000 home without wind mitigation. We compared Security First with some of its biggest competitors like Universal, State Farm and Citizens, and broke it down by county.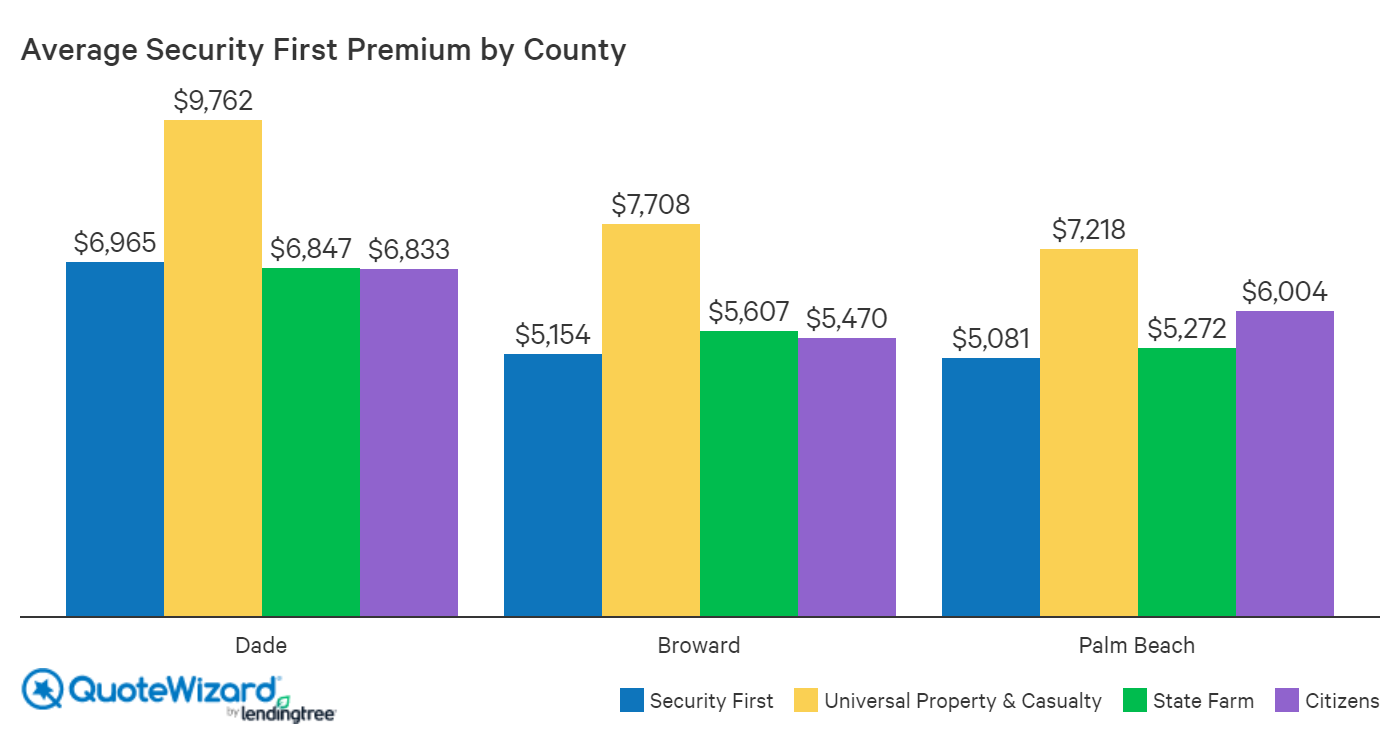 Note: data based on a $150,000 home without wind mitigation
As you can see, premiums vary by county; all companies are more expensive in Miami-Dade, for example. Security First may be your best bet in Palm Beach, but not in Hillsborough. In order to be sure you are getting your best deal and coverage for your unique home, you should always compare quotes online from multiple companies.
Security First offers deductibles of $500, $1,000, $1,250 and $5,000. A higher deductible will lower your annual premium but could leave you responsible for more costs in the case of a disaster. Security First has a hurricane deductible of $500, or 2%, 5% or 10% of your dwelling coverage. That means that if a hurricane does $10,000 of damage to your home and you have a 5% hurricane deductible, you'd be responsible for $500. This is standard for the industry but should still be a consideration.
Security First does provide a number of discounts which can lower your annual premium, including if you:
Have a central fire alarm
Are a policyholder aged 55+
Have a certain roof shape
Have an indoor sprinkler system
Have wind resistant home features
Have a central burglar alarm
Live in newer construction
Live in a secured community
Security First policy coverage
Security First's insurance coverage tends not to vary from the industry standard, meaning you won't receive more or less coverage than with another provider. What is not standard however, is the policy transparency Security First provides online. Most insurers require that you have direct contact with an agent to receive the specifics of your policy options. Below is the coverage you can expect to receive from a Security First homeowners insurance policy.
| Coverage | What it covers | Minimum — Maximum |
| --- | --- | --- |
| (A) Dwelling | Your house's structure | $125,000 — $1,000,000 |
| (B) Other structures | Unattached buildings or structures on your property | 2% — 70% of (A) |
| (C) Contents | Your belongings | 0% — 75% of (A) |
| (D) Loss of use | Your living expenses if you cannot stay in your house due to a covered loss | 0% — 10% of (A) |
| (E) Personal liability | Property damage and injuries for which you are found liable | $100,000 — $500,000 |
| (F) Medical payments | Medical expenses if a guest or trespasser is injured on your property | $1,000 — $5,000 |
Security First does not offer more than $1 million of coverage for your home, so if you own a particularly high-value house, you should consider looking for insurance elsewhere. All of Security First's other coverage is standard for the industry.
Other policies offered
Security First's insurance products are not limited to homeowners insurance, as they also offer:
Renters insurance
Condo insurance
Dwelling fire insurance (owner-occupied)
Dwelling fire insurance (landlord)
Most of Security First's products are pretty standard, but a big differentiator is that it offers private flood and water backup insurance. Almost 92% of Floridians who have flood insurance get it through the National Flood Insurance Program, which is a government-backed program run by FEMA. That means that there are not many private flood insurance policyholders in Florida.
You can get Security First private flood insurance as an add-on to your home or fire insurance policy, but it cannot be purchased on its own. However, Security First is a new player in the private flood insurance industry. Their website says it can be added for as little as $150 annually, and that there is no waiting period. Flood insurance at Security First provides full replacement cost coverage for your dwelling. You can think of the flood policy as extended peril coverage.
Security First's financial backing — reinsurance
Security First maintains over two billion dollars of reinsurance, which essentially means that in the event of repeated catastrophes, Security First would have access to $2 billion to pay out claims. In this sense, reinsurance is insurance for an insurance company.
Therefore, even though Security First is a small, independent insurance company, you should not have any concerns about their ability to pay out claims. Financial stability is a large part of how Security First advertises itself: It boasts that if Hurricane Irma were to make landfall today, they would be able to pay out claims more than three times over.
QuoteWizard.com LLC has made every effort to ensure that the information on this site is correct, but we cannot guarantee that it is free of inaccuracies, errors, or omissions. All content and services provided on or through this site are provided "as is" and "as available" for use. QuoteWizard.com LLC makes no representations or warranties of any kind, express or implied, as to the operation of this site or to the information, content, materials, or products included on this site. You expressly agree that your use of this site is at your sole risk.