What Kinds of Tree Damage Does Homeowners Insurance Cover?
If you're a current or potential homeowner, here's all you need to know about what home insurance does and doesn't cover when it comes to tree damage.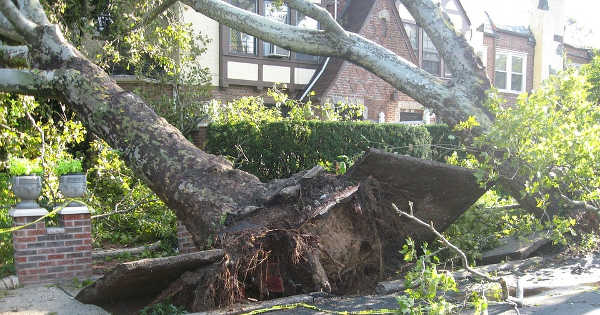 Ever wondered what happens when a tree falls on your property? How about when one of your trees falls on a neighbor's home—or on a nearby piece of public property?
There are a number of other, similar situations homeowners need to think about too. For instance, what if a tree falls on:
Your fence
Your driveway
The street
Your car
Your neighbor's car
Well, this is your lucky day. We've got answers for all of those questions and more.
The quick-and-dirty response to each of them, though, is your homeowners insurance should cover the damage caused by all of these situations.
Unfortunately, that brings up another question: how much does it cost to cover the tree damage?
Keep reading to find out. Before we get to the specifics, though, let's quickly go over what a standard homeowners policy is and what it usually covers. After that, we'll get to how tree damage fits into the picture.
Homeowners Insurance 101
Homeowners insurance protects you when a covered peril damages your property. A peril, in insurance terms, is a form of loss. Different homeowners policies cover different perils, but most cover:
Fire and lightening
Smoke and explosions
Windstorms and hail
Volcanic eruptions
Falling objects
Theft or vandalism
Malicious mischief
Aircraft or vehicle damage
Snow, sleet, and ice
Water damage
What happens if one of these perils damages or destroys your home? Well, a basic homeowners policy should compensate you for:
The dwelling (the house)
Other structures like a garage or shed
Personal property
Liability protection
Additional living expenses
Note: your homeowners insurance will only pay out if you can prove a covered peril caused the damage.
So if a tree falls on your home, you'll be covered as long as "falling objects" are a listed peril in your homeowners insurance policy. 
Read on to find out exactly how tree damage plays into your home insurance coverage.
More About Homeowners Insurance and Tree Damage
Tree damage is considered a "falling object" when it comes to home insurance perils. As a result, if a tree falls on your property, your homeowners policy will take care of it—as long as you have proper coverage.
An important caveat related to tree damage: the tree doesn't have to be from your yard for you to collect compensation. It can be from a neighbor's yard, or it can be from public property. As long as you have ample coverage, you should be protected.
Home Insurers Care Why a Tree Falls and Damages Your Property
That said, what caused the tree to fall and damage or destroy your house or property impacts whether or not your homeowners policy covers it. Did it fall from a windstorm? Or did it fall because of hail, snow, or lightning? All of these situations warrant filing a homeowners claim.
But if the tree fell because of an earthquake or because you were negligent, your home insurance company won't pay out.
What constitutes negligence? One example is that the tree was old or rotting or even dead and you knew it but didn't do anything about it. If that tree falls on and damages your house, don't look for your insurer to help.
The key takeaway here: save yourself some money and have problematic trees taken down before they cause any damage.
Different Types of Tree Damage, Different Kinds of Coverage
Whether a tree falls on your roof, your driveway, or your garage, your homeowners policy will cover the damage—as long as you weren't negligent.
How it does that may differ depending on the type of damage, though. For example, if the tree damages your roof, your dwelling coverage would take care of it. And if it damages the contents of your home (your belongings), your personal property coverage will take care of it.
How Much Tree Damage Will My Homeowners Policy Cover?
If a tree falls on your home, how much will the insurance company cover? This depends on your policy.
Let's say you purchased $200,000 of coverage, your home sustains $20,000 in tree damage, and your deductible is $1,000. You'll pay $1,000 before your homeowners policy kicks in. Then your insurer will cover you for the remaining $19,000. Keep in mind you're also probably paying $500 to $1,000 per year on premiums.
But it's not as simple as a tree damaging your home and your insurer giving you $19,000. There are limitations based on the type of homeowners coverage you buy.
There are two types of homeowners coverage. You can either insure your home for replacement cost, or actual cash value (ACV). Replacement cost is what it would cost to replace your home to the condition of when it was first built. ACV is the replacement cost, minus any depreciation.
When an adjustor comes to determine the cost of damage, they will consider whether you have replacement cost or ACV. They'll then calculate that into the reimbursement check you'll receive in the mail.
So if you have an ACV policy and your home's value decreased over the 20 years you've owned it, you'll receive much less in damage coverage than you would if you had a replacement-cost policy.
Also, you should know most home insurance policies of both types place coverage caps on different perils. For example, if a tree falls on a structure other than your home, most insurers will only cover you up to 10 percent.
According the president of Advanced Insurance Managers, Kristofer Kirchen, "A tree falling on the street would generally not be covered unless it blocked your driveway. If it was damaged by certain perils, there may be up to $500 per tree (up to 5 percent of your dwelling amount) available for replacement."
Different types of damage warrant different coverage caps. Speak to your insurer about how much coverage you'll receive for your tree damage.
How to File a Claim for Tree Damage to your Home
Now that you know when and how you're covered, what should you do in the event a tree falls on and does damage to your property? Here's a list of steps for you to follow.
1. Assess the Damage
After the tree hits your property, determine how bad the damage is. Is it less than $500? If so, it probably won't be worth it to file a claim. The reason? Your deductible likely costs as much as the damage.
But if the damage is greater than that amount, go ahead and file a claim.
2. Review your Coverage
You'll want to review your policy before filing a claim. How much coverage do you have? Does the deductible cost more than the coverage?
3. Fix the Damage
If a large tree causes significant damage to your property, your insurer may cover the cost of the debris removal. But there is usually a limit of $500 to $1,000 in coverage for the removal process. Check with your insurer to see whether your policy covers this. Some companies may make you purchase an endorsement for it.
Remember, though, that if it's a hazardous tree you didn't remove due to negligence, your insurance provider may not remove it after it damages your property. It also may not cover the related repair costs.
Tom Simeone is a personal injury attorney at Simeone & Miller, LLP. He says, "Legally, the best way to avoid liability is to inspect your trees and have any that look sick treated, taken down, or at least trimmed so that if they fall the damage is minimal."
4. File a Claim
After you've assessed the damage, you can file a claim. Make sure to take photos of the damage for evidence to send to your insurance company. Your insurer will inspect the damage and assess how much the repairs will cost. They will then reimburse you based on their inspection as well as how much coverage you have and your policy limits.  
What if you're not happy with the compensation you receive? Or what should you do if your carrier hikes your homeowners insurance rates after filing a claim for a fallen tree? Take this as an incentive to shop around for better rates by requesting home insurance quotes.
Frequently Asked Questions
Q: What if a tree that's not on my property falls onto my home, car, or yard?
A: No matter where the tree came from, you and your insurance company will be responsible for paying for the repairs. It the tree does damage to your home or property, you'll file a claim with your homeowners insurance. If it damages your car, your auto insurance will cover it.
Q: What if the tree falls without reason or as a result of a natural disaster?
A: As long as a covered peril causes damage, your insurer should cover you for the repairs. Check with your agent or policy guidelines for a full list of covered perils.
Q: Does homeowners insurance cover damage to the structure of my home, its contents, or both?
A: Yes, homeowners insurance covers tree damage to both your home's structure as well as its contents. However, there caps to how much coverage you'll receive for different types of damage. For example, you'll only receive around 10 percent coverage for damage to other structures—like a garage or shed—on your property.
Q: What if it seems like a tree on my property could fall any minute? Will my homeowners insurance step in and help?
A: No, you'll need to contact a removal service to have someone come out and remove it. This can be a bit pricey, which is why many people fail to do it. But if you wait until after the tree falls, your insurance company most likely won't pay out if it can prove you were negligent about not removing the tree.
Q: What if it seems like a tree on my neighbor's property may fall onto my home or property at any moment? Whose homeowners insurance steps in and helps then?
A: This is something your neighbor needs to take care of, not you. But you could intervene to get the ball rolling.
Start by crafting a letter to your neighbor detailing the issue. Include photos of the tree.
If your neighbor refuses to cut down the tree, consider hiring a lawyer.
David Reiss, who teaches residential real estate at Brooklyn Law School, says, "If your neighbor does not agree to remedy the situation in the near future, it is also worth sending some type of written communication, like an email, in order to show that your neighbor was aware of the situation before any damage actually occurs."   
And if the tree falls and your neighbor didn't take any action to mitigate the situation, they may be responsible for paying for your damages.
According to Kirchen, "Should that happen, your choices are to claim it on your homeowners policy, pay your deductible, and ask that the company subrogate—sue the neighbor's insurer or the neighbor him- or herself. You can ask your neighbor to claim it under the personal liability portion of their policy. Or take your neighbor to court if they do not want to play nicely."
Q: What if a tree falls on my car?
A: Your auto insurance policy will pay for the damage. More specifically, your comprehensive coverage. This coverage is often optional, but most insurers highly recommend it.
Just be aware that while your comprehensive coverage should pay for the damage to the car, it most likely won't pay to remove the tree. Talk to your insurer for further details.
Q: If a tree falls and hits my power lines, who is liable?
A: This depends. If the power lines are on your property, you'll most likely be responsible for the damage. But if they're not, most utility companies will take care of the damage.
Contact your utility or energy company immediately if a tree falls and hits your power lines. This will prevent further damage or injury.
References:
QuoteWizard.com LLC has made every effort to ensure that the information on this site is correct, but we cannot guarantee that it is free of inaccuracies, errors, or omissions. All content and services provided on or through this site are provided "as is" and "as available" for use. QuoteWizard.com LLC makes no representations or warranties of any kind, express or implied, as to the operation of this site or to the information, content, materials, or products included on this site. You expressly agree that your use of this site is at your sole risk.