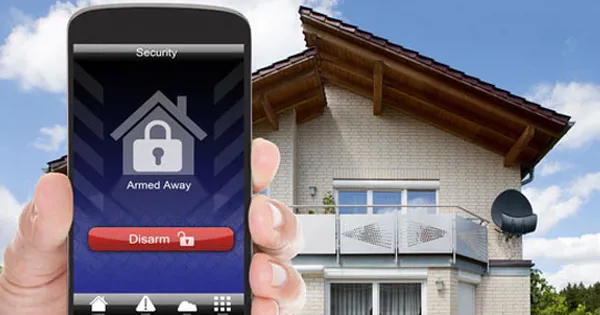 Smart homes are all the rage. Recent advances in technology are creating state of the art houses. We can connect and communicate using our phones.
Most smart homes include advanced security systems. These systems include cameras, motion sensors and a link to public safety.
Smart-Home Tech Basics
Connected or smart-home technology allows people to communicate and interact with their houses using computers, smartphones, or tablets.
This technology allows owners to interact remotely. Typical actions include:
Activating alarms
Adjusting thermostats
Controlling appliances
Locking and unlocking doors
Programming security systems
Turning on and off lights
Watching surveillance video footage
Additionally, smart home technology sends alerts and real-time data. This data helps "mitigate disasters, minimize loss of life, and keeps homes and property safe," says Mary Miller.
She's a senior director of corporate marketing at Milpitas and California-based Sigma Designs. And a board member of Z-Wave Alliance, a group of connected-home product manufacturers.
Specific Examples of Smart-Home Tech
Below are some of the products available to make your home smarter.
Timed lighting
Devices that turn on or off lights in houses, condos, or apartments have been around awhile. They're among the most basic examples of connected-home technology.
That doesn't mean they should be overlooked. They "give the appearance of home occupation," says Tim Lynch, Ph.D., founder and president of Psychsoft Consulting in Quincy, Massachusetts.
David Bakke, an insurance expert with moneycrashers.com, states "if you purchase a product that will automatically turn your lights on and off at preset times during the day, you'll be less of a target for a home burglary."
Door and window sensors
Monitoring access points to your home is as easy as looking at your phone. With a wide variety of products available, you can install sensors inexpensively.
Note: it's pretty common for these to be included in all-in-one safety and security suites. These suites also use surveillance cameras, microphones and other related gadgets.
Smart locks
Smart locks allow homeowners to quickly and easily gain access to their homes. Entry can be made via smartphones, Bluetooth key fobs, or metal keys.
Some allow guest access using electronic keys (or eKeys) that only work on specific days and times. A smaller percentage can communicate with other connected-home devices. Like to a smart thermostat, camera or intercom.
Smart thermostats
Smart thermostats lower energy bills. They can be preprogrammed and/or controlled remotely.
Some have a learning algorithm. They can predict which temperatures are ideal based on past usage. And program them built on that information.
Smart smoke detectors
The latest technology detects smoke, fire and carbon monoxide. And can communicate to your smartphone while you're away. They also let you know when to change batteries in a more intelligent way.
Water and flood sensors
Leaks that go undetected by homeowners or renters are costly and destructive. Now, you can buy sensors for areas leaks may occur. Like around dishwashers, washing machines or under sinks.
Like other smart-home tools, these sensors can alert you remotely by sending e-mails or texts.
Note: these devices can be lifesavers, or wallet-savers, if you're prone to floods.
Why You Should Care About Smart-Home Tech
In addition to the reasons stated above, below are a few more you should care about.
It's a lot cheaper than it used to be
Bakke points out, "There are several different smart-home products on the market for less than $100."
Adds Miller, "once upon a time, it would cost thousands of dollars and require a professional to install smart-home technology; now retailers and e-tailers sell DIY smart-home devices that make it easy for homeowners to make their home smart."
It could lower your homeowners premiums
Does your homeowner's insurance company offer discounts for smart home tools? If not, compare quotes from companies that do.
It's often easy to install and use
Most of the technology available can be installed by homeowners. There are more open source options than ever before.
Many don't require special wiring and are Wi-Fi based. Simply plug in the device between the power outlet and the device to be controlled.
It prevents and minimizes damage
This is a major selling point for upgrading your home. In addition, you'll feel safer and more secure. Whether you're at home or on the road.
It can lower your energy bills
Controlling lights and temperature will save you money. Forgot to turn off the lights? No problem! With remote control options, you can save energy, which saves you money.
Why You May Want to Pass On It
Even with all the potential benefits, smart home technology can have issues. Specifically, questions remain regarding how secure some products are.
A recent CBS report, pointed out some of the risks related to the use of smart locks.
Additionally, connected-home devices can be hacked. And some consumers have expressed concern about the data that's often collected by these gadgets.
Why collect it? Will it be shared? If so, how and with whom?
If shared with insurance companies, what's going to be done with it? It could result in either premium discounts, or rate increases. Depending on its use prior to a claim.
Why Some Insurance Companies Are Backing Smart-Home Tech While Others Are Not
Insurance companies have been slow to acknowledge the smart-home industry's offerings. A few offer discounts to homeowners and renters who install certain products or systems.
Those who do are taking advantage of the benefits smart home tools offer. They include:
Minimizing loss of life
Mitigating disasters
Preventing burglaries
Keeping homes and property safe and secure
Plus, connected-home products make people aware of their energy use over time. It prompts some of them to use less or use it more efficiently.
Unfortunately, "the insurance industry still has a bit of catching up to do regarding discounts for installing smart-home technology," Bakke shares. However, we believe it's only a matter of time. Given all the benefits, insurance companies are bound to reward policy holders.
In the meantime, Bakke points out that "the biggest discounts come through installing home-monitoring services."  You may want to start there.
References:
QuoteWizard.com LLC has made every effort to ensure that the information on this site is correct, but we cannot guarantee that it is free of inaccuracies, errors, or omissions. All content and services provided on or through this site are provided "as is" and "as available" for use. QuoteWizard.com LLC makes no representations or warranties of any kind, express or implied, as to the operation of this site or to the information, content, materials, or products included on this site. You expressly agree that your use of this site is at your sole risk.