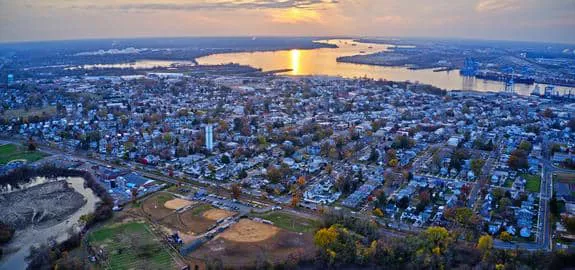 Situated on the Atlantic Coast, New Jersey has a large storm surge risk compared to the rest of the country. Standard homeowners insurance doesn't cover flood damage, which potentially puts New Jersey homeowners at great financial peril.
However, homeowners can purchase an additional flood insurance policy. The average cost of flood insurance in NJ is $79 a month.
FEMA offers flood insurance through the National Flood Insurance Program (NFIP) to help cover the damage that home insurance will not. New Jersey has no laws requiring you to have flood insurance.
However, if you purchased your home through a lender and are in a high-risk flood zone, the lender will probably require you to have a flood insurance policy to cover their investment. Even if you own your home outright, buying flood insurance is an excellent idea for covering potential financial losses.
How much does NJ flood insurance cost?
The average cost of flood insurance in New Jersey is $949 a year, or $79 a month. That's slightly below the national average cost of $958, or $80 a month.The final quote you get for flood insurance is also based on these factors:
The amount of coverage you choose
Your deductible
Where your house is located
The age of your home
The construction of the home
Another factor that can affect your quote is if your home is on a floodplain. The elevation of the lowest floor of the house compared to the Base Flood Elevation (BFE) is also a factor. BFE is the projected elevation to which flood waters could rise during a one-in-a-100-year flood.
The premium for a flood insurance policy is paid separately from your homeowner's insurance. Currently, New Jersey has an average home insurance rate of $80 a month.
Is flood insurance required in NJ?
While New Jersey state law does not mandate that homeowners carry flood insurance, this does not mean it isn't needed. A large reason that flood insurance is vital in New Jersey is because in the event of a flood, your homeowners insurance covers none of the damage.
If your house is damaged or destroyed in a flood and you don't have insurance, you can wind up paying a huge bill yourself. Below is the most current data showing how many single-family homes are at risk by each category of hurricane, as well as the average reconstruction cost each category causes.
New Jersey homes at risk and average reconstruction cost by hurricane category
Hurricane category
Category 1
Category 2
Category 3
Category 4
Category 5
Single-family homes at risk
95,473
277,147
381,388
471,323
471,323
Reconstruction cost
$27,523
$84,975
$119,708
$150,600
$150,600
Source: Insurance Information Institute
Regardless of the severity of a hurricane, it's easy to see that the damage could at least run into the tens of thousands of dollars. For this reason, mortgage lenders in New Jersey almost always require borrowers to carry flood insurance for the duration of their loan. By the same token, having flood insurance if you fully own your home is nothing but a wise investment.
Furthermore, First Street Foundation, a non-profit climate risk research firm, released a report last year indicating that New Jersey is one of the states that will experience significantly higher flood risk by 2050. Given that projection, getting flood insurance to help protect one of your biggest investments makes excellent sense.
Flood risk varies across New Jersey. For instance, Passaic has flooded 13 times between 1968 and 2011 due to the Passaic River overflowing. And Newark has a long history of flash flooding, which has consistently raised residents' rates. In order to see what kind of risk your home in New Jersey faces, study the FEMA New Jersey flood map. High-risk flood zones start with an "A&" or a "V&". "AE&" is a high-risk zone, for example.
Although you should be concerned if your home is in a high-risk flood zone, homes in lower-risk zones are not out of the water. According to FEMA, about 25% of flood insurance claims come from low- to moderate-risk flood zones.
Which are the best New Jersey flood insurance companies?
Flood insurance is available in New Jersey through insurers taking part in FEMA's National Flood Insurance Program (NFIP), as well as some independent insurers. Here are some of the more popular companies that provide flood insurance:
Allstate
Aon Edge
Chubb
Liberty Mutual
Neptune Flood Insurance
NJM
State Farm
What does flood insurance do?
Flood insurance covers the structure of and the belongings in your home in the event of flood damage. The structural coverage portion of your flood insurance policy includes coverage for:
The structure of your home
Appliances
Plumbing and electrical systems
The foundation and foundation walls
The contents coverage portion of a flood insurance policy covers the belongings in your home, including:
Furniture
Clothing
Electronics
Carpentry not covered by structural coverage
Like any other form of insurance, flood insurance has exclusions, which typically include:
Landscape damage
Certain types of valuables
QuoteWizard.com LLC has made every effort to ensure that the information on this site is correct, but we cannot guarantee that it is free of inaccuracies, errors, or omissions. All content and services provided on or through this site are provided "as is" and "as available" for use. QuoteWizard.com LLC makes no representations or warranties of any kind, express or implied, as to the operation of this site or to the information, content, materials, or products included on this site. You expressly agree that your use of this site is at your sole risk.