Do I Need Flood Insurance in New Jersey?
If you own a home in New Jersey, flooding is a threat. If you're wondering if you need flood insurance, read this guide.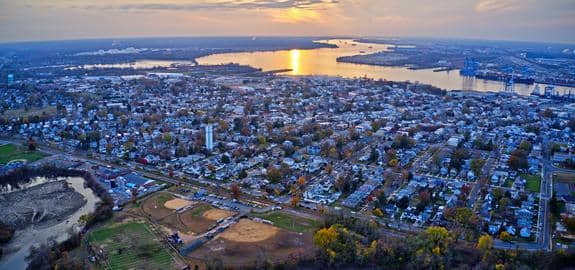 New Jersey has one of the highest levels of property damage due to flooding in the country. As such, flood insurance is required in NJ for properties on a 100-year floodplain with a federally backed or regulated mortgage.
Given the consistent flood risk in New Jersey, you should have flood insurance whether a mortgage is involved or not. The frequency of floods in NJ combined with the average cost of repairs after a flood can make flood insurance an excellent investment. This article will cover:
Flood insurance: an overview
Flood insurance is available to cover the structure of your home and your belongings in the event of flood damage, which home insurance does not cover. Flood insurance in the United States is sold primarily through the National Flood Insurance Program (NFIP), although private insurers can provide flood insurance coverage with different limits.
Is flood insurance necessary in New Jersey?
If you're wondering if you need flood insurance in New Jersey, take a look at the following facts:
Currently, 352,000 people in New Jersey are at risk for coastal flooding. It is estimated that by 2050, roughly another 110,000 people in NJ can be added to that number due to rising sea levels.
About 70% of NJ real estate has needed repair at least five times due to flood damage. The average payout per claim is estimated at $25,000.
In 2012, Hurricane Sandy did significant damage to the eastern United States. Of the $71 billion in damage from the hurricane, about $30 billion of it was in New Jersey.
The graph below shows data from the National Oceanic and Atmospheric Association (NOAA) illustrating flood events for all 21 NJ counties from 1996 to 2016. These numbers average out to almost 74 floods per county over the 10-year period:
| New Jersey county | Number of flood events from 1996 to 2016 |
| --- | --- |
| Atlantic | 30 |
| Bergen | 133 |
| Burlington | 60 |
| Camden | 112 |
| Cape May | 19 |
| Cumberland | 63 |
| Essex | 74 |
| Gloucester | 78 |
| Hudson | 72 |
| Hunterdon | 69 |
| Mercer | 87 |
| Middlesex | 85 |
| Monmouth | 56 |
| Morris | 105 |
| Ocean | 58 |
| Passaic | 67 |
| Salem | 59 |
| Somerset | 148 |
| Sussex | 45 |
| Union | 82 |
| Warren | 47 |
You can find out which flood zone your house is in, as well as flood insurance rate estimates, by accessing FEMA's Flood Map Service Center (MSC). If you live in an area of New Jersey designated as either a "V" or "A" zone on the flood map, you are in what is considered a Special Flood Hazard Area (SFHA) by FEMA. These very high-risk zones are usually considered mandatory flood insurance areas by NJ mortgage lenders.
To give you an idea of flood risks in NJ, Somerset county is not on the coast but the frequency of river flooding makes it the top flood risk on the chart. 10.3% of Somerset county is in an "A", "AE", or "AO" flood zone, indicating high-risk flood zones.
If you live in a flood zone "C" or "X", these are low-to-moderate risk areas. Mortgage lenders are much less likely to require flood insurance to underwrite home loans in these zones.
Even if you do not live in a high-risk flood area in New Jersey, flood insurance is a wise idea. According to FEMA, about 25% of all flood insurance claims come from low-to-moderate flood zone areas.
If you live in a lower-risk flood area, we recommend looking into a Preferred Risk Policy. This is a flood insurance policy for areas with a small chance of flooding. It has a lower price tag (Preferred Risk Policies start at around $325) than the standard NFIP flood insurance policy.
How much does flood insurance cost in New Jersey?
Flood insurance in New Jersey costs $961 a year on average. However rates vary based on factors like:
The amount of flood coverage purchased
Your chosen deductible
The location of the house
How old the house is
The home's construction type
For new homes constructed on a floodplain, the elevation of the lowest floor compared to the Base Flood Elevation (BFE) is also a pricing factor. BFE is the anticipated elevation to which flood water could rise to during a one-in-a-100-year flood.
Following is a table showing the 10 biggest cities in New Jersey, the average cost of a flood insurance policy by city, and the number of NFIP policies active in each city:
City
Average annual cost per policy
Number of policies

Newark

$2,744

205

Jersey City

$744

7,426

Paterson

$1,445

823

Elizabeth

$1,879

113

Edison

$1,369

265

Toms River

$816

8,912

Clifton

$1,980

129

Trenton

$2,078

233

Camden

$1,963

552

Passaic

$3,723

115

Source: FEMA.gov
In some areas, you can wind up paying three times or more than the state average for flood insurance. For example, the Passaic River adjacent to Passaic, NJ has flooded 13 times between 1968 and 2011, leading to its high risk flood status. Newark has a consistent hstory of flash flooding, which raises their flood insurance rates. Check the New Jersey flood map to see what kind of risk level your house is in to get an idea of how your flood insurance premium would be affected.
Best NJ flood insurance companies
You can get flood insurance either through an insurance provider participating in the NFIP program, or through private insurers. Given the demand, it shouldn't be surprising that there are many choices for providers of flood insurance in New Jersey. Here are some more popular options:
USAA
Chubb
New Jersey Manufacturers
Allstate
Liberty Mutual
State Farm
Aon Edge
Virginia Flood Insurance
Private Market Flood
Neptune Flood Insurance
QuoteWizard.com LLC has made every effort to ensure that the information on this site is correct, but we cannot guarantee that it is free of inaccuracies, errors, or omissions. All content and services provided on or through this site are provided "as is" and "as available" for use. QuoteWizard.com LLC makes no representations or warranties of any kind, express or implied, as to the operation of this site or to the information, content, materials, or products included on this site. You expressly agree that your use of this site is at your sole risk.