Find The Best Homeowners Insurance Companies in New Jersey
Getting the right homeowners insurance at an affordable price can give you the peace of mind of knowing your home is protected. But finding the best insurance company for you is difficult, whether you're purchasing your first home, switching companies to save money or just exploring your options.
We studied the landscape of homeowners insurance in New Jersey to help make the process easier. We considered the top companies in the state and rated them based on their affordability, customer satisfaction reviews, coverage and availability. These companies stood out to us as the best in New Jersey:
NJM Insurance: Our pick for the best home insurance company
New Jersey Manufacturers Insurance (NJM) is our pick for the best homeowners insurance company in New Jersey because it offers low rates, great customer service and industry-standard coverage. NJM was founded in 1913 as a workers' compensation insurance company and has grown to become the second-largest insurer of homes in New Jersey.
NJM's average rate is $844 a year according to our research, which is a very affordable rate for New Jersey. Additionally, NJM only had one formal complaint filed against it in 2018, according to the NAIC's database. That indicates a high overall level of customer satisfaction.
Customers can expect the coverage they would get with another company, but with more affordable premiums. NJM, like every company on our best list, covers your home, the other structures on your property and your belongings, and provides valuable liability and loss of use protection.
State Farm: Cheapest rates
We recommend considering State Farm if you're looking for the cheapest homeowners insurance. We found its average yearly premium was $773 in New Jersey, making it the most affordable company we saw in our research. State Farm is also the largest homeowners insurance company in New Jersey, meaning it will be an option for many people.
Where you live affects your rates, but State Farm remains affordable across the state relative to its competition. Here are State Farm's average rates across the state.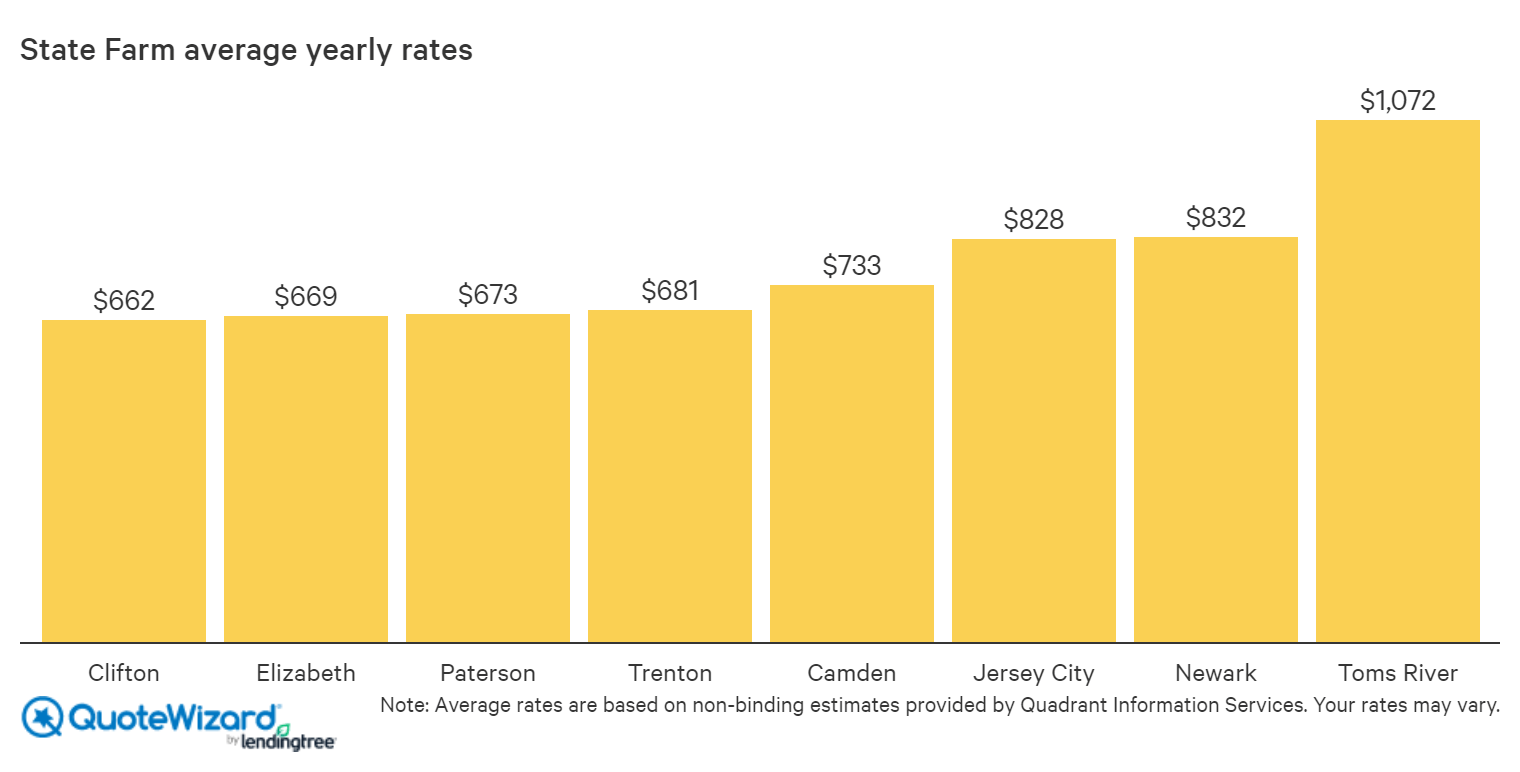 Switching companies to find your best rate is a great way to save money on homeowners insurance. To give you more ideas, we wrote a complete guide for how to save on homeowners insurance. 
Allstate: Cheap rates and great online resources
Homeowners in New Jersey should consider Allstate for its cheap rates and best-in-class online resources. Our study found that Allstate's average yearly rate was $825 a year, making it one of the cheapest we saw. You won't have to sacrifice coverage for those cheap rates either, as Allstate offers industry-standard coverage.
For people who value a digital experience, Allstate's online resources are some of the best. Customers can go online to get quotes, change their existing policy, pay their bill or file a claim. Allstate's robust online resources make managing and understanding your policy easy and quick, skipping the step of getting in touch with an agent.
Travelers: Fair rates and discount opportunities
Travelers makes our list of the best home insurance companies in New Jersey because of its cheap rates and options to save even more with discounts. We found that an average Travelers home insurance policy costs $894 a year, which is 23% below the state average. However, Travelers has below-average customer satisfaction, according to J.D. Power's 2019 home insurance study, with a 2/5 rating.
Travelers extends many discounts to its customers, meaning most people can find a few ways to save on their policies. Its discounts include savings for:
Bundling multiple policies
Purchasing a home recently
Having a claims-free history
Owning a green home
Protective devices
Homeowners insurance companies in New Jersey
There is a mix of large, national insurance companies and smaller regional companies in New Jersey. Below are the most popular companies in the state, meaning you'll likely have many of these companies as local options.
New Jersey home insurance companies
Company
Market share
J.D. Power customer satisfaction rating
NAIC Complaint Index (lower is better)
Average annual premium
State Farm
11%
4/5
0.19
$773
NJM Insurance
10%
—
0.03
$844
Allstate
9%
3/5
0.28
$825
Liberty Mutual
9%
2/5
0.32
$1,775
Chubb
7%
2/5
0.16
$817
Travelers
5%
2/5
0.22
$894
American Family
5%
3/5
0.62
$2,161
USAA
4%
5/5
0.31
$1,079
Plymouth Rock of New Jersey
4%
—
0.12
$1,384
Note: Average rates are based on non-binding estimates provided by Quadrant Information Services. Your rates may vary.
Average New Jersey homeowners insurance rates
The average cost of homeowners insurance in New Jersey is $1,161 a year or $97 a month. That puts New Jersey's average cost of home insurance at 4% below the U.S. average of $1,215 a year.
How much is home insurance in New Jersey?
  
Average annual rate
Average monthly rate
New Jersey
$1,161
$97
U.S.
$1,215
$101
Note: Average rates are based on non-binding estimates provided by Quadrant Information Services. Your rates may vary.
The graph below shows how much rates can vary between top home insurance companies. We saw rates as cheap as $773 a year with State Farm and as high as $2,161 with American Family.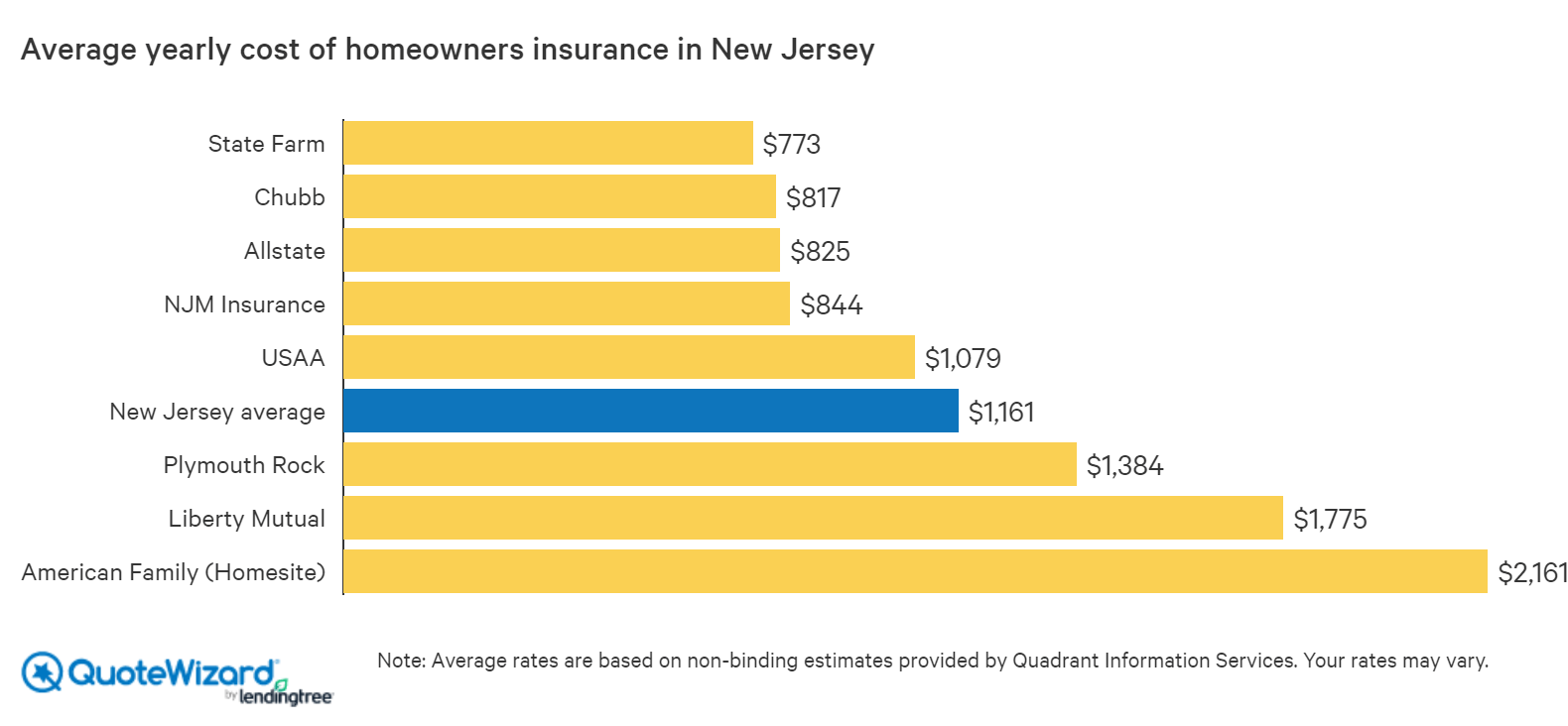 The average company rates from our research can help you understand the general trends in New Jersey, but to find your best rates, we recommend comparing multiple quotes.
New Jersey homeowners insurance rates by county
New Jersey's unique mixture of geographies means rates swing widely between counties. The general trend we found is that the counties along the Atlantic coast like Monmouth, Ocean, Atlantic and Cape May have the most expensive rates.
In contrast with the coastal counties, the northern and northwestern counties of New Jersey enjoy the cheapest rates in the state. For example, the most populous county in the state, Bergen County, has some of the lowest average home insurance rates at $991 a year on average.
NJ home insurance rates by county
County
Average rate
Atlantic
$1,536
Bergen
$991
Burlington
$1,166
Camden
$1,201
Cape May
$1,658
Cumberland
$1,237
Essex
$1,131
Gloucester
$1,186
Hudson
$1,129
Hunterdon
$923
Mercer
$1,034
Middlesex
$1,049
Monmouth
$1,407
Morris
$919
Ocean
$1,543
Passaic
$1,046
Salem
$1,160
Somerset
$938
Sussex
$963
Union
$1,004
Warren
$919
Note: Average rates are based on non-binding estimates provided by Quadrant Information Services. Your rates may vary.
We've analyzed tens of thousands of quotes in our studies of homeowners insurance for every state. Check out our national average cost of home insurance study to see how New Jersey compares with other states.
Home insurance perils in New Jersey
Hurricanes
New Jersey's proximity to the Atlantic Ocean means it can experience devastating hurricanes. Hurricane Sandy alone damaged more than 346,000 homes in the state according to the New Jersey government. Homeowners insurance policies typically include some protection from hurricanes, but you may not be completely covered.
Hurricanes can threaten your home in a number of ways — high winds, rain and storm surge can cause structural damage and flooding. Homeowners insurance only covers some of this damage, however. For example, home insurance typically covers wind damage, but not flooding. We recommend every homeowner in New Jersey contact their insurance agent for details on their hurricane coverage.
Cold winters
With temperatures below freezing for long stretches during the winter months, homeowners in New Jersey have frozen pipes, snow accumulation and slippery walkways to worry about. Fortunately, homeowners insurance covers many of the dangers that cold winters bring.
For more information on what protection home insurance provides from winter weather perils, check out our comprehensive article on what homeowners insurance covers.
Floods
Home insurance does not cover flooding — for protection, you'll have to purchase a separate flood insurance policy. Most homeowners find coverage through the National Flood Insurance Program (NFIP), which is a government-funded insurance program that underwrites flood insurance policies.
Flooding can cause serious damage: In 2012 alone, the year Hurricane Sandy hit, the NFIP paid out more than $3.6 billion in flood insurance claims. No matter where you live in the state, we recommend every homeowner in New Jersey purchase flood insurance.
Methodology
Our study of homeowners insurance in New Jersey aggregated 1,089 quotes from the following 10 companies: Allstate, Chubb, Travelers, Plymouth Rock of New Jersey, Homesite (American Family), Liberty Mutual, NJM Insurance, New Jersey Skylands, State Farm and USAA.
We included every ZIP code in New Jersey in our analysis. The quotes we collected were for a sample home, which was based on the median value and home build year in the state — $356,411 and 1969, respectively.
Dwelling coverage: $356,411
Personal property coverage: 50% of dwelling ($178,206)
Other structures coverage: 10% of dwelling ($35,641)
Loss of use coverage: 20% of dwelling ($71,282)
Liability coverage: $100,000
Deductible: $1,000
We collected market, geographic and demographic data from S&P Global.
QuoteWizard.com LLC has made every effort to ensure that the information on this site is correct, but we cannot guarantee that it is free of inaccuracies, errors, or omissions. All content and services provided on or through this site are provided "as is" and "as available" for use. QuoteWizard.com LLC makes no representations or warranties of any kind, express or implied, as to the operation of this site or to the information, content, materials, or products included on this site. You expressly agree that your use of this site is at your sole risk.