Best homeowners insurance companies in New Hampshire
Homeowners in New Hampshire looking for home insurance have it better than many other states; they have some of the lowest average premiums in the country. Even so, finding the right homeowners insurance policy is much more than just finding the cheapest quote. You also want to look at what policy offerings are available, as well as which companies have the best customer satisfaction trends.
We looked at the home insurance companies operating in New Hampshire to help you pick a company and a policy. Here's who stood out:
State Farm: best overall home insurer
For high performance in average home insurance premium, policy offerings and customer satisfaction, State Farm is our pick for best home insurer in New Hampshire. State Farm's average rate in New Hampshire is $828 yearly. This is $89 less than the state's average homeowner insurance premium of $917.
In terms of policy offerings, State Farm provides excellent comprehensive coverage for your home and belongings. They also offer insurance riders to cover valuables such as art collections, jewelry, and furs, which normally aren't fully covered under a standard home insurance policy. They even have coverage plans specifically for wedding presents
State Farm has an excellent track record for claims resolution, as well. J.D. Power compiles a yearly home insurance customer satisfaction survey based on insurer claims service and resolution. State Farm ranked 4th in the 2019 survey. Also, State Farm's New Hampshire branches earned 0.20 on the NAIC Complaint Index. A low index score indicates a low rate of consumer complaints regarding insurance claims. State Farm's complaint index rate is below the state average of 0.38 and the national average of 1.0.
Vermont Mutual: cheapest home insurance rates
Vermont Mutual has the lowest average home insurance premium of $709 yearly, almost 23% less than the state average premium of $917.
Insuring homeowners in seven states including New Hampshire, Vermont Mutual provides different levels of coverage dependent on your needs. Their home insurance policies range from standard home insurance coverage all the way up to their Elite endorsement, which covers underground water, waste disposal and cable lines — none of which are covered by standard home insurance policies.
Following is a graph showing the difference in Vermont Mutual's home insurance rates between some of the largest cities in New Hampshire.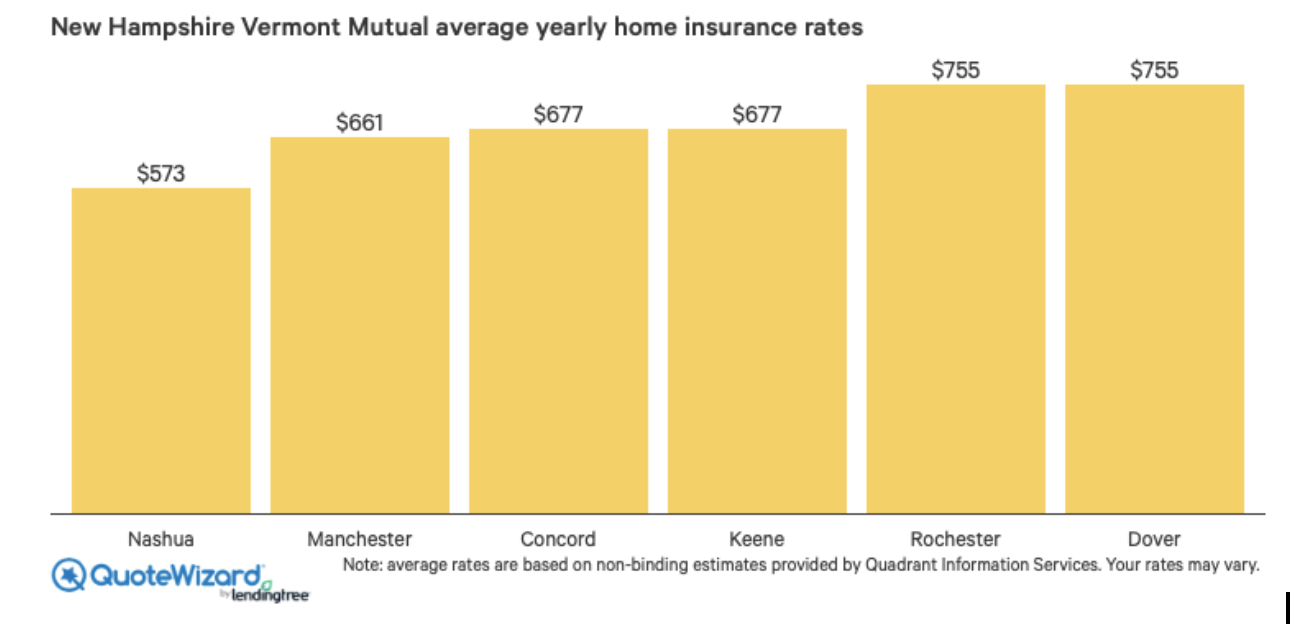 Liberty Mutual: most popular
Liberty Mutual maintains 14.4% of the insurance market in New Hampshire, the next highest market share being State Farm with 9.9%.
Liberty Mutual's high number of policyholders is interesting because their average yearly home insurance rate in New Hampshire is $1,074, which is $157 higher than the N.H. average premium of $917. However, they do have a 0.40 rating on the NAIC Complaint Index. The lower an insurer's complaint rating, the better. Given that the average national complaint rate is 1.0, this puts Liberty Mutual in a strong position for complaint resolution.
Liberty Mutual offers comprehensive homeowners insurance but also offers very nonstandard benefits such as inflation protection. This service will automatically adjust your home insurance coverage limits to keep up with any inflation at renewal time. This also adjusts any discounts you may have on your home insurance policy.
Allstate: most premium discounts
Allstate has one of the lowest average home insurance rates in New Hampshire at $752 a year. However, you can lower your premium even further with the array of discounts that you may qualify for:
Bundling your home insurance policy with an auto or life insurance policy can save you a decent chunk of change — upwards of 30% between both policies.
Are you a senior homeowner? Allstate's 55 & retired discount can give you upwards of 10% off your home insurance premium.
If you switch your home insurance policy over to Allstate with no claims in your history, that could be worth a 20% discount off your premium. You can get upwards of another 10% off your premium just for switching to Allstate.
These are just a few of the home insurance discounts that Allstate provides. Have a talk with an Allstate agent to see what other discounts you could qualify for.
Allstate has the third highest market share in New Hampshire at 8.5%. This combined with their already low rates, discount opportunities and low NAIC complaint rate of .34 makes them a state favorite.
Popular home insurance companies in New Hampshire
How a home insurer treats their policyholders is a key factor in their overall quality. Here's a table that shows the most popular homeowners insurance companies in New Hampshire along with their claims resolution and complaint indices.
Company
Market share
Overall satisfaction rating*
NAIC complaint index (lower is better)
Liberty Mutual
14.4%
2/5
0.40
State Farm
9.9%
4/5
0.20
Allstate
8.5%
3/5
0.34
USAA
6.7%
5/5
0.31
Concord Group
4.8%
-
0.60
Vermont Mutual
4.6%
-
0.74
Amica Mutual
4.2%
5/5
0.22
Travelers
3.8%
2/5
0.30
*According to J.D. Power's 2019 home insurance survey
To learn more about these companies, read our study on the best home insurance companies.
Cost of homeowners insurance in New Hampshire
The average cost of homeowners insurance in New Hampshire is currently $917 a year, according to the 346 N.H. quotes we looked at. This is 24% less than the national rate of $1,215. This figures out to New Hampshire homeowners saving $298 a year compared to the rest of the state.
Average home insurance rates in New Hampshire

 

New Hampshire
U.S.
Average yearly rate
$917
$1,215
Average monthly rate
$76
$101
Average rates are based on non-binding estimates provided by Quadrant Information Services. Your rates may vary.
Finding your best rate means choosing the right company for your home insurance needs. New Hampshire's average premiums ranged between $709 and $1,074, with MMG being the significantly higher outlier at $1,392. Vermont Mutual was the lowest rate with $709, and both Allstate and the Concord Group come next, tying at $752.
The graph below gives an overview of the average cost of homeowners insurance across some of the main providers in New Hampshire. In order to find your best home insurance quote, we recommend comparing many quotes between the home insurers available to you.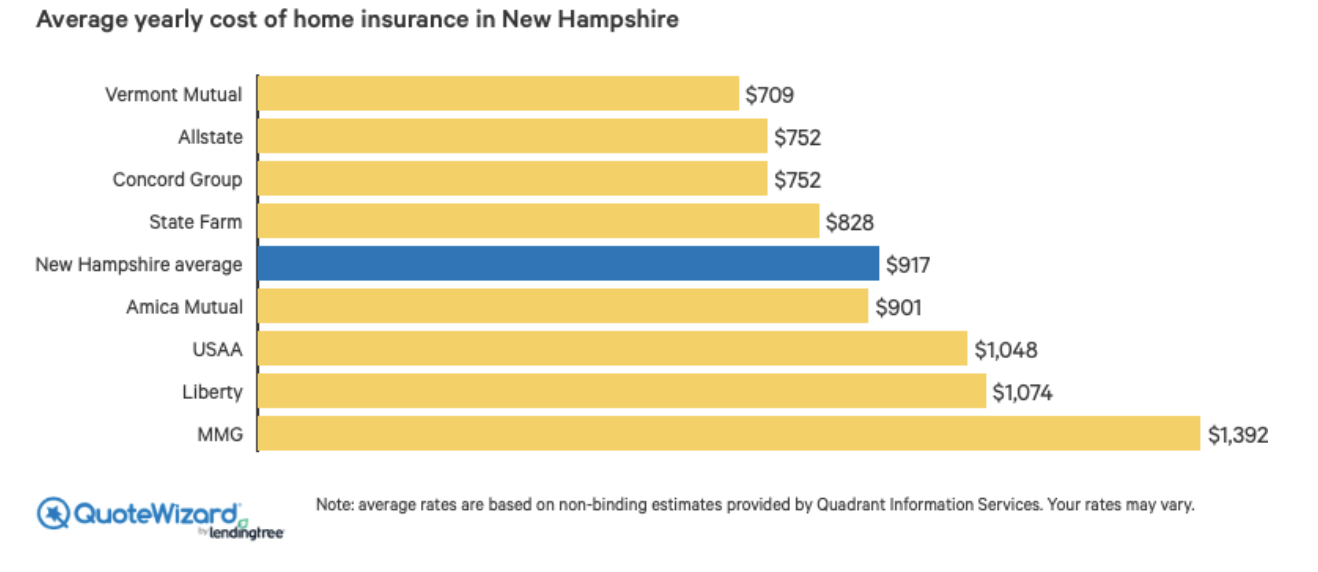 Homeowners insurance rates in New Hampshire, by city
Despite New Hampshire's being the sixth smallest state in the country, there's a significant range of home insurance rates in N.H. on both the city and county levels. Pinardsville, N.H., has the lowest average rate of $827 yearly, while Seabrook, N.H., comes in high at $1,367. Hillsborough County has the lowest average home insurance premiums at $849, and Rockingham County tops out at $983.
The more populated cities in New Hampshire are all around the state's average premium. Manchester, N.H., the largest city we studied, has an average rate of $906, while the tenth most populated city, Lebanon, N.H., has an average premium of $900. Here is an overview of the rates for the largest cities in New Hampshire.
New Hampshire's average home insurance rates by city
City
Average yearly rate
Concord
$901
Derry
$928
Dover
$934
Keene
$906
Laconia
$925
Lebanon
$900
Manchester
$906
Nashua
$845
Portsmouth
$931
Rochester
$933
Average rates are based on non-binding estimates provided by Quadrant Information Services. Your rates may vary.
Methodology
We examined the top twenty home insurance providers operating in New Hampshire and looked at their individual coverage offerings, pricing and customer satisfaction trends to determine the best ones in the state.
We compiled 346 quotes from every ZIP code in New Hampshire to find the average home insurance rate in the state. We included the following companies in our analysis: Vermont Mutual, Allstate, Concord Group, State Farm, Amica Mutual, USAA, Liberty and MMG. The sample quotes used were based on median home value and year of construction for a single-family home in New Hampshire. The policy specs used were:
Dwelling coverage: $293,121
Personal property coverage: 50% of dwelling ($146,561)
Other structures coverage: 10% of dwelling ($29,312)
Loss of use coverage: 20% of dwelling ($58,624)
Liability coverage: $100,000
Deductible: $1,000
Build year: 1974
S&P Global was used to source demographic, geographic and market data.
QuoteWizard.com LLC has made every effort to ensure that the information on this site is correct, but we cannot guarantee that it is free of inaccuracies, errors, or omissions. All content and services provided on or through this site are provided "as is" and "as available" for use. QuoteWizard.com LLC makes no representations or warranties of any kind, express or implied, as to the operation of this site or to the information, content, materials, or products included on this site. You expressly agree that your use of this site is at your sole risk.