Montana homeowners pay an average of $1,320 a year for home insurance. This is $65 over the national average of $1,255. Montana experiences extreme weather and has a history of earthquake activity that puts the state in a high-risk insurance category. This leads to higher average home insurance premiums.
To help you find your best price for homeowners insurance, we looked at the premiums, policies and customer satisfaction rankings of Montana home insurance providers. Here's what we found:
How much does homeowners insurance cost in Montana?
Montana has an average home insurance rate of $110 per month. The table below shows how average annual Montana home insurance rates compare to national averages. The homeowners insurance rate in Montana has increased the most in the past couple years, both in dollar amount and increment from year to year.
Average cost of home insurance in Montana
 
Today
2017
2016
2015
Montana annual average
$1,321
$1,174
$1,130
$1,081
Montana price per month
$110
$98
$94
$90
U.S. annual average
$1,215
$1,211
$1,192
$1,173
U.S. cost per month
$101
$101
$99
$98
Note: Average rates for today are based on non-binding estimates provided by Quadrant Information Services. Your rates may vary. Data from 2015-2017 sourced from NAIC.
Your home insurance premium may vary depending on which home insurance company you choose. Compare home insurance rates from different providers before you decide on who to go with. Below is a graph showing how the best providers in Montana compare.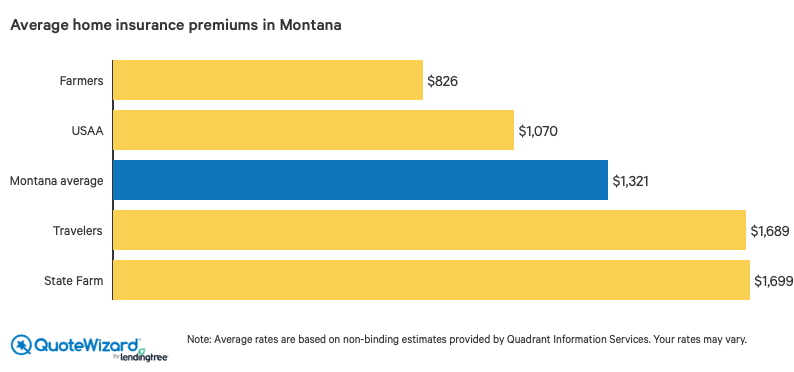 Best homeowners insurance companies in Montana
In looking at the best homeowners insurance companies operating in Montana, Farmers, USAA, Travelers and State Farm ranked as our top home insurance providers in the state. Here's why:
Farmers: cheapest home insurance in Montana
Farmers' average home insurance premium in Montana is $826 per year. This is $495 below the state homeowners insurance average rate of $1,321. Farmers also carries one of the higher insurance market shares in Montana, writing more than 13% of all home insurance policies in the state.
On top of low premiums, Farmers offers a wide array of discount options to further save you money:
You can reduce your premium by bundling your home insurance with a Farmers auto or life insurance policy.
If a qualified contractor does a full replacement of the main systems in your house, such as electrical, plumbing or HVAC, it could be worth a discount.
If your home is protected by qualifying home security and fire prevention systems, it may result in a rate reduction.
Other money-saving features Farmers provides for its home insurance policyholders is its claim forgiveness program. If you go five years with Farmers and don't have a claim, your next claim will not result in a home insurance rate increase. Also, if you file a functional damage claim, any resulting cosmetic damage will be covered as well.
Farmers received a low 0.37 score on the NAIC Complaint Index. The lower a company's complaint rating is, the better their claim resolution capability. This puts them far below the National Complaint Index of 1.0.
Farmer's average rates in Montana's bigger cities stay under their average statewide rate except for in Billings, which is still under the national average of $1,215. Ranging from $565 in Kalispell, MT to $813 in Bozeman, MT, Farmers is an excellent choice if low home insurance rates are a priority.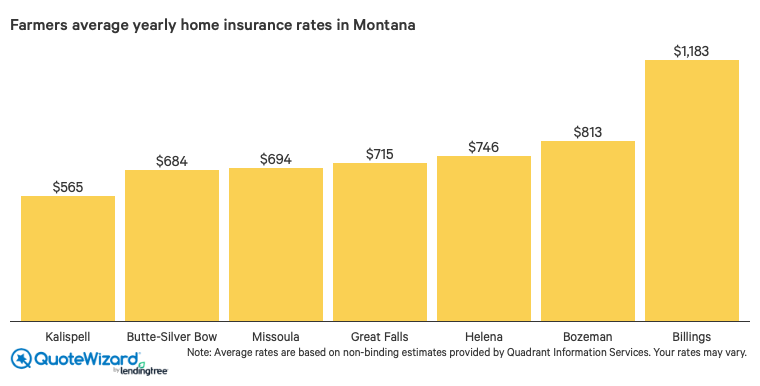 State Farm: most popular insurance provider
State Farm has the highest average homeowners insurance of the companies we studied, at $1,699 per year. That's noticeably higher than the state average, but the company still maintains high popularity. In fact, it's the most popular home insurer in the state. State Farm holds 24% of the home insurance market share in Montana, with Safeco trailing far behind in second place with 15%.
Part of State Farm's popularity rides on its customer care. J.D. Power gave State Farm an above-average four-out-of-five Power Circle rating for customer satisfaction and overall claims resolution in its 2019 home insurance study. Furthermore, State Farm's NAIC Complaint Index is a very low 0.26, indicating an exceptionally low claim complaint rate.
State Farm has agencies in 37 cities and towns in Montana. This can make finding a home insurance policy near you easy.
USAA: best home insurance for veterans
USAA holds the fifth-highest home insurance market share in the state of 6.14% and has an average yearly premium in Montana of $1,070, $251 below the state average. USAA stands out as an excellent provider of home insurance for veterans with some of the best coverage and the top customer satisfaction rating in the industry. This is excellent news for the veterans that make up 14% of Montana's population.
USAA only offers insurance coverage to veterans, Armed Forces members and their qualified family members. USAA home insurance covers some perils that standard home insurance excludes, such as covering damage or destruction to military uniforms, as well as providing dwelling and personal property coverage in warzones.
A constant factor in USAA's popularity is its top-of-the-line customer care. J.D. Power gave USAA a five-out-of-five Power Circle rating for overall customer satisfaction in its 2019 home insurance study. This indicates superior claims service and customer satisfaction. Bottom line: if you're eligible to buy a USAA home insurance policy, they're a top-of-the-line insurer.
Travelers: best tailor-made home insurance policies
Despite having one of the higher home insurance rates, at $1,689 per year, Travelers has some of the best customizable homeowners insurance policies in Montana.
Travelers offers special personal property coverage. This provides a wider range of instances of coverage for your belongings than what a standard homeowners insurance policy offers. Speak to a Travelers home insurance agent for more details.
Furthermore, many standard home insurance policies provide only limited coverage to high-value items such as jewelry. If you have expensive jewelry, furs, art or antique collections, you'll want them insured for their full value. Travelers offers expanded coverage endorsements that can provide greater home insurance limits to make sure you get full replacement cost for claims on appraised items.
Travelers has 44 agent locations in Montana, making it easy to find one in person if you don't want to go online.
Biggest homeowners insurance companies in Montana
The chart below provides an overview of the largest home insurance providers in Montana. How these home insurance companies rank on the national scale can vary.
Montana home insurance company snapshot

| Company | Market share | 2019 J.D. Power customer satisfaction rating | NAIC complaint index (lower is better) |
| --- | --- | --- | --- |
| State Farm | 24.3% | 4/5 | 0.20 |
| Safeco | 15.6% | 2/5 | 0.45 |
| Mountain West Farm Bureau Mutual | 7.6% | - | 1.84 |
| Farmers | 7% | 3/5 | 0.37 |
Home insurance rates in Montana by city
Homeowners insurance premiums vary greatly between cities in Montana. Between the state's largest cities, Belgrade has the lowest average home insurance rate, at $844, while Billings tops out at almost twice that, at $1,642.
Average annual home insurance premium by city
City
Average annual home insurance rate
Billings
$1,642
Missoula
$1,007
Great Falls
$1,234
Bozeman
$864
Butte-Silver Bow
$981
Helena
$1,014
Kalispell
$768
Havre
$1,216
Anaconda-Deer Lodge
$859
Belgrade
$844
Average rates are based on non-binding estimates provided by Quadrant Information Services. Your rates may vary.
Homeowners insurance rates in Montana by county
There is a much wider range between home insurance rates on the county level than between cities. Flathead County has the lowest average home insurance rate in Montana, at $847 yearly. Prairie County has the highest average rate, at $2,434 yearly.
Average home insurance rates by county
County
Average annual home insurance rate
Beaverhead
$1,150
Big Horn
$1,617
Blaine
$1,151
Broadwater
$1,002
Carbon
$1,305
Carter
$2,222
Cascade
$1,253
Chouteau
$1,228
Custer
$2,163
Daniels
$1,455
Dawson
$1,842
Deer Lodge
$859
Fallon
$2,332
Fergus
$1,666
Flathead
$847
Gallatin
$1,006
Garfield
$1,935
Glacier
$1,016
Golden Valley
$1,575
Granite
$943
Hill
$1,208
Jefferson
$849
Judith Basin
$1,579
Lake
$1,096
Lewis and Clark
$1,013
Liberty
$1,497
Lincoln
$915
Madison
$937
McCone
$1,934
Meagher
$1,056
Mineral
$1,126
Missoula
$1,003
Musselshell
$1,442
Park
$1,089
Petroleum
$1,388
Phillips
$1,378
Pondera
$1,132
Powder River
$2,242
Powell
$$915
Prairie
$2,434
Ravalli
$1,110
Richland
$1,564
Roosevelt
$1,598
Rosebud
$2,058
Sanders
$1,150
Sheridan
$1,547
Silver Bow
$991
Stillwater
$1,297
Sweet Grass
$1,166
Teton
$1,192
Toole
$1,374
Treasure
$1,932
Valley
$1,796
Wheatland
$1,361
Wibaux
$1,947
Yellowstone
$1,721
Average rates are based on non-binding estimates provided by Quadrant Information Services. Your rates may vary.
Home insurance perils in Montana
Snowfall
Snowfall averages 30 to 50 inches in most cities in Montana. Home insurance covers roof damage from snow in many cases. However, prevention is still a better strategy in the long run. Avoiding heavy snow punching a hole in your roof is preferable to getting it fixed. Check your tiles and gutters before winter hits and make sure they're in good condition.
Fire
During the warmer months in Montana, wildfires become a threat. Hot and windy conditions can quickly start a fire, damaging thousands of acres. In 2017 alone, 21 fires in Montana destroyed an estimated 1,295,959 acres of land.
Fire is often covered as a peril in a home insurance policy, but check to make sure you have enough dwelling coverage for a complete rebuild of your house should fire destroy it.
Methodology
We compiled quotes for every ZIP code in Montana from four of the top insurers. We based our analysis on State Farm, Farmers, USAA and Travelers data. We gathered quotes for a home worth $257,821, built in 1978 and owned by a 59-year-old. These are the median home value, construction date and homeowner age in Montana.
We picked the insurers for our study using S&P Global Market Intelligence, which ensured results as localized to Montana as possible. The largest subsidiary in Montana of every insurer was taken as a representative for the company.
Sources:
QuoteWizard.com LLC has made every effort to ensure that the information on this site is correct, but we cannot guarantee that it is free of inaccuracies, errors, or omissions. All content and services provided on or through this site are provided "as is" and "as available" for use. QuoteWizard.com LLC makes no representations or warranties of any kind, express or implied, as to the operation of this site or to the information, content, materials, or products included on this site. You expressly agree that your use of this site is at your sole risk.