How to File a Homeowners Claim When Someone Breaks into Your Car
Ever wondered if you can file a homeowners claim after someone breaks into your vehicle? Well, you can, and we've created a guide on how to do so.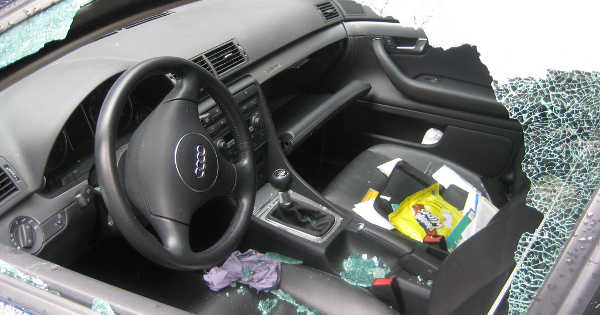 Most people don't realize their homeowners insurance covers more than their home. It also extends to their personal belongings—wherever they might be.
That means if someone breaks into your car and steals your possessions, your home insurance will cover it. Read on to learn how this is possible, what to do if it happens to you, and how to protect your belongings down the road.
Before we discuss what to do when someone breaks into and steals items from your vehicle, let's first talk about the coverage you need.
Comprehensive Coverage
Car insurance has many components. Most standard policies offer:
Liability coverage
Medical payments coverage
Uninsured and underinsured motorist coverage
Personal injury protection
No-fault insurance
Comprehensive coverage
Collision coverage
Comprehensive coverage protects your car if a named peril causes damage to it. This includes:
Broken or cracked windows
Hitting or being hit by an animal
Fire
Flooding
Falling objects
Hail and thunderstorms
Earthquakes, hurricanes, or tornadoes
Civil disturbances
Vandalism
Theft
But while it covers theft, it only covers the structure of the vehicle. That means it covers things like broken windows or stolen stereos, airbags, wheels, and more. For a full list of covered items, check out our article on broken-in vehicles.
You need homeowners or renters insurance to protect stolen belongings that aren't attached to the vehicle. More specifically, you need the personal property coverage offered by most renters or homeowners policies.  
Personal Property Coverage
A standard homeowners insurance policy covers:
The dwelling
Other structures
Personal property
Liability protection
Additional living expenses
Of course, it'll only cover perils listed on your policy. Covered perils differ depending on the type of policy you hold, but most include theft.
So should someone steal belongings out of your car, your home policy's personal property coverage protects you.
Personal property protection covers your belongings up to a certain limit. It includes items such as furniture, appliances, electronics, and clothing. And in most cases, your belongings are protected even if they aren't in your home. This is why people file homeowners claims when laptops or gym bags are stolen from their cars.
But like any type of coverage, there are limits. In other words, your personal property coverage may not extend to your expensive laptop. Speak with your insurer if you're unsure how much coverage you have. If you feel like it isn't enough, increase it. If that's not possible, or if you think you'd be better off with a different policy, shop around to find a home insurance quote that's right for you.
What should you do if you have valuable items like expensive electronics or jewelry? Talk to your insurer about adding a homeowners insurance rider or endorsement. This will cover your pricier possessions.
What Do I Do if Someone Breaks into My Car?
Now you know how homeowners insurance protects personal possessions left in your vehicle. But what should you do if a thief actually breaks in and steals them? Here are the steps to follow:
1. File a police report
Your first move after noticing your broken-in vehicle should be to file a police report. Don't touch anything until that's done. Feel free to take photographs of the damage before or after that, but don't tamper with any evidence.
In some cases, a law enforcement agent will come and inspect your vehicle. Or they might just have you file a report. You can do this at your local police department, on line, or over the phone. If you decide to do it in person, don't forget to bring proper identification.  
2. Assess whether to file a claim
Before you file a claim, make sure it's worthwhile. If someone steals just an empty backpack or a few textbooks, your deductible might cost more than the items lost. But if your designer purse or iPhone are swiped, you'll probably want to report it.
Keep in mind that you may want to hold off on a report even if the stolen items' value exceeds the cost of your deductible. Every time you file a claim, your insurance premiums increase. This is why a lot of agents and experts suggest only filing a claim when something drastic or expensive happens.
3. File a claim
If you decide the loss is large enough to file a claim with your insurer, start by assessing how much damage was done to your vehicle and personal items. From there, you'll either file an auto or homeowners claim. If it's an auto claim, read our article on "Car Insurance Claims Tips." If it's a homeowners claim, there are a few different steps to take.
First, review your policy guidelines for how to file a claim with your provider. Do this as soon as you become aware of the incident.  
You can call or e-mail your insurer to file a claim. Call if you think the situation is urgent.  
The person on the other end of the line may ask for the number of the police report you filed, so have that handy. Also, be prepared to fully describe all items stolen from the vehicle, and say whether or not they were permanently attached to it.
Possessions that cannot be easily detached are by definition part of the car. These are the parts that, if stolen, the comprehensive portion of your auto policy covers.
What if someone swipes personal items like a TV or laptop from the back seat of your SUV? That's when you turn to your homeowners policy and its personal property coverage.
4. Protect your identity
Many people overlook this step of the process, but it's one of the most important. If someone takes your wallet from your vehicle, contact your bank or credit union to cancel any credit and debit cards. And call the Department of Licensing if your driver's license or vehicle registration are taken. You'll need to get new copies of those too.
5. Get your car fixed
After you file a police report, take photos, and file a claim, get your car to a mechanic or repair shop. Whether the thief jimmied the lock or broke a window, you'll want to fix your vehicle.
Your car insurance's comprehensive coverage should pay for a dismantled ignition system, damaged locks, or broken windows.
Speaking of broken windows, your auto insurer may waive or reduce your deductible if your windshield is cracked. (If you have comprehensive coverage, of course.)
But if your windshield is completely destroyed, you'll have to pay a deductible. This is why it's so important to repair your windshield after it is first damaged, before the crack gets worse.
Talk to your insurer or read our article on "Glass Damage and Windshield Claims" for more information.
Side note: You'll need to get your car fixed before your insurance company sends you a check. So always keep receipts from the repair. Otherwise you may not be properly reimbursed.
Prevent Further Incidents
Now you know what to do if someone steals personal belongings from your vehicle. But how can you keep this from happening in the future?
Don't leave valuable items in your parked car
Don't leave anything inside that would catch the eye of a burglar
Lock your vehicle and keep its windows up
Park in safe areas
Install a car alarm and other anti-theft devices
You can find other safety tips in our article about vehicle safety feature discounts.
Frequently Asked Questions
Q: Will my homeowners or renters premiums go up if I file a claim after someone breaks into my car?
A: There's a good chance they will. Each time you file a claim, you pose a risk to your insurance company. It will want to protect itself from that heightened risk, and it does that by increasing your rates.
Many insurance experts advise only filing claims for things you can't cover out of pocket. 
Q: What if the things stolen from my car weren't mine?
A: If someone else's items were taken from your car; the owner of those items can file a claim with their homeowners or renters insurance company.
That doesn't mean their insurer definitely will cover the loss. Some will pay out in that kind of situation, and some won't. It depends on the company.
Q: Will my homeowners or renters policies cover a broken window or damage to the interior of my car?
A: No. The comprehensive portion of your auto policy covers this. Homeowners and renters policies only cover personal items that can be detached from the vehicle.
Q: Do renters or homeowners insurance policies cover stolen audio equipment?
A: This depends on whether that equipment is attached to the vehicle. If it is, there's a good chance your car insurance's comprehensive coverage will take care of it. If it is detachable, though, your renters or homeowners insurance should cover it. Check with your insurer for more details, as the definition of what is attached and what isn't can get complicated.
References:
QuoteWizard.com LLC has made every effort to ensure that the information on this site is correct, but we cannot guarantee that it is free of inaccuracies, errors, or omissions. All content and services provided on or through this site are provided "as is" and "as available" for use. QuoteWizard.com LLC makes no representations or warranties of any kind, express or implied, as to the operation of this site or to the information, content, materials, or products included on this site. You expressly agree that your use of this site is at your sole risk.