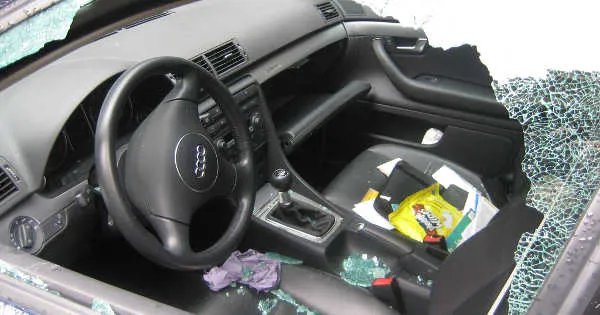 Homeowners insurance typically covers the theft or vandalism of your personal property, including the stuff in your vehicle if someone breaks into it. This article will cover:
Car break-ins: how does home insurance cover it?
It may seem that if your car is broken into and your belongings are stolen, your car insurance would take care of it. This is not the case. The personal property section of your home insurance policy covers theft and vandalism of your belongings, including stuff that is outside your home. Your auto insurance covers you in the event of your car getting stolen or vandalized.
How to file a home insurance claim after a car break-in
After a car break-in that results in your belongings getting stolen, the steps for filing a claim are fairly straightforward. You'll want to start the process as soon as possible after the theft. Home insurance companies may have different time limits on filing a claim after your belongings are stolen. Consult your home insurance policy for details on how long you have to file a claim.
File a police report
The first thing to do after the theft is to contact your local police department and initiate a police report. On top of recording the crime, your home insurance company may require a police report as part of the claims process. Use the 311 non-emergency phone number when filing your report.
In some cases, you may be required to go to the police station in order to file your report. In either case, try to disturb as little as possible in your car until the police can examine it.
Document your stolen belongings
After you have filed a police report, go through your car and list everything that was stolen. Take pictures of the break-in points on the exterior of the car, and the interior as well. If you have already made a home inventory list that has the make, model, serial number and cost of each of the lost items, that will make compiling your list to give to your home insurer a lot simpler, and may speed up your claim payout.
If there was a security camera where your car was broken into, see if you can get a copy of the footage at the time of the break-in. Both the police and your home insurer would probably be interested in it.
Protect your personal information
To avoid identity theft or fraud, contact your financial institutions if your stolen items include any of the following information:
Your address.
Your birthdate.
Bank account information.
Credit cards.
Your financial institutions can freeze current accounts so thieves can't use them, get you new checking accounts and credit cards, and make any other necessary changes for your security.
Also, you'll want to contact one of the three credit reporting companies (Equifax, Experian and TransUnion) in order to place a fraud alert. Once you contact one of the credit bureaus, they will contact and notify the other two.
Do you need to file a claim?
The above steps are strongly advised whether you file a claim or not, but now you need to decide if filing the claim makes financial sense. Home insurance is there for situations such as when someone steals something from your car, but there is a long-term return on investment to consider.
Except in the instance of liability, when you file a home insurance claim it usually results in a premium increase. If the total value of what was lost is less than your home insurance deductible, your claim will not only be rejected, but you will also probably get a premium increase anyway.
This increase in your premium after filing a home insurance can vary, but you're probably looking at somewhere around 13% if it's your first claim in a 10-year period. This amount can be even higher if it's not your first claim in that time period.
These premium increases stay on your CLUE report for anywhere between five to seven years. Before you file a claim, do some math and see if the dollar value of what you lost is worth the potential increase in your premium over time.
Contact your home insurance company
Once you've decided to file your home insurance claim, give your provider a call. Have your documentation on hand if they need any information immediately. Your insurer will get you any of the necessary paperwork you'll need to fill out. They may also send out an adjuster to examine your car and get more information before approving your claim.
QuoteWizard.com LLC has made every effort to ensure that the information on this site is correct, but we cannot guarantee that it is free of inaccuracies, errors, or omissions. All content and services provided on or through this site are provided "as is" and "as available" for use. QuoteWizard.com LLC makes no representations or warranties of any kind, express or implied, as to the operation of this site or to the information, content, materials, or products included on this site. You expressly agree that your use of this site is at your sole risk.