Compare Homeowners Insurance in Charlotte
Looking for homeowners insurance in Charlotte, North Carolina? We can help you find the best rates to insure your Charlotte home.
One factor that should concern homeowners in North Carolina is the 'consent to rate.' The North Carolina Rate Bureau sets the maximum insurance rates in the state. But many insurers send consent to rate letters asking homeowners to pay higher rates or cancel coverage. You may end up paying more for insurance than the state government thinks you should.
On top of that, North Carolina suffers from natural disasters. The most common disasters in the state include hurricanes, tornadoes, and flooding. In spite of that, Charlotte residents can expect to pay relatively average rates for their home insurance.
Average Charlotte Home Insurance Rates
How much is home insurance in Charlotte? Using data from almost 1,300 QuoteWizard users in Charlotte, we created this 'average' sample home:
2,245 square foot home built in 1993
3 bedrooms and 2.5 bathrooms
Two stories
Composite shingle roof
Deadbolt locks
Fire extinguishers
Using this sample home, we got several quotes for homeowners' insurance from the top insurers in Charlotte. These sample rates reflect standard coverage on an average Charlotte home. Remember, your home insurance rates are unique to you, your coverage, and your home. Below are the average rates for a homeowners insurance rates in Charlotte:
$83.08 /mo. $997.00 annually
The graph below shows the change in average North Carolina home insurance rates from 2011 to 2015, the most recent year the data is available. According to the III, North Carolina homeowners insurance rates increased from $869 in 2011 to $1,075 in 2015, a jump of $206 dollars, or 23.71 percent.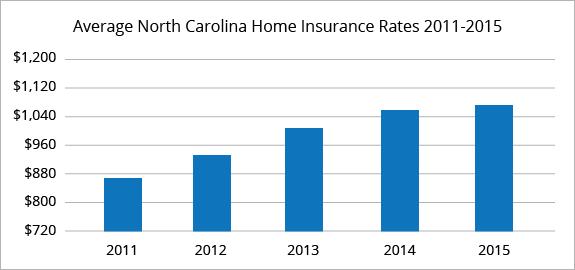 QuoteWizard helps consumers compare quotes from both national insurance companies and local agents. QuoteWizard can help you find affordable home insurance rates near Charlotte, North Carolina.
Last year, many people used QuoteWizard to compare home insurance quotes in Charlotte, NC from multiple companies.
Best Homeowners Insurance Companies in Charlotte, NC
Most Popular Insurance Companies
According to our users, these are the most popular insurance companies in Charlotte:
State Farm
Geico
Nationwide
Allstate
Progressive
Liberty Mutual
MetLife
Esurance
21st Century
Farmers
Best Homeowners Insurance Companies
The above list shows Charlotte's most popular home insurers according to our users. But popular doesn't always mean best.
Our study on the best home insurance companies focuses on top of the line companies. In no particular order, these companies stand out among the rest:
Amica: Best Overall
MetLife: Best for Bundling
Allstate: Best for Local Agents
Hartford: Best for Seniors
State Farm: Best for Pet Owners
Travelers: Best for Flexible Policies
Nationwide: Best Replacement Coverage
Farmers: Best for Eco-Friendly Homes
Liberty Mutual: Best for Quick and Easy Quotes
Auto Owners Insurance: Best Claims Experience
Charlotte Home Insurance Rate Factors
Many factors affect your homeowners insurance premium. Some of these factors are out of your control. But knowing how your premium is priced can help you save money. These are the most common factors used to decide your Charlotte home insurance rates:
Types of Homeowners Insurance
These are the most common types of homeowners insurance:
HO-1: Basic insurance that covers standard damages.
HO-2: Broad homeowners insurance that covers everything in HO-1. Also covers falling objects and damages to AC units, pipes, and other household systems.
HO-3: Covers damage from all perils unless excluded. Also covers unattached structures and liability.
HO-4: Belongings and liability coverage for renters.
HO-5: Comprehensive policy like HO-3 but with expanded coverage and less limitations for property claims. This is a premium policy.
HO-6: Covers possessions and provides liability for condo owners.
HO-7: Similar coverage as HO-3, but for mobile homes.
HO-8: Like HO-3, but for old homes. It can be tailored to suit the unique needs of older homes.
8 Ways to Save Money on Homeowners Insurance in Charlotte
There are a variety of ways to lower your Charlotte home insurance premium. These are some of the most common methods:
Redo your roof: In areas prone to natural disasters, your home's roof is the first layer of defense. Constant windstorms and torrential rains can wear away at your roof overtime. With the severe weather that North Carolina endures, redoing your roof is a smart move. Install a high-quality roof to protect your home from weather-related damage. If you install a new roof, insurance companies may reward you with better rates.
Be a senior: Seniors get a lot of discounts. Home insurance is no exception. Seniors tend to spend more time at home than other age groups. That means they're more likely to be home to spot a problem like an electrical fire or a burst pipe. Charlotte has seen growth in their population and that includes their senior population. In 2015, the county's senior population was about 20 percent, a four percent increase from 2000.
Add technology: High-tech security systems and alarms can stop theft before it happens. Smoke and carbon monoxide detectors can stop fires or deadly leaks. Keeping your home's security systems up to date is a smart move. Insurance companies lower rates for homeowners who take steps to protect their home.
Shop around: It's tempting to find a good insurance plan and stick with it for years. Buying insurance can be a bit of a pain. But the best way to save money on home insurance is shopping around. Even if you don't switch, you can see if you're paying too much. Each insurer offers different rates and discounts. There's a good chance you're paying more than you need to. If you want to save money, compare quotes from several Charlotte home insurance companies.
Renovate: Beyond new roofs and smart technology, certain home improvements help lower your premiums. Upgrading your wiring, plumbing, and heating make your home less at risk of electrical fires or plumbing accidents. Be aware that remodeling can increase your home's value, which can make your coverage levels inadequate.
Avoid claims: This advice may seem silly, because what is insurance for if not to use it? We don't mean not to file claims at all. But remember that filing a claim raises your rates. If you file several claims, your insurance company may cancel or refuse to renew your policy. Ask yourself if a claim is really necessary before filing it. Can you pay for it out of pocket? Is it relatively minor? There's a lot to consider before filing a home insurance claim.
Raise your deductible: A quick and easy way to lower your premium is by increasing your deductible. Your deductible is the out-of-pocket costs you must first pay before insurance covers damage to your home. When you raise your deductible, your insurance premium goes down. It's that simple. Having a low premium is great, but it can lead to higher out-of-pocket costs when you file a claim. It's a balancing act. That's why you need to do your research when choosing your home insurance deductible.
Bundle: A great way for Charlotte residents to save money is to buy more than one insurance policy from the same company. Bundling your home and auto insurance could lower your rate by 20 percent. Think of it as a bulk-buy.
QuoteWizard.com LLC has made every effort to ensure that the information on this site is correct, but we cannot guarantee that it is free of inaccuracies, errors, or omissions. All content and services provided on or through this site are provided "as is" and "as available" for use. QuoteWizard.com LLC makes no representations or warranties of any kind, express or implied, as to the operation of this site or to the information, content, materials, or products included on this site. You expressly agree that your use of this site is at your sole risk.