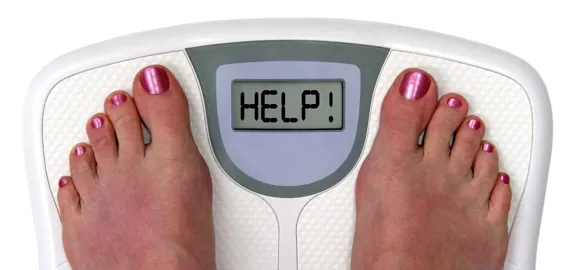 A lot of Americans are overweight these days.
In fact, the Centers for Disease Control and Prevention (CDC) estimates more than two-thirds of adults in the U.S. are overweight at the moment. And more than a third--36.5 percent--are obese.
That means approximately 178 million American adults are overweight and around 91 million are obese.
Millions of U.S. children and adolescents deal with similar weight struggles. According to the CDC's latest findings, almost 10 percent of children between the ages of two and five are obese. Just under 20 percent of children aged six to 11 are obese, and the same can be said of just over 20 percent of 12- to 19-year-olds.
As far as the CDC is concerned, adults are overweight if their body mass index (BMI) is 25 or above. They're obese if their BMI is 30 or above. BMI is a measurement of a person's body fat based on their height and weight.
Children and adolescents, on the other hand, are compared to others of the same age and height. If they weigh more than 95 percent of kids the same age, they're obese.
Taken together, it's easy to see why and how, say, 200,000 Americans currently undergo bariatric surgery every year. Many times that number take medications in an attempt to lose weight. Even more turn to nutritional and behavioral counseling.
None of those things are cheap, of course. Bariatric surgery costs as much as $30,000. Prescription meds and trips to counselors tend to be pricey, too.
Which begs the question: does health insurance usually pay for weight-loss treatments and services?
As is often the case, the answer here is, "it depends." In particular, it depends on the type of insurance plan you have. Do you get health coverage through Medicaid or Medicare? Or do you get it through an employer, the federal Obamacare marketplace, or a state exchange?
Some of those health plans are more likely than others to help with these sorts of costs. And some insurance companies are more likely than others to help with them, too.
Keep reading to learn all you need to know about when health insurance covers weight-loss treatments and services and when it doesn't. You'll also learn what kinds of treatments and services various policies do and don't cover.
Why Does Health Insurance Cover Weight-Loss Treatments?
You may be wondering why health insurance would pay even part of the cost of a policyholder's weight-loss counseling sessions, medications, or surgeries. After all, many of these treatments come with eye-popping price tags attached to them.
That said, being obese or even overweight often is expensive, too.
Consider that obesity, especially, can lead to a number of chronic diseases and conditions. Chief among them are heart disease, diabetes, and cancer.
Obese and overweight adults also are more likely than those of a healthy weight to suffer a stroke or develop:
Alzheimer's disease
Gallbladder disease
High blood pressure
Osteoarthritis
Sleep apnea and breathing problems
That's not where the impacts of being overweight or obese end. More people who have obesity are anxious or depressed or deal with other mental disorders than people of a normal weight. And according to at least one study, obese adults are 29 percent more likely to say they lack purpose in life than non-obese adults.
It's not as easy to place a price on these health issues as it is to on specific surgical procedures. Overall, though, it's clear that obesity and obesity-related conditions cost both Americans and their insurers a lot of money annually.
How much? The Harvard T.H. Chan School of Public Health suggests the answer is "billions of dollars a year." Another estimate puts the cost at $190 billion in 2005 dollars. That same study found the average annual medical costs for an obese adult to be $1,429 higher than those of someone with a healthy weight.
When and How Health Insurance Covers Weight-Loss Surgery and Counseling
Don't worry, if you, your spouse, or a dependent child are overweight or obese and need surgery, medicine, or counseling. You probably won't have to pay for all of it if you have health insurance.
That's because most health plans now cover at least some, if not all, of those weight-loss treatments and services.
You can thank the Affordable Care Act (also known as the ACA and Obamacare) for that, by the way.
The ACA requires all individual, family, and "small group" plans (plans serving 50 or fewer full-time employees) to pay for basic obesity screening. It also requires those plans to pay for nutritional counseling if a person qualifies for it.
More importantly, in 2012, the ACA let states choose an existing insurance policy to serve as their "benchmark plan." This led to 23 states requiring insurers to cover bariatric or gastric bypass surgery. Before Obamacare, only five states had such a mandate on the books.
Many "large group" health insurance plans cover weight-loss treatments and services, too. A few noteworthy examples:
If your health plan covers one kind of weight-loss surgery, expect it to cover most or all of them. In other words, it should cover lap bands, gastric bypasses, gastric sleeves, and more.
Get coverage for the weight-loss treatments you need.
Find low rates with top health insurance providers!
Health Insurance and Weight-Loss Medication Coverage
Perhaps surprisingly, most health insurance plans are more likely to cover the costs of weight-loss surgery than weight-loss medications.
What are some of the anti-obesity drugs we're talking about here? Belviq is a good example. It helps patients eat less and feel satisfied with eating smaller amounts of food. Saxenda, a shot, reportedly offers similar relief. Contrave and Qsymia reduce appetite. And Xenical prevents some of the fat calories a person eats from being absorbed into their intestines.
Although the U.S. Food and Drug Administration approved all five of these medications, health insurance companies are reluctant to cover them. In fact, about a third of insurers don't cover obesity drugs at all. Another third cover them, but with limits or restrictions.
Why the hesitation? One possibility is the diet-drug industry's checkered past. (Specifically, doctors discovered the popular Fen-Phen drug damaged heart valves in the late 1990s. That caused the FDA to call for its withdrawal from the market.)
Another possibility is people who are prescribed weight-loss medications may take them for the rest of their lives. Combined with the high cost of these drugs--as much as $200 a month--that's too much for many insurers to swallow.
As a result, many overweight and obese Americans have to pay for weight-loss medications out of their own pockets. Dr. Caroline Apovian, director of the Nutrition and Weight Management Research Center at Boston University, recently told NPR that most of her patients can't afford the former and so go without. "Coverage has to happen in order for the obesity problem to be taken care of," she added.
Medicare and Weight-Loss Surgery, Medications, and More
Like most private health plans, Medicare Part B plans also cover the cost of behavioral counseling sessions that help patients lose weight.
Medicare Part B only covers this kind of counseling if it's received in a physician's office or other primary care setting, however. Also, patients must have a BMI of 30 or higher for Medicare to approve coverage.
Just make sure your care provider accepts assignment before you schedule your first session. ("Assignment" means your doctor or supplier accepts the Medicare-approved amount as full payment for covered services.) If not, you'll be responsible for the entirety of the resulting bill.
Medicare also covers some weight-loss surgeries. Two common examples are the gastric bypass and lap band procedures.
For Medicare to cover this type of surgery, you must:
have a BMI of 35 or above
have at least one co-morbidity, or medical condition, that's related to obesity (type 2 diabetes is one example)
have tried other medical treatments for obesity that weren't successful
Also, your bariatric surgery must be performed in a facility that is either:
certified by the American College of Surgeons as a Level 1 Bariatric Surgery Center, or
certified by the American Society for Bariatric Surgery as a Bariatric Surgery Center of Excellence
It's hard to say how fully Medicare will cover the cost of your weight-loss surgery. That's because of all of the variables associated with these procedures. Given that, medicare.gov suggests you do the following before jumping onto the operating table:
Ask your physician, hospital, or facility how much you'll have to pay for the surgery and any care related to it.
Also ask if yours will be an inpatient or outpatient procedure.
Review any other insurance you may have, like a Medigap or MedSup policy, to see if it covers some of the surgery costs.
Look over your Medicare plan, too, to see what it covers. If you're still unsure after that, contact a Medicare representative.
Check your last "Medicare Summary Notice" as well to see if you've met your deductibles. Focus on your Part A deductible if you'll be admitted to a hospital for your surgery. Focus on your Part B deductible if it'll be an outpatient procedure.
Regardless, you have to meet your deductible before Medicare steps in to pay for this kind of care. And even after it starts to pay, you may be responsible for certain copayments.
As for weight-loss medications, Medicare drug plans--also known as Medicare Part D--aren't required to cover them. Some do anyway, though, so check your specific policy to see if it covers or excludes the drug you're looking to take.
Your weight-loss drugs are more likely to be covered if you have a Medicare Advantage, Medigap, or MedSup plan.
To learn more, read our article about about Medicare Advantage policies. Also, check out our Medigap and MedSup FAQ for more information about those plans. Or read: "When Does it Make Sense to Get a Medicare Supplement Plan?"
Medicaid and Weight-Loss Treatments and Services
Medicaid often covers weight-loss counseling and surgeries, too. This differs from state to state. So you'll have to do some research to find out if your state covers the treatment or service you need.
Some good news here: according to The New Yorker, Medicaid now covers bariatric surgery in 48 states.
Now for some bad news: a 2010 George Washington University study found that only some state Medicaid programs cover all obesity treatments. It also reported that a number of states allow insurance companies to limit coverage of conditions linked to obesity.
For more information, see this report to Congress, also from 2010, about obesity-related services available to Medicaid enrollees. Medicaid.gov provides additional details.
Your best bet is to contact someone at your state's Medicaid agency for specifics on the weight-loss treatments its plans cover.
Frequently Asked Questions
Q: Why does it matter if I'm overweight or obese?
A: People who are overweight or obese are more likely to develop a number of chronic diseases or conditions. Certain types of cancer, diabetes, and heart disease are three examples.
They're also at a higher risk for stroke, high blood pressure, and Alzheimer's disease. And they're more likely to suffer from anxiety and depression.
Q: Does health insurance usually cover weight-loss counseling?
A: Yes. And this is true no matter what kind of health insurance you have. Job-based, Obamacare, Medicare, and Medicaid plans all typically cover nutritional counseling sessions that aim to help people lose weight.
Don't be surprised if you have to meet certain requirements before your insurer agrees to cover this sort of care, though. The most common is your BMI must be above a certain number, but there are other possibilities, too.
Q: Will my health plan cover weight-loss medications?
A: This is less likely than your health insurance covering weight-loss counseling or even surgery. Still, review your policy. Focus on the section that discusses exclusions--it should tell you if your plan covers the drugs you're looking to take or not. If this doesn't help, contact a company representative.
It isn't unusual, though, for health insurance to refuse to cover these kinds of medications.
Q: Does health insurance cover bariatric surgery?
A: Many plans do cover various forms of weight-loss surgery these days. This is true if you're insured through an employer or a federal (or state) marketplace, Medicare, or Medicaid.
Not all plans cover all kinds of surgery. So look over your policy or talk with someone at your insurance company before you agree to anything.
Also, expect to have to meet certain requirements for your insurer to cover your bariatric surgery. Your BMI might have to be above a particular number, or you may have to prove you've tried and failed at other weight-loss methods.
Q: What do I need to do to get my insurance company to pay for my weight-loss surgery?
A: This depends on your insurer, but it isn't unusual for them to require:
A physician's or surgeon's recommendation that such surgery is medically necessary
Your participation in a doctor-sponsored diet or weight-loss program
A nutritional evaluation
A psychological evaluation
A preauthorization letter from your doctor or surgeon
Various diagnostic tests
Q: Which weight-loss treatments does Medicare cover?
A: In general, Medicare covers both nutritional counseling (to help you lose weight) and some types of bariatric surgery.
One restriction tied to coverage of these treatments and services is they must take place in a primary care or hospital setting. And they must be performed by a provider that accepts assignment.
Medicare Part D rarely covers weight-loss medications. If you have a Medical Advantage plan, though, it may cover these drugs. The same is true of some Medigap or MedSup plans. As always, look over your policy or call your insurance company for more information.
Q: Does Medicaid cover weight-loss counseling or surgery?
A: Many Medicaid plans do cover counseling and surgical procedures that promote weight loss. Whether or not yours covers these treatments, though, depends on where you live. To find out one way or the other, review your policy. If that doesn't clarify matters, contact your state's Medicaid agency.
References:
QuoteWizard.com LLC has made every effort to ensure that the information on this site is correct, but we cannot guarantee that it is free of inaccuracies, errors, or omissions. All content and services provided on or through this site are provided "as is" and "as available" for use. QuoteWizard.com LLC makes no representations or warranties of any kind, express or implied, as to the operation of this site or to the information, content, materials, or products included on this site. You expressly agree that your use of this site is at your sole risk.