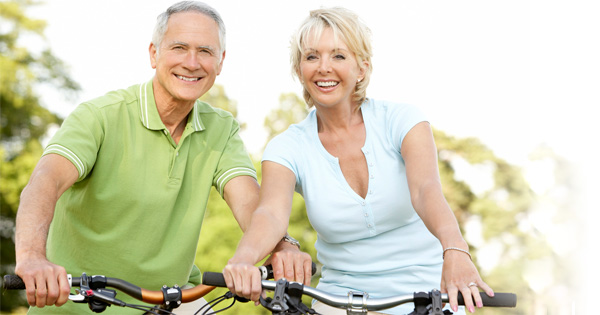 As anyone who has made use of it is well aware, Medicare covers many kinds of care—including hospital and skilled nursing facility visits as well as the lab tests, surgeries, and other "medically necessary" services associated with them—but it doesn't cover everything.
Enter Medigap—or Medicare supplement insurance, sometimes shortened to MedSup—which helps people pay some of the health and medical expenses that Medicare fails to address.
There's more to these plans than that, of course, which is why we decided to compile—and answer—the most frequently asked questions related to them.
Q: Why is it called Medigap?
A: The short and sweet answer here is that the name "Medigap" likely was born from the fact that this type of private insurance plan works to cover some of the difference—or "gap"—between what is and isn't paid for by Medicare Parts A and B.
Q: Is a Medigap policy the same thing as a Medicare Advantage Plan?
A: No, it is not. In fact, the two products are very different.
While Medigap policies supplement the costs related to your "Original Medicare" (the catch-all term used to describe Medicare Part A and B) benefits, Medicare Advantage Plans actually provide you with Part A and Part B benefits (by way of private companies that contract with and are approved by Medicare).
Note: If you already have a Medicare Advantage Plan, which also is known as Medicare Part C, you won't be able to get a Medigap plan. And if you have a Medigap plan and you'd like to move into a Medicare Advantage Plan, you probably should drop the Medigap plan, as it won't pay out if you buy a Medicare Advantage Plan.
Q: How about Medicare SELECT plans? Are they the same as Medigap policies?
A: Kind of, and kind of not. Medicare SELECT is a type of Medigap policy that is sold in some states, that tends to cost less than other Medigap policies, and that often requires you to use hospitals and (in some situations) doctors within a particular network to be eligible for full benefits.
Q: Which specific Medicare "gaps" does this kind of insurance plan help to fill?
A: All current Medigap plans cover these Medicare-related costs:
Medicare Part A co-insurance and hospital costs
Medicare Part B co-insurance or co-pay
Hospice care co-insurance or co-pay
Costs associated with the first three pints of blood you receive as a hospital inpatient
Some Medigap plans also cover a portion or all of the following:
Skilled nursing facility care co-insurance
Medicare Part A deductible
Medicare Part B deductible
Medicare Part B excess charges
Foreign travel emergency
Q: Do all insurance companies charge the same prices for Medigap plans?
A: No, they don't. Although the benefits associated with each of the "letter plans" described above remain the same regardless of which company sells them (so, one company's "Medigap Plan A" offers the same benefits as the company down the street—or across the country), the premiums attached to them can vary widely.
That's why shopping around is so important if you want to get the best rates. QuoteWizard can connect you with top agents that can help you navigate the complicated waters of Medigap plans to get you the coverage you need at the lowest rates.
Q: What kinds of things won't my Medigap policy cover?
A: Like Medicare itself, most of these supplemental insurance plans won't cover dental care, routine eye examinations, hearing aids, long-term care, private-duty nursing, or cosmetic surgery, among other things.
Q: How about prescription drugs? They're covered by this kind of insurance plan, right?
A: Unfortunately, no. Actually, some of the Medigap policies that were offered in the past covered some or all of the costs related to prescription drugs, but those that have been sold since the beginning of 2006 aren't allowed to do so.
If you want or need this kind of coverage, you can purchase a Medicare Prescription Drug (Medicare Part D) plan.
Note: Medigap policies won't cover any of the out-of-pocket costs associated with your Part D plan.
Q: Will Medicare pay for my Medigap premiums?
A: No. You will have to pay the premiums related to your Medigap plan out of your own pocket.
Q: How exactly do these policies work?
A: First, you have to be enrolled in Medicare Parts A and B, and then you have to purchase a Medigap policy of some sort. Once those tasks are out of the way, Medicare will pay its share of your approved healthcare costs and then your Medigap policy will follow up by paying its share.
Q: There are so many different kinds of Medigap plans out there. How am I supposed to tell them apart?
A: Being a bit confused by all of the Medigap options that are available today is completely understandable. After all, most states currently offer a whopping 11 such policies—with all of them bearing such descriptive names as "Medigap Plan A" or "Medigap Plan N."
One piece of information that may help you decipher the differences between these plans is that "Medigap Plan A" is the most basic offering, and as you progress through the alphabet--up to "N," although not "E," "H," "I," or "J" --the available plans include additional coverage (or offer coverage that's not included in the plan before it).
Also, keep in mind that all Medigap policies of the same letter provide the same benefits, as these details are determined by the government. Still, premiums are sure to vary among insurance companies, so this definitely is a case where it's smart to shop around before making a decision about a particular plan.
Note: the coverage tied to Medigap policies sold in Massachusetts, Minnesota, and Wisconsin differs from those sold in other states.
Q: Will a single Medigap policy cover both me and my spouse?
A: No, Medigap policies cover just one person, so you and your spouse will have to buy separate policies.
Q: Do I get Medigap insurance through the federal government like I do Medicare? If not, where can I buy it?
A: You can purchase one of these supplemental plans from any company that is licensed in your state to sell them.
Q: How do I know if I'm eligible for a Medigap policy or not?
If you're over 65, you're probably eligible to purchase a Medigap policy—as long as you're also enrolled in Medicare Parts A and B.
If you're under 65 and you have Medicare coverage due to a disability (or end-stage renal disease), you may not be able to buy a Medigap policy at all, or you may not be able to get the one you want.
Q: Am I only able to buy a Medigap plan at certain times, or during specific periods, or can I buy it whenever I want?
A: For starters, your best bet is to buy one of these plans during the six-month Medigap open enrollment period that begins on the first day of the month in which you're both covered by Medicare Part B, and 65 or older.
During this six-month window, you can buy any of the Medigap plans that are offered in your state, even if you have health problems.
If you wait until a later date, you may not be able to get one of these plans if you don't meet a particular insurance company's medical underwriting requirements. (There are some exceptions to this rule, though, so do your homework if you think you could be eligible.)
Q: Can I buy more than one Medigap plan?
A: If you're talking about buying more than one Medigap policy for yourself, the answer is no. You can choose just one of these plans, and insurance companies are not allowed to sell more than one of them to you.
Q: Can I switch from one Medigap policy or plan to another?
A: In most cases, no, you can't. That is, unless one of the following describe your current situation:
You're still within your six-month Medigap open enrollment period
You qualify for "guaranteed issue rights," which means an insurance company can't deny you a policy, etc.
You live in a state that has enrollment and eligibility requirements that are more generous and flexible than those in place at the federal level
If any of the above are true for you, you may be able to switch from one Medigap policy to another. Before you do that, though, don't cancel your existing policy until you've decided to keep the second one.
Q: How much should I expect to pay for one of these policies?
A: Considering just how many kinds of Medigap policies are available these days, as well as the sheer number of companies selling them, it's difficult to say. As such, it's important to do a bit of comparison shopping when you're in the market for this kind of insurance.
One tidbit that should help you with your comparisons, though, is that companies price their Medigap policies in three different ways:
Community-rated—Policies priced using this method carry the same monthly premiums, regardless of your age. Premiums may increase over time due to factors like inflation, but not because you get older.
Issue-age-rated—The premiums attached to these policies are based on your age when you first purchase them. So, the younger you are when you buy one, the less it will cost. Also, the policies of these premiums also don't increase as you age.
Attained-age-rated—Your current age determines the cost of your premium when it comes to this kind of policy and, unlike the options detailed above, that cost will rise as you get older.
Q: Can an insurance company cancel my Medigap policy?
A: As long as you bought your policy after 1992, a company can't drop you unless you fail to pay your premium, you are found to have been untruthful on your application, or the company becomes bankrupt or insolvent.
If you bought your policy before 1992 and your insurance company decides against renewing your Medigap policy for one reason or another, you will qualify for "guaranteed issue rights" and be allowed to buy another one.
Q: I'm thinking of dropping my Medigap plan. Is there anything I should be aware of or keep in mind before I go ahead and do that?
A: Just make sure you don't cancel your current Medigap plan before you've taken advantage of the 30-day "free look period" that's available to you to make sure the new plan is better for you.
QuoteWizard.com LLC has made every effort to ensure that the information on this site is correct, but we cannot guarantee that it is free of inaccuracies, errors, or omissions. All content and services provided on or through this site are provided "as is" and "as available" for use. QuoteWizard.com LLC makes no representations or warranties of any kind, express or implied, as to the operation of this site or to the information, content, materials, or products included on this site. You expressly agree that your use of this site is at your sole risk.