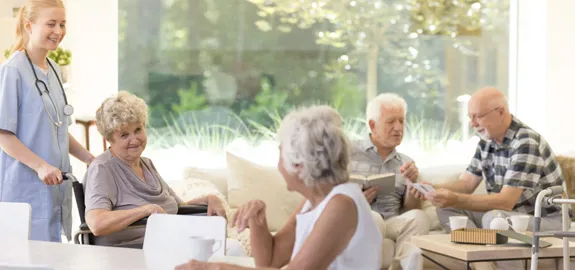 Does health insurance cover nursing homes? Unfortunately, most insurance plans don't cover long-term care. And nursing homes usually qualify as long-term care. But like all rules, there are exceptions.
We'll break down how Medicare, Medicare Advantage, and Medicare Supplement plans handle nursing homes. We'll also go over some of the basics regarding this type of long-term housing and care.
Nursing Home Basics
Americans have access to so many short- and long-term housing and care options these days. It can be hard to tell them apart, especially at first glance.
We'll explain the differences between nursing homes and skilled nursing facilities. And the differences between nursing homes and assisted as well as independent living communities, too.
Independent Living
Seniors who move into independent living (or IL) communities require little to no assistance with "Activities of Daily Living." That includes bathing, dressing, and eating.
That's not to say IL residents never need assistance. Some need help with tasks like preparing meals, cleaning their homes, or doing laundry. And most can get help with those tasks through services and amenities offered by the community.
They rarely need help with more personal activities, though. That's why the term "independent" is part of this long-term housing option's name.
Assisted Living
Seniors who move into AL communities usually need some assistance with daily activities mentioned.
Still, AL residents tend to be pretty independent. They're just not as independent as people who live in IL communities.
As such, they sometimes require help with help chores or self-care. Assisted living communities provide those sorts of services to inhabitants – as part of their rent or for an extra fee. 
Nursing Home
People in nursing homes usually have complex medical and healthcare needs. Much more so than people who move into assisted living communities.
Many require regular, or even around-the-clock, help with activities like eating, dressing, or bathing. Therapists and other specialists often provide this assistance.
Unlike AL and IL communities, residents of nursing homes aren't always elderly. Most are, but a few are younger. Some have disabilities, while others are recovering from surgeries, illnesses, or accidents.
Skilled Nursing
Most people who find themselves in a skilled nursing facility do so because they need to rehabilitate after a hospital stay. In other words, skilled nursing is a short-term care and housing option, not a long-term one like nursing homes.
Also, skilled nursing facilities (SNF) usually have a number of therapists and other specialists on site while nursing homes do not.
Nursing Home Statistics
How many Americans currently reside in nursing homes?
Back in 2014, nearly 1.4 million people lived in one of these communities, according to the US Centers for Disease Control and Prevention.
Those 1.4 million Americans lived in around 15,600 nursing homes.
In comparison, some 835,000 seniors reside in one of the country's 30,000 or so assisted living communities (or they did back in 2014).
None of those numbers are likely to drop anytime soon, studies show. The US Department of Health and Human Services estimates 70 percent of today's 65-year-olds will need long-term care at some point in their lives.
Nursing Home Costs
How much does it cost to live in a nursing home?
According to the 2017 Genworth Cost of Care Survey, the monthly rate for a semi-private room in one of these communities is $7,148. That's $85,776 for a full year.
A private room in a nursing home costs extra, at $8,121 a month. For a full year, you or a loved one would need to pay a whopping $97,452 for such a space.
Don't take those figures as gospel, though. What you pay to live in a nursing home is determined by more than whether you want a private or shared room. Another factor that impacts the cost of a nursing home residency is where the facility is located.
Depending on where you look and where you're willing to live, you may find a nursing home that charges as little as $4,000 a month.
Health Insurance and Nursing Home Care
There's no way around it: living in a nursing home is expensive. Given that, you're probably wondering if health insurance covers it.
The most succinct answer to that question appears on healthcare.gov. It says: "most health insurance plans don't pay for long-term care."
Nursing homes almost always provide long-term care to their residents. Don't bet on your health plan covering the bills for a nursing home.
That's not to say no health insurance plans cover nursing home care. In general, though, they only cover nursing home care when it's provided in the short term rather than over the long term.
For example, most health plans – even ones you get from an employer or through the Affordable Care Act marketplace – will pay for a short stint in a nursing home if you're there to heal up after a hospital stay. Many people are sent to nursing homes or skilled nursing facilities to rehabilitate following surgeries, illnesses, or accidents.
Even in cases, though, insurance usually only covers a certain number of days in a long-term care facility.
To find out if your health coverage will pay for nursing home care or how long it'll pay for it, read through your policy. If that doesn't clarify things, call the insurance company. If you have employer-sponsored insurance, talk with HR.
Are you shopping for a marketplace health insurance plan? Read our article "Which Type of Obamacare Plan is Right for You?" before you buy one.
Medicare and Nursing Homes
Job-based and marketplace plans aren't the only kinds of health insurance that sometimes pay for nursing home stays. Original Medicare, or Medicare Part A and Part B, also pays for them on occasion.
The key words here, however, are "on occasion." Medicare usually only pays for some of the care you might receive while in a nursing home.
Why? Because Original Medicare focuses on covering the medical care its enrollees receive. Specifically, it covers "acute" or short-term care provided in a doctor's office or hospital.
So when does Medicare cover nursing home care? As mentioned earlier, it pays for short nursing home stays if you're there to recover from a trip to the hospital.
It only pays for this type of care up to a point, though. It covers all the rehabilitative care you receive in a nursing home (or skilled nursing facility) for the first 20 days. After that, it covers 80 percent the care you receive in such settings for 80 more days.
Does Original Medicare ever cover longer nursing home stays? Actually, it does, but only to a point.
For instance, let's say you have to see a doctor while you're living in a nursing home. Or maybe you're taken to a hospital for some sort of urgent care. Medicare Parts A and B covers same treatments it would cover for any other Medicare enrollee in that situation. And it will cover them to the same extent it would for other enrollees, too.
The same is true if you need medical supplies as a nursing home resident.
Which costs won't Original Medicare cover once you move into a nursing home? It won't pay your room-and-board or rent costs, for starters. It also won't pay for any custodial or personal care you might receive in this kind of setting.
Remember, Medicare coverage focuses on acute or urgent medical costs. As a result, don't expect Part A or Part B to pay for anything that falls outside those areas. 
For more information on Original Medicare and how it works, see our article, "Is Medicare Enough? What's Covered and What's Not Covered?" While you're at it, check out our "Understanding Your Medicare Coverage Options" article, too.
Medicare Advantage Plans and Nursing Homes
You're in luck – Medicare Advantage plans cover nursing home care in many of the same ways Original Medicare does.
In other words, they'll cover short-term stays relating to illnesses, injuries, or surgeries. They'll also cover certain medical costs that are sure to pop up when you're a long-term resident. That means they'll pay for, or at least help pay for, doctor visits, trips to the hospital, and even some medical supplies.
That said, don't expect a Medicare Advantage plan to cover more than those situations. In some cases, your plan may go above and beyond if the insurer has a contract with your nursing home.
Considering that, take your time if you're shopping for either Medicare Advantage coverage or a nursing home. Ask insurers if their Medicare Advantage plans have contracts with any particular nursing homes. Or ask nursing homes if they have contracts with any particular Medicare Advantage providers.
A Medicare Advantage plan can be worthwhile even if it doesn't cover as much nursing home care as you'd like. That's because it'll still often help you pay for prescription drugs, as well as vision, hearing, and dental services.
Looking for more information on this kind of coverage? See this article: "Dental, Hearing, and Vision Care with Medicare." Also, check out our "Guide to Medicare Advantage" for anything else you could and should know about these plans.
Medicare Supplement Plans and Nursing Homes
Medicare Supplement plans may cover some of your nursing home costs.
They won't cover your room-and-board or rent costs, however. They also won't cover any custodial or personal care from one of these facilities.
Medicare Supplement, also known as MedSup or Medigap, plans do cover costs your Medicare Part A or Part B coverage won't cover. That includes:
Copayments
Coinsurance
Deductibles
They won't always cover 100 percent of these out-of-pockets costs, though. Sometimes they'll only cover a fraction of them.
MedSup also covers short-term stays in nursing homes. Say you have surgery and are sent to a nursing home to recover or rehabilitate. Original Medicare pays for 100 percent of the medical costs during your stay, but only for 20 days. After that, its pays 80 percent – and for just 80 more days. Some Medicare Supplement plans cover the remaining 20 percent.
If you have a MedSup plan and aren't sure if it'll pay for your nursing home care, contact the insurance company. And if you're shopping for one, ask about nursing home coverage before you settle on a plan.
Before you start shopping, though, read up on our list of the best Medicare Supplement companies. And take a look at our "When Does it Make Sense to Get a Medicare Supplement Plan?" article, too.
Other Options for Nursing Care Coverage
What can you do if your health plan doesn't cover nursing home care? The following two forms of insurance are pretty good options.
Medicaid
If you have limited income and resources, Medicaid may help you pay for nursing home care.
In fact, if you qualify for both Medicare and Medicaid, you may not have to pay for any of the medical care you receive after moving into one of these communities.
But how do you qualify for Medicaid assistance in this way? Each state has its own requirements, so it's hard to say exactly what you'll have to do where you live.
What can be said is that most states base Medicaid eligibility on a person's income and other assets.
You may have heard about people "spending down" their assets in order to qualify for Medicaid. They do that because of this requirement.
Thankfully, you can spend down your assets while you're in a nursing home. You'll want to make sure any nursing home you're thinking of moving into accepts Medicaid, though, as not all do.
Also, something to keep in mind if you've applied for Medicaid coverage before and been denied: many states' income requirements for Medicaid is higher in these kinds of situations. So you might qualify now even if you didn't in the past.
Long-Term Care Insurance
First, the good news: long-term care insurance will help you pay your nursing home bills.
Now for the bad news: you have to buy this type of plan long before you need it if you want to get the most bang for your buck.
That's because long-term care insurance premiums are more affordable when you're younger. As you age, they increase.
Also, you likely won't be able to buy long-term care insurance after you've moved into a nursing home, so that's something to think about as well.
Finally, know that insurers usually make you meet certain medical requirements before your long-term care policy will kick in and start covering your nursing care costs. That's rarely a problem for people looking to move into a nursing home, though, as most of these requirements revolve around being unable to perform daily activities without assistance. 
To learn more about this kind of policy, see our "Long-Term Care Insurance Basics" article.
References:
QuoteWizard.com LLC has made every effort to ensure that the information on this site is correct, but we cannot guarantee that it is free of inaccuracies, errors, or omissions. All content and services provided on or through this site are provided "as is" and "as available" for use. QuoteWizard.com LLC makes no representations or warranties of any kind, express or implied, as to the operation of this site or to the information, content, materials, or products included on this site. You expressly agree that your use of this site is at your sole risk.
View Medicare Disclosure

QuoteWizard is owned and operated by QuoteWizard.com, LLC ("QuoteWizard"), a subsidiary of LendingTree, LLC. Copyright © QuoteWizard Insurance Solutions, LLC. All rights reserved. Invitations for application for insurance may be made through QW Insurance Solutions, LLC ("QWIS"), a subsidiary of QuoteWizard, or through its designated agents, only where licensed and appointed. Licensing information for QWIS can be found here. QWIS is a non-government licensed health insurance agency. Not affiliated with or endorsed by any government agency. Callers will be directed to a licensed and certified representative of Medicare Supplement insurance and/or Medicare Advantage HMO, HMO SNP, PPO SNP and PFFS organizations. Your call will be routed to a licensed agent who can provide you with further information about the insurance plans offered by one or more of our third-party partners. Each of the organizations they represent has a Medicare contract. Enrollment in any plan depends on contract renewal. Availability of benefits and plans varies by carrier and location and may be limited to certain times of the year unless you qualify for a Special Enrollment Period. We do not offer every plan available in your area. Any information we provide is limited to those plans we do offer in your area. Please contact Medicare.gov or 1-800-MEDICARE to get information on all of your options. Deductibles, copays, coinsurance, limitations, and exclusions may apply. Medicare has neither reviewed nor endorsed the information contained on this website.