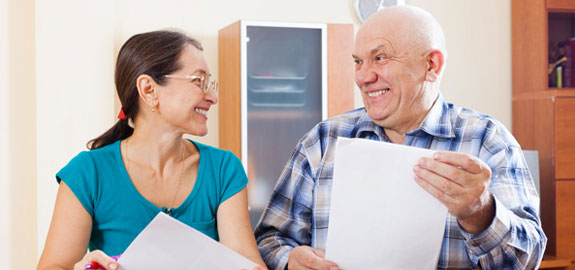 It's October—which means it's officially health insurance open enrollment season. Medicare is no exception, with its annual election period (AEP) going from October 15 to December 7. The changes you make will then go into effect on January 1 of the next year.
Medicare is a federally funded healthcare program for anyone over the age of 65 who is a U.S. resident and has been paying into Social Security. There are also a few other exceptions as to who can qualify.
The annual election period, also known as the open enrollment period, is a time when individuals can make changes to their Medicare policies, without any medical underwriting. Medical underwriting is when insurers can use medical history and preexisting conditions to determine your rates.
Types of Medicare enrollment periods
Medicare can be a complex subject. Let's begin at the beginning
You may enroll in Medicare three months before your 65 birthday, the month of your birthday, and three months after. Altogether, you have a seven-month window. If you miss this window, there is a general enrollment period from January 1 to March 31 every year. It is worth noting that missing your window will result in a monetary penalty when you do end up enrolling.
If for some reason you cannot make your enrollment period, there are special enrollment periods for people facing unusual circumstances. For people who miss their special enrollment period as well, there is a general enrollment period during the first three months of the year.
Of course, there is also the annual election period, which is the foundation of what we are going to talk about, which is open enrollment.
What does Medicare do?
As stated above, Medicare is a federal program that grants health insurance to people over 65. There are many different types of Medicare plans and policies. Depending on which plan you get, Medicare can do a lot of different things:
Medicare part A is hospital insurance which covers things such as hospital stays. It is usually free if you have been paying the Medicare payroll taxes.
Medicare Part B covers medical insurance such as doctors' visits and the like. It usually comes with a premium and is more expensive for people who earned a higher income over the course of their working career.
Medicare part C is also known as the Medicare Advantage plan. This plan is a little different than the others because you must purchase it from private health insurers who have contracts with Medicare. It provides you with part A and B benefits, and most Advantage plans will also cover prescription drugs.
Medicare part D is solely for prescription drug coverage. Private companies also sell it.
Who is Eligible for Medicare?
If you are 65 or older, you qualify for Medicare—but there are many other factors to the equation. You must also have been a legal citizen or resident of the U.S for at least five years, and have worked the minimum amount of 10 years to receive social security benefits. Also, if you have paid Medicare payroll taxes and work for the government, you qualify.
You can also receive Medicare if you are receiving benefits from the Railroad Retirement Board.
What's interesting about Medicare is that you can receive benefits from your spouse if they are at least 62 years old. There are many nuances, but you can check your Medicare exchange or the Medicare website for more information.
Some people qualify for Medicare even if they aren't yet senior citizens. For example, if you are receiving Social Security disability income, you may qualify for Medicare. You may also qualify if you have End Stage Renal Disease (kidney failure), or if you have Amyotrophic Lateral Sclerosis (ALS).
What does Medicare not cover?
As you sign up for a plan during open enrollment, you want to make sure you're getting the right coverage. Medicare can have numerous exclusions, depending on your coverage.
You first want to make sure that your current medical provider and primary care physician are covered under your Medicare plan. Certain hospitals and doctors are excluded from some Medicare plans, so it is important to do some research before finalizing your decisions.
Each type of plan you purchase will also have its own individual setbacks. For example, traditional Medicare, which includes Medicare parts A and B, doesn't cover deductibles, copayments, and coinsurance. It also doesn't cover prescription drugs, which is why many insurance experts advise you to purchase Medicare part D on top of your original Medicare plan.
Part A and B plans also usually won't cover vision and dental work, nursing home or assisted living care, ambulances, healthcare outside of the United State, cosmetic surgery, and more. For a full list you can check out Medicare.gov.
It takes some digging around and a lot of research to find the plan that will work best for you. If you feel you have too many gaps in your policy, consider looking into Medicare Supplement Insurance.
What is Medicare Supplement insurance?
Medicare Supplement Insurance, also known as Medigap or MedSup, fills in the gaps in Medicare policies. Private insurers sell MedSup, and you must have Medicare parts A and B to get it. It primarily covers the cost of deductibles, co-payments, and co-insurance. Some MedSup policies cover medical care when you are traveling outside of the United States.
MedSup open enrollment is a bit different than the Medicare annual election period, because the former doesn't have a specific date. You can enroll in MedSup as soon you both reach age 65, and sign up for Medicare part B. The MedSup enrollment period lasts for six months. You definitely want to obtain MedSup during this period because insurers have to issue the policy without any medical underwriting.
It is important to note that if you have a Medicare Advantage plan, you must drop it before you sign up for MedSup. You cannot have both at the same time. Also, unlike Medicare, you and your significant other cannot share MedSup policies.
There are many facets to what MedSup can cover, and there are at least 10 different MedSup plans.
How do you sign up for Medicare?
As stated above, you should sign up for Medicare during your own enrollment period. This is when you turn 65. However, if you want to make changes to your plan, keep reading.
The Medicare annual election period, otherwise known as open enrollment, is a time of the year when you can make adjustments and changes to your Medicare plan. This is the time when you can switch to a Medicare Advantage plan if you currently have Medicare parts A and B. You can also switch back to traditional Medicare, from Medicare Advantage. There are different types of part C plans, and this is a time when you can switch between different types of the plans they offer. You can also enroll and dis-enroll in Medicare part D during this time.
Let's face it—your health is constantly changing—and with that, so should your health plan—especially your Medicare plan.
Frequently Asked Questions
Q: How much will my Medicare Part B premiums cost?
A: According to Medicare.gov, most people pay $104.90 per month. However, Part B premiums are expected to rise significantly in the near future. This increase could be as high as 50 percent.
This is why it is always advised to shop around the Medicare exchanges so you can get the best coverage for your health insurance dollar. For more information on how much your rates may go up, you should visit Medicare.gov.
Q: What happens if I miss the Medicare annual election period?
A: Depending on the reason why you missed your enrollment, you may be able to go through an alternative enrollment. There is such thing as a special enrollment period (SEP) for situations beyond your control that prevent you from making changes to your plan during the annual election period.
If you just forgot about the enrollment period (which you shouldn't do), and you have Medicare parts A and B, then you might be able to get Medicare Supplement insurance. MedSup doesn't have a specific enrollment date. If you are curious about MedSup, fill out our online form and get a free rate quote from top companies.
There are also other ways to bypass the system, and it is advised to go to medicare.gov for more information.
Q: What if I want to cancel my Medicare Advantage plan?
A: January 1 to February 14 is the Medicare Advantage disenrollment period. This would be the right time to cancel your plan and switch back to traditional Medicare, if you miss the annual election period. You may also add on a part D plan at this time.
References:
QuoteWizard.com LLC has made every effort to ensure that the information on this site is correct, but we cannot guarantee that it is free of inaccuracies, errors, or omissions. All content and services provided on or through this site are provided "as is" and "as available" for use. QuoteWizard.com LLC makes no representations or warranties of any kind, express or implied, as to the operation of this site or to the information, content, materials, or products included on this site. You expressly agree that your use of this site is at your sole risk.