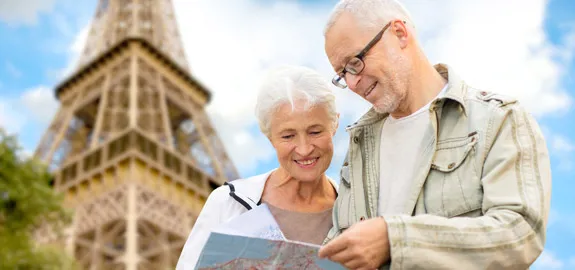 It's easy to get caught up in all of the "fun" parts of travel as a vacation draws near.
Of course, who wants to think about serious stuff like getting sick or injured while preparing to hit the road--especially if that road is taking you to another country?
Still, there's no hiding from the fact that you could wind up in a doctor's office or hospital when on foreign soil.
That's bad enough, of course. Even worse: returning home and discovering your health insurance plan covers just a portion of the foreign care. You may even find it covers none of that care.
Thankfully, there are things you can do to avoid this kind of situation. Keep reading to learn more about them--and to learn all you need to know about how your insurer may respond if you need medical attention outside the U.S.
The Basics of Overseas Health Coverage
Don't feel bad if you have no idea what your health plan would or wouldn't cover if you visit a doctor's office or hospital during an international trip.
Most people don't know how their insurance provider might respond to such a situation. In fact, at least one study says a third of Americans are in that same boat. This is worrisome for a number of reasons. A big one is 15 percent of travelers have some sort of health problem on the road. That's a lot of people who may have to pick up the tab for the treatment of that problem after they return home.
How likely are their insurers to leave them hanging and make them pay their foreign medical bills? It's hard to say. What can be said:
In general, private health insurance policies cover care tied to medical emergencies outside the U.S.
The same is true of most Medicare Advantage and Medigap or MedSup plans.
Many private plans only cover some of the costs of care administered in a foreign country, however.
Original Medicare rarely covers any medical treatments performed outside the U.S.
More on Routine and Emergency Medical Care Abroad
The good news here is Americans who want or need health insurance for medical care while traveling abroad have several options.
Before we get to them, though, here's some more information on the limitations of most health plans in this area.
First, let's tackle the comment above that says most private and Medicare Advantage health plans cover medical emergencies. Lisa Zamosky, author of Healthcare, Insurance, and You: The Savvy Consumer's Guide, reminds (via forbes.com) that not all insurance providers define "emergency" in the same way.
Most insurers "define a medical emergency as one in which a reasonable layperson believes their health would be in real jeopardy without immediate medical attention," she says. For example, most insurance companies consider a heart attack to be a medical emergency. Being severely injured in a car accident is another.
To find out which types of emergency medical care your policy covers, contact your insurer. That's the only way to know for sure if you have to pay for health scares while outside the U.S.
As for more routine care, like doctor visits, don't look for your private or Obamacare (aka Affordable Care Act) plan to cover it. Or at least don't expect it to fully cover that care.
"Most domestic health plans provide limited coverage overseas and won't cover prescriptions abroad," Margaret Wilson, M.D., chief medical officer of UnitedHealthcare Global, recently told Consumer Reports.
For example, both Aetna and UnitedHealthcare treat even basic forms of medical care provided outside the U.S. as "out of network." That means policyholders pick up more of the bill for such services than they do when treated on home soil.
More on How Medicare and MedSup Cover Care Outside the U.S.
As suggested earlier, don't look for Original Medicare--you may know it better as Medicare Parts A and B--to offer much help if you need health care while traveling abroad.
As both medicare.gov and travel.state.gov point out, Medicare generally doesn't cover overseas medical treatments.
In rare cases, Medicare may pay for doctor, hospital, or ambulance services while you're in a foreign country. It also may pay for dialysis treatments performed away from home.
Usually, though, Medicare plans don't cover any of the above, even in emergency situations. Also, Medicare drug plans don't cover prescription drugs bought outside the U.S.
That's why some Americans choose Medicare Advantage plans over Original Medicare ones. It's also why many get Medigap or Medicare Supplement (aka MedSup) plans. Both are more likely to assist you if you have to see a physician or go to a hospital abroad.
To learn more about Medicare Advantage policies, read this article. Also, check out our Medigap and MedSup FAQ for more information about those plans. Or read: "When Does it Make Sense to Get a Medicare Supplement Plan?"
Travel Medical Insurance and Emergency Evacuation Insurance
Two other options for people who don't want to worry about health or medical problems popping up while outside the U.S. are travel medical insurance and emergency evacuation insurance.
Travel medical insurance is different from travel insurance, by the way. Travel insurance protects your financial investment in a specific vacation or trip. Travel medical insurance fills in the gaps of your primary health plan helps cover the costs of medical treatment while you're overseas.
A number of companies sell travel medical insurance plans these days. Three examples are Aetna, Kaiser Permanente, and UnitedHealthcare.
As for emergency evacuation insurance--or medical evacuation insurance--it comes to your aid if you need to use an air ambulance. It also helps if you need to be escorted to a major (but still foreign) city or even taken back to the U.S. due to a medical emergency.
Ask Your Insurer These Questions Before You Leave
It should be clear by now that one of the first things you have to do before heading overseas is to read through your health insurance policy or the "Summary of Benefits and Coverage." Either or both of those documents will tell you what your plan does and doesn't cover while traveling internationally.
If it doesn't, go online or pick up the phone and contact your insurer. Then ask questions such as:
What does my health plan cover if I'm outside the U.S.?
Does it cover emergency medical evacuations?
Are there any exclusions I need to know about before leaving the country?
Will my policy cover me if I'm injured during a high-risk activity like mountain climbing, parasailing, or scuba diving?
Do I have to get pre-authorizations or second opinions before you'll cover any overseas treatments or surgeries?
How do I handle deductibles or copays while abroad?
What do I do when I return home and have to file a claim?
Other Advice Related to Health Insurance and Overseas Medical Services
Here are some other things to keep in mind while preparing for vacation or trip that'll take you out of the country:
Don't forget to take your insurance policy identity card and a sample claim form with you.
Think about taking a credit card with a substantial limit with you, too. You may have to use it to pay for unexpectedly large doctor or hospital bills.
Be prepared to pay up front for any medical treatments or services you receive abroad. Even if your health insurance or supplemental travel plan covers this kind of care, you may need to wait until you return home to be reimbursed for it.
Ask foreign doctors and hospitals for clear copies of all bills, medical records, discharge notes, and other documents tied to the medical services you receive.
Frequently Asked Questions
Q: Do most health insurance policies cover routine doctor or hospital visits when a policyholder is traveling outside the U.S.?
A: Actually, most health plans don't cover that kind of medical care. Or at least they don't cover all of it. Most of the plans that cover it at all consider it an out-of-network service. This means you have to pay for more of the bill than you would if you received the care in the U.S.
To find out what kinds of medical care your plan covers or doesn't cover while traveling, contact your insurance provider.
Q: Will my health plan cover me if I have a medical emergency while overseas?
A: More health plans cover this kind of care than routine care performed abroad. Even then, don't be surprised if you find out yours puts limitations on care for medical emergencies that happen when you're outside the U.S.
Talk to your insurer about what these exceptions or limitations may be before you travel.
Q: Does Medicare cover medical services received in a foreign country?
A: In general, no, Original Medicare (Parts A and B) doesn't cover health care performed outside the U.S. It covers some emergency situations, but not many.
If you have a Medicare Advantage plan, it's more likely to cover medical treatments you seek out while overseas. The same is true of many Medigap or MedSup plans.
Q: What is travel medical insurance? Will it help if I need to see a doctor or go to a hospital while abroad?
A: Travel medical insurance basically picks up where your primary health insurance policy leaves off. That means it'll cover some or all of the costs for medical services when you're in a foreign country.
These plans differ from company to company, though, so do your research and shop around before you settle on one.
Q: If I go to Puerto Rico on vacation and have to see a doctor, will my health insurance cover it?
A: It should, but it depends on your policy. If you have a Medicare plan, for example, it'll cover health care in Puerto Rico, as it's part of the U.S. Remember, Medicare won't cover most medical services sought in foreign countries. American Samoa, the Northern Mariana Islands, and the Virgin Islands also are part of the U.S.
As for employer-sponsored and other private health plans, most cover doctor visits while you're in Puerto Rico. The only way to be sure is to talk with your company's human resources department or to call your insurance provider.
References:
QuoteWizard.com LLC has made every effort to ensure that the information on this site is correct, but we cannot guarantee that it is free of inaccuracies, errors, or omissions. All content and services provided on or through this site are provided "as is" and "as available" for use. QuoteWizard.com LLC makes no representations or warranties of any kind, express or implied, as to the operation of this site or to the information, content, materials, or products included on this site. You expressly agree that your use of this site is at your sole risk.