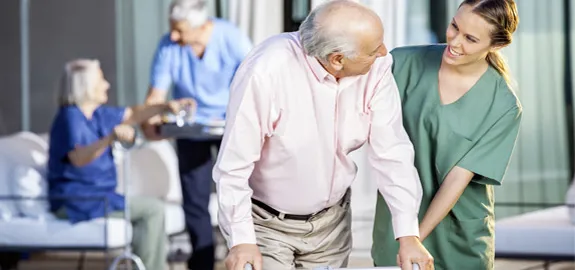 Nearly a million Americans currently call an assisted living community home, according to the U.S. Centers for Disease Control and Prevention.
The National Center for Assisted Living expects that number to double by 2030. It also estimates 70 percent of today's seniors will need some form of long-term care in their lifetimes.
One of the many takeaways from those statistics: a lot of us are going to end up in an assisted living community at some point during our golden years.
The thing is, assisted living isn't cheap. In fact, it's pretty expensive. On top of that, health insurance coverage of assisted living is spotty at best.
Want to know more? We'll cover all the important details on how different types of insurance do and don't cover this kind of senior housing. You'll also learn what assisted living is, how it's different from skilled nursing or nursing homes, and how much it costs.
What Is Assisted Living?
The short answer is that assisted living is one of a few long-term housing options for seniors.
A longer answer is that assisted living (or AL) communities provide aging residents with 'custodial care.' To put it another way, they help residents with certain parts of daily living.
For example, many offer housekeeping or cleaning services. There's also meal, laundry, and transportation services. Social engagement is a common component of assisted living, too. That includes activities, events, and trips.
Although a lot of seniors who move into these communities live independently, some require more assistance. Maybe they struggle to manage their medications. Or maybe they need help with another health-related issue. AL facilities help with those tasks as well.
What Is the Difference Between Assisted Living and Skilled Nursing or Nursing Homes?
At first glance, assisted living and independent living look pretty similar.
The main difference is that seniors who move into AL communities usually need help with daily activities like preparing meals or cleaning. Seniors who move into independent living or IL communities require far less assistance.
That said, the line between assisted living and independent living can be blurry. Many people who call an AL community home are independent and don't need much help. And on the flip side, some in IL communities occasionally need help with meals, laundry, and more.
Assisted living and skilled nursing share some similarities, too. As do AL communities and nursing homes.
As an example, AL communities, nursing homes, and skilled nursing facilities (or SNFs) all assist residents with several activities. Most people in a skilled nursing facility, though, are there because they need to rehabilitate after a hospital stay. In other words, skilled nursing is a short-term care and housing option for seniors, not a long-term one.
Another difference between AL communities, nursing homes, and skilled nursing facilities: the latter two provide a much higher level of care than what assisted living offers. Most AL residents are largely independent, while those in nursing homes and SNFs need a lot of help.
Wondering how nursing homes and SNFs differ? SNFs usually have a number of specialists and practitioners on staff and on site. Nursing homes do not.
How Much Does Assisted Living Cost?
What you pay to live in an AL community depends on a number of factors, including:
Where you live
Size of apartment or residence
Services needed
Amenities
As such, some people pay as little as $2,000 a month for assisted living. Others pay $5,000 per month or more.
The median monthly rate for a one-bedroom apartment in an AL community is $3,750, according to the 2017 Genworth Cost of Care Survey. That's about $45,000 a year.
It's easy to understand why many people want to know if their health insurance will cover assisted living. So, does it?
Does Health Insurance Cover Assisted Living?
As healthcare.gov points out, "most health insurance plans don't pay for long-term care."
Which means, of course, most U.S. health insurance plans don't cover assisted living. Nor do they typically cover nursing homes.
If you ever have to spend time in a skilled nursing facility, your health plan may pay for it. But that's because it's considered short-term care.
This isn't to suggest it's impossible for your health insurance to provide this sort of coverage. Every rule has an exception, after all. In general, though, the most common health insurance plans doesn't cover the main costs of assisted living.
Are you looking for a marketplace health insurance plan? Read this article of ours – 'Which Type of Obamacare Plan is Right for You?' – before you buy one.
Does Medicare Cover Assisted Living?
Unfortunately, Medicare normally does not cover assisted living.
Original Medicare, also known as Medicare Part A and Part B, mostly pays for medical care. More specifically, it mostly pays for 'acute' (or short-term) care from a doctor's office or hospital. It also often pays for hospice care.
Here are some of the many kinds of care Medicare usually doesn't pay for:
Acupuncture
Cosmetic surgery
Eye exams related to prescribing glasses
Hearing aids and exams
Long-term care
Most dental care
Routine foot care
You'll notice 'long-term care' in there. Assisted living is usually described as a 'long-term housing option for seniors.'
In other words, Medicare won't reimburse most of your assisted living bills. It will reimburse you for some of them, though.
One example: if you need urgent medical care while living in an AL community, your Original Medicare covers all treatments it would cover for any other Medicare enrollee.
What Original Medicare won't cover is your 'rent' – or room-and-board costs. It also won't cover any of the custodial or personal care you receive in an AL setting. And it won't pay for any of the activities, events, or trips.
On a related note: Medicare Part A covers care from a skilled nursing facility under certain conditions and for a limited time. It'll usually cover this same kind of 'skilled' care when it's provided in a nursing home setting, too.
For more information on Original Medicare and how it works, see our article, 'Is Medicare Enough? What's Covered and What's Not Covered?' While you're at it, check out our 'Understanding Your Medicare Coverage Options' article, too.
Why Doesn't Medicare Cover Assisted Living?
Don't go looking for an answer to this question on healthcare.gov or medicare.gov. You won't find one on either government-run site.
It's easy enough to read between the lines here, though. Medicare Part A and Part B typically only cover acute or short-term medical care costs. The types of care associated with long-term situations like assisted living aren't medical in nature. Instead, they're more personal or 'custodial'.
That's why Original Medicare doesn't reimburse most of the costs tied to living in an AL community.
To learn more on Medicare, read our 'Guide to Medicare.'
Do Medicare Advantage Plans Cover Assisted Living?
So Original Medicare doesn't pay for assisted living. Surely Medicare Advantage plans pay for some or all of them? After all, Medicare Advantage plans provide coverage that goes above and beyond what Medicare Parts A and B cover.
Unfortunately, Medicare Advantage plans are just as unlikely as Original Medicare to pay for the 'personal care' costs tied to assisted living.
Still, that doesn't mean you should ignore Medicare Advantage plans as a health insurance option. They're a good idea if you want all-in-one coverage to pay for things like prescription drugs and vision, hearing, and dental services. 
Looking for more options in terms of this kind of coverage? See this article: 'Dental, Hearing, and Vision Care with Medicare.'
Also, check out our 'Guide to Medicare Advantage' for anything else you could and should know about these plans.
Do Medicare Supplement Plans Cover Assisted Living?
Sorry, but Medicare Supplement (also called MedSup or Medigap) plans also don't cover assisted living.
In fact, these plans are even less likely than Medicare Advantage policies to cover the costs tied to living in an AL community.
You may be thinking, "but don't MedSup plans fill the gaps in Medicare coverage?" Yes, they do. They just don't fill this particular gap.
Why? Original Medicare doesn't cover the long-term and custodial care AL provides its residents. So, neither do MedSup plans.
There are times when MedSup plans cover skilled nursing or nursing home care, but only for short-term stays.
For example, imagine you spend over 20 days in a skilled nursing facility after a hospital stay. In these cases, Medicare pays 100% of those costs for 20 days. After that, it pays just 80 percent – and for only 80 more days. Some MedSup plans cover the remaining 20 percent.
If you want this type of protection, shop around and research your options before settling on a specific MedSup policy.
Also, read up on 'Best Medicare Supplement Companies.' And read our 'When Does it Make Sense to Get a Medicare Supplement Plan?' article, too.
What Can I Do If My Health Insurance Doesn't Cover Assisted Living? What Are My Options?
You have a few options if your health insurance plan won't help you pay for assisted living. They include:
Veteran aid
Obviously, you have to be a veteran to take advantage of this. If you are, financial assistance from the US Department of Veteran Affairs can make an AL community more affordable.
There are three levels of VA benefits:
Basic pension. For low-income veterans and their dependents.
Housebound benefit. For people who need help with daily activities on a regular basis.
Aid & Attendance benefit. For people who need assistance on a daily basis.
The Aid & Attendance benefit can help you pay for care in your own home, in a nursing home, or in an assisted living community.
To qualify for this increased monthly pension amount, you must have one of the following:
Require the aid of another person to perform certain activities of daily living, like bathing, dressing, or eating
Be bedridden
Reside in a nursing home due to mental or physical incapacity
Have corrected eyesight of 5/200 visual acuity or less in both eyes
For more information on this benefit and how to apply, go to benefits.va.gov.
Medicaid
If you have limited income, contact your local Medicaid office and ask for help to pay for assisted living.
Many of these programs cover at least a portion of the costs for living in an AL community. Some states let residents use Medicaid to cover the costs of in-home care.
Medicaid coverage of assisted living varies widely from state to state. Some don't provide this coverage at all. Reaching out to your local agency is a must if you want clarity the details.
Be aware that not all AL communities accept Medicaid patients.
Long-term care insurance
Unlike most insurance, long-term care plans help you pay your assisted living bills.
That said, there are 'catches' you need to be aware of before you buy a policy.
You have to enroll in a long-term care insurance policy long before you move into an AL facility. You probably won't be able to buy long-term care insurance once you're in one of these communities.
Also, you'll have to meet medical requirements for your long-term care policy to cover assisted living costs. This often means you must be unable to do certain daily activities without help. Until that happens, your plan won't pay out.
Finally, most long-term care insurance plans limit coverage in various ways. For example, some place limits on how much they'll pay. Or they limit how long they'll provide coverage.
To learn more about this kind of policy, check out our 'Long-Term Care Insurance Basics' article.
PACE
PACE is short for Program of All-inclusive Care for the Elderly. It is a joint Medicare and Medicaid program that helps people meet their healthcare needs at home rather than in long-term care facilities.
That means, of course, that you can't call on PACE to help you pay for assisted living. If you're healthy and independent enough to stay in your home, this program could be the perfect solution for you.
To qualify for PACE, you must:
Be 55 or older
Have Medicare, Medicaid, or both
Live in a state that offers PACE under Medicaid (not all do)
Live in the service area of a PACE organization
Require a level of care that's equivalent to what a nursing home would provide
Be able to live safely in your home or in the community
For more information on this program, what it covers, and how you can apply for it, visit medicare.gov.
References:
QuoteWizard.com LLC has made every effort to ensure that the information on this site is correct, but we cannot guarantee that it is free of inaccuracies, errors, or omissions. All content and services provided on or through this site are provided "as is" and "as available" for use. QuoteWizard.com LLC makes no representations or warranties of any kind, express or implied, as to the operation of this site or to the information, content, materials, or products included on this site. You expressly agree that your use of this site is at your sole risk.
View Medicare Disclosure

QuoteWizard is owned and operated by QuoteWizard.com, LLC ("QuoteWizard"), a subsidiary of LendingTree, LLC. Copyright © QuoteWizard Insurance Solutions, LLC. All rights reserved. Invitations for application for insurance may be made through QW Insurance Solutions, LLC ("QWIS"), a subsidiary of QuoteWizard, or through its designated agents, only where licensed and appointed. Licensing information for QWIS can be found here. QWIS is a non-government licensed health insurance agency. Not affiliated with or endorsed by any government agency. Callers will be directed to a licensed and certified representative of Medicare Supplement insurance and/or Medicare Advantage HMO, HMO SNP, PPO SNP and PFFS organizations. Your call will be routed to a licensed agent who can provide you with further information about the insurance plans offered by one or more of our third-party partners. Each of the organizations they represent has a Medicare contract. Enrollment in any plan depends on contract renewal. Availability of benefits and plans varies by carrier and location and may be limited to certain times of the year unless you qualify for a Special Enrollment Period. We do not offer every plan available in your area. Any information we provide is limited to those plans we do offer in your area. Please contact Medicare.gov or 1-800-MEDICARE to get information on all of your options. Deductibles, copays, coinsurance, limitations, and exclusions may apply. Medicare has neither reviewed nor endorsed the information contained on this website.