What to Do if a Tree Falls on and Damages Your Car?
A tree falling on and damaging your vehicle can raise a lot questions and cause a lot of stress. Here's what you should do if it ever happens to you.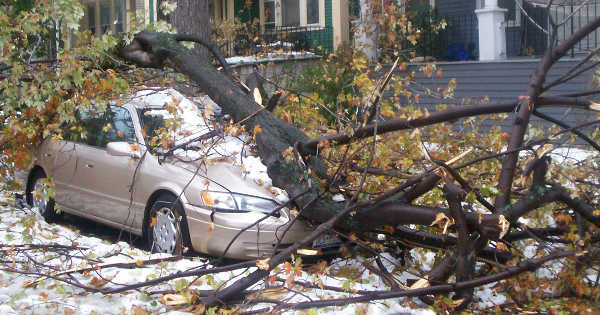 There are some things in life we hope never happen to us. But life is full of unexpected surprises, and for those surprises there is insurance. It's there so you can be prepared for and bounce back from almost anything unfortunate that happens to you or your loved ones.
One of the things most of us hope never happens is a tree falling on our vehicle.
As simple and straightforward as that situation may seem, dealing with it can be surprisingly complicated. That's why we decided to write this article. In it, you'll learn:
Who to call or what steps to take after a tree falls on and damages your vehicle
The specific types of insurance coverage that pay for damage caused by a fallen tree
If there is a limit to this coverage
Whose insurance pays if the tree in question is a neighbor's (or at least isn't yours)
Does Home or Auto Insurance Cover Tree Damage to My Car?
There's a lot of confusion as to whether your homeowners or your car insurance plan covers you if a tree falls on or otherwise damages your vehicle. A big reason for that is if the car is parked at your home, standard homeowner's insurance usually covers damage done to it during a natural disaster.
That's not true in this case. Unless, that is, the tree falls through your garage and damages your car inside it. Your homeowner's policy covers that. In pretty much every other situation involving a tree falling on and damaging your auto, though, your car insurance will come to the rescue.
Just remember that some insurance companies handle these situations differently than others. As a result, make sure you know the specifics of your policy and coverage before a tree damages your precious set of wheels. And if you have any questions while doing that—or if questions pop up as you prepare to file a claim—contact your agent.
Two questions we can answer right now:
Your insurance company is unlikely to cover repairs that cost more than your car is worth. So, if your car is completely totaled, your insurer probably will pay you its actual cash value rather than pay to repair it. Actual cash value is what your car is worth, usually with depreciation over time.
Also, your car insurance may not pay for the removal of a tree from your vehicle. So you would either have to carefully remove branches yourself, or call and pay someone else to remove it.
Not sure if your auto policy covers car damage caused by a tree? Check your policy or call your agent. While you're at it, compare quotes from several car insurance companies. It could help you save a lot of money.
Which Types of Car Insurance Cover Tree Damage?
As you may already know, there are six basic elements of car insurance. They are:
Liability
Collision
Comprehensive
Personal Injury Protection (PIP)
Uninsured Motorist
Underinsured Motorist
Comprehensive coverage protects you from things like theft, fire, and natural disasters. This is the element of car insurance that kicks in if a tree damages your vehicle.
If you don't have comprehensive car insurance, you'll have to pay out of pocket to have your auto repaired or replaced should something like this happen.
Does It Matter How Much Damage the Tree Causes to My Car?
If you have comprehensive coverage, it will protect you from a host of damages. Here are a few examples, according to the Insurance Information Institute:
Contact with animals
Natural disasters, such as earthquakes, floods, hurricanes, tornadoes, and volcanic eruptions
Fire
Riots and vandalism
Theft of the entire car, or parts of the vehicle
Fallen objects such as trees, branches, ice, or projectiles
Broken windshield
Luckily, as long as you have comprehensive coverage, it should protect you whether the whole tree or just a single branch falls on your car and damages it.
The Tree That Fell on My Car Was My Neighbor's--Whose Insurance Pays?
The last thing most of us want to do is blame a neighbor for damage to our property. All it does is cause unneeded tension. Thankfully, you probably won't need to point the finger in his or her direction in this kind of situation.
If you suspect the tree—or part of a tree—that fell on your car was from your neighbor's yard, file the claim through your auto insurance company. Your neighbor's insurers only likely to pay for your car repairs or replacement with hard evidence or proof they were negligent.
Speaking of which, if you have evidence or proof—like a letter to your neighbor asking them to cut down a tree due to rot or some other reason—you may have a case.
Of course, this works both ways. If a tree from your yard crashes on your neighbor's property, home, or car, you or your insurance may have to pay for the damage if it's proved you ignored certain warning signs.
Take These Steps After a Tree Falls on Your Car
As soon as you notice the damage to your vehicle, contact your agent or someone from your auto insurance company. They can help you navigate this extremely stressful situation.
During that conversation, provide as much information as possible about what happened.
Once you're done talking with your insurer, do the following:
Take photos of the damage
Remove any debris—without hurting yourself or causing more damage
Double check your policy limits—if you didn't go over with your agent already
Make sure the tree didn't come from a neighbor's yard, and vice versa
Make sure you're able to pay your deductible
There are even steps you can take before a tree falls on your vehicle. For instance, before hurricane season or even winter comes around, trim trees and other landscaping around your home that could pose a threat to your or someone else's car.
Frequently Asked Questions
Q: If a tree falls on my car, does my car insurance or my homeowners insurance cover the repairs?
A: Most people think they should contact their homeowners insurance company in this scenario. However, unless the car was inside a structure of the home, like the garage, you should contact your auto insurer after a tree damages your vehicle.
Q: Which type of auto insurance do I need for this kind of damage to be protected?
A: If you want to be covered when and if a tree falls on your car, you need comprehensive coverage. It covers things like theft, fire, and natural disasters.
Q: What if the tree or tree branch was my neighbor's or came from my neighbor's property? Does their insurance pick up the tab?
A: Janet Scott-Buckley, an insurance agent at Harrington Insurance Agency in North Andover, Massachusetts, told the Pittsburgh Post-Gazette, "It's most often your problem, not your neighbor's. You have to file a claim with your insurance company, and the usual deductible applies."
Q: Will my auto policy only cover certain kinds or amounts of tree damage?
A: The severity of the damage doesn't matter. As long as it fits into the category of "damage," your comprehensive coverage should pay to fix it. Something to note, however, is that most auto insurance companies will not pay for repairs that cost more than what the car is worth. Instead, if you car is completely totaled, your insurer will give you the actual cash value of the vehicle so you can replace it.
Q: What happens if I damage my car by driving it into a tree?
A: If you or someone else drives your car into a tree or tree limb, your collision coverage—if you have it—would take care of the damage.
Q: What is the first thing I should do after a branch or tree falls on my car?
A: The first and probably most important thing you can do after realizing that your vehicle has been damaged is call your car insurance company. They will help you figure out what to do next and what other steps need to be taken.
QuoteWizard.com LLC has made every effort to ensure that the information on this site is correct, but we cannot guarantee that it is free of inaccuracies, errors, or omissions. All content and services provided on or through this site are provided "as is" and "as available" for use. QuoteWizard.com LLC makes no representations or warranties of any kind, express or implied, as to the operation of this site or to the information, content, materials, or products included on this site. You expressly agree that your use of this site is at your sole risk.