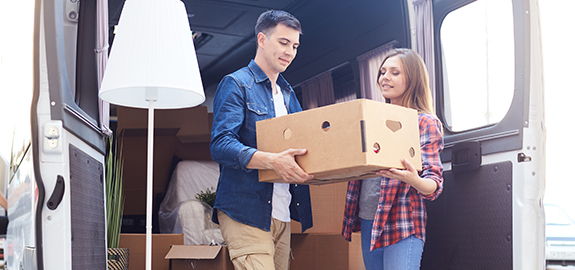 If you're planning a big move and are using a moving truck, you need special insurance coverage. You're responsible for all damage the rented moving truck sustains while it's in your care. You'll also be responsible for any medical or property damage costs if you hit another vehicle. The best way to avoid major charges is to purchase U-Haul truck rental insurance.
Your standard auto insurance policy usually won't cover a moving truck. Neither will rental coverage through your credit card. This article includes everything you need to know about moving truck insurance, including:
Does auto insurance cover rental trucks?
In most cases, your standard auto insurance policy won't cover moving trucks. If your coverage does apply to rental trucks, it likely excludes U-Haul trucks because of size and weight restrictions. Many credit card companies also provide rental car insurance coverage. But that excludes rental moving trucks.
So, if you don't buy U-Haul-specific insurance coverage, you're responsible for all damages to the truck. Not only that, but if you cause bodily injury or property damage to someone else, you'll be on the hook. Check with your auto insurer if you don't know what your coverage extends to before you decline U-Haul insurance.
What U-Haul insurance covers
U-Haul insurance can cover your cargo, medical bills after an accident, and any damage you cause to the truck. You can add extra coverage to pay for damage you cause to other people and property.
It's usually not required to provide proof of insurance or purchase any policies from moving truck companies. Even though it's not required, you can get substantial coverage for around $14 to $28 for short trips, depending on where you're renting the truck.
Many moving truck companies offer insurance bundles when you rent a truck. Those bundles include the major coverage types, like damage waivers and health protection. These are the insurance policy and coverage options from U-Haul:
| Policy Name | Included Coverage | Average Cost (depends on trip length and area) |
| --- | --- | --- |
| SafeMove | Damage Waiver, Cargo, Health Protection | $45 |
| SafeMove Plus | Damage Waiver, Cargo, Health Protection, Supplemental Liability Insurance (SLI) | $100 |
SafeMove and SafeMove Plus include many of the same coverage types. The difference is that, along with the benefits provided through SafeMove, SafeMove Plus includes liability coverage. It's recommended you purchase SafeMove Plus for all-around coverage if you're taking your U-Haul on a long journey. Liability coverage is important for a long journey because if you are involved in an accident with your rented U-Haul, you won't be responsible for paying for the other party's medical bills or damage to their property.
Find out more about damage waivers, cargo coverage, medical and life coverage, and supplemental liability insurance below.
Damage waiver
A damage waiver covers damages to the truck that occur while you're renting it. You're covered even if the accidental damage was your fault. There's no deductible attached to this coverage, so you don't have to pay if you make a claim.
For example, if you reverse your rental truck into a parked car, any damage your rented vehicle sustains is covered up to your policy limit.
Cargo coverage
Cargo coverage protects your belongings while they're in the rental truck from collision, fire, windstorm, and overturn of the truck. For example, if a fire starts in the back of the truck and damages your possessions, this coverage protects them up to your coverage limit.
For a one-way rental, you get up to $25,000 of coverage, and for an in-town rental you get up to $15,000 of coverage. This protection comes with a $100 deductible if you need to file a claim.
Medical and life coverage
This coverage provides up to $1,000 for you and your passengers toward medical bills in the event of an accident. It also provides financial coverage in case of a fatality. Coverage limits for loss of life are up to $25,000 for the driver/lessee and up to $15,000 for passengers.
Supplemental liability insurance (SLI)
SLI is only included in the SafeMove Plus package. SLI includes $1,000,000 for property damage, bodily injury, or lawsuits brought forward by a third party not involved with the rental.
For example, imagine you injure another person with the rental truck. SLI protects you from having to pay for their injuries or any lawsuits they may bring forward. There are also no increased premiums or deductibles connected to SLI.
Trailer and towing rental coverage
If you're hauling your stuff with a trailer, you can purchase an insurance package to ensure your belongings are safe. SafeTow is trailer and towing coverage offered through U-Haul. It protects both the towing equipment and up to $20,000 of your towed property. On average, coverage costs fall between $15 and $75, depending on where you're driving and how far you're going. SafeTow includes these coverage types:
Collision Damage Waiver: Offers protection for accidental damages that occur from a collision to the towing equipment, rental auto, or rental trailer. Also, there's no deductible if you need to file a claim.
Towed Property Coverage: Coverage limits available: $5,000, $10,000, $15,000, or $20,000. Towed Property Coverage covers damage or loss that occurs to your cargo in the U-Haul trailer up to your chosen coverage limits.
Medical-Life Coverage: Provides you and passengers with up to $500 of coverage for medical expenses. Medical-life coverage also offers life coverage in case of fatality. Coverage limits for a lessee loss of life are up to $10,000, and up to $5,000 for passenger loss of life.
QuoteWizard.com LLC has made every effort to ensure that the information on this site is correct, but we cannot guarantee that it is free of inaccuracies, errors, or omissions. All content and services provided on or through this site are provided "as is" and "as available" for use. QuoteWizard.com LLC makes no representations or warranties of any kind, express or implied, as to the operation of this site or to the information, content, materials, or products included on this site. You expressly agree that your use of this site is at your sole risk.