SAIP Dollar a Day Insurance in New Jersey
Find out about dollar a day insurance, the car insurance program for Medicaid-eligible drivers in New Jersey.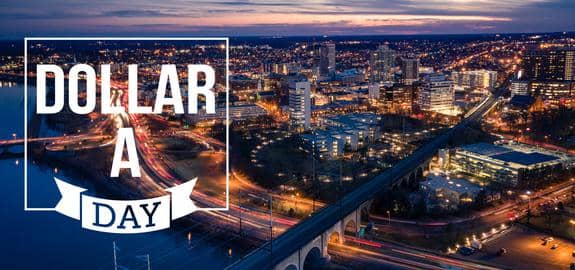 In New Jersey, the Special Automobile Insurance Policy (SAIP) is for drivers who don't have the funds to purchase a standard car insurance policy. SAIP policies are also referred to as "dollar-a-day" insurance because it costs $365 per year, or $1 per day.
SAIP only offers coverage for the policy holder's severe injuries and emergency treatment. It offers legal proof of insurance, but you should consider this policy as a last resort only.
What is the NJ SAIP dollar-a-day car insurance plan?
NJ SAIP stands for the New Jersey Special Automobile Insurance Policy. This limited insurance policy makes auto insurance accessible to low-income drivers in New Jersey. The plan is available to residents who are eligible for Federal Medicaid with hospitalization.
The program does not meet the state's minimum auto insurance requirements because it does not include liability coverage, which is required in New Jersey. It only covers the driver's emergency treatment. It does not pay for damages and medical bills for others involved. That means it should only be a last resort for car insurance, and you should purchase a standard policy as soon as possible.
What does NJ SAIP cover?
This is what a dollar-a-day policy covers:
Emergency treatment following an accident (like emergency room care)
Treatment of serious brain and spinal cord injuries, up to $250,000
A $10,000 death benefit
What does NJ SAIP not cover?
The New Jersey Special Automobile Insurance Policy doesn't cover:
Liability coverage (damage to other people's property and injuries caused in an accident)
Comprehensive and collision coverage (damage to your car)
Outpatient treatments that are covered by Medicaid
Who is eligible for dollar-a-day insurance?
Drivers with Medicaid may qualify for NJ SAIP. If you have Medicaid, you may be able to purchase dollar-a-day insurance. However, not all Medicaid programs are eligible for SAIP. To qualify for dollar-a-day insurance in New Jersey, you must have Federal Medicaid with hospitalization. You also need to prove that you are enrolled in Medicaid when you first purchase the policy and at each renewal date.
If your driver's license is revoked or suspended, you are not eligible for this program. You must have a valid license.
Medicaid requirements
You must be enrolled in Federal Medicaid with hospitalization, and you need to demonstrate enrollment when you first purchase the policy and at every renewal date. Your eligibility is proven with the number on your Medicaid ID card.
How much does NJ SAIP insurance cost?
The Special Automobile Insurance Policy costs $365 a year paid in two installments or $360 a year paid at once. That comes out to around $1 per day. The cost of NJ SAIP is much cheaper than other policies. Plus, the price is the same no matter your driving history, credit score or other factors that insurers usually consider. However, it's only meant to be a short-term policy and will cost significantly more if you are involved in a crash during that time. It's best to purchase a standard policy as soon as you're able to afford it, as it offers more coverage.
If you want to insure more than one car through SAIP, you'll have to purchase a second policy, which will cost you twice as much.
How to get New Jersey SAIP insurance
National Continental Insurance Company can write you an SAIP policy after you show proof of enrollment in Medicaid. When you apply, you'll need to bring your driver's license, vehicle registration and Medicaid ID card. If other people in the household are eligible for SAIP through Medicaid, you can add them to the policy. However, you can only insure one car per policy.
If, for some reason, your Medicaid benefits are terminated, your policy won't automatically cancel. Instead, you'll receive restricted benefits of SAIP.
Because of the limited coverage that dollar-a-day insurance offers, we recommend you compare standard auto insurance policies in New Jersey. A basic car insurance policy can be as low as $50 more than an SAIP policy per year and offer more coverage.
NJ SAIP customer service phone number: (800) 652-2471
QuoteWizard.com LLC has made every effort to ensure that the information on this site is correct, but we cannot guarantee that it is free of inaccuracies, errors, or omissions. All content and services provided on or through this site are provided "as is" and "as available" for use. QuoteWizard.com LLC makes no representations or warranties of any kind, express or implied, as to the operation of this site or to the information, content, materials, or products included on this site. You expressly agree that your use of this site is at your sole risk.