Personal Injury Protection (PIP) in New Jersey
Personal Injury Protection (PIP) is mandatory according to New Jersey law. Find out more about "no-fault insurance" in this article.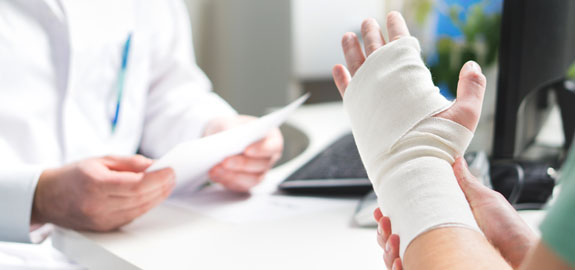 In New Jersey, you're required to have Personal Injury Protection (PIP), also known as no-fault insurance. PIP covers a driver's medical expenses and lost wages if they're injured in a car accident. Your PIP is part of either your auto insurance or healthcare coverage in NJ.
Included in this article:
What Does PIP Cover in New Jersey?
PIP covers expenses if you're injured in a car accident: medical bills, lost wages, and death and funeral benefits. New Jersey has a no-fault law, which means PIP pays out no matter who caused the crash—even if it was your fault.
Medical Costs Covered with PIP
Medical expenses are included in your PIP coverage. A policy covers medical bills up to your limits from injuries that the driver or passengers sustain in a crash. These expenses are eligible for a PIP claim:
Medications and Prescriptions
Rehabilitative and Diagnostic Services
Hospital and Ambulance Expenses
Surgical Services
Treatment in accordance with religious methods of healing
Lost Wages and Essential Services
Your New Jersey auto insurance pays for any lost wages due to injury or disability caused by a car accident. PIP offers limited reimbursement for that lost income. A basic policy provides $100 per week for a maximum of $5,200, or 52 weeks.
PIP also reimburses costs for necessary services that you could normally do yourself. This includes mowing the lawn, doing laundry, or shoveling snow. If your injuries prevent you from doing tasks like these, PIP will pay for those necessary services up to $12 per day, with a limit of $4,380.
Death and Funeral Benefits
Also included in New Jersey PIP are death and funeral expense benefits. If the eligible person dies in the accident, the next of kin are entitled to the person's maximum lost income benefits and essential service benefits. The next of kin are also entitled to funeral expenses, up to $1,000.
Is PIP Mandatory in New Jersey?
New Jersey law requires that your car insurance includes Personal Injury Protection.
Required PIP Minimum and Standard Coverage Amounts in NJ
The current legal minimum for a basic PIP policy in New Jersey is $15,000. The PIP limits vary depending on coverage in your policy but with a standard policy, insurers provide up to $250,000 for medical expenses. According to the State of New Jersey Department of Banking and Insurance, most NJ drivers buy a higher amount of PIP than drivers in other states.
You need at least $15,000 in PIP coverage, but you can purchase more than the state minimum by upgrading to a standard PIP policy.
| Basic Policy | Standard Policy |
| --- | --- |
| A minimum of $15,000 per person or accident | A minimum of $15,000 per person or accident |
| A maximum of $250,000 for certain injuries | $250,000 or more |
Standard policies provide several coverage options and the opportunity to buy more PIP protection. It is the most common policy choice for New Jersey drivers. A basic policy costs much less than a standard policy but offers coverage with strict limits. It provides the minimum legal PIP insurance requirements in New Jersey.
$250,000 in medical expense benefits is the "standard" coverage for NJ drivers, but consumers can opt for lower coverage limits at $15,000, $50,000, $75,000, and $150,000. Choosing lower coverage limits can reduce your premiums, but if you're in a serious accident your medical expenses could exceed those lower limits. If a driver chooses "basic" PIP coverage, the medical expense benefit is $15,000 per person per accident.
You can also get cheaper PIP rates by choosing a higher deductible. This reduces your monthly premiums, but you'll have to pay more out-of-pocket if you are injured in a car crash.
No matter what deductible you choose, you'll have to pay a 20 percent co-payment for medical expenses between your deductible and $5,000. You pay 20 percent and your insurer pays 80 percent. Here's an example:
Josh has an accident that results in $10,000 in medical expenses. He has the state's minimum $250 deductible. Josh pays the $250 deductible plus $950 (20 percent of the $4,750 from the first $5,000). So, his total out-of-pocket payment is $1,200. The insurer pays the remaining $8,800.
Cheap PIP Auto Insurance Carriers
Because Personal Injury Protection is required by law in New Jersey, major auto insurance carriers like GEICO, State Farm®, and Progressive offer several coverage options. To get the cheapest PIP rates, compare quotes from several insurance carriers.
How to File a PIP Claim in New Jersey
If you're in an auto accident that injures you or your family, you can receive PIP benefits. This is also the case if you're hit by a car. If this happens, you need to immediately file a claim with your insurance carrier. This can be filed with either your auto or health insurance carrier, depending which carries your PIP coverage.
When you're able to do so, submit the medical bills for you and whoever else covered by PIP who was injured in the crash. You then file a Personal Injury Protection form. The form will require you to include when the accident occurred, what injuries were sustained, and the details of the medical procedures you've already undergone.
Remember, your PIP covers an array of medical treatments. If you're not getting treatment solely at the hospital, you have 21 days to file a claim from the first specialist visit. Your payment will be reduced if you don't adhere to your insurer's timeline.
Personal Injury Protection vs Health Insurance in New Jersey
You have the option to make your New Jersey health insurer your primary coverage source for PIP. Your health insurance company would pay first if you're injured in an auto accident, and your auto insurer would provide secondary coverage. This could save you money because your auto insurance company will lower your rates if you designate your health insurer as the primary source.
If you're thinking of using your health insurance provider as your primary PIP care path, the first step is to make sure your insurer covers injuries from car accidents. If it does, your deductibles, co-payments, and coverage limits would apply to medical expenses from an auto accident.
Medicare and Medicaid can't be used for the Health Care Primary Option but could be used in situations like when medical expenses exceed your auto policy's PIP limits. If you lose your health coverage and you're in an accident, you auto insurer will offer PIP coverage, but there is an additional $750 deductible.
Full Tort and Limited Tort Options in NJ
In NJ, drivers can sue another party in the case of an auto accident. When you choose your PIP policy standards, you'll choose full tort or limited tort. This affects your rights to sue, how much your insurance will cost, and what claims will be paid out after an accident. Your right to sue applies to you, your spouse, and children and relatives living with you who aren't covered under another auto insurance policy.
Full Tort: you can sue any driver who causes an accident for pain and suffering, and medical expenses caused by the crash.
Limited Tort: you have a limited right to sue, so you can sue the other driver for medical damages, but not for pain and suffering. Exceptions for this include loss of a body part, loss of a fetus, a permanent injury, and more. Choosing limited tort is a significantly less expensive option, but it limits your ability to sue for pain and suffering.
QuoteWizard.com LLC has made every effort to ensure that the information on this site is correct, but we cannot guarantee that it is free of inaccuracies, errors, or omissions. All content and services provided on or through this site are provided "as is" and "as available" for use. QuoteWizard.com LLC makes no representations or warranties of any kind, express or implied, as to the operation of this site or to the information, content, materials, or products included on this site. You expressly agree that your use of this site is at your sole risk.