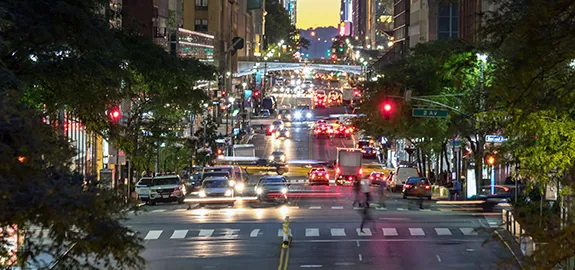 Driving without car insurance in New York State can result in expensive fines, penalties from the DMV and even criminal charges. NY's law requires drivers to carry at least 25/50/10 auto insurance coverage. If you're driving without at least that minimum coverage, it's considered a criminal offense.
Getting caught driving without insurance means paying up to $1,500 in fines and $750 to get your license back after it's revoked. All in all, it's cheaper and less stressful to keep auto insurance than it is to drive uninsured. This article covers the repercussions of not having auto insurance, including:
Penalties for driving your car without insurance in New York
If you're caught driving without auto insurance in New York, you'll face a steep fine, jail time and a revoked license. That's why it's never a good idea to get behind the wheel uninsured or underinsured.
Your auto insurance company will issue you an insurance card after you purchase a policy. If you're pulled over by a police officer, you'll need to produce your driver's license, registration and proof of insurance. If you don't have your auto insurance card but do have coverage, you could still be penalized. That's why it's crucial to keep your insurance card with you while driving.
The penalty for you or someone else driving your car without insurance in New York is a fine between $150 and $1,500, or 15 days in jail. Your vehicle could even get impounded. Plus, your license will be revoked for at least a year and you'll have to pay $750 to the DMV to get it reinstated. Ultimately, choosing to drive without insurance rather than purchasing coverage is more expensive and more of a hassle. If you're worried about cost, compare quotes from several auto insurance companies.
Penalties for letting your car insurance lapse in New York
According to New York law, you must surrender your license plates and registration before your insurance policy is canceled. Whether your policy is canceled because you don't renew it or you didn't have another policy in place, it doesn't matter. If you choose to let your auto insurance lapse, your insurance company will inform the Department of Motor Vehicles and your registration will be suspended. Even if you're not driving your car, you'll be facing consequences for lapsed insurance. You'll have to pay a daily fee for letting your insurance lapse if you don't turn in your plates and get a new policy within 90 days.
The daily fees for letting your insurance lapse are:
$8/day for the first 30 days
$10/day for 31-60 days
$12/day for 61-90 days
That means that if your insurance is lapsed for 90 days, you'll have to pay a $900 fee. In addition, your driver's license will be suspended if you don't surrender your registration and plates after that 90 days. To reinstate your license, you'll have to pay $50 to the DMV.
Finding coverage after a lapse in insurance
Are you looking for car insurance after a lapse in insurance? You should-- you'll need car insurance before you can get behind the wheel again. High-risk auto insurance is more expensive than a standard policy, but it may be the only option if you've had a lapse in car insurance. Many companies won't accept drivers with lapses in coverage. You should consider shopping for auto insurance companies that accept high-risk drivers.
Penalties for getting into an accident without insurance in New York
The worst-case scenario of driving without insurance is getting into a car accident without coverage. That's because, in addition to expensive fines and losing your license and registration, you're on the hook to pay for any injuries and damages resulting from an accident that's your fault.
The New York Department of Motor vehicles will revoke your registration and license for at least one year after the crash, even if you weren't the one driving your car. For example, if you let your friend borrow your uninsured vehicle, and they're involved in an accident, you can still be held accountable. You'll also be fined up to $1,500 and pay a civil penalty of $750 to restore your license.
References:
QuoteWizard.com LLC has made every effort to ensure that the information on this site is correct, but we cannot guarantee that it is free of inaccuracies, errors, or omissions. All content and services provided on or through this site are provided "as is" and "as available" for use. QuoteWizard.com LLC makes no representations or warranties of any kind, express or implied, as to the operation of this site or to the information, content, materials, or products included on this site. You expressly agree that your use of this site is at your sole risk.