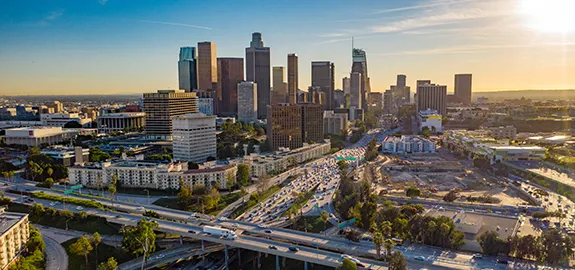 The California Automobile Assigned Risk Plan (CAARP) aims to provide high-risk drivers with the state's minimum auto insurance. If you're unable to find an insurer to cover you, CAARP will assign you to one. They're required to offer you state minimum insurance. Premiums for this program will usually be higher than those on the voluntary marketplace. But, it's a last resort for drivers who can't access coverage on their own. Find out more about CAARP, including:
How to Get Coverage Through CAARP
California requires drivers to carry a minimum of liability auto insurance, but that can be difficult to access if you have a bad driving record or are a new driver. CAARP offers coverage to those drivers who can't obtain insurance on their own. Here's how to get car insurance through CAARP:
On your own, try to find an insurance company to cover you. If you're able to find a provider on the voluntary market, your premiums will likely be cheaper. If you're unable to find an insurer, you should move forward with applying to CAARP as a last resort for coverage. You're eligible for CAARP if you're denied by standard insurers.
Have a certified producer apply on your behalf. A certified CAARP auto insurance or broker can submit your application for the program. Make sure all information is correct so the application isn't delayed.
You're assigned an insurance company. The insurance provider you're assigned to will also be active in the voluntary CA insurance marketplace. CAARP applicants are divided among licensed insurance companies based on the number of cars the company insures in the state's regular marketplace.
Your assigned insurer issues you a policy. This policy will have the same coverage as policies offered in the regular insurance marketplace. However, it will likely be more expensive. That's because insurers consider several factors when pricing your policy, and as a high-risk applicant your rates will be higher.
To find out more, contact CAARP at: (800) 622-0954
CAARP Coverage Limits
Unlike assigned risk plans in other parts of the country, there are no legal coverage limits attached to CAARP. Your policy coverage limits are decided between you and the insurer you are assigned to. However, your CAARP provider must provide you with at least the state minimum's liability coverage limits, which are:
$15,000 for bodily injury to one person.
$30,000 for bodily injury to more than one person.
$5,000 for property damage.
You're assigned insurer is only required to offer you a policy for three years. If that's not enough time for you to clean up your driving record and receive coverage through the voluntary marketplace, you'll need to apply for the program again. The CAARP will then assign you to a different auto insurance company. Keep in mind that rates for this program are higher than a regular policy, so it's in your best interest to drive safely and avoid traffic violations.
California Low Cost Auto Insurance Program (CLCA)
CA has another auto insurance program, called the California Low Cost Auto Insurance Program (CLCA). This is designed for low-income state residents who can't purchase auto insurance. If you have a good driving record and a valid CA driver's license, you can buy a policy through CLCA. Your household income must be below 250 percent of the federal poverty level. The policies offered by CLCA have lower coverage limits than the state minimum. Program policies have coverage limits of 10/20/3.
References:
QuoteWizard.com LLC has made every effort to ensure that the information on this site is correct, but we cannot guarantee that it is free of inaccuracies, errors, or omissions. All content and services provided on or through this site are provided "as is" and "as available" for use. QuoteWizard.com LLC makes no representations or warranties of any kind, express or implied, as to the operation of this site or to the information, content, materials, or products included on this site. You expressly agree that your use of this site is at your sole risk.