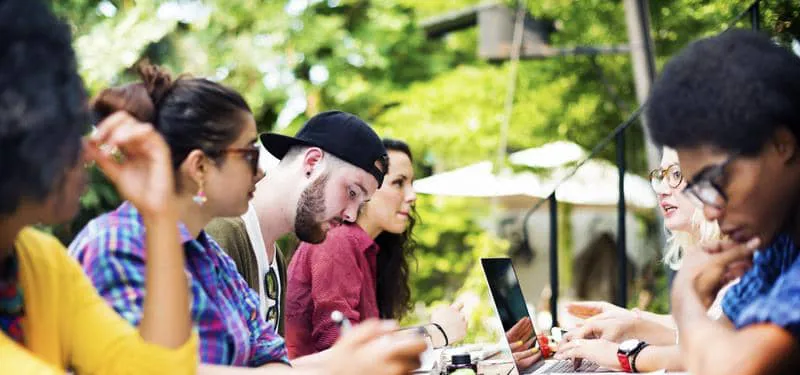 College students have a lot on their plates, and worrying about renters insurance may fall low on the list of priorities. But the stats show that college students would be smart to have renters insurance on their minds.
Crimes on college campuses and dorms in 2016
Crime
Total incidents on college campuses
Incidents in dorms and campus residences
Incidents on campus in non-residential location
Incidence occurence rate in dorms and campus residences
Robbery
1,106
208
898
19%
Burglary
12,015
6,716
5,299
56%
Arson
598
329
269
55%
Source: NCES: Indicators of School Crime and Safety 2018
This recent NCES study shows that property crime is a troubling trend on campuses across the country. And, particularly with burglary and arson, incidents are often centered around dorms where students (and their possessions) live.
These numbers are a helpful illustration of why a renters insurance policy is a must for college students. Renters insurance explicitly covers the property loss from robbery, burglary, and arson — crimes that are unfortunately common on college campuses.
It's not just malicious crime that makes renters insurance a smart investment for college students. Consider these other scenarios:
You and your roommates throw a party. During all of the excitement, one of your pals stumbles into your TV—and in the process cracks its 65-inch screen from corner to corner.
As a result of that mishap, your friend (the one who smashed your TV) is taken to the emergency room so someone can stitch up the five-inch gash on his forearm.
Fast-forward a few months, and while studying at the library you leave your desk to go scrounge up a soda. When you return, your laptop is nowhere to be found.
How renters insurance protects college students
If you experienced any of the unfortunate events detailed above, renters insurance would have protected you from most, if not all, of the costs usually associated with them.
That's because, as mentioned earlier, renters insurance generally offers the people who buy it—whether they're college students or not--three basic types of protection:
Personal possessions
Your stuff is covered if they're stolen or damaged or destroyed by disasters named in your policy.
Liability
This aspect of renters insurance protects you if someone is injured while in your dorm, apartment, or house. Specifically, it covers both medical expenses related to those injuries as well as legal fees that could follow in their wake (such as if the friend who put his hand through your TV decides to sue you).
Additional living expenses
If you're forced to move out of your apartment, dorm, or house, this is what you'll rely on for assistance. It typically covers the cost of a hotel or similar accommodations while you wait for the okay to return home.
Cost of college renters insurance
Despite what you may think, renters insurance isn't expensive—especially when compared to other kinds of insurance like health and life. In fact, it's pretty cheap, with most policies costing somewhere between $150 and $300 per year. What you pay will depend on the location of your apartment or house, as well as its size and the coverage amount.
Create an inventory list
Before you can figure out how much coverage you need, you'll probably want to create an inventory. This list should include everything you'll be taking with you to college.
An inventory also will come in handy if you need to repair or replace any possessions that are damaged or stolen.
Thankfully, making an inventory isn't hard. In fact, some students may not need to do much more than come up with a pen-and-paper record of their possessions. A few extra options, says John Marques, senior vice president of property pricing and product manager for Chubb Personal Insurance, are to "take pictures of [your] electronic gear, record the serial numbers, and store receipts in a safe location. That way you have the proper documentation should a loss occur." For a few more tips and tricks related to creating an inventory, read our article Create an Inventory of Your Possessions for Homeowners Insurance Claims.
Add some security
The belongings you take to campus are probably just as likely to be stolen as they are to be damaged or destroyed. Marques recommends making sure they're "locked down" whenever possible.
"Laptops, digital cameras, other electronic equipment, and private documents should be secured in a safe when not being used," he says. "Although these high-ticket gadgets and sensitive papers can still 'walk' unless the safe is bolted to the ground, this will most likely deter a common thief or a dormitory neighbor with sticky fingers."
Don't share renters insurance with your roommates
Even though renters insurance is cheap, there are many students who will avoid it. Some just want to (or need to) hold on to as much of their hard-earned cash as possible.
Some students think they can get the best of both worlds by splitting the cost of renters insurance with one or more roommates. If that sounds like a good idea to you, think again. It's not. It's a terrible idea.
For starters, renters insurance is designed to be used by individuals and families. It's not made to be used by two (or more) unrelated people. In fact, although some companies will allow two people who are married to each other to be named on a single renters policy, that's as far as they'll go. So, if you live in a house with three or four friends, you're basically going to be forced to buy your own policy if you want to protect all of your stuff with this kind of insurance.
Even when you find yourself in a situation where sharing a policy with a roommate seems like a good idea, you should probably avoid it. For more on why this is, read our article, "Why You Shouldn't Share Renters Insurance with Roommates."
Your college or landlord's insurance won't cover your stuff
A lot of people ignore renters insurance because they mistakenly assume their university or landlord's insurance will cover their belongings in the event of a disaster or mishap. Unfortunately, that's not the case. "The landlord's insurance obligation extends only to the apartment building or house occupied by the renters," Marques explains. "Each renter is responsible for insuring his or her personal property." Similarly, campus insurance policies exist to protect the college, not your stuff.
Consider buying additional renters coverage
This piece of advice is intended mostly for parents. But it's relevant for some students, too. That's because riders and endorsements can be added to renters insurance policies as well as homeowners policies.
Marques suggests you or your parents pick the brain of your agent about additional amounts and forms of coverage for when you're away from home. This could involve bolstering the liability portion of a homeowners or renters policy. It could mean purchasing an endorsement or rider that better protects certain high-value belongings that exceed the limits of a standard policy.
Staying on your parents' home insurance vs. buying your own renters insurance
If you're living in a dorm or another form of on-campus student housing, you might not need renters insurance. Not if one or more parents have a homeowners policy.
This homeowners policy will have to offer "off-premise coverage" for you to benefit from its protections while at school, though. So have your parent or parents check with their insurance agent before start relying on it.
Note: your parents' homeowners policy will cover only a portion only provide of what it offers them and their possessions. For example, if the policy in question covers $100,000 of your parents' personal property, it'll probably only cover 10 percent—or $10,000—of off-premises property.
And, your parents' policy may place caps on certain items, like jewelry or electronics. It's common for those caps to cover both items that are in parents' home plus those that are elsewhere.
Given the above, you'll probably want to leave some of your more expensive items at home. Another option is to pay for an endorsement or floater to be added to the policy to expand its coverage.
Many young adults "head to school armed with their laptops, tablets, flat-screen TVs, video-game systems, bikes, musical instruments, and other expensive items that can be stolen or damaged," Marques says. If you're a parent, "it's important to … discuss with your agent or broker the equipment your child is [taking to college] to make sure you have enough coverage, or whether you need to add endorsements for any high-value items."
Limits of your parents' home insurance policy
As soon as you move out of student housing, though, and start paying rent, you're going to have to go it alone in terms of insurance, too.
In other words, your parents' homeowners policy no longer will cover you and your stuff. So you'll need to start paying for renters insurance.
if you you need this type of policy, use QuoteWizard to compare renters insurance rates to get the best deal.
If you're headed to college consider reading two related articles: "College Students and Car Insurance" and "College Students and Health Insurance."
Frequently asked questions
Q: Why can't I just use my parents' homeowners insurance while I'm at college?
A: Actually, you can—if their policy includes "off-premise" coverage and if you live in a dorm or other student housing. If you move off campus, though, or otherwise start renting an apartment or house, you'll need to purchase renters insurance.
Q: Wouldn't my landlord's insurance cover all of my stuff in the event of a fire or flood or some other disaster?
A: No, it wouldn't. Your landlord's insurance is there to protect the structure of the building in which you're currently living. So, basically, the walls, floors, ceilings, and other related components. If you don't have renters or homeowners insurance, you won't be covered if a fire destroys your apartment and all of your stuff.
Q: I barely make any money because I'm a full-time student and I don't have much in savings either. Will I really be able to afford renters insurance?
A: As long as you have or can make between $150 and about $300 per year, you should be able to afford this type of insurance pretty easily.
Q: I could save some money by sharing a renters insurance policy with my roommate, right?
A: Wrong. Well, actually, in some cases you may be allowed to split a renters policy in this way, but you're likely going to want to pass on the opportunity. This kind of situation can cause all sorts of headaches that can be avoided by buying your own renters policy.
Are you looking for cheap renters insurance for a college-bound student? Request renters insurance quotes from multiple companies to compare rates.
References:
QuoteWizard.com LLC has made every effort to ensure that the information on this site is correct, but we cannot guarantee that it is free of inaccuracies, errors, or omissions. All content and services provided on or through this site are provided "as is" and "as available" for use. QuoteWizard.com LLC makes no representations or warranties of any kind, express or implied, as to the operation of this site or to the information, content, materials, or products included on this site. You expressly agree that your use of this site is at your sole risk.