Compare Homeowners Insurance In Wisconsin
Wisconsin has significantly lower homeowners insurance rates than other parts of the country. The average cost of homeowners insurance in Wisconsin is $786 a year, or $429 below the national average of $1,215. One reason for this is Wisconsin's relatively low average median house value of $199,376.
We studied Wisconsin's homeowners insurance market to find the state's top performing insurance companies. We compared the rates, offerings, customer satisfaction and complaint ratings of the top homeowners insurance providers in Wisconsin. Here's what we found:
How much does homeowners insurance cost in Wisconsin?
The average homeowners insurance premium in Wisconsin is $65 a month. The table below shows how Wisconsin's homeowners insurance rates have changed since 2015. Wisconsin has seen slight increases in homeowners insurance rates over the years, but nothing that has added more than a couple of dollars onto monthly premiums.
Average cost of home insurance in Wisconsin

 

Today
2017
2016
2015
Wisconsin annual average
$786
$779
$769
$750
Wisconsin price per month
$66
$65
$64
$63
U.S. annual average
$1,215
$1,211
$1,192
$1,173
U.S. cost per month
$101
$101
$99
$98
Note: Average rates for today are based on non-binding estimates provided by Quadrant Information Services. Your rates may vary. Data from 2015-2017 sourced from NAIC.
Homeowners insurance premiums may differ among providers. Before you decide on a homeowners insurance policy, compare quotes from multiple insurers. This graph shows the average homeowners insurance rates in Wisconsin.
Average annual homeowners insurance rates in Wisconsin
The average cost of a home insurance policy in Wisconsin is $786 per year. The cheapest company is Secura, with an average yearly rate of $617. On the other hand, Auto Club, also known as AAA, has the highest average annual premium at $947. See how home insurance rates stack up for the biggest insurers in Wisconsin.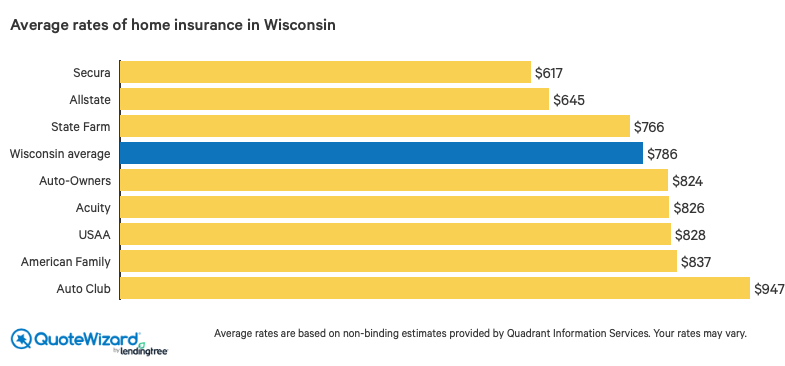 Best homeowners insurance companies in Wisconsin
Secura, Allstate, State Farm and Auto-Owners came out on top of our study for best homeowners insurance providers in Wisconsin. Here's why:
Secura: cheapest homeowners insurance rates
Wisconsin-based Secura's average homeowners insurance rate is $617, $169 below the average premium in the state, making it the cheapest homeowners insurance available in Wisconsin.
Secura provides excellent homeowners insurance coverage for the price. Its MILE-STONE program bundles homeowners and auto insurance in one payment with one deductible. Furthermore, Secura offers some stand-out discounts:
If you maintain a good credit score, you may receive a financial stability discount.
Is your home 10 years old or less? Ask about Secura's new home credit.
Secura offers a protective device credit if you use approved devices such as smoke alarms and fire extinguishers.
Allstate: biggest range of premium discounts
Allstate homeowners insurance policy holders in Wisconsin pay an average of $645 a year, the second-cheapest rates in the state. You can bring this rate down even further with the large spectrum of discounts they provide:
The first two years of owning your home, you could save up to 10% on your home insurance.
Allstate's "55 and retired" discount provides seniors with up to 10% off their homeowners insurance premium.
Bundling homeowners insurance with auto or life insurance can save you money on both policies, close to 30% total.
If you switch to Allstate with no home claims in your insurance history, you can save up to 20% on your annual rate.
If you secure your home with fire and burglar alarms, you can receive upwards of 10% off.
These are just a handful of the homeowners insurance discounts that Allstate provides. Talk to an Allstate agent to see how low your rate can go.
State Farm: most popular home insurer
State Farm holds 16.4% of the homeowners insurance market share in Wisconsin, far above Acuity, which has the next-highest market share of 4.7%. State Farm frequently dominates the market shares in many states, and Wisconsin is no different.
The secret to State Farm's success is in part due to its reputation. J.D. Power gave State Farm four out of five for overall customer satisfaction in its 2019 home insurance study. The insurer also has a 0.20 rating on NAIC's Complaint Index, the second-lowest rating of the home insurance companies we analyzed. The lower a company's complaint index score, the better. Given that the overall average complaint index of home insurers in Wisconsin is 0.54, State Farm has a strong position in the state.
Auto-Owners: most flexible homeowners insurance coverage
Auto-Owners' average homeowners insurance premium in Wisconsin is $824, $38 more than the state average of $786.
Despite the higher price point, Auto-Owners offers some coverage options that can be hard to find with other home insurers. For instance, if local ordinances or laws require upgrades to bring the construction or repair of your home up to code, you can buy coverage from Auto-Owners that takes care of that cost.
Another rare coverage perk with Auto-Owners is equipment breakdown. If there were a power outage and a voltage spike fries your computer when power is restored, this additional coverage may cover it. If the motor controls in your furnace overheat and damage the furnace, this coverage may take care of it as well. Problems like these are usually not covered under a standard homeowners insurance policy, nor do many other insurers offer coverage of this nature. Auto-Owners' equipment breakdown coverage has payout limits, so make sure you understand the coverage fully before purchasing it.
J.D. Power gave Auto-Owners a four-out-of-five ranking for customer satisfaction in 2019, indicating above-average service. Further evidence of Auto-Owners' good standing is its 0.21 rating on the NAIC Complaint Index, putting it at one of the better scores in Wisconsin.
Biggest homeowners insurance companies in Wisconsin
Here's a look at the homeowners insurance market in Wisconsin:
Homeowners insurance companies in Wisconsin at a glance

| Company | Market share | 2019 J.D. Power satisfaction rating | NAIC Complaint Index |
| --- | --- | --- | --- |
| State Farm | 16.44% | 4/5 | 0.2 |
| Acuity | 4.73% | - | 0.3 |
| Auto-Owners | 4% | 4/5 | 0.21 |
| Allstate | 1.93% | 3/5 | 0.29 |
| American Family | 1.86% | 3/5 | 0.32 |
| Secura | 1.85% | - | 0 |
| Auto Club | 1.49% | 3/5 | 0.99 |
| USAA | 1.37% | 5/5 | 0.15 |
Homeowners insurance rates in Wisconsin by city
Homeowners insurance premiums in the largest Wisconsin cities vary somewhat. However, they are all below the national average premium by hundreds of dollars. Green Bay has the lowest average homeowners insurance rate of the Wisconsin cities we looked at, $689, while Eau Claire has the highest average rate, $837.
Average rates by city
City
Average annual homeowners insurance cost
Milwaukee
$833
Madison
$776
Green Bay
$689
Kenosha
$720
Racine
$726
Appleton
$704
Waukesha
$710
Eau Claire
$837
Oshkosh
$703
Janesville
$748
Average rates are based on non-binding estimates provided by Quadrant Information Services.
To see how these insurers rank nationally, see our list of the best home insurance companies.
Homeowners insurance rates in Wisconsin by county
Overall, homeowners insurance rates by county do not move much overall. St. Croix County has the lowest average homeowners insurance premium in Wisconsin, at $660 a year, while Burnett County has the highest average premium, at $949 a year.
Here's an overview of homeowners insurance rates by county in Wisconsin.
Average rates by county
County
Average annual homeowners insurance cost
Adams
$828
Ashland
$804
Barron
$896
Bayfield
$801
Brown
$704
Buffalo
$837
Burnett
$949
Calumet
$718
Chippewa
$822
Clark
$793
Columbia
$810
Crawford
$862
Dane
$764
Dodge
$698
Door
$695
Douglas
$808
Dunn
$858
Eau Claire
$823
Florence
$763
Fond du Lac
$689
Forest
$759
Grant
$883
Green
$823
Green Lake
$793
Iron
$830
Jackson
$789
Juneau
$825
Kenosha
$731
Kewaunee
$837
La Crosse
$766
Lafayette
$715
Langlade
$843
Lincoln
$868
Manitowoc
$766
Marathon
$762
Marinette
$717
Marquette
$760
Menominee
$772
Milwaukee
$850
Monroe
$819
Oconto
$787
Oneida
$835
Outagamie
$739
Ozaukee
$754
Pepin
$712
Pierce
$690
Polk
$874
Portage
$860
Price
$931
Racine
$787
Richland
$782
Rock
$745
Rusk
$838
Sauk
$766
Sawyer
$831
Shawano
$846
Sheboygan
$787
St. Croix
$660
Taylor
$912
Trempealeau
$797
Vernon
$870
Vilas
$839
Walworth
$774
Washburn
$784
Washington
$887
Waukesha
$703
Waupaca
$721
Waushara
$771
Winnebago
$802
Wood
$709
Average rates are based on non-binding estimates provided by Quadrant Information Services.
Homeowner perils in Wisconsin
Wisconsin faces a range of weather threats that can severely damage your home. These risks can affect your homeowners insurance rates.
Snowstorms
Heavy snowfall can do serious damage to your roof and siding. The excessive cold can also lead to freezing pipes. Your homeowners insurance should cover damage if your home structure is damaged or pipes burst, but prevention is still preferable. Make sure that your roof and siding are weatherproofed, and let your faucets drip slowly when the temperatures dip low enough to freeze.
Flood
Standard homeowners insurance does not typically cover flood damage, but you can buy it as additional coverage. FEMA's National Flood Insurance Program (NFIP) coverage is available primarily through homeowners insurance companies that take part in the program.
Tornado
Tornado damage is usually covered by standard homeowners insurance, but much like damage due to snowstorms, you'll want to prevent the damage from happening as much as possible.
Steps you can take to reduce the damage to your home from a tornado include reinforcing your roof and installing storm doors on your house and garage. Upgrading your home to prevent tornado damage may qualify you for a homeowners insurance premium discount. Check with your provider to see what discounts they offer.
Methodology
We compiled quotes for every ZIP code in Wisconsin from eight of the top insurers. We based our analysis on Secura, Allstate, State Farm, Auto-Owners, Acuity, USAA, American Family and Auto Club policy data. Quotes were for a home worth $199,376, built in 1972 and owned by a 57-year-old. These are the median home value, construction date and homeowner age in Wisconsin.
We picked the insurers for our study using S&P Global Market Intelligence, which ensures results as localized to Wisconsin as possible. The largest subsidiary in Wisconsin of every insurer was taken as a representative for the company.
QuoteWizard.com LLC has made every effort to ensure that the information on this site is correct, but we cannot guarantee that it is free of inaccuracies, errors, or omissions. All content and services provided on or through this site are provided "as is" and "as available" for use. QuoteWizard.com LLC makes no representations or warranties of any kind, express or implied, as to the operation of this site or to the information, content, materials, or products included on this site. You expressly agree that your use of this site is at your sole risk.