What Happens to My Homeowners Insurance Policy When I Move?
Moving can be such a stressful time for homeowners. Learn what happens to your homeowner's insurance policy when you move.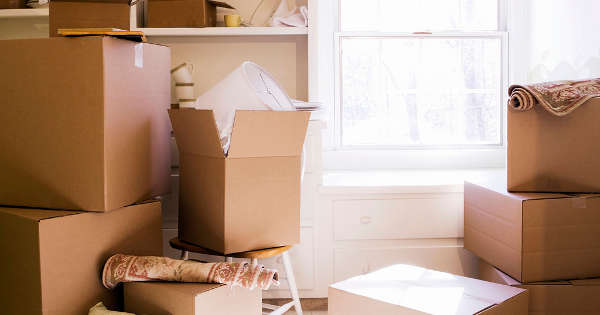 Moving can be a long and arduous process for homeowners. Selecting a new home to fit your needs, selling your old one, packing, and traveling are mentally and physically draining at best.
And then there's the part of the process that involves figuring out the insurance implications of your move. So many daunting questions pop up at this point. A few of them:
What happens to your homeowners insurance policy when you move?
Can you keep your current policy or do you have to get a new one?
If you have to get a new policy, do you have to cancel the old one?
And if you have to cancel the old one, how do you do that?
Keep reading for answers to those questions and more.
What Happens to My Homeowners Insurance Policy When I Move?
You might be surprised to find out nothing necessarily happens to your homeowner's insurance policy when you move. Still, you may need to make some changes to it before you leave your old house behind.
The most important thing to do before you move is contact your insurance agent. You want to let them know a move is taking place and see how your move may affect your insurance. Your agent can help you time the cancellation of your old policy and also help you transition to your new one. In addition, being timely about contacting your agent assures there are no gaps in coverage.
One last thing to be aware of here is your policy term and how far in advance you have paid. Most payment options are monthly, bi-monthly, quarterly, semi-annually, and annually. Usually, if you pay in advance, you'll receive some form of a refund for your homeowners insurance once it's cancelled. If you plan to transfer your policy, the amount would also transfer over. 
Is Keeping My Existing Policy an Option?
Technically, you can't keep your current policy when you move. Why is this? Your old home and new home are two completely different properties that have different risks and therefore call for different coverage. Also, the cost may vary between policies for each property because of the differing square footage, age, additional structures, and more.
The good news is that you may be able to stay with your current insurer. You may even be able to transfer your old policy to your new property. Of course, this depends on where you are moving. If you are moving within the same state, you will more than likely be able to stay with the same insurance company. That may not be possible if you are moving out of state. Unfortunately, not all insurance companies or agents are licensed to write policies in all states. So, moving out of state could mean big changes to your homeowners or renters insurance policy.
Again, talk with your agent to see if your current policy can be transferred to your new home when you move, or if it's time to start checking out new companies or agents. Start by comparing quotes from multiple companies to get the best deal.
If your policy can be transferred, you will need to provide your agent with a timeline for the move so coverage is properly transferred to the new home. Also, you will want to confirm that your household belongings will be covered during the move.
Something to keep in mind here: even moving across town can affect the cost of a policy. Moving to a neighborhood with low crime can have a positive impact on your insurance rates. Moving to a neighborhood with high crime, on the other hand, can negatively impact what you pay.
In both cases, your agent will need to know certain details about the new home. A few examples: its age, what materials were used during construction, the type of roof, its square footage, and some of the interior finishes. He or she also will need the details of your mortgage lender.
Cancelling Your Homeowners Insurance When You Move
Is it Necessary?
If your existing policy isn't transferable, you'll eventually need to cancel it. When? "You want to cancel the old policy on the date you no longer have ownership in the property," says Carly Hiteman, an Allstate agency owner in Naperville, Illinois, told Allstate on their FAQ forum. And you want to "start the new policy on the date that you have ownership in the new home." Don't stop your old policy based on a future closing date, she cautions, because they frequently change.
It's not usual for there to be a policy overlap if you don't sell your old house immediately. In other words, there's a period of time when you have two separate policies for two different properties.
"Be sure to maintain your coverage on that property during your move, until it is sold, because even though your personal property may not be there, the empty structure could be damaged, someone could hurt themselves on the property and sue you, etc.," says Carol Anderson, assistant vice president underwriting at MetLife Auto & Home in Northwest Illinois, "You need to assure that you are covered."
It is better to have overlapping policies when you move than it is to assume extra risks or accrue coverage gaps. Once you sell your old home, the old policy will be cancelled. Or you can contact your insurance provider to let them know you are no longer the owner of the house.
How to Cancel Your Homeowners Policy
There's really only a few things to know about cancelling your current policy when you move. First, you need to make sure you have a new insurance policy in place before cancelling your old policy. You also need to wait until you no longer have ownership of your old home to cancel its policy. As long as you're the owner of the home, you assume the risk of any damage to it.
Another thing to know is that cancelling your current homeowner's policy isn't as daunting a task as it may seem. If your policy can't be transferred to your new home, or you can't stay with your current provider, just contact your insurance company to cancel. You can contact them in person, over the phone, through e-mail, or in writing. Regardless, let them know the date you want your policy to end and they should handle the rest.
Frequently Asked Questions
Q:  Who do I contact about my homeowners policy if I plan on moving?
A: You should contact your insurance company at least month prior to your move to let them know of the changes that need to be made to your policy. This is true if you are moving down the street or to another state.
Q:  How can I save money on home insurance during a move?
A: Actually, moving is a great time to see how competitive your rate is. If you're not happy with how the cost of your current homeowners insurance stacks up, shop around and compare quotes from multiple companies.
Q: Can't I just keep my old policy but change the address?
A: Not necessarily. You need to contact your agent to see if any other changes need to be made your policy. Remember that two different properties incur two different rates, and one may be more competitive than the other.
Q: How do I cancel my homeowners policy?
A: The best way to cancel your existing homeowners insurance policy is to contact your agent or someone else at the same company. They will be able to walk you through the cancellation of your policy.
Q: Will I be penalized for cancelling my policy due to a move?
A:  No, there is no penalty for cancelling your home insurance policy due to a move. If your company doesn't write in your new location, you will be eligible for a refund. (Assuming you paid in advance, of course.)
Q: When moving out of my house and putting my stuff on a moving van, will my homeowners insurance cover everything while in transit?
A: According to Janet Nast, writer at www.janetmnast.com, this depends on your insurance company and whether or not you canceled prior to the move. Most policies will cover your belongings in transit, she says, but check with your agent before you move to be sure.
Q: Will my homeowners insurance cover my belongings in a storage unit?
A: Generally, your homeowners insurance will cover any belongings you store during your move. However, it may be a higher rate or less coverage. To learn more about this, read our insurance and storage units article.
References:
QuoteWizard.com LLC has made every effort to ensure that the information on this site is correct, but we cannot guarantee that it is free of inaccuracies, errors, or omissions. All content and services provided on or through this site are provided "as is" and "as available" for use. QuoteWizard.com LLC makes no representations or warranties of any kind, express or implied, as to the operation of this site or to the information, content, materials, or products included on this site. You expressly agree that your use of this site is at your sole risk.