Compare Home Insurance In South Carolina
Homeowners insurance in South Carolina costs $1,328 yearly, on average. This is $113 above the national average of $1,215. To help you find your best homeowners insurance rate, we analyzed South Carolina's homeowners insurance market to compare company premiums, policy offerings and individual customers satisfaction levels. This is what we found:
How much does homeowners insurance cost in South Carolina?
The average homeowners insurance premium in South Carolina is $111 a month. South Carolina's home insurance rates are higher than the national average due in part to extreme coastal weather: Three hurricanes touched ground in 2018, and in 2015, South Carolina experienced massive flooding when 51 of its 652 dams breached or failed.
The table below breaks down South Carolina homeowners insurance rates between 2015 and now. Home insurance premiums in South Carolina saw a slight drop in 2017, but they have since increased.
Average cost of home insurance in South Carolina
 
Today
2017
2016
2015
South Carolina annual average
$1,328
$1,269
$1,285
$1,284
South Carolina average price per month
$111
$106
$107
$107
U.S. annual average
$1,215
$1,211
$1,192
$1,173
U.S. price per month
$101
$101
$99
$98
Note: Average rates for today are based on non-binding estimates provided by Quadrant Information Services. Your rates may vary. Data from 2015-2017 sourced from NAIC.
Homeowners insurance premiums may differ from insurer to insurer. We recommend that you compare quotes from different home insurance companies before choosing a policy. Below is a graph comparing the home insurance rates of the biggest companies in South Carolina.
Cheapest homeowners insurance companies in South Carolina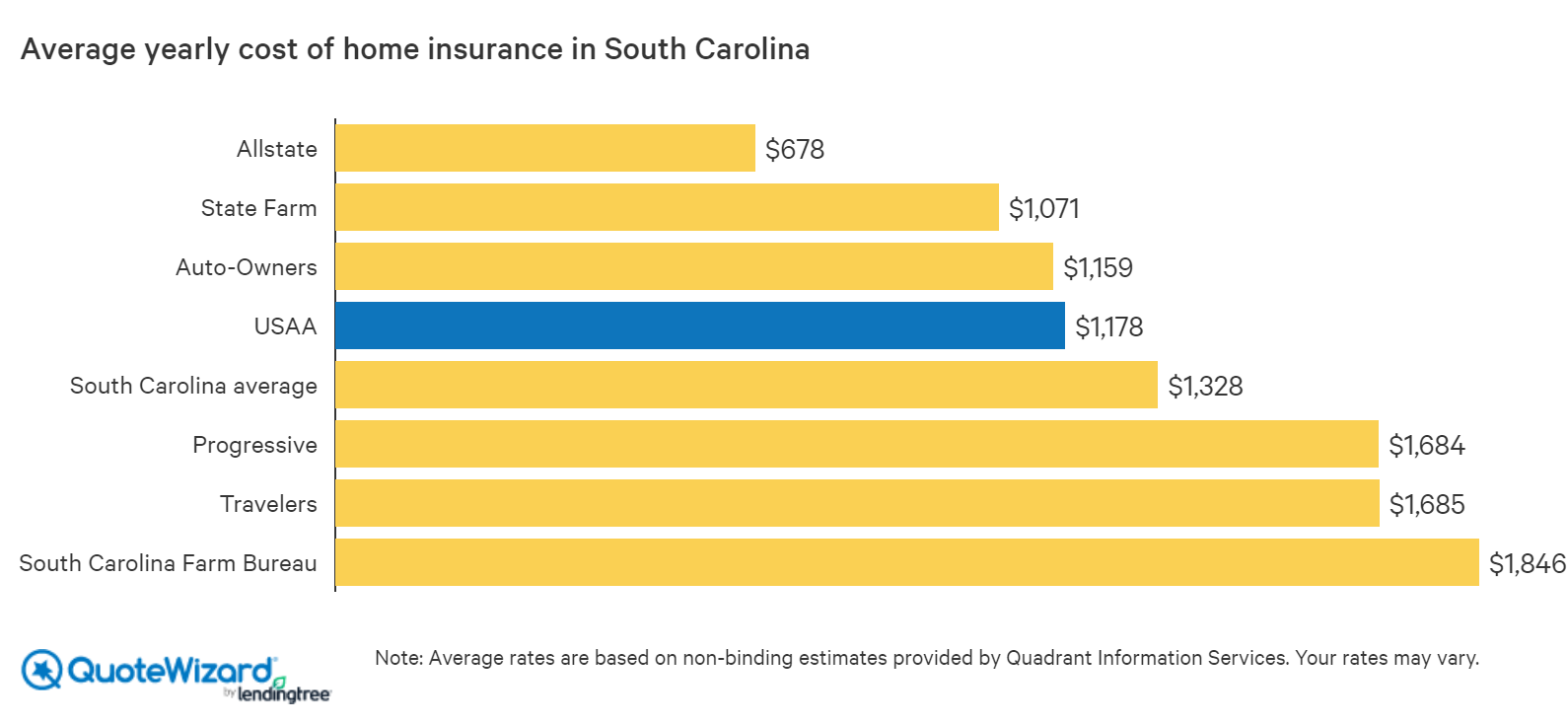 Best home insurance companies in South Carolina
Allstate, USAA, State Farm and Travelers came out as our top choices for best homeowners insurance in South Carolina. Here's why.
Allstate: Cheapest rates
South Carolina homeowners pay an average of $678 yearly for an Allstate home insurance policy. This is almost half the state's average premium of $1,328 and hundreds of dollars under the next lowest premium.
On top of already low rates, Allstate provides many home insurance discount options to drop your yearly premium even lower:
You can save up to 25% if you bundle a home insurance policy with your car insurance.
According to Allstate, if you switch to Allstate and you have no recent home insurance claims, you might save upwards of 20%.
If you buy an Allstate home insurance policy at least seven days before your current home insurance expires, you may qualify for up to 10% in savings for signing early.
These are just a few of the discounts that Allstate offers. Talk with an Allstate agent to learn what other cost-saving discounts are available to you.
An important factor to look at when comparing home insurance providers is their complaint rate. Allstate has a .29 rating on the NAIC Complaint Index. The lower the complaint index rating, the better. This is far below the average 4.13 Complaint Index rating including all the insurers operating in South Carolina.
USAA: Best insurance for veterans
USAA offers home insurance specifically for currently serving military members and veterans. Given that close to 10% of South Carolina's population are veterans, this makes USAA a popular choice.
A key feature of USAA's coverage is their offering of home insurance coverage for the specific needs of military members, such as replacement of uniforms. They also provide dwelling and personal property coverage for damage due to war, a threat often excluded from most standard home insurance.
USAA earned a rare five out of five-star rating for customer satisfaction in J.D. Power's 2019 home insurance study. USAA consistently comes out at the top in J.D. Power's ranking year after year, scoring 878 out of 1,000 points in the study. You should also note that they have a low .31 rating on the NAIC Complaint Index. This is a clear indicator of USAA's status as the best of the best in the home insurance industry.
State Farm: Best for covering dogs
Some home insurers consider certain dogs to be high risk. If you have a breed that is considered a bite threat, it can lead to higher home insurance rates or even denial of coverage. This isn't an issue with State Farm. They approach dogs on a case-by-case basis when quoting home insurance. With their "It's not the breed, it's the bite" philosophy, they believe the breed isn't a factor in your home insurance coverage. If your dog doesn't have a bite history, it shouldn't affect your home insurance premium or coverage.
State Farm has the second lowest average home policy rate in South Carolina of $1,071. Furthermore, J.D. Power gave them a four out of five-star rating for customer satisfaction. They also have a low score of .20 on the NAIC Complaint Index. This is far below the average of 4.13 on the Complaint Index factoring in all the home insurance companies operating in South Carolina.
Travelers: Best customizable home policies
Your home is unique, so your home insurance should be as well. Travelers understands this and offers homeowners insurance policies to reflect it.
If the dwelling coverage portion of your home insurance policy is not enough to cover repairs or a rebuild after a covered loss, Travelers sells additional replacement cost coverage to take up the slack.
Also, jewelry, antiques and other high-value collectibles usually have restricted limits for home insurance coverage. Traveler's Value Items Plus coverage offers higher limits and wider coverage options for your expensive personal property. If this still doesn't provide enough coverage, Travelers also offers personal articles riders as add-ons to your home insurance to give you better home insurance limits.
Biggest homeowners insurance companies in South Carolina
Here's an overview of the homeowners insurance market in South Carolina:
South Carolina home insurance company snapshot

| Company | Market share | 2019 J.D. Power customer satisfaction rating | NAIC Complaint Index |
| --- | --- | --- | --- |
| State Farm | 20.35% | 4/5 | 0.2 |
| Allstate | 9.81% | 3/5 | 0.29 |
| USAA | 9.08% | 5/5 | 0.31 |
| Travelers | 5.58% | 2/5 | 0.56 |
| South Carolina Farm Bureau | 3.72% | - | 0.48 |
| Auto-Owners | 2.84% | 4/5 | 0.2 |
| Progressive | 1.98% | 3/5 | 2.2 |
Home insurance rates in South Carolina by city
Homeowners insurance rates in South Carolina cover a wide price range. Looking at the most populated South Carolina cities, Spartanburg, S.C., pays the lowest average of $908 a year for home insurance. At the highest end, Mount Pleasant pays an average of $2,026 a year.
Average annual home insurance premium by city
City
Average annual homeowners insurance cost
Charleston
$1,364
Columbia
$1,009
Florence
$1,243
Greenville
$1,003
Hilton Head Island
$1,003
Mount Pleasant
2026
Rock Hill
$1,206
Spartanburg
$908
Summerville
$1,350
Sumter
$1,174
Average rates are based on non-binding estimates provided by Quadrant Information Services.
Home insurance rates in South Carolina by county
Much like the overall home insurance rate average on South Carolina's city level, premium averages jump around a lot. Pickens County, S.C., has the lowest home insurance rate average of $913 a year. Horry County, S.C., sits at the highest average with $2,115 a year.
Average annual home insurance premium by county

County

Average annual homeowners insurance cost

Abbeville
$997
Aiken
$1,064
Allendale
$1,176
Anderson
$957
Bamberg
$1,177
Barnwell
$1,145
Beaufort
$1,680
Berkeley
$1,422
Calhoun
$1,159
Charleston
$1,858
Cherokee
$934
Chester
$999
Chesterfield
$1,139
Clarendon
$1,288
Colleton
$1,334
Darlington
$1,259
Dillon
$1,328
Dorchester
$1,348
Edgefield
$1,016
Fairfield
$1,001
Florence
$1,255
Georgetown
$1,822
Greenville
$940
Greenwood
$1,008
Hampton
$1,329
Horry
2115
Jasper
$1,226
Kershaw
$1,102
Lancaster
$1,054
Laurens
$965
Lee
$1,241
Lexington
$1,000
Marion
$1,389
Marlboro
$1,270
Mccormick
$1,009
Newberry
$985
Oconee
$1,001
Orangeburg
$1,201
Pickens
$913
Richland
$1,064
Saluda
$1,014
Spartanburg
$1,043
Sumter
$1,177
Union
$978
Williamsburg
$1,413
York
$1,019
Average rates are based on non-binding estimates provided by Quadrant Information Services.
Homeowners insurance perils in South Carolina
South Carolina homeowners face many extreme weather threats due to their coastal location. These perils can raise your home insurance rates:
Rainfall
Water damage to your roof due to rain is often covered by standard home insurance. With above-average rainfall like South Carolina gets, however, you don't want it to get to that point. A leaking roof can cause thousands of dollars of damage to the interior of your house. Prevention is the best medicine in this case. Make sure your shingles and rain gutters are properly maintained.
Tornadoes
Standard homeowners insurance usually covers damage caused by tornadoes. If you want to possibly save money on your homeowners insurance premium and protect your home against tornadoes at the same time, look into preventative measures. Roof reinforcement and installing storm windows may go far to reduce damage and could qualify you for a home insurance discount.
Flooding
Flooding is a constant, serious threat to South Carolina homeowners. Unfortunately, flood damage is not covered under a standard home insurance policy. You can, however, purchase flood insurance provided by FEMA's National Flood Insurance Program (NFIP). NFIP flood insurance coverage can be bought through many South Carolina flood insurance providers and some independent agents.
Methodology
We compiled quotes for every ZIP code in South Carolina from seven of the top insurers. We based our analysis on Allstate, State Farm, Auto-Owners, USAA, Progressive, Travelers and South Carolina Farm Bureau policy data. Quotes were for a home worth $181,077, built in 1987 and owned by a 58-year-old. These are the median home value, construction date and homeowner age in South Carolina.
We picked the insurers for our study using S&P Global Market Intelligence, which ensures results as localized to South Carolina as possible. The largest subsidiary in South Carolina of every insurer was taken as a representative for the company.
QuoteWizard.com LLC has made every effort to ensure that the information on this site is correct, but we cannot guarantee that it is free of inaccuracies, errors, or omissions. All content and services provided on or through this site are provided "as is" and "as available" for use. QuoteWizard.com LLC makes no representations or warranties of any kind, express or implied, as to the operation of this site or to the information, content, materials, or products included on this site. You expressly agree that your use of this site is at your sole risk.