Compare Home Insurance In Massachusetts
Our study of the 15 biggest home insurance companies in Massachusetts found that on average, Bay Staters pay $1,473 a year for homeowners insurance. Rates tend to be cheaper the further west you go in Massachusetts, and most expensive in coastal counties like Plymouth and Barnstable.
We recommend comparing quotes from the top insurance companies in Massachusetts to make sure you get the right coverage at the right price. To help make that process easier, we studied the Massachusetts homeowners insurance market and found the five best insurers in the state. We considered reviews, quote prices, coverage and customer satisfaction. Here are our top picks:
Average Massachusetts homeowners insurance rates
The average home insurance policy in Massachusetts costs $123 a month, or $1,473 a year. That's above the national average of $1,215 by about 21%.
  
Today
2016
2015
Massachusetts annual average
$1,473
$1,451
$1,379
Massachusetts price per month
$123
$121
$115
U.S. annual average
$1,215
$1,192
$1,173
U.S. cost per month
$101
$99
$98
Note: Average rates are based on non-binding estimates provided by Quadrant Information Services. Your rates may vary.
Annual premiums vary between companies, which is why comparing them is important. Here are how the largest players in Massachusetts stack up.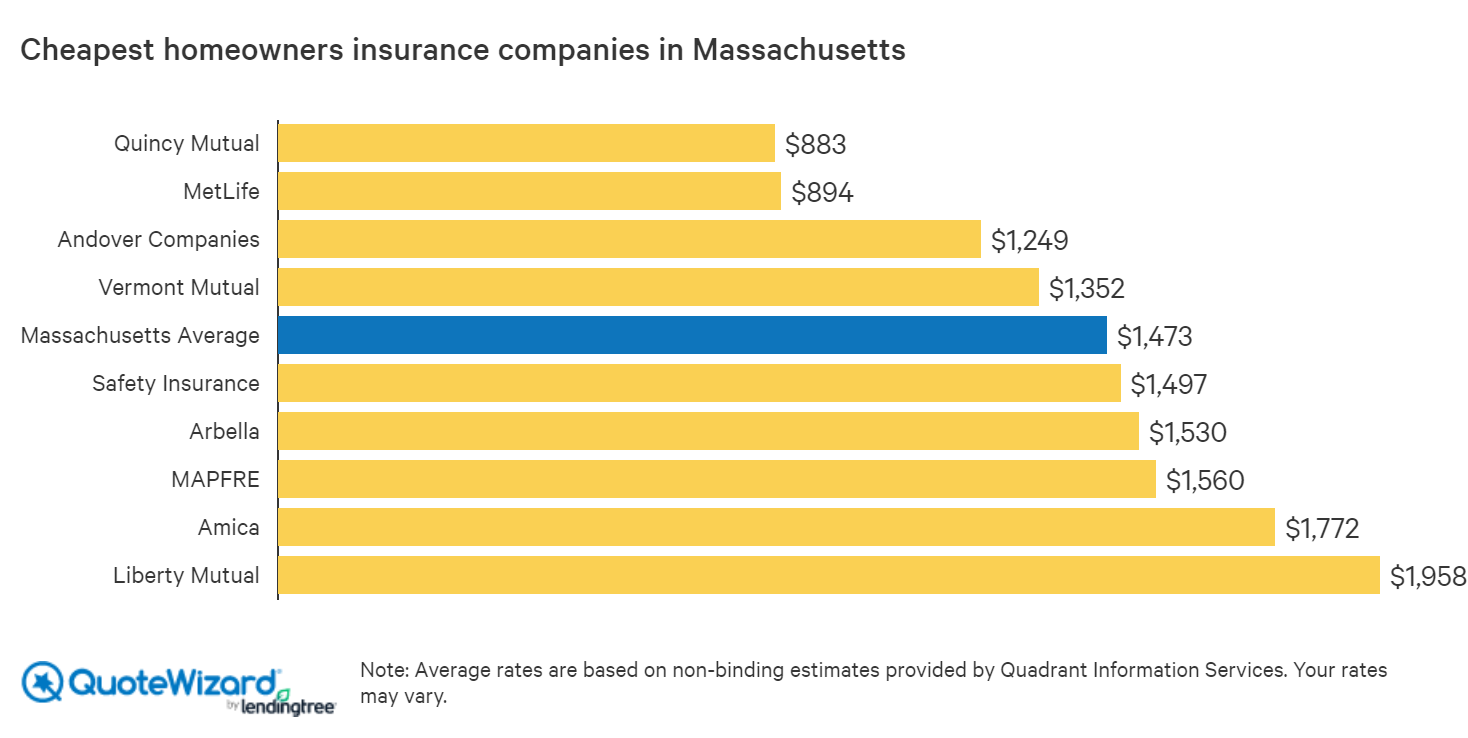 Best overall: Andover Companies
Andover Companies tops our list of the best homeowners insurance companies in Massachusetts for performing above average in all categories: price, customer experience, reviews and coverage. As the fifth-largest home insurer in Massachusetts and operating only in the Northeast since 1828, Andover knows the harsh weather conditions Massachusetts residents face.
In Massachusetts, Andover Companies is comprised of two primary subsidiaries: Merrimack Mutual Insurance Company and Bay State Insurance. Together, these subsidiaries' combined NAIC complaint index is 0.31. NAIC's complaint index measures the number of complaints a company receives relative to its size. The nationwide complaint index average is 1.0, and the lower the better. While Andover doesn't have the lowest complaint index on our list, it is still much better than average.
With an average yearly premium of $1,249, Andover's rates are below the Massachusetts average, and are among the cheapest in the state. You won't have to sacrifice coverage either, as Andover provides standard coverage for your home and property.
Cheapest rates in MA: Quincy Mutual
We found that Quincy Mutual offers the cheapest home insurance rates in Massachusetts, at a reasonable $883 a year. That's almost $600 less than the statewide average. But cost shouldn't be your only consideration, so here's what else you should know about Quincy.
In addition to having some of the cheapest rates around, Quincy has many discounts for Massachusetts homeowners, such as:
bundling home and auto.
having or installing burglary and smoke alarm systems.
owning a home built in the last 15 years.
owning a home built without combustible materials.
To take advantage of Quincy's cheap premiums, you may have to compromise on customer service. Quincy had a NAIC complaint index of 0.12 in 2018, which we'd typically consider excellent. However, the 2018 index is based on only one complaint. Quincy's complaint indexes in 2017 and 2016 were 0.76 and 1.14, respectively, which is higher than some of its competitors. That leads us to believe that Quincy's customer service could be slightly below average.
Best customer service: Amica Mutual
Our study found that of the 10 largest home insurance companies in Massachusetts, Amica Mutual provides the best customer experience. We rated customer experience based on the NAIC complaint index, which measures how many complaints a home insurance company receives relative to its size. Amica came in with 0.22, which is excellent, considering that 1.0 is the nationwide average.
The 2019 J.D. Power survey of homeowners insurance companies agrees: Amica earned the top spot for the 18th consecutive year, with a 5/5 rating for overall customer satisfaction. The only category where J.D. Power gave Amica below a 5/5 was in the price category.
We found that Amica's Massachusetts rates above the state average by about $300 a year, or 20% higher. So, while you'll get a lot for your money, expect to pay a little more than with some of the other companies on our list.
Compare home insurance companies in Massachusetts
See how much you can save!
Best for old homes: MAPFRE
MAPFRE is our pick for older homes in Massachusetts, thanks to its Restorationist coverage. This policy is designed to cover antique homes by providing coverage for specialized materials and construction types, should your home need repairs. According to the 2017 U.S. Census, Massachusetts has the second-oldest housing stock, behind New York and tied with Rhode Island, so many Bay Staters may need special coverage.
MAPFRE's Restorationist coverage isn't capped at the dwelling limit: it provides guaranteed restoration cost. You can therefore rest assured that if you incur additional expenses during a repair, which is common for older homes, you won't be left out to dry by your insurance policy. A standard home insurance policy might not completely cover expensive repairs and upgrades on older homes.
While we don't have access to quotes with antique home coverage through MAPFRE, we have quotes for a standard home insurance policy for $1,560 a year. That's above the state average by about 6%. If that is any indication, you may find that coverage for your antique home is expensive, but this is to be expected due to the increased risk the insurance company is taking on.
Our runner-up: Safety Insurance
We couldn't leave Safety Insurance off our list, with its fair rates and decent customer service. Safety is the third-largest home insurer in Massachusetts and offers insurance policies in Massachusetts, New Hampshire and Maine.
Safety's home insurance premiums are above the state average by $26 a year, meaning its rates aren't the cheapest around, but are still fair. Similarly, Safety doesn't have the best customer satisfaction compared to its competitors, with a NAIC complaint index of 0.50. Nevertheless, 0.50 is a respectable complaint index, considering Safety's rates and regional focus.
Massachusetts home insurance companies rates and reviews by the numbers
Company
Annual premium
2018 NAIC complaint index (lower is better, national average is 1.0)
Andover Companies
$1,249
0.31
Quincy Mutual
$883
0.12*
MAPFRE
$1,560
0.94
Amica Mutual
$1,772
0.22
Safety Insurance
$1,497
0.50
*Note: We think that this number is misleadingly low. Quincy only had one complaint in 2018, making its complaint index based on a single customer. In 2017, its complaint index was 0.76.
Cost of homeowners insurance in Massachusetts by city
Here's how the home insurance prices of some of Massachusetts' largest cities break down.
Average yearly home insurance cost by city in Massachusetts
City
Average annual home insurance premium
Boston
$1,541
Worcester
$1,400
Springfield
$1,537
Cambridge
$1,210
Lowell
$1,296
Quincy
$1,391
New Bedford
$2,141
Brockton
$1,900
Lynn
$1,791
Newton
$1,154
Fall River
$1,860
Somerville
$1,227
Lawrence
$1,574
Haverhill
$1,298
Waltham
$1,173
Malden
$1,181
Medford
$1,194
Taunton
$1,591
Revere
$1,988
Note: Average rates are based on non-binding estimates provided by Quadrant Information Services. Your rates may vary.
Cost of homeowners insurance in Massachusetts by county
Home insurance premiums tend to be more expensive in the eastern counties of Massachusetts, which is largely because coastal areas have more wind and storm exposure than inland areas.
Average yearly home insurance cost by county in Massachusetts
County
Premium
Barnstable
$2,488
Berkshire
$959
Bristol
$1,794
Dukes
$3,137
Essex
$1,414
Franklin
$975
Hampden
$1,200
Hampshire
$999
Middlesex
$1,165
Nantucket
$3,246
Norfolk
$1,336
Plymouth
$1,803
Suffolk
$1,632
Worcester
$1,196
Note: Average rates are based on non-binding estimates provided by Quadrant Information Services. Your rates may vary.
Home insurance perils in Massachusetts
Massachusetts homeowners have severe insurance perils to think about, such as winter weather and storms.
Winter weather
Massachusetts experiences cold weather in the winter, which can lead to pipes freezing. Luckily, your home insurance should cover water damage if your plumbing freezes and bursts.
The weight of snow accumulation on your roof can lead to increased strain on your home. Home insurance policies tend to cover collapse due to snow accumulation, but we recommend trying to keep your roof clear to lower the chance of damage.
Windstorms in Massachusetts
Standard homeowners insurance policies cover windstorms, which means damage from high winds, cyclones, tornadoes and hurricanes. Although Massachusetts doesn't often experience these storms outside of the coastal areas, it is still an important coverage to have.
Flood insurance in Massachusetts
Flooding is not covered by homeowners insurance, so for coverage, your options are a policy through the government-funded National Flood Insurance Program (NFIP) or through a private insurance company.
The average cost of flood insurance in Massachusetts is $1,275 through the NFIP, which is high compared to the national average cost of flood insurance. We recommend Massachusetts residents consider private flood insurance, as private companies often have more accurate risk maps, lowering premiums for people in low-risk areas.
The NFIP paid out just under $118 million in flood insurance claims to Massachusetts homeowners between 1996 and 2016. That's a medium number relative to other states – Pennsylvania, for example, received almost six times that in the same time period. This suggests that Massachusetts flood risk is not zero but is the middle of the pack nationwide.
Methodology
We gathered 674 quotes from every ZIP code in Massachusetts. The profile we used was for a home worth $385,400, built in 1961 and owned by a 57-year-old, as these are the median home value, build year and homeowner age, according to the U.S. Census.
We calculated the complaint index for a parent company by combining the complaint indexes of its subsidiaries according to their size. For example, we considered Andover Companies' two primary subsidiaries: Merrimack Mutual and Bay State Insurance. Because Merrimack is 2.78 as big as Bay State in Massachusetts, we weighted the Merrimack complaint index accordingly.
Data on flood insurance premiums was calculated by dividing NFIP total written premiums by the number of policies in force in Massachusetts, which is open-source data through FEMA. Total flood insurance losses in Massachusetts between 1996 and 2016 were also from open-source FEMA data.
Massachusetts Division of Insurance
Website:
Insurance Commissioner:

Gary Anderson
Insurance Hotline:

(877) 563 – 4467
Office Hours:

Monday - Friday
8:45 am to 5:00 pm
File a Consumer Insurance Complaint
Sources:
QuoteWizard.com LLC has made every effort to ensure that the information on this site is correct, but we cannot guarantee that it is free of inaccuracies, errors, or omissions. All content and services provided on or through this site are provided "as is" and "as available" for use. QuoteWizard.com LLC makes no representations or warranties of any kind, express or implied, as to the operation of this site or to the information, content, materials, or products included on this site. You expressly agree that your use of this site is at your sole risk.