Compare Homeowners Insurance in Maine
The average cost of homeowners insurance in Maine is $809 a year, according to our study of the best homeowners insurance companies. That makes Maine's average rate about 33% lower than the national yearly average of $1,215. Cheap premiums don't make choosing a company any easier, so here's your guide to finding the right home insurance for you in Maine.
Cost of homeowners insurance in Maine
Paying only $67 a month on average, Maine is the fifth-cheapest state for home insurance in the U.S. Rates have fluctuated slightly in recent years, but remain reasonable.
Average home insurance rates in Maine
  
Today
2017
2016
Maine annual average
$809
$882
$866
Maine price per month
$67
$74
$72
U.S. annual average
$1,215
$1,211
$1,192
U.S. cost per month
$101
$101
$99
Note: Average rates for today are based on non-binding estimates provided by Quadrant Information Services. Your rates may vary. Data from 2016 and 2017 is sourced from the National Association of Insurance Commissioners.
Cost varies by company: we saw rates in Maine as low as $483 and as high as $1,167. The graph below shows how some of the top companies' average prices compare.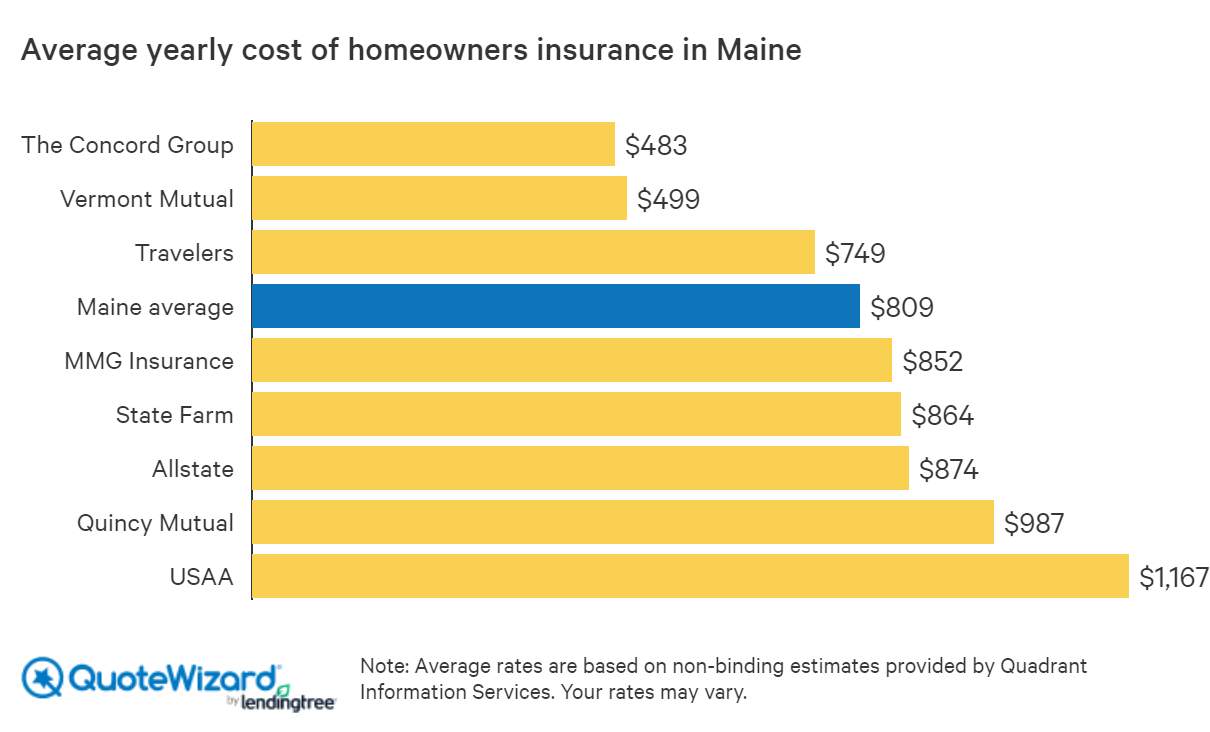 Best homeowners insurance companies in Maine
What makes a home insurance company the best choice for you depends on your unique situation, so we ranked the top companies in Maine for different categories. We found that State Farm, The Concord Group, Allstate and USAA were all strong options. Here's our reasoning.
State Farm: best overall
State Farm's balance of cost, coverage and customer service makes it our top pick for the best homeowners insurance company in Maine. State Farm is also the largest home insurer in the state, meaning coverage is widely available. Although our study found that its yearly cost is about 7% above the state average, at $864, we think State Farm provides great value for the price.
NAIC's Complaint Index measures the amount of complaints a company gets relative to its size, and lower Complaint Index vales signal fewer complaints, and therefore a better customer experience. State Farm's 2018 Complaint Index was 0.20, which is one of the lowest — and therefore best — numbers we've seen. J.D. Power's 2019 home insurance satisfaction survey backs up this figure, as State Farm received a 4/5 in overall customer satisfaction.
If State Farm's price is a concern, it offers several discounts to help you save. Common savings opportunities from State Farm include discounts for bundling, having fire and burglar alarm systems, having a claims-free history and installing automatic sprinklers. Between State Farm's availability, customer satisfaction and standard policies for a fair price, we think it's an excellent option for Mainers.
The Concord Group: cheapest rates
We found that The Concord Group offers the lowest rates in Maine, at $483 a year, which is more than $300 below the state average. Concord is a smaller insurer compared to some of the others on our list, but it has a long history of serving New England, first organizing in 1928 in New Hampshire and expanding to Maine in 1937. That means that in addition to cheap rates, Concord customers can expect local expertise.
However, The Concord Group's low rates may come at the expense of customer service. Concord had a NAIC Complaint Index of 0.60 in 2018, which is below the national average of 1.0, but higher than many of its competitors in the homeowners category. Additionally, among all lines of insurance, not only homeowners, Concord's Complaint Index is 1.16, which is above the national average of 1.0 and points to a slightly below-average customer experience.
Concord advertises many optional coverages and discounts on its website. One option that stood out to us was its Green Endorsement, which provides additional coverage to rebuild your home with environmentally friendly materials after a loss. A few of Concord's discounts stood out to us as well, like its electronic document delivery and automatic backup generator discounts.
Allstate: best for bundling home and auto
Our recommendation for the best company to bundle home and auto is Allstate, thanks to its great customer service in both home and auto insurance products, and its bundling savings. Allstate is the third-largest home insurer and fifth-largest auto insurer in the state, giving it a strong command of both markets.
On top of its competitive average homeowners insurance rates of $875 a year, Allstate advertises up to 25% savings on bundling home and auto on its website. This is on the higher end of percentages we've seen. Combined with Allstate's excellent service for home and auto insurance, we think Allstate sets itself apart from its competition in Maine.
Allstate received a 3/5 in overall satisfaction from J.D. Power's 2019 home insurance satisfaction survey, and 4/5 in its auto insurance satisfaction survey. Strong performance for home and auto is important to consider when bundling policies, as having a good experience with one policy doesn't guarantee the same for the other.
USAA: best for veterans
USAA's products and services are only available to military service members, veterans and their families. But for those who qualify, USAA is our top pick for homeowners insurance due to its customer service, coverage and perks. USAA is the fifth-largest home insurer in Maine, which is no surprise considering there are more than 100,000 veterans living in Maine, according to the U.S. Department of Veterans Affairs.
USAA was one of only three companies to receive a 5/5 in overall customer satisfaction in J.D. Power's 2019 homeowners insurance survey, indicating great customer experience across all categories. USAA's 2018 NAIC Complaint Index of 0.15 also points to a great customer experience, as it shows very few complaints relative to its size.
USAA membership comes with several standout perks and coverages. For instance, members get discounts on ADT home security systems and access to USAA's contractor and builder network. USAA homeowners insurance policies cover military uniforms and include $5,000 of identity theft coverage standard. These are two coverages you'll have a hard time finding elsewhere in Maine.
The biggest homeowners insurance companies in Maine
Homeowners insurance companies are in heated competition in Maine. The large national insurers account for a significant portion of all policies, but many regional insurers like MMG and Vermont Mutual make the list.
Maine home insurance market
Company
Market share
Overall satisfaction rating*
2018 NAIC Complaint Index (lower is better)
State Farm
12.0%
4/5
0.20
Liberty Mutual
11.4%
2/5
0.53
Allstate
6.4%
3/5
0.34
The Hanover
5.6%
N/A
0.18
USAA
5.5%
5/5
0.15
MMG Insurance
5.3%
N/A
0.30
The Concord Group
5.0%
N/A
0.60
Quincy Mutual
4.8%
N/A
N/A
Vermont Mutual Insurance
4.7%
N/A
0.74
*according to J.D. Power's 2019 Home Insurance Survey
Curious how Maine's local companies stand up nationally? See our rankings of the best home insurance companies in the U.S.
Homeowners insurance rates in Maine by city
The most populous city in Maine, Portland, sees rates 1% below average, at $800 a year. Portland also bucks the loose price trend: generally speaking, cities and towns along the eastern coast tend to see more expensive rates.
Average yearly homeowners insurance premium by city
City
Average annual rate
Difference from state average ($809)
Auburn
$769
-5%
Augusta
$765
-5%
Bangor
$790
-2%
Biddeford
$782
-3%
Brewer
$774
-4%
Brunswick
$799
-1%
Lewiston
$771
-5%
Old Orchard Beach
$769
-5%
Orono
$772
-5%
Portland
$800
-1%
Saco
$792
-2%
Sanford
$852
5%
South Portland
$826
2%
Waterville
$767
-5%
Westbrook
$726
-10%
Note: Average rates are based on non-binding estimates provided by Quadrant Information Services. Your rates may vary.
Homeowners insurance rates in Maine by county
Our research found that homeowners insurance costs are relatively constant among counties in Maine, never varying more than 7% from the state average. Aroostook County had the cheapest rates, at $755 a year, and Knox County was the most expensive county, at $851 a year.
Average yearly homeowners insurance premium by county
County
Average annual rate
Difference from state average
Androscoggin
$799
-1%
Aroostook
$755
-7%
Cumberland
$795
-2%
Franklin
$831
3%
Hancock
$844
4%
Kennebec
$786
-3%
Knox
$851
5%
Lincoln
$792
-2%
Oxford
$809
0%
Penobscot
$785
-3%
Piscataquis
$826
2%
Sagadahoc
$772
-5%
Somerset
$821
1%
Waldo
$850
5%
Washington
$839
4%
York
$830
3%
Note: Average rates are based on non-binding estimates provided by Quadrant Information Services. Your rates may vary.
Home insurance perils in Maine
Maine is no stranger to harsh winter weather. Homeowners must contend with freezing temperatures, heavy snows and windstorms.
Cold, snowy winters
The accumulation of snow on your home, garage and other buildings can compromise their roofs. While homeowners insurance usually covers a collapsed roof due to snow accumulation, we recommend doing your best to avoid the situation altogether by keeping the roof clear.
Long periods of freezing temperatures are cause for two concerns: icy conditions and frozen plumbing. If a guest is injured on your property after falling, you could be found responsible. This is an instance when medical payments to others or personal liability coverage could come in handy. Cold temperatures can also cause frozen pipes to burst. In order to avoid a claim, we recommend ensuring your home is always sufficiently heated, even when you're not there.
Maine homeowners insurance laws
Regulations surrounding homeowners insurance differ by state. For example, Maine law prohibits insurers from refusing coverage based on an applicant's age, credit, loss history and home age, among other characteristics. These regulations intend to protect Maine residents and help to ensure that everyone has the opportunity to purchase insurance.
Methodology
We analyzed 540 quotes from eight companies: Allstate, The Concord Group, MMG Insurance, Patrons Oxford Insurance (Quincy Mutual), State Farm, Travelers, USAA and Vermont Mutual. Every ZIP code in Maine was included. The quotes were for a home with $213,232 of dwelling coverage, which is the median value of owner-occupied housing units in Maine. The policy statistics were as follows:
Dwelling coverage: $213,232
Personal property coverage: 50% of dwelling ($106,616)
Other structures coverage: 10% of dwelling ($21,323)
Loss of use coverage: 20% of dwelling ($42,646)
Liability coverage: $100,000
Deductible: $1,000
We sourced all geographic and demographic information from S&P Global Market Intelligence.
QuoteWizard.com LLC has made every effort to ensure that the information on this site is correct, but we cannot guarantee that it is free of inaccuracies, errors, or omissions. All content and services provided on or through this site are provided "as is" and "as available" for use. QuoteWizard.com LLC makes no representations or warranties of any kind, express or implied, as to the operation of this site or to the information, content, materials, or products included on this site. You expressly agree that your use of this site is at your sole risk.