Average cost of flood insurance in Louisiana
Flood insurance costs $673 a year in Louisiana, on average, which is less than the national average by $26. That may be surprising because much of Louisiana is low-lying and along the Gulf of Mexico, putting it at risk of flooding. However, flood insurance rates can be unpredictable. Here's how much residents pay on average around the state.
Cost of flood insurance in Louisiana by city
City
Average yearly cost
Number of policies
Alexandria
$824
46,782
Baton Rouge
$712
223,786
Bossier City
$975
64,031
Houma
$606
33,113
Kenner
$615
66,658
Lafayette
$596
126,379
Lake Charles
$650
75,045
Monroe
$789
46,466
New Iberia
$613
27,798
New Orleans
$650
394,125
Shreveport
$765
184,097
Slidell
$1,041
28,819
Louisiana average
$673
499,897  
Source: FEMA
As you can see, flood insurance rates vary depending on where you live, from $596 in Lafayette to more than $1,000 in Slidell. There are about 500,000 active NFIP flood insurance policies in Louisiana, and with just over 1.8 million households in Louisiana, that means about 28% of homes have flood insurance coverage.
That's not a lot of coverage considering how cheap flood insurance is in Louisiana relative to its flood risk. 
Flood insurance in New Orleans costs $650 a year on average. New Orleans also accounts for more than 78% of all flood insurance policies in Louisiana. This is reflective of its population, but also its historic risk of flooding.
Talk to an agent about protecting your home with flood insurance today.
What does flood insurance cover in Louisiana?
Homeowners insurance usually does not cover damage from floods. For coverage, you need a separate flood insurance policy. Flood insurance covers two types of damage: damage to your home and damage to your personal belongings. Those two coverages are called "building" and "contents" coverage.
Building coverage protects your home's structure and appliances. This includes things like your dishwasher, stove, plumbing, garage, foundation, windows and floors. NFIP flood policies provide a maximum of $250,000 of building coverage.
Contents coverage protects your belongings, like your kitchen gadgets, sports equipment, clothing, furniture and electronics. NFIP policies provide up to $100,000 of coverage for your belongings.
Coverage for your home and belongings can change dramatically depending on the elevation of your home. For example, there may be stipulations for items and structures in your basement. Check out our complete guide of what flood insurance covers for more information.
Flood insurance quotes in Louisiana
To get flood insurance quotes and purchase a policy, you'll have to contact an insurance company. While private flood insurance is available, the vast majority of people get flood coverage from the National Flood Insurance Program (NFIP). That means coverage is the same in Louisiana as in other parts of the U.S.
Flood insurance cannot be purchased directly from the NFIP, but private insurance companies can provide quotes. Quote prices should not vary between insurance companies because rates are set by the U.S. government. That means there's no need to shop around for the cheapest policy.
Federal flood insurance companies in Louisiana
Insurance company
Percent of policies written
Wright National Flood Insurance Company
34%
Allstate
14%
Assurant
12%
National General Holdings
8%
Selective Insurance
5%
Southern Farm Bureau Casualty
5%
USAA
4%
Progressive
4%
The Hartford
3%
Bankers Insurance
3%
Liberty Mutual
2%
Source: S&P Global
There are many insurance companies in Louisiana where you can buy flood insurance, but about a third of people purchase it from Wright National Flood Insurance Company. Other large providers in Louisiana include Allstate and Assurant.
If you already have a home or renters insurance policy from a company in Louisiana, it may be easiest to ask your agent if they can also provide a flood insurance quote. This may be the easiest solution for many people because all of your insurance policies can be managed by one company.
If you don't want to or cannot get a flood insurance policy from your current company, we recommend going with a company you think will provide the best level of service for you. For example, veterans might consider going with USAA, or AARP members with The Hartford, as those companies specialize in specific groups of customers.
Flood history in Louisiana
Louisiana has a devastating history of flooding. Between 1996 and 2016, the NFIP paid out more than one million claims, adding up to about $43 billion together. The average claim amount was about $41,000 in that time period. The 2005 hurricane season, which included Hurricane Katrina, accounted for almost $16 billion in claims alone.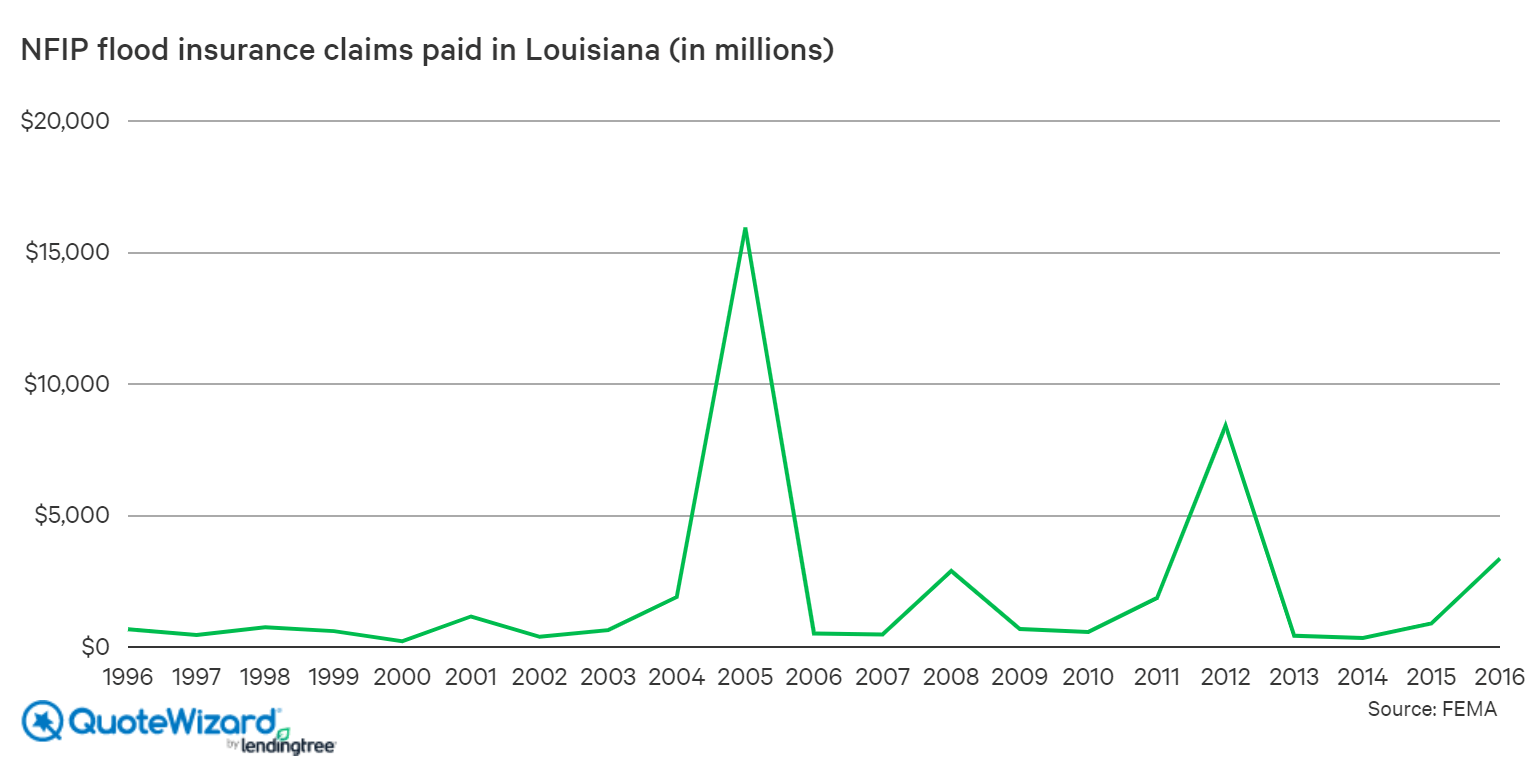 Louisiana floods regularly. Flood waters can come from the Mississippi River, the Red River, the Gulf of Mexico and many other water sources, including heavy rainfall. You do not need to live in an area FEMA designates as high risk to suffer flood damage. About a third of all disaster funds go to properties outside of high-risk areas, according to FEMA.
The bottom line is no matter what your area's history of flooding is, it can flood in the future. That means whether you're a renter or a homeowner, protecting your belongings and home with flood insurance is a great way to help you get back on your feet as quickly as possible after a disaster.
Methodology
We analyzed publicly available policy and claims datasets from FEMA. The average cost of flood insurance was found by dividing the total written premiums by the policies in force.
Data regarding writers of federal flood insurance policies and demographics came from S&P Global Market Intelligence.
QuoteWizard.com LLC has made every effort to ensure that the information on this site is correct, but we cannot guarantee that it is free of inaccuracies, errors, or omissions. All content and services provided on or through this site are provided "as is" and "as available" for use. QuoteWizard.com LLC makes no representations or warranties of any kind, express or implied, as to the operation of this site or to the information, content, materials, or products included on this site. You expressly agree that your use of this site is at your sole risk.