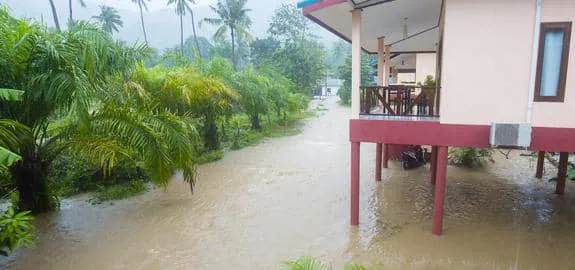 Much of California is a high-flood risk. California state government does not require homeowners to have a flood insurance policy. However, depending on the type of flood zone you home is in, your mortgage lender might. Homeowners insurance doesn't cover flood damage, so your lender needs some way to make sure their investment is covered.
Flood insurance can cover your home and belongings from damage caused by a flood, saving you hundreds of thousands of dollars. Flood insurance can often be bought either through a federal government program or through private flood insurers. There can be some coverage limit and cost differences between the two, but mortgage lenders do tend to trust government flood insurance more.
This article will address:
What does flood insurance in California cost?
California flood insurance has an average yearly premium of $806. If you live in one of California's high-risk flood zones, you can expect higher premiums from either the National Flood Insurance Program (NFIP) or private insurers. Premiums from either can be in the $1,500-$5,500 range annually in California's high-risk flood zones.
If you live in a low to moderate flood zone in California, you're looking at an average annual premium for flood insurance of $450. Many private insurers have flood insurance calculators you can use to estimate your cost.
Below is a graph showing the 10 largest cities in California, the average annual premium for NFIP flood insurance in each state, and the number of flood insurance policies in effect in each:
City
Average annual cost per policy
Number of policies

Los Angeles

$621

9,838

San Diego

$1,062

3,020

San Jose

$900

6,878

San Francisco

$565

167

Fresno

$823

291

Sacramento

$436

43,423

Long Beach

$1,258

3,035

Oakland

$814

602

Bakersfield

$506

496

Anaheim

$792

470

Source: FEMA.gov
As you can see, depending on different factors you could be paying almost double for flood insurance than the state average. These factors include:
The age of your home
The home's construction type
How close you are to water
The elevation of the house
The rebuild value of the home
Flood insurance coverage in California
Flood insurance protects your home's structure and your belongings from damage resulting from a declared flood in California. The National Flood Insurance Program (NFIP) is the Federal Emergency Management Agency (FEMA) program that provides the majority of flood insurance policies in the country.
NFIP flood insurance will cover your dwelling structure at replacement cost or actual cash value (ACV), while your belongings are covered at ACV. Replacement cost means that damages to your home will be repaired up to policy limits without depreciation being a factor. ACV means your possessions will be replaced based on what they're worth after depreciation.
In order for your home to qualify for replacement cost coverage, the following criteria needs to be met:
The house is a single-family home
You live in the house at least 80% of the year
Your flood insurance dwelling coverage meets at least 80% of the replacement cost of your home, or the max amount available for the home under NFIP limits.
If your home does not meet these three criteria, your flood insurance will pay out dwelling claims at ACV.
Do I need flood insurance in California?
Every county in California has had a flood disaster declared more than once in the history of the state. The Central Valley frequently floods due to river overflow. Aging dams are a prime danger in California, as well. In 2017, the Oroville Dam failure ended in almost 200,000 people being evacuated and a repair bill of more than $500 million.
There's also a high chance of flooding along the coast of California when high tides and large storms or tsunamis occur. In 2011, the 9.0 earthquake in the Tohoku region of Japan created tsunami currents that did over $100 million in damage to 27 harbors along California's coastline.
Even in California's deserts, areas damaged by wildfire have a higher chance of flash floods. Unless you're on top of a mountain, your home is at risk for flood in California. UCLA recently did a study that indicates that flooding in California will only get worse due to climate change within the century, so the situation could get worse before it gets better.
The best way to see what kind of flood risk your home is at is to check the FEMA flood map online for California. Your home will either be in a high-risk or a moderate- to low-risk zone.
High-risk flood zones
Areas in California with a 1% chance of flooding, also known as "base flood" or "100 year flood" zones, are classified as high-risk. They are:
Zone A
Zone AH
Zone AO
Zone A99
Zone V (coastal areas)
These zones have a 25% chance of flooding during a 30-year mortgage. Mortgage lenders tend to require flood insurance in these areas.
Moderate to low-risk flood zones
The following zones in California have a .02% or lower risk of a flood occurring:
If your house is in any of the above three types of flood zones, it is unlikely that your mortgage lender will require you to get flood insurance. California has no state laws on the books requiring homeowners to purchase flood insurance either.
That said, unless you are far from the coast or a river, dam or levee or at a high elevation, it's not a bad idea to invest in flood insurance. Again, home insurance does not cover flood damage when it occurs. Also, a low risk of floods means a low chance of getting help from FEMA until a presidential disaster notice is issued.
Where to get flood insurance in California
When shopping for flood insurance, look for the best combination of price and coverage. Here's a list of some of California's best providers of flood insurance:
Allstate
Aon Edge
Assurant Flood Solutions
Farmers
GEICO
The Hartford
Metlife
Travelers
USAA
NFIP coverage vs. private market flood insurers
NFIP coverage has two policy types: one with a max limit of $250,000 and one for dwelling coverage and $100,000 for personal property. They can be purchased separately or together. If you get a Preferred Risk Policy, you have the option to buy both policy types combined. However, deductibles for dwelling and personal property coverage are always paid separately.
Private flood insurance providers have some more leeway than NFIP providers. Private insurers can offer federal flood insurance at higher coverage limits with fewer add-on costs and sometimes lower premiums. Also, private flood insurers can offer Additional Living Expenses (ALE) coverage where the federal insurance does not.
You should keep in mind, however, that mortgage lenders are hesitant about accepting flood insurance from private insurance companies. A key reason for this is that private flood insurance can be dropped or cancelled, or even become nonexistent if the private insurer goes bankrupt. With the 30-day wait for a new flood insurance policy to kick in, this puts your home (and their investment) at serious risk.
QuoteWizard.com LLC has made every effort to ensure that the information on this site is correct, but we cannot guarantee that it is free of inaccuracies, errors, or omissions. All content and services provided on or through this site are provided "as is" and "as available" for use. QuoteWizard.com LLC makes no representations or warranties of any kind, express or implied, as to the operation of this site or to the information, content, materials, or products included on this site. You expressly agree that your use of this site is at your sole risk.