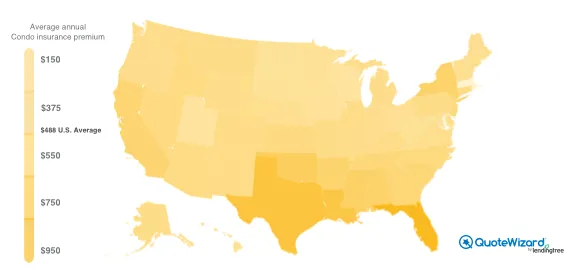 At an average of $41 a month in the U.S., condo insurance is an affordable protection for your belongings that also provides valuable liability and additional cost of living coverages. Whether you're buying condo insurance for the first time or looking to switch providers, getting a sense of average premiums can help you estimate rates and prevent you from overpaying. That's why we compiled average condominium insurance rates by state and coverage amount.
How much is HO-6 condo insurance in my state?
Our research took only HO-6 insurance policies into account, which are condo insurance policies. We saw average rates for condo insurance ranging from $249 a year in Wisconsin to $942 a year in Florida. The table below shows how your state compares to the national average.
Condo insurance rates by state
State
Average annual cost
Average monthly cost
Rank
Difference from U.S. average ($488)
Alabama
$540
$45
6
11%
Alaska
$374
$31
29
-23%
Arizona
$389
$32
22
-20%
Arkansas
$518
$43
8
6%
California
$501
$42
9
3%
Colorado
$381
$32
24
-22%
Connecticut
$392
$33
21
-20%
Delaware
$406
$34
19
-17%
District of Columbia
$367
$31
-
-25%
Florida
$942
$79
1
93%
Georgia
$473
$39
11
-3%
Hawaii
$293
$24
45
-40%
Idaho
$405
$34
20
-17%
Illinois
$382
$32
23
-22%
Indiana
$345
$29
34
-29%
Iowa
$279
$23
48
-43%
Kansas
$413
$34
17
-15%
Kentucky
$381
$32
25
-22%
Louisiana
$736
$61
3
51%
Maine
$330
$28
39
-32%
Maryland
$308
$26
42
-37%
Massachusetts
$441
$37
14
-10%
Michigan
$353
$29
33
-28%
Minnesota
$299
$25
44
-39%
Mississippi
$570
$48
5
17%
Missouri
$377
$31
27
-23%
Montana
$373
$31
30
-24%
Nebraska
$332
$28
38
-32%
Nevada
$409
$34
18
-16%
New Hampshire
$316
$26
40
-35%
New Jersey
$437
$36
15
-10%
New Mexico
$381
$32
26
-22%
New York
$540
$45
7
11%
North Carolina
$428
$36
16
-12%
North Dakota
$287
$24
47
-41%
Ohio
$315
$26
41
-35%
Oklahoma
$604
$50
4
24%
Oregon
$345
$29
35
-29%
Pennsylvania
$377
$31
28
-23%
Rhode Island
$465
$39
12
-5%
South Carolina
$483
$40
10
-1%
South Dakota
$288
$24
46
-41%
Tennessee
$457
$38
13
-6%
Texas
$771
$64
2
58%
Utah
$253
$21
49
-48%
Vermont
$339
$28
36
-31%
Virginia
$338
$28
37
-31%
Washington
$360
$30
32
-26%
West Virginia
$305
$25
43
-38%
Wisconsin
$249
$21
50
-49%
Wyoming
$361
$30
31
-26%
U.S. average
$488
$41
-
-
Source: National Association of Insurance Commissioners
As you can see, location substantially affects condo insurance rates. Additionally, all companies aren't the same: premiums vary between them. For our top company picks, check out our guide to the best condo insurance companies.
How much is condo insurance by coverage amount?
Higher coverage amounts generally entail more expensive premiums. The table below shows how the average cost of condo insurance changes with coverage, which in this case means wall-in or dwelling coverage.    
Condo insurance rates by coverage amount
Coverage amount
Average annual cost
<$13,999
$367
$14,000–$19,999
$351
$20,000–$25,999
$424
$26,000–$31,999
$387
$32,000–$37,999
$389
$38,000–$43,999
$415
$44,000–$49,999
$402
$50,000–$74,999
$459
$75,000–$99,999
$521
>$100,000
$837
Source: National Association of Insurance Commissioners
Although this table can help you estimate your condo insurance rates, everyone's situation is unique. The amount of coverage you need changes depending on how much property you have and the extent of your homeowners association's, or HOA's, master insurance policy. Your insurance should fill in the gaps left by your building's master insurance policy. The more comprehensive the HOA's master insurance policy is, the less individual coverage you need.
Average condo insurance cost over time
An increase in insurance rates is expected over time, and condo insurance is no exception. From 2003 to 2017, premiums increased an average of 4%, or about $16 per year.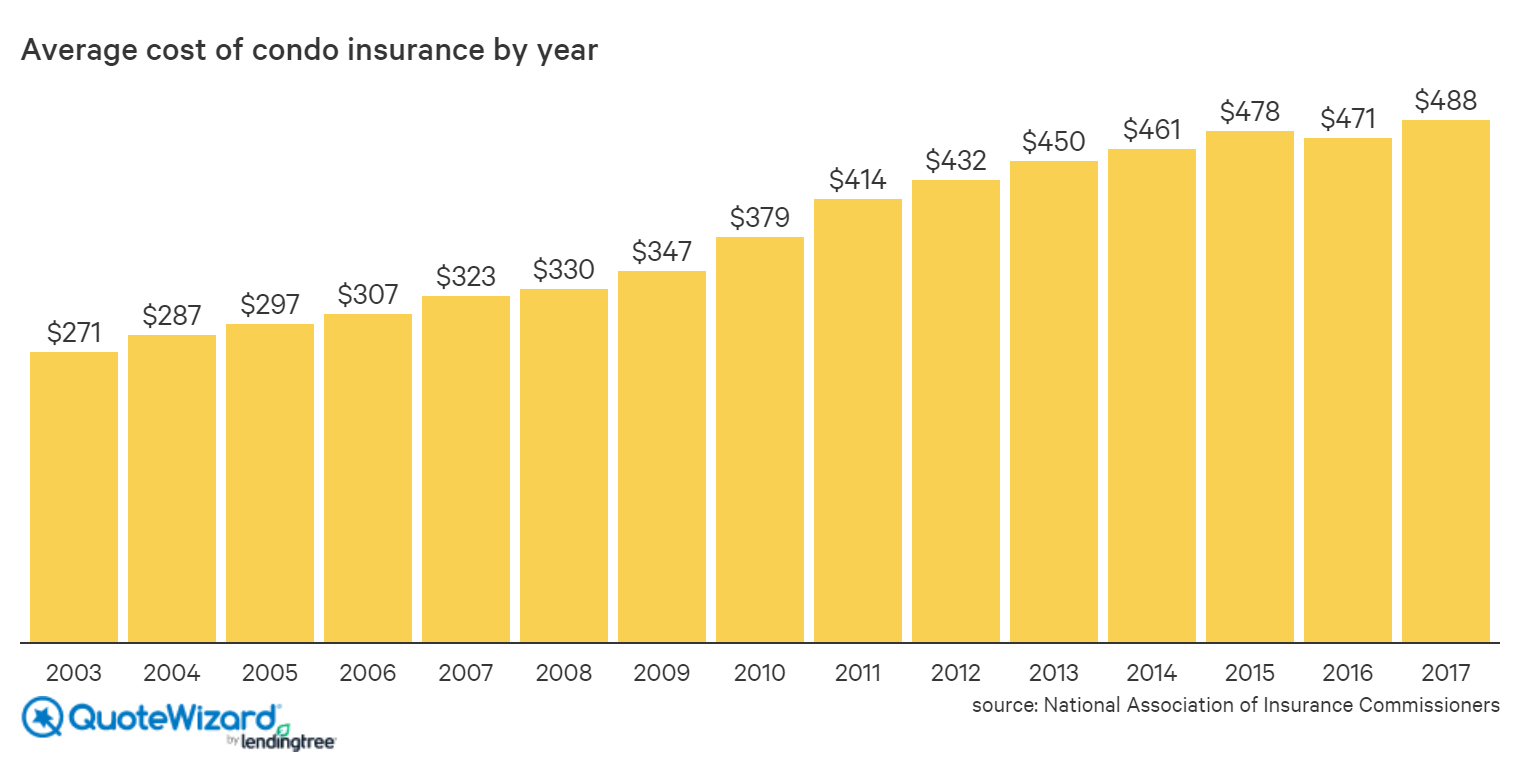 That means if you see your rates rising faster than they typically do according to this graph, it may be time to consider switching insurers.
Condo insurance rate factors
We've shown that location and coverage are big factors in how insurance companies set their rates for condo insurance, but what else goes into your rates? Generally, things that make your profile appear higher risk to an insurer mean more expensive premiums. Below are just a few of the variables your insurance company might consider.
Age and condition of your unit: If you live in a new condo or co-op unit, your premiums will likely be lower compared to an older unit. Some insurers even give discounts on top of lower rates to folks living in newer units. That's because old condominiums can be more vulnerable to damage from perils such as wind and plumbing leaks.
Deductible: Higher deductibles mean lower rates because the higher your deductible is, the less your insurance company is responsible for after a loss. Raising your deductible is a good way to save money on your insurance, but make sure that you are always prepared to pay your deductible amount. If you are more risk averse or you don't have an emergency fund, you may want to keep your deductible low.
Claims history: If you've made a claim in the past five to seven years, you may see higher rates. Your claims history is recorded on your CLUE report for up to seven years. When an insurance company is considering writing you a policy, it often looks at your CLUE report to evaluate how frequently you make claims.
Credit score: Regulations vary by state, but insurance companies are often allowed to take your credit score into account when determining your insurance rates. People with good credit are considered to have a lower risk profile than those with poor credit, which means you may pay higher rates if you have bad credit. One of the reasons for that is that good credit indicates a history of making payments on time, which the insurance company would want.
What does a condo insurance policy cover?
A standard HO-6 condo insurance policy usually contains five coverages.
HO-6 coverages

| Coverage | What it covers | When you might need it |
| --- | --- | --- |
| Dwelling (coverage A) | Your unit, such as its walls, fixtures and appliances | A burst pipe damages your wood floor |
| Personal property (coverage C) | Your belongings | A fire damages your couch and rug |
| Loss of use (coverage D) | Additional living expenses if you are unable to remain in your home | A windstorm blows in your windows and you must spend a week in a hotel |
| Personal liability (coverage E) | Legal and medical costs if you are sued for bodily or property damage | Your child throws a baseball through a neighbor's window |
| Medical payments to others (coverage F) | Medical costs if a guest is injured in your home | A dinner guest slips and is injured |
Most insurance companies let their customers tailor their coverages to fit their needs. For example, you may need to increase your personal property limit if you have high-value belongings. The amount of coverage you need from your policy also depends on which of the three types of master insurance policies your HOA has, which we've outlined below.
Types of condo master insurance policies
Bare walls coverage is the most basic type of master insurance policy and is often called studs-out coverage. It does not cover any part of the interior of your unit, such as your floors, walls and appliances. It does, however, cover common spaces in the building, such as hallways. If your HOA has a bare walls policy, you should be sure that your personal insurance policy sufficiently covers your belongings and structure of your unit.
Single entity policies provide wider coverage than bare walls but are less common. You can think of single entity policies as covering everything in your unit before you moved in — appliances, floors, walls and fixtures, for example. However, single entity coverage does not cover improvements to your unit, such as an upgraded washing machine.
All-in coverage is the most comprehensive type of master insurance policy. It covers everything that single entity policies do, with the addition of improvements made to the condo.
As an example, if your HOA has "bare walls" coverage, the interior of your unit, including your floors, walls and countertops, won't be covered. That means your own insurance should have a coverage amount that covers these items. On the other hand, if your HOA has all-in coverage, you won't need to have coverage for your dishwasher because your HOA's policy covers it.
Keep in mind, HOA master insurance policies never provide personal property, loss of use, liability or medical payments to others coverages. That means that even if your HOA has the most comprehensive type of master policy, we still recommend purchasing condo insurance.
Methodology
We compiled and analyzed publicly available data from the National Association of Insurance Commissioners based on its 2019 "Dwelling Fire, Homeowners Owner-Occupied, and Homeowners Tenant and Condominium/Cooperative Unit Owner's Insurance Report: Data for 2017," as well as archived reports from past years. We only considered the HO-6 policy type.
QuoteWizard.com LLC has made every effort to ensure that the information on this site is correct, but we cannot guarantee that it is free of inaccuracies, errors, or omissions. All content and services provided on or through this site are provided "as is" and "as available" for use. QuoteWizard.com LLC makes no representations or warranties of any kind, express or implied, as to the operation of this site or to the information, content, materials, or products included on this site. You expressly agree that your use of this site is at your sole risk.