Compare Homeowners Insurance in Alabama
If you own a home in Alabama or are looking to buy one, home insurance costs a bit more than other parts of the country. Homeowners insurance in Alabama runs an average of $1,351 — $136 over the national average premium of $1,215. We studied the home insurance market in Alabama to help you find your best rate. In looking at what different insurers offered in terms of premiums, offerings and customer satisfaction, these companies stood out:
How much does home insurance cost in Alabama?
The average home insurance premium in Alabama is $113 a month. Alabama's home insurance rates are higher than the national average because of their extremely high number of tornado occurrences. Alabama consistently falls in the top 10 states for tornadoes year after year.
The table below shows the changes in Alabama's homeowners insurance rates between 2015 and now. The average premium has gone up and down, but currently Alabama enjoys it's lowest average home insurance rates in the last few years.
Average cost of home insurance in Alabama
 
Today
2017
2016
2015
Alabama annual average
$1,351
$1,433
$1,386
$1,358
Alabama average price per month
$113
$119
$115
$113
U.S. annual average
$1,215
$1,211
$1,192
$1,173
U.S. price per month
$101
$101
$99
$98
Average rates for today are based on non-binding estimates provided by Quadrant Information Services. Your rates may vary. Data from 2015-2017 sourced from NAIC.
Cheapest home insurance companies in Alabama
Insurance rates in Alabama vary quite a bit between different companies. We found Allstate is the cheapest home insurer in AL with annual rates of $621, significantly lower than the state average of $1,351. Liberty Mutual had the highest rates at $2,391 a year. Since rates are so different between insurers, it's important to compare home insurance quotes.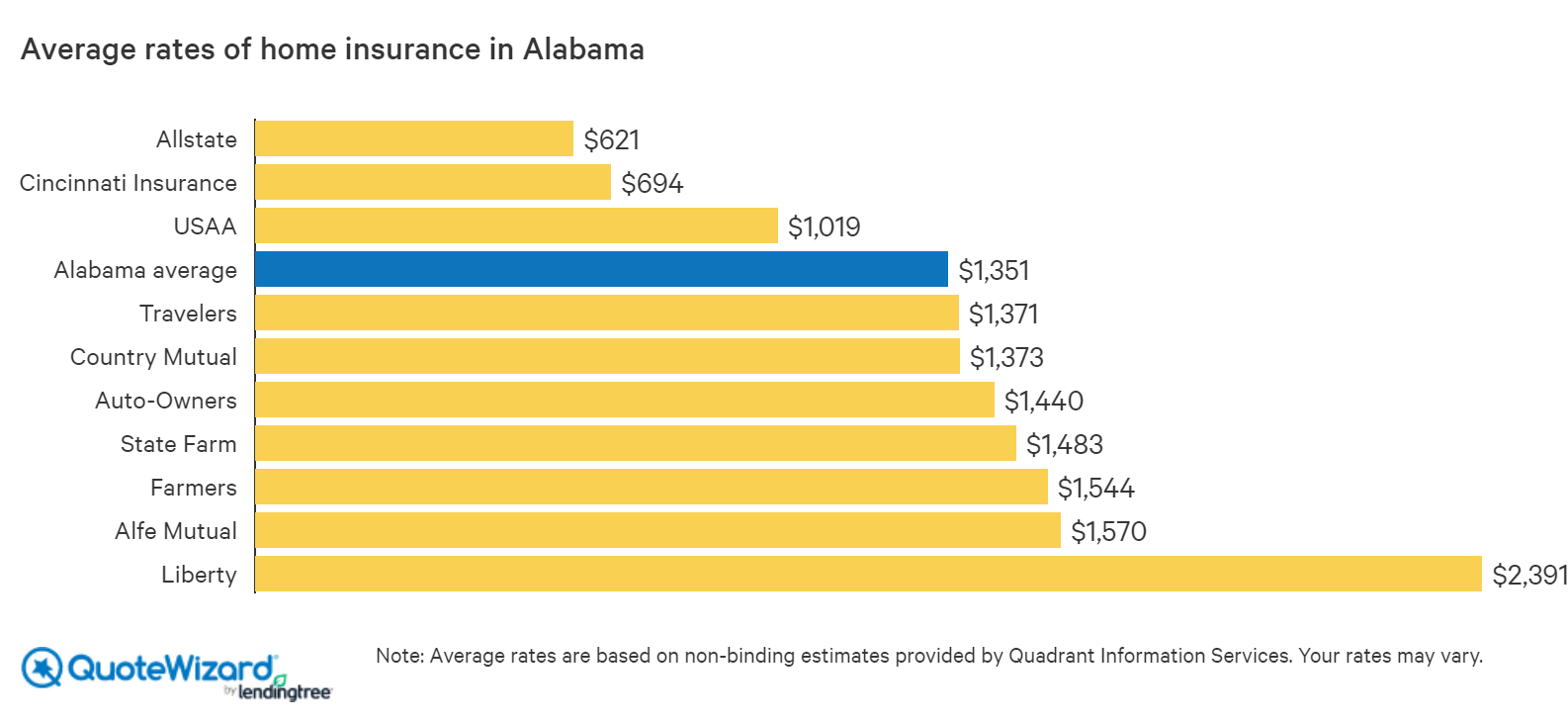 Best home insurance companies in Alabama
Allstate, USAA, Auto-Owners and State Farm stand out as our choices for best home insurance companies in Alabama. Here's why:
Allstate: Cheapest homeowners insurance
Alabama Allstate home insurance policyholders pay a yearly average of $621. This is less than half the state homeowners insurance average of $1,351.
If you're looking to reduce your home insurance premium even further, talk with an Allstate agent. Allstate offers numerous discounts to lower your home insurance payments. You could save hundreds of dollars if you are retirement age, bundle your home insurance with your life or auto insurance or update the security system in your home.
Also A.M. Best, an international credit rating agency with an emphasis on the insurance industry, gives Allstate an A+ for financial strength. The combination of reliable claims payout and low premium prices puts Allstate in a strong, consistent place in the Alabama home insurance scene.
State Farm: Most popular
State Farm holds 28.18% of the Alabama home insurance market. The next highest ranker for market shares, Alfa Mutual, has less than half that at 12.13%. This becomes even more impressive when you consider that State Farm's average home insurance premium in Alabama ($1,483) is higher than the state's overall average of $1,351.
A contributing factor to State Farm's wide base of home insurance policyholders, despite their high premium cost, may be the service State Farm provides. J.D. Power gave State Farm an above-average four out of five stars for customer service in their 2019 U.S. home insurance study. This puts State Farm in the top five of the 24 home insurance providers J.D. Power looked at for best customer satisfaction.
USAA: Best for veterans
USAA stands out amongst home insurance providers in that they provide insurance products solely to members of the armed services, both active duty and retired, and their families. That makes them ideal for the 400,000+ veterans that call Alabama home.
USAA home insurance has an average yearly premium of $1,019 in Alabama, which puts them significantly below the state average of $1,351. On top of offering a competitive home insurance rate, they have first-class claim services. J.D. Power consistently gives them their highest rating for customer satisfaction year after year.
Another major savings point with USAA is the option to bundle. In 2016, the most current available data point, USAA policyholders saved $519 million by bundling their home insurance policy with their auto or life insurance.
Farmers: Best eco-friendly home insurance
While Farmer's average homeowners insurance rate of $1,544 is a bit above the state premium average, they do offer some of the best incentives for policyholders who want to "go green." Farmer's "Eco-Rebuild" endorsement includes:
Up to $25,000 towards the cost of using qualifying "green" materials and appliances to rebuild your home.
Covering the cost of upgrading damaged dwelling property to meet Energy Star requirements if your home qualifies.
Reimbursement for recycling debris that occurs due to damage to the home.
Farmer's average home insurance rate of $1,544 in Alabama is above the state's average rate, but their stats show they are still a favorite amongst Alabama homeowners. They received a solid A rating for overall satisfaction in J.D. Power's 2019 home insurance study. Furthermore, they have a .21 ranking on the NAIC Complaint Index, well below the average ranking of .39 amongst Alabama home insurance providers.
Biggest homeowners insurance companies in Alabama
Here's a snapshot of the homeowners insurance market in Alabama:
Home insurance companies in Alabama at a glance
Company
Market share
2019 J.D. Power customer satisfaction ranking
NAIC Complaint Index
Allstate
5.38%
3/5
0.29
Cincinnati Insurance
2.11%
-
0.17
USAA
1.97%
5/5
0.21
Travelers
3.59%
2/5
0.56
Country Mutual
1.97%
-
0.12
Auto-Owners
2.51%
4/5
0.36
State Farm
28.18%
4/5
0.2
Farmers
2.40%
3/5
0.21
Alfa Mutual
12.13%
-
0.38
Liberty
1.58
2/5
0.53
Note: Average rates are based on non-binding estimates provided by Quadrant Information Services. Your rates may vary.
Home insurance rates in Alabama by city
Homeowners insurance rates in the largest Alabama cities don't share a wide disparity like they can in other states. Hoover, Ala., has the lowest average home insurance rate of the cities we looked at, with $1,060, while Birmingham, which is also the largest city in Alabama, has an average home insurance rate of $1,264.
Average yearly homeowners insurance premium by city
City
Average annual homeowners insurance cost
Birmingham
$1,264
Huntsville
$1,225
Montgomery
$1,162
Mobile
$1,665
Tuscaloosa
$1,259
Hoover
$1,060
Dothan
$1,248
Auburn
$1,180
Decatur
$1,216
Madison
$1,181
Note: Average rates are based on non-binding estimates provided by Quadrant Information Services. Your rates may vary.
Home insurance rates in Alabama by county
Here's an overview of homeowners insurance rates by county in Alabama. The price disparity between home insurance premiums in Alabama is wider on the county level than on the city level. Shelby County, Ala., has the lowest average home insurance premium at $1,104. Washington County, Ala., tops out at $1,831.
Average yearly homeowners insurance premium by county
County
Average annual homeowners insurance cost
Autauga
$1,261
Baldwin
$1,669
Barbour
$1,372
Bibb
$1,254
Blount
$1,331
Bullock
$1,516
Butler
$1,366
Calhoun
$1,297
Chambers
$1,266
Cherokee
$1,373
Chilton
$1,218
Choctaw
$1,420
Clarke
$1,403
Clay
$1,285
Cleburne
$1,269
Coffee
$1,349
Colbert
$1,302
Conecuh
$1,416
Coosa
$1,270
Covington
$1,441
Crenshaw
$1,360
Cullman
$1,274
Dale
$1,309
Dallas
$1,437
Dekalb
$1,347
Elmore
$1,202
Escambia
$1,529
Etowah
$1,279
Fayette
$1,359
Franklin
$1,383
Geneva
$1,426
Greene
$1,570
Hale
$1,312
Henry
$1,304
Houston
$1,299
Jackson
$1,343
Jefferson
$1,233
Lamar
$1,334
Lauderdale
$1,340
Lawrence
$1,367
Lee
$1,162
Limestone
$1,239
Lowndes
$1,522
Macon
$1,339
Madison
$1,240
Marengo
$1,343
Marion
$1,429
Marshall
$1,335
Mobile
$1,691
Monroe
$1,455
Montgomery
$1,186
Morgan
$1,257
Perry
$1,570
Pickens
$1,299
Pike
$1,297
Randolph
$1,300
Russell
$1,291
Shelby
$1,104
St. Clair
$1,263
Sumter
$1,507
Talledega
$1,285
Tallapoosa
$1,208
Tuscaloosa
$1,257
Walker
$1,476
Washington
$1,831
Wilcox
$1,466
Winston
$1,519
Note: Average rates are based on non-binding estimates provided by Quadrant Information Services. Your rates may vary.
Homeowners insurance perils in Alabama
Alabama faces severe weather and geographical dangers that put homes there at great risk. In some cases, prevention can go a long way towards reducing the threat. In other cases, such as sinkholes, you should consider insurance coverage to handle as much of the damage cost as possible.
Tornadoes
Tornado damage is covered under standard home insurance coverage; however, you should not rely on insurance coverage alone to protect your home against tornado damage. A severe tornado can render your home unlivable while it's being repaired.
While your homeowners insurance policy's additional living expense coverage can provide a roof over your head while it's being fixed, prevention is key. Reinforcing your roof, as well as installing tornado doors and windows, can go a long way towards shielding your house from severe damage.
Flood
Flood damage is one of the perils that is not covered by standard home insurance. The Federal Emergency Management Agency (FEMA) does provide flood insurance coverage through their National Flood Insurance Program (NFIP). NFIP flood insurance can be purchased through insurers who take part in the program, as well as through some independent insurance providers.
Sinkholes
Standard home insurance doesn't cover sinkhole damage, but sinkhole insurance is available as an add-on endorsement to your homeowners insurance. Some forms of sinkhole causation, such as man-made mine collapse, may be excluded from a sinkhole insurance policy. Speak to your home insurance provider and see what your options are.
Methodology
We compiled quotes for every ZIP code in Alabama from 10 of the top insurers. We based our analysis on Allstate, Cincinnati Insurance, USAA, Travelers, Country Mutual, Auto-Owners Insurance, State Farm, Farmers, Alfa Mutual and Liberty policy data. Quotes were for a home worth $155,070, built in 1982 and owned by a 58-year-old. These are the median home value, construction date and homeowner age in Alabama.
We picked the insurers for our study using S&P Global Market Intelligence, which ensures results as localized to Alabama as possible. The largest subsidiary in Alabama of every insurer was taken as a representative for the company.
QuoteWizard.com LLC has made every effort to ensure that the information on this site is correct, but we cannot guarantee that it is free of inaccuracies, errors, or omissions. All content and services provided on or through this site are provided "as is" and "as available" for use. QuoteWizard.com LLC makes no representations or warranties of any kind, express or implied, as to the operation of this site or to the information, content, materials, or products included on this site. You expressly agree that your use of this site is at your sole risk.