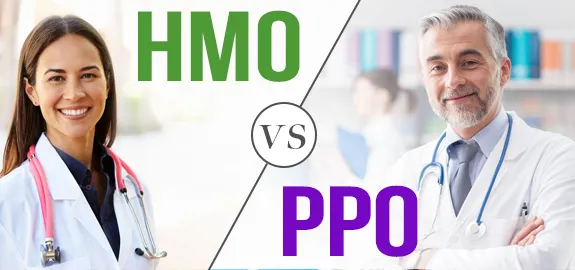 For many people, the most important question they have when looking for a health insurance plan is "Can I keep my current doctor" or "Which doctors can I see under this plan?"
To answer that question, you need to know about the plan's "provider network" – the list of the doctors, hospitals, pharmacies and other health care providers the plan has signed up to provide medical care to its members.
The two most common types of provider networks are HMOs (health maintenance organizations) and PPOs (preferred provider organizations). When you shop for a health insurance plans, you will see these terms used to describe the type of plan being offered.
The trade-off: Costs vs. choice of doctors
Generally, when you consider which type of plan to buy you are facing a trade-off between cost and choice:
HMO plans may be less expensive, but they may have a smaller number of doctors in their network.
PPO plans may be more expensive but they may offer you more doctors to choose from. There are also some other differences, so let's take a closer look at the two types of plans.
What's an HMO? Health Maintenance Organization
With an HMO, you are usually required to get your care from doctors and other health care providers who work for or contract with the health plan (except in an emergency). If you want to see a doctor who is not in the HMO's provider network, you may have to pay the full cost of the care or services that you get. The plan's doctors, hospitals and other providers may be concentrated in a specific geographic area, so you may need to live or work in its service area to be eligible for health insurance coverage. (However, most plans offer options for coverage when you are travelling.)
The number of doctors in the HMO's network may be smaller than the number of doctors in a PPO network. If your current doctor is in the HMO's provider network, or if you don't currently have a regular doctor, an HMO may be a good choice for you. The plan's customer service representatives can usually help you find a doctor in the network who is a good match for you.
Another important thing about HMOs is that usually you must choose one doctor who is considered your "primary care provider." That doctor coordinates your care with other doctors or services if needed (except in an emergency.) If you want or need to see a specialist, your primary care doctor must give you a referral to see that specialist.
For example, if you woke up with severe back pain, you would first go to your primary care doctor, who'd examine you. If your doctor determined you needed additional care, he or she would refer you to a spine specialist.
Keep in mind that in cases of serious emergency, you can usually go to any doctor, emergency room or hospital that is nearest to you, and the visit will be covered by your plan. You do not need to see a doctor in the HMO network if you have an emergency.
What's a PPO? Preferred Provider Organization
PPO plans generally give you a larger choice of doctors and other providers you can see. If you choose to see "in-network" providers -- "preferred" providers that are part of the plan's network -- you'll pay less. But with PPOs, you can also see "out-of-network" providers. You'll pay more – a greater percentage of the total cost of the visit – but you will not have to pay the entire cost, as you would with an HMO if you went outside the network.
So, with a PPO, you can see any doctor you want, although you'll pay a greater share of the cost if the doctor is not in the plan's network. If you already have a doctor that you like and want to keep, you should check to see whether that doctor is in the PPO's provider network (in-network).
Also, with a PPO, you generally don't have to select a primary care doctor and you can see a specialist without a referral. If you woke up with serious back pain, you could make an appointment with a spine specialist immediately, without first seeing a primary care doctor.
A PPO example: in-network vs. out-of-network doctors
While PPOs do allow you to see almost any doctor you want, if you go outside the plan's preferred provider network, it could be costly. Here's an example* of the how costs could vary in a PPO plan, depending on whether you go to an in-network or an out-of-network doctor:
Let's say you go to an in-network specialist for a service or procedure that costs $1,000 total. Under this example, you'd pay only a $40 co-pay for this visit. If you go to an out-of-network specialist for the same service, you'd pay 30% of the cost, or $300.
*This is a hypothetical example and does not refer to any specific or typical PPO plan. Various plans could have different cost-share structures. For some plans, the difference between in-network costs and out-of-network costs could be less; for some plans, it could be more. Some plans may also have deductibles and other "cost shares" that could affect how much you would pay.
How to find out which doctors are covered in a health plan: the provider directory
Before you decide on any health insurance plan, you should check to see if the doctors, pharmacies, hospitals and other health care providers you may want to use are in the plan's provider network.
Nearly all health plans have an online or a paper directory that lists all the doctors and other providers in their network. Usually, you can search for a doctor by type (family doctor, pediatrician, geriatric specialist, dermatologist, etc.), by the doctor's or facility's name, by location, and by other criteria, such as gender or languages spoken. Most provider directories provide a photo of the doctor and information about their education, experience and philosophy of care.
And if you need help, you can always call the health plan company's customer service department and ask them about which doctors are covered by their plans.
HMO vs. PPO FAQ
Q. What are the main differences between an HMO and a PPO?
A. There are two primary differences.
First, with an HMO you are allowed to see only a limited list of doctors within the plan's provider network. If you see doctors outside the network, you will pay the full cost of any care or services. With a PPO, there is usually a larger network of doctors. And you can see doctors outside the network, but if you do, you will pay more, but still not the full cost.
The other difference is that with an HMO, you must have a primary care doctor who coordinates your care. If you want to see a specialist, such as a dermatologist, a cardiologist or a physical therapist, you need a referral from your primary doctor. With a PPO, you do not need a referral to see specialists. You can make appointments with specialists directly, on your own.
Q. If HMOs have a smaller network of doctors, why would I want to consider an HMO plan?
A. HMOs strive to manage and coordinate care to reduce costs. This means that HMO plans are often less expensive than PPO plans. In addition, they often focus on wellness and preventive care.
Some people like the concept of managed and coordinated care. They trust their doctors to help them make the best decisions for their health.
Q. Why do some people prefer PPO plans?
A. The biggest advantages of PPO plans are choice and flexibility. You can see almost any doctor you want, without a referral. But be aware that if you see an out-of-network doctor, you may have to pay a much larger share of the cost.
Some people consider HMOs to be too restrictive.
Q. I have a doctor I've been going to for years. I need to change health plans but I want to keep my doctor. What can I do?
A. When considering a health plan, check to see if your doctor is in its provider network. There are three easy ways to do this:
Ask your doctor's staff if the doctor is part of that plan's network.
Call the health insurance company's customer service line to ask if your doctor is part of the network.
Check the company's provider directory – it's usually online. You can search for your doctor by name.
Q. What do I do if I'm travelling across the country and have a health issue? Can I see a doctor not in my network?
A. With an HMO, you can see doctors outside the network for emergencies. But be aware, the definition of an emergency may be limited. For example, a sore throat may not be considered an emergency. Most HMOs also have some provisions for seeing other doctors when you travel. You should call your plan's customer service line before leaving on a trip to make sure you know what to do if you have a health issue while travelling.
PPOs often have separate nationwide network of doctors you can see while travelling. Again, check with customer service before you leave on a trip or contact them before you get medical care when you are travelling.
References:
QuoteWizard.com LLC has made every effort to ensure that the information on this site is correct, but we cannot guarantee that it is free of inaccuracies, errors, or omissions. All content and services provided on or through this site are provided "as is" and "as available" for use. QuoteWizard.com LLC makes no representations or warranties of any kind, express or implied, as to the operation of this site or to the information, content, materials, or products included on this site. You expressly agree that your use of this site is at your sole risk.