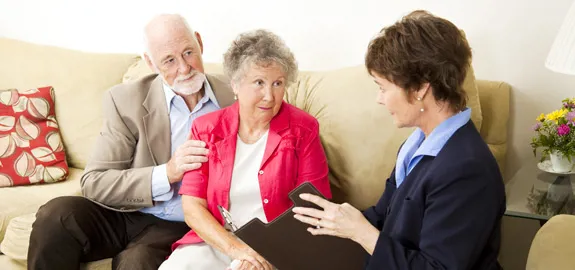 You don't have to do much digging to figure out why so many people use Google to answer questions like, "does health insurance cover Alzheimer's care?"
First, a lot of people the world over are living with Alzheimer's disease or some other form of dementia. According to the World Health Organization (WHO), about 47 million people currently have dementia, and that number's expected to skyrocket in the coming years. By 2030, it could hit 75 million; by 2050, 132 million. At the moment, someone is diagnosed with dementia every three seconds.
Even the number of people living with Alzheimer's disease--the most common type of dementia--is eye-opening. The Alzheimer's Association estimates 5.5 million Americans alone have the disease. That figure may soar to 16 million or more by 2050.
Those statistics are bad--and shocking--enough all on their own. Combine them with a few others, though, and an even scarier picture emerges.
For example, Alzheimer's disease is the sixth-leading cause of death in the U.S. It kills more people here than breast cancer and prostate cancer combined.
Also, unlike the rest of the top 10 causes of death among Americans, there's no way to prevent, cure, or slow down Alzheimer's at the moment.
Alzheimer's and other forms dementia don't just kill millions of people every year, though. They also do their best to drain their bank accounts, and the bank accounts of loved ones, along the way.
A case in point: the WHO puts the worldwide cost of caring for people with dementia at over $800 billion per year. Worse, it says that amount could increase even faster than the number of people battling the disease.
The situation doesn't look any better if you focus on the U.S. According to the Alzheimer's Association, dementia care currently costs Americans about $260 billion annually. By 2050, that number might top $1 trillion.
That's a lot of money no matter how you slice it. And it begs the question: how much of the costs associated with dementia care does (or will) health insurance cover?
Unfortunately, there's no easy answer. Some health insurance plans do a better job of covering these costs than others, but that's an overly simplistic look at the situation.
Keep reading to learn how specific types of health insurance do and don't pay for Alzheimer's and other dementia care.
Employer-Sponsored Health Plans and Dementia Coverage
Most people who develop dementia are older. In fact, of the 5.5 million Americans living with Alzheimer's right now, almost all of them are over 65. Only 200,000 are younger than that age.
Still, it's clear that, while uncommon, it's possible for to be diagnosed with Alzheimer's or other form of dementia long before you turn 65.
Finding out you have early-onset Alzheimer's or dementia while you're still working is devastating for many reasons. One is that it could force you to leave your job.
After all, Alzheimer's is a progressive disease. Its symptoms get worse, usually slowly, over a number of years. Even early on, though, it can cause memory loss and related issues.
Should this happen to you, here are the main kinds of health insurance that could help:
Group Disability Insurance
Companies and organizations offer these plans to employees. They're usually pretty affordable. That said, coverage varies wildly. In other words, don't assume the disability plan your employer makes available to you covers you if some form of dementia causes you to leave your job. Also, insurers place various limits on these plans. Specifically, they only pay out so much and for so long. So, read the fine print, and ask questions if it isn't clear.
Individual Disability Insurance
These plans are a good option if you can't get disability insurance through your job or if you don't like what your job offers. But costs and coverage vary here, too, so do your research and shop around before settling on a particular plan.
Supplemental Disability Coverage
This type of plan helps if you have group disability insurance but want more coverage. It also helps pay the bills not covered by your group disability plan.
COBRA
According to the Alzheimer's Association, this is another option to consider if dementia prompts you to walk away from the workplace. This law lets you keep your health insurance for 18 to 36 months after you leave a job. It's expensive, but if your current plan covers dementia care, it may be worth it.
For more information on this form of insurance, read our article, "COBRA Insurance: What You Need to Know."
Something to keep in mind with all of these health plans is they must be in place before Alzheimer's or dementia symptoms first appear. You probably won't be able to buy this kind of insurance after you're diagnosed. (In the case of COBRA coverage, you have to take advantage of it before you leave your job.)
If you're diagnosed with early-onset Alzheimer's disease or dementia, look into Social Security Disability Insurance (SSDI) as well. It provides Social Security disability payments to workers who are under 65. To qualify for SSDI, you have to meet the Social Security Administration's definition of disability.
Americans of any age with Alzheimer's or dementia should also look into Obamacare coverage, as well as Medicare and Medicaid. Here are explanations of all three--and long-term care insurance, too.
Obamacare and Alzheimer's Coverage
The Affordable Care Act, also known as the ACA or Obamacare, includes several provisions aimed at people of all ages who have dementia.
Most have to do with Medicare or Medicaid, however, rather than coverage average Americans can buy through the insurance marketplaces set up in the wake of the ACA's passage.
Medicare
First, some bad news: even taking into consideration the changes brought about by Obamacare's passage, Medicare doesn't cover the biggest expenses people with Alzheimer's or dementia tend to face. What does that mean? Basically, it doesn't cover most long-term care. It also doesn't cover prescription drugs. (Learn more about the supplemental plans that do cover drugs in this Medicare Part D article.)
On a more positive note, Obamacare changed Medicare in a few ways that benefit enrollees diagnosed with some form of dementia.
One is it now covers Annual Wellness Visits that evaluate patients for cognitive impairment. This helps people get diagnosed with dementia earlier than they were in the past. It should also allow them and their families to better plan their care moving forward.
Another change the ACA brought about is a pilot project that serves seniors who have an elevated risk of re-entering the hospital. This is one of the things associated with Alzheimer's disease and dementia that drives up the cost of care.
Other than that, Medicare covers the following aspects of dementia care:
inpatient hospital care
some doctors' fees and other medical items
up to 100 days in a skilled nursing or rehabilitation facility (only in certain situations, however)
end-of-life hospice care delivered in the home or in a nursing or inpatient hospice facility
It has to be noted that the inpatient hospital care and skilled nursing care mentioned here usually isn't directly related to a person's Alzheimer's or dementia diagnosis. Instead, these hospital stays often are tied to a bout of pneumonia or a fall that results in a broken bone.
Also, if you think you might have to rely on Medicare for assistance with dementia-related health bills, consider buying Medigap or MedSup coverage. Or choose a Medicare Advantage plan over Original Medicare (also known as Medicare Parts A and B).
Both forms of coverage can help pay for Alzheimer's and dementia care. Plans and benefits differ quite a bit. And so do premiums and other costs. So research your options carefully before you sign on the dotted line with a specific insurance company.
There's more to Medigap coverage and Medicare Advantage than you may think. Read through our "Medigap Insurance Policy FAQ" to educate yourself about the former. Also see this article, "When Does it Make Sense to Get a Medicare Supplement Plan?" This "Ultimate Guide to Medicare Advantage" tells you everything you need to know about those plans.
Medicaid
Perhaps surprisingly, Medicaid is more likely than Medicare to financially assist people who develop Alzheimer's or some other type of dementia.
This is because Medicaid, unlike Medicare, covers long-term care like extended stays in hospitals and skilled nursing facilities. It also covers some home health services.
Qualifying for Medicaid isn't as straightforward as it is for Medicare, unfortunately. To become eligible for Medicaid, you have to show a need for assistance with the "activities of daily living." You also must show a specific financial need.
Besides that, however, it isn't a simple task to list the specific ways Medicaid can help you if you're diagnosed with dementia. Although the federal government provides a bit of guidance related to Medicaid, individual states basically run the program as they see fit.
In other words, some provide residents with better and more extensive coverage for things related to dementia care than others. To find out how your state's program deals with dementia care, contact its Medicaid agency.
This is something to keep an eye on in the coming years--especially if you're nearing retirement age or believe you're at risk of developing Alzheimer's disease. Both federal and state budget cuts to Medicaid are more likely than ever,. And any change in this area could have a big impact on your ability to pay for dementia care.
Long-Term Care Insurance
Yet another option that can ease the pain of paying for Alzheimer's or dementia care is long-term care insurance.
As is the case with disability insurance, companies won't sell you long-term care insurance after you receive a dementia diagnosis or after symptoms appear. You have to buy a plan before those things happen if you want this kind of coverage.
If you plan ahead, long-term care insurance can help should cognitive impairment force you into an assisted living or skilled nursing facility.
Before you enroll in one, however, know that a number of factors decide how much you pay for a long-term care plan and how much coverage it offers.
In general, though, insurance companies look at the following when pricing these plans:
your age
how much a policy pays per day
how many days or years it continues to pay out
Given that, it's important to shop around and talk with agents at multiple insurers before deciding to go with a specific long-term care plan.
Something else you should do before you pick a particular policy is learn all you can about its potentially frustrating quirks. For example, as pbs.org points out, long-term care insurance doesn't work like car insurance. You don't just file a claim and then expect the provider to take care of the rest.
To ensure a long-term care plan covers you or your spouse as fully as possible in this regard, ask agents these questions (via alz.org):
What kind of care does the policy cover?
Does it cover Alzheimer's disease? How about other forms of dementia?
When will the policy start to pay out?
What is the daily benefit (payout)? Do you adjust that amount annually for inflation?
How long will the policy continue to pay this benefit?
Are there any limits to how much it pays out?
For more information on this type of coverage, check out our "Long-Term Care Insurance FAQ" or our "Long-Term Care Insurance Basics" article.
Get affordable care for Alzheimers and Dementia
Find low rates with top health insurance providers!
Frequently Asked Questions
Q: Why does dementia care cost so much?
A: The major reason it costs so much to care for someone with dementia is it usually progresses slowly. Also, many different providers often care for people who develop some form of dementia. Early on, physicians may provide most of this care, but over time home care, adult daycare, assisted living facilities, and nursing homes may help out or even take over.
A few statistics that show just how much this care can cost:
Older people with dementia visit the hospital twice as often as other seniors every year.
Medicare enrollees diagnosed with Alzheimer's or other dementias are more likely than those who haven't been diagnosed to have other chronic conditions.
Total health and long-term care payments for Medicare beneficiaries with dementia were over three times higher than payments for other Medicare beneficiaries in 2016.
Average out-of-pocket costs for people with various forms of dementia are about five times higher than the average payments for seniors without these conditions.
Q: Will the health insurance I get through my job cover dementia care?
A: It depends on the health plan your employer provides or sponsors. More than likely, that plan, on its own, won't cover you if you have to leave your job because of some form of cognitive impairment.
If your employer offers disability insurance, though, that could cover such a situation. Just make sure you enroll before you're diagnosed or before symptoms appear. Otherwise, you won't be able to buy it.
And if your employer doesn't offer disability insurance, consider buying it on your own through a private insurance company.
Q: Does Medicare cover Alzheimer's or dementia care?
A: Medicare only covers some of the care generally associated with Alzheimer's disease or other types of dementia. If these impairments ever require you to spend an extended amount of time in a rehab, assisted living, or skilled nursing facility, though, Medicare probably won't cover it.
For that, you'd need to turn to something like Medicaid. But you have to meet certain financial and functional requirements to be eligible for Medicaid. Plus, not all states offer robust Medicaid coverage. If you're struggling to make ends meet and have some form of dementia, contact your local Medicaid agency.
Long-term care insurance is another possibility. You have enroll in this before it's clear you have Alzheimer's or other dementia, though, so keep that in mind as you plan for your future.
Q: Does Medicaid cover dementia care?
A: For the most part, yes, it does. Unlike Medicare, it covers physician visits, some home health care, adult day care, skilled nursing care, and more. Many people with dementia rely on Medicaid to pay for medical and health assistance Medicare doesn't cover.
To get Medicaid coverage, though, you must need help with the activities of daily living. You also have to meet certain financial requirements. For more information on the financial aspect of Medicaid eligibility, Ma href="https://www.kff.org/medicaid/issue-brief/medicaids-role-for-people-with-dementia/" target="_blank">read this kff.org article.
References:
QuoteWizard.com LLC has made every effort to ensure that the information on this site is correct, but we cannot guarantee that it is free of inaccuracies, errors, or omissions. All content and services provided on or through this site are provided "as is" and "as available" for use. QuoteWizard.com LLC makes no representations or warranties of any kind, express or implied, as to the operation of this site or to the information, content, materials, or products included on this site. You expressly agree that your use of this site is at your sole risk.