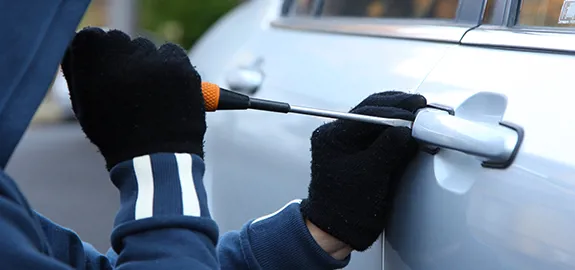 After a car break-in, the comprehensive coverage portion of your auto insurance will cover vandalism but won't cover any possessions that were stolen from your car. If you have renters or homeowners insurance, you'll need to file a claim for stolen property under that policy. This article covers what you need to know if someone vandalizes or breaks into your car, including:
Steps to take when your car is broken into
After your car has been broken into, take these steps to make sure everything goes as smoothly as possible and your items are reimbursed. Here's what to do if your car is broken into:
Take photographs of the break-in
Make a list of stolen items
File a police report
Freeze accounts
File an insurance claim
Get your car fixed
Find out more about these steps below.
Document damage
First off, don't touch or move anything in or around your car before taking photographs of the damage. You need to document the scene with photographs to file a police report and insurance claim later.
Record which items were stolen
Sometimes, your car will be vandalized or broken into but nothing will have been stolen. Usually, though, you'll see that some possessions are missing. Make a list of which items were stolen from the car. This will help with the police report and renters or homeowners insurance claim.
File a police report
One of the first things you should do after your car is broken into is file a police report. If you're not in immediate danger, call the police non-emergency number. If an officer doesn't come to you, you may have to stop by the station to file a police report. To file a report, you'll need your driver's license, photos of the damage, your insurance card, details about the theft or vandalism and a list of stolen items.
Freeze accounts
If any stolen items contain sensitive information, like credit cards or your insurance card, you should consider freezing your credit card or bank accounts. You can also set up a fraud alert to track any unusual spending.
Does car insurance cover theft from my car?
If you have comprehensive coverage, your auto insurance will cover damage to your car from vandalism or car theft. However, it won't cover possessions that were stolen. You'll need to file a claim with your homeowners or renters policy for any stolen items.
Keep in mind that you'll likely need to pay your comprehensive deductible to file a car insurance claim. Plus, filing a claim will raise your auto insurance rates. Because of this, consider paying for the damage out-of-pocket.
For example, if it costs $300 to replace your broken windshield, but your comprehensive deductible is $500, it would cost more to file a claim. You should pay the $300 out-of-pocket instead of filing a claim that is more expensive and will raise your insurance rates. That's even the case if the repair cost is more than your deductible by $50 or so. It will be cheaper to pay $550 rather than $500 and higher premiums.
What should I do if my window is broken?
Was your car window broken during the theft? That wouldn't be a huge surprise; people often smash car windows to steal possessions. If your car was severely damaged, you should consider filing an insurance claim to cover the cost (if you have comprehensive coverage). Vandalism claims can be upwards of $1,500, but that's only if you choose to file an insurance claim.
Broken windows are a different story. They can cost as little as a few hundred dollars to replace, which is usually less than the average claim deductible. Again, if repair costs are less than or close to your deductible amount, you should pay for repairs out-of-pocket. This will save you money in the long run. If you're unsure whether you should file a claim, get a few quotes from several auto body shops.
What should I do if my car was vandalized?
If your car was vandalized but nothing was stolen, you'll follow similar steps to a car theft. This is what to do about car vandalism:
Take photos of the damage and document the scene
File a police report for vandalism
File an insurance claim
Get your car fixed
A police report for vandalism or theft may be attached to a broader crime, so it's always good to alert the police. Also, a police report detailing the damage is necessary if you want adequate reimbursement for car repairs from your insurance company. Again, your comprehensive insurance will cover any damage caused by vandalism, so you should file a claim if repairs are expensive.
QuoteWizard.com LLC has made every effort to ensure that the information on this site is correct, but we cannot guarantee that it is free of inaccuracies, errors, or omissions. All content and services provided on or through this site are provided "as is" and "as available" for use. QuoteWizard.com LLC makes no representations or warranties of any kind, express or implied, as to the operation of this site or to the information, content, materials, or products included on this site. You expressly agree that your use of this site is at your sole risk.