Getting Cheap Car Insurance with No Deposit
Find out how to get cheap car insurance with no deposit, and whether it's possible to get free insurance.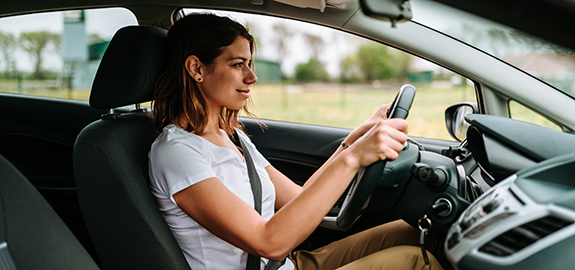 It's understandable that drivers across the US are looking for cheap car insurance with no deposit. However, reliable insurers won't offer car insurance without requiring at least some money upfront. You'll need at least the minimum auto insurance to legally drive in most US states. To do that, you'll have to at least pay some cash for coverage.
This isn't a formal deposit, but your first month's premium. You can find companies that offer lower first-month payments than others. This article discusses everything you need to know about getting cheap car insurance with a low deposit, including:
How can I get cheap auto insurance with no upfront payment?
Beware if you purchase from a company that allows you to walk away with coverage but without paying any money. This is a sign that the insurer is fraudulent, and you should look elsewhere for coverage from a legitimate company.
That doesn't mean you'll have to pay for the entirety of your insurance plan at once, but usually you'll have to pay for at least the first month. Some companies offer a discounted rate for the first month, then divide the rest into the remaining five or 11 months. If you choose to pay the entire rate at once, it's usually discounted. Most drivers choose to pay in monthly installments.
Get instant car insurance with no deposit
If you need car insurance immediately, the cheapest way to get it is by paying in monthly installments. The easiest way to find out how much you should expect to pay for car insurance is by comparing auto insurance quotes from several companies. After submitting your address, car make and model and other information, your quote is presented with several payment options. These payment options usually include:
The first month's deposit amount
The total policy premium (for six months or annually)
Monthly payment cost (usually split evenly over six months)
Cheapest monthly car insurance rates with a low deposit
Although you won't find insurance companies offering no deposit car insurance, many discount your first month rate so you can get coverage for cheap. There's also the option to spread your premium evenly between 12 months, or it may be easiest to pay for the full year upfront. Usually, you qualify for a discount if you pay your entire premium at once. But that all depends on your insurer.
We compared the top three insurance companies in the Seattle area and found the average savings for a six-month insurance policy compared to a monthly policy. As shown here, the first month's deposit is often cheaper than the monthly rates. These are the prices the driver should expect if they paid for the full six months at once as opposed to paying monthly:
 
Down Payment
Monthly Premium (x5)
Total Cost
Savings
Monthly
$126.30
$158.33
$917.95
 
Six-month total upfront
$864.96
$0
$864.96
$52.99
The policy we analyzed covers a 30-year-old female driving a 2015 Toyota Camry less than 10,000 miles annually in the Seattle metro area. The driver chose 25/50/10 liability insurance, $10,000 of PIP coverage and collision and comprehensive with $500 deductibles.
If the driver chooses to pay for a six-month policy at once, she will save an average of around 6% percent or $53. That's the average, but savings vary depending on your insurance company. For example, we found that one company offered no savings for paying for the policy upfront, whereas another offered savings of around 18%. As shown here, none of the companies offered insurance with no deposit.
These prices vary depending on where you live, your age, credit score and more.
No deposit car insurance companies
Again, a legitimate car insurance company will not have the option for coverage with no deposit. But to help you find the cheapest car insurance companies, we compiled cost data from major providers.
Auto insurance rate data was provided by Quadrant Information Services. Rates are based on a driver profile of a 35-year-old who owns a 2015 Toyota Camry, drives less than 10,000 annual miles, has good credit, has a clean record and chose the state minimum liability in 10 different states.
| Company | Average monthly premium rate |
| --- | --- |
| American Family | $50 |
| Geico | $52 |
| State Farm | $52 |
| Progressive | $62 |
| Nationwide | $68 |
| Farmers | $70 |
| Allstate | $86 |
We found that American Family has the cheapest auto insurance, ringing in at $50 monthly. We found that Allstate has the highest rates, at $86 per month. Keep in mind that these rates vary drastically based on your age, location, car make and model, credit score and more.
Is it possible to get free insurance?
The term "no deposit car insurance" is used by insincere companies marketing free insurance to drivers. Sadly, free insurance is not possible to obtain from a reputable auto insurance company. If you're able to find free insurance, chances are it's not legit and won't help you when you need to make a claim.
Auto insurance companies price your policy after considering several factors. These factors include where you live, your driving record, your age and more. Although your car insurance will never be free, there are ways to keep costs as low as possible. The best way to keep your rates low is to drive safely and keep your driving record clean.
QuoteWizard.com LLC has made every effort to ensure that the information on this site is correct, but we cannot guarantee that it is free of inaccuracies, errors, or omissions. All content and services provided on or through this site are provided "as is" and "as available" for use. QuoteWizard.com LLC makes no representations or warranties of any kind, express or implied, as to the operation of this site or to the information, content, materials, or products included on this site. You expressly agree that your use of this site is at your sole risk.