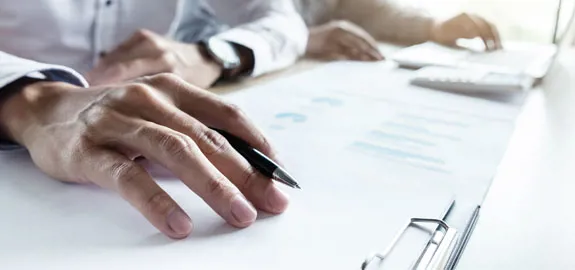 An underwriter is an employee of an insurance company. They're responsible for evaluating insurance risks. This article touches on:
What Does an Insurance Underwriter Do?
Underwriters work for insurance companies to evaluate potential policyholders. They review insurance risks to determine two things:
Whether an insurance company should cover you
How much that insurance company should charge you for coverage

 
Insurance underwriters evaluate your insurance risk with the following steps:
Analyzing the information on your application
Running that info into through an underwriting software program
Consulting field underwriters and experts
When that is complete, the underwriter decides both whether to insure you as well as how much to charge. Underwriters don't just go through these steps when you first apply for an insurance policy. They also go through them when it's time to renew the policy.
What Does a Home Insurance Underwriter Do?
In general, what a home insurance underwriter does isn't very different from what any other underwriter does. They review applications, use software, work with agents in the field, and make coverage and price decisions.
But differences come up in how underwriters work with field agents. For example, field agents that work with home insurance underwriters will inspect properties for conditions and hazards that might trigger claims. Some of those conditions and hazards include old or damaged roofs, foundation problems, dead or dying trees, and even unfenced swimming pools.
The underwriter considers those and other conditions or hazards while evaluating homeowners insurance applications.
What Does a Car Insurance Underwriter Do?
Like home insurance underwriters, there are some things car insurance underwriters do that are unique to their situation.
Car insurance underwriters often base their decisions on historical data associated with an applicant. In other words, they look at each applicant's:
Driving record
Age
Gender
Occupation
Where they live
They also consider the car you drive: how old it is, what it's worth, and how much repairs tend to cost. One other difference between home and car underwriters: auto underwriters are more likely to rely on the recommendations from their software.
How Is an Underwriter Different from an Agent or a Broker?
Agents and brokers are the main "public facing" employees of an insurance company. They manage accounts. They also help policyholders or customers when any problems pop up.
Underwriters work behind the scenes. You don't work or communicate directly with them like you do with agents and brokers.
Underwriters review applications, approve or deny them, and set the terms – coverage amounts and premiums – for approved applications. Agents and brokers then pass along those terms to customers.  
Something important to keep in mind here: brokers and agents work for both you and the insurance company. Underwriters only work for the insurer. Their job is to protect the company and help it make a profit.
Why Insurance Underwriting Matters
Insuring people and property is risky business.
If insurance companies are too aggressive when writing policies, they might have to pay out too much in claims. That hurts the bottom line.
If an insurer is too conservative or doesn't take enough risks in writing policies, it may not make enough from premiums. Or it may lose customers to competitors who offer better rates.
Underwriters help insurance companies achieve a balance between being too risky and too cautious. And they accomplish that by doing all the things mentioned earlier in this article.
When Do Underwriters Review Insurance Policies?
Underwriters also may review a policy when it comes up for renewal. Or they might review a policy if something causes them to think the risk associated with the coverage has changed.
That second situation could result in the underwriter cancelling your policy. Or it could result in them changing the terms of your policy.
If that happens to you, don't bother trying to contact the underwriter. He or she can't help you. Instead, reach out to your agent or broker. They may be able to do something about it.
Remember, there's a big difference between insurance cancellation and non-renewal.
What Can I Do to Get Better Insurance Underwriting Results?
First, do what you can to change any of the factors an underwriter might see as negative. Some of them can't be changed, of course – like your age. But you can change your driving record and vehicle, though doing so could take time, money, or both.
Also, shop around. Don't apply to just one insurance company. Apply to several them and compare quotes. Different insurers have different underwriting policies and procedures. Just because one company refuses to sell you a car, home, or life insurance plan due to your underwriting results doesn't mean another will, too. The same is true when it comes to the coverage amounts those companies will offer you and the premiums they'll attach to that coverage.
QuoteWizard.com LLC has made every effort to ensure that the information on this site is correct, but we cannot guarantee that it is free of inaccuracies, errors, or omissions. All content and services provided on or through this site are provided "as is" and "as available" for use. QuoteWizard.com LLC makes no representations or warranties of any kind, express or implied, as to the operation of this site or to the information, content, materials, or products included on this site. You expressly agree that your use of this site is at your sole risk.