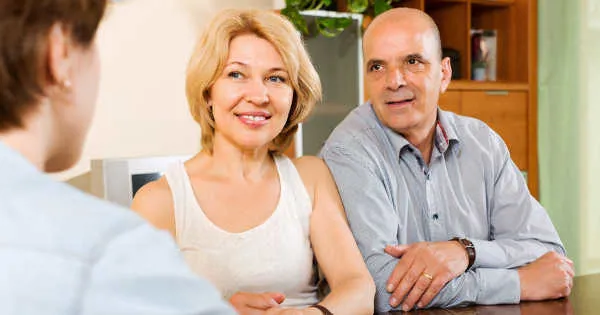 Life insurance can be a complicated purchase. With so many insurance providers and policies out there, it can be difficult to choose the right one. To ensure you're getting the best package for the best rates, you might want to employ some help in the form of an agent or broker.
Agents and brokers are like a liaison between the insurance companies and the customer. Which one you choose depends on your exact needs, but either way you want someone who you can trust. Here are some questions you should be asking your agent or broker as you go through the life insurance purchase process.
1. What type of agent or broker are you?
Your first step in the insurance buying process, before you even begin your search, is to determine the type of assistance you'll need. Once you decide you need help and choose between an agent and broker, you need to ask what they specialize in.
Depending on if you go with an agent or broker, there are multiple subsets of each. Agents are usually either captive or independent. Captive agents usually represent one company. They are not employees of the company they work with, but they receive a percentage of the policy you purchase from them.
According to Tammy Johnston of The Financial Guides, "A captive agent receives training from one company, and can only get paid if they sell [that] company's product, whether it's the best for you or the worst." She advises being extra weary when purchasing from a captive agent.
Independent agents represent a number of different providers, rather than just one. They are also not an employee of the companies they work for, but they receive a commission on the policies they sell.
Johnston suggests making sure your agent is transparent about who they are working for. She says agents may have companies they prefer due to product offerings, customer service, underwriting requirements, and investment returns. Make sure your agent is honest about this from early on.
An insurance broker is similar to an independent agent, except they don't have ties to a specific company. They aren't obligated to try and sell you a policy from a certain company. However, they might not have as much knowledge on specific companies that independent and captive agents have. Brokers also usually charge you for their help, since they are technically working for you and not a specific company.
Christian Sees, owner of Integrus Financial, LLC, believes it takes some digging to find the right agent or broker.
"If the agent or broker is already pushing a specific product, they may not be focused on providing the best solution for your family," Sees said. "A great agent will spend time determining needs and wants, rather than selling a product."
Finding an honest agent or broker is another challenge, which is why Sees suggests getting agent/broker referrals from people. He believes past consumers who rave about their agents or brokers can leverage new customer's experiences.
"Of course, there are [also] many online outlets that will provide a buyer with a plethora of agents. This is great because there is always a choice. A great agent may also be able to provide referrals," Sees said.
2. What type of policy should I choose?
Whether you're thinking of purchasing a term life, universal life, or whole life policy, it's best to seek the advice of your agent or broker. Depending on what stage you're at in life, the policy you're looking for may vary. Your life insurance agent or broker should be able to assess how much coverage you need depending on your current finances, debts, and beneficiaries. They should be able to tell you the type of benefits you would receive with whole life over term life, and vice versa.
3. What is the process of purchasing and acquiring life insurance?
Different companies have different processes of purchasing and obtaining life insurance, so it's important to ask your agent or broker about this. There are exclusions and limitations to different life insurance policies such as your medical history, if you smoke, how old you are, and more. Consult with your agent/broker on what the companies you are interested in's procedures are.
Usually, unless you're purchasing life insurance through your employer, you must get a medical exam to assess your premiums. You also have to fill out information from all facets of your life history, all which play into determining your rates. This is why it's so important to ask your agent/broker about the process beforehand, so you can adequately prepare.
4. Are there discounts available that could reduce my rates?
Always ask about potential discounts, because you never know when a deal will come around. You may be able to get a discount for being in the military, quitting smoking, bundling policies, being a teacher, and more. Your agent or broker should be able to give you insight about different companies' discounts, but it's your job to ask them.
5. Who do you represent?
It's always important to ask who your agent or broker represents. You want to be aware of the companies that they are working with so you can know for sure you're getting the best deals. If you're working with a captive agent who only works for one company, they won't be able to help you compare quotes and find the best rates.
With agents or brokers representing many providers, you'll be able to seek multiple quotes from multiple different companies. You'll also be able to get insider knowledge on the reputability of the companies, as well as the customer reviews.
Your agent or broker should also be able to provide you with information about the company from places like the Better Business Bureau (BBB), Angie's List, and Kudzu. They should also know the best providers just from being in the industry.
Insurance agents are constantly doing research to stay on top of the industry and maintain their licenses. Thus, they should be knowledgeable on the different life insurance providers and their histories.
According to Johnston, you also want to ask who they have in their network because they might be able to refer you to other individuals if you need further assistance. You want to make sure you've a strong team to help with your life insurance needs.
6. Are you licensed and by which company?
In many states, it's a requirement to obtain a license before you can sell insurance. To get a license, you must take and pass a state exam for each type of insurance you'll be selling. From there, you can become licensed by organizations such as the National Insurance Producer Registry (NIPR) to sell insurance.
A credible agent or broker is one who had to go through extensive training to become licensed. You want to make sure your insurance agent or broker is licensed by your state, as well as the companies they direct you toward, because you may only purchase life insurance from a company that is licensed by your state.
Robert Palidora, a financial consultant from AXA Advisors, LLC suggests going to FINRA broker check which will tell you which companies are registered.
To find where your agent or broker was licensed, insurance agent Huntley suggests, "Do a Google search for "your state + department of insurance + license search, and you'll find the broker search page for your department of insurance."
It can tell you how long the agent has been licensed, as well as what type of education they got to receive their license.
Johnston of The Financial Guides recommends checking into what the agent or broker is licensed to sell as well.
"An advisor that specializes in one area may be able to give help in more challenging or complicated situations. An advisor that has a more rounded approach can help in most general situations," Johnston said.
QuoteWizard has a nationwide network of advisors who can help you find the right life insurance provider and policy for you.
7. What is the financial strength of the company?
It's important to ask your life insurance agent or broker what the financial strength of the companies you're interested in are. This is important because you want a stable company that will be able to pay your beneficiaries in the case that you die.
Also, if you choose to purchase a whole life or universal life policy that can be used for an actual cash value, you want make sure you can get money out if need be.
Ask your agent or broker how you guys can background the companies you're interested in. They should know how to check the credit ratings through independent credit ratings agencies such as Standard & Poor's, Moody's, Fitch, and A.M. Best.
If you use a captive or independent agent that has ties to a particular company or companies, they also might have other inside knowledge about the financial stability. You should always be prepared to ask questions about the financial strength.
8. Would there be any exclusions to my policy?
Depending on the provider, there are usually exclusions to life insurance policies. The most common exclusions to life insurance policies are war, a non-commercial plane accident, some forms of dangerous activity, intentional drug overdose, and suicide under certain conditions. Of course, all of these are contingent on the insurance provider and the type of policy you hold.
It would be wise to ask your agent/broker about exclusions before you sign your life away on your policy.
9. What are the living benefits of my policy?
One benefit of choosing a whole or universal life policy is that you can reap some of the benefits while you're living. For example, you can borrow against your whole life policy's actual cash value, meaning you take out a loan. However, your provider will most likely charge you interest.
With whole or universal life, you aren't always required to pay back the loan, but your interest will continue to grow. This is why it's important to ask your agent/broker about how the company you are interested in will deal with living benefits, and if it's beneficial to use them or not.
10. How to check if my life insurance can be transferable?
If you purchased a whole life policy and are not satisfied, you may be able to take out the actual cash value, and use the money to purchase another policy from another company. You need to check with your agent/broker on this though.
11. Can I renew my policy?
It's important to ask this question because depending on the provider you go with, you may or may not have to go through the application process again if you want to renew your term life policy at the end of its stretch.
While there are endless amounts of questions to ask your life insurance agent or broker, these are some of the most highly discussed. It never hurts to ask too many questions about life insurance, because you want your life savings and beneficiaries to be in good hands.
Now that you know which questions to ask, do you have an agent or broker? If not, click here to get free life insurance quotes from agents and brokers near you.
References:
QuoteWizard.com LLC has made every effort to ensure that the information on this site is correct, but we cannot guarantee that it is free of inaccuracies, errors, or omissions. All content and services provided on or through this site are provided "as is" and "as available" for use. QuoteWizard.com LLC makes no representations or warranties of any kind, express or implied, as to the operation of this site or to the information, content, materials, or products included on this site. You expressly agree that your use of this site is at your sole risk.